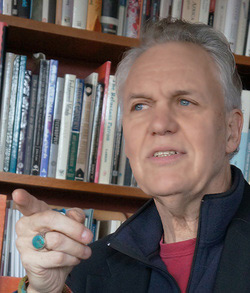 Posted March 24, 2016 at 11:14 a.m.
BOONE—The first-ever Symposium for Creative Social Stewardship will take place on the Appalachian State University campus on Friday, April 1, and Saturday, April 2 in Plemmons Student Union.
The symposium will feature a collection of interactive workshops, panels and presentations centered on how to cultivate socially and emotionally sustainable communities through creative means. The goal is to gather social stewardship practitioners to share ideas, learn new ways of engaging communities and to create networking opportunities. Admission is free and the public is invited to attend.
Presenters include faculty from Appalachian and UNC Asheville representing a wide range of disciplines including the arts, education and communications.
The special guest and keynote speaker is William Cleveland, director of the Center for the Study of Art and Community on Bainbridge Island, Washington, and the author of several books on the role of creativity in healthy communities. He will present the keynote "Between Grace and Fear: The Role of the Arts in a Time of Change" at 7 p.m. in Blue Ridge Ballroom and the workshop "Making Exact Change: How Arts-Based Programs Have Made Significant and Sustained Impact on their Communities" April 2 from 10-11:30 a.m. in Price Lake Room.
Additional sessions begin at 11:45 a.m. in the student union. Details are online at http://socialstewardship.weebly.com.
"I believe his work will help to set the tone for the rest of the event. There's so much rich information that will be packed into the symposium," event organizer Cara Hagan, assistant professor of dance studies in Appalachian's College of Fine and Applied Arts, said of Hagan.
Hagan defines creative social stewardship as a method of community engagement inviting citizens to tap into their whimsical, radical, colorful and innovative selves to foster and preserve inclusive, emotionally sustainable community environments that combat social stigma and discrimination through outward creative expression. She noted that it comes in many forms as well. "For others, creative social stewardship includes innovative advances in environmental sustainability, political science, urban planning, education and more," she remarked.
Hagan hopes to engage both the campus community and the broader community in the High Country.
The Symposium for Creative Social Stewardship has been made possible through the annual Sustainability Council's Sustainability in the Arts Grant, support from the College of Fine and Applied Arts, the Office of Equity, Diversity and Compliance, and the Department of Theatre and Dance.
Plemmons Student Union is located on the Appalachian State University campus at 263 Locust Street. On-campus parking is available after 5:30 p.m. on weekdays and all day on weekends in faculty lots and in the College Street parking deck near Belk Library and Information Commons.
About Appalachian State University
As the premier public undergraduate institution in the state of North Carolina, Appalachian State University prepares students to lead purposeful lives as global citizens who understand and engage their responsibilities in creating a sustainable future for all. The Appalachian Experience promotes a spirit of inclusion that brings people together in inspiring ways to acquire and create knowledge, to grow holistically, to act with passion and determination, and to embrace diversity and difference. Located in the Blue Ridge Mountains, Appalachian is one of 17 campuses in the University of North Carolina System. Appalachian enrolls more than 19,000 students, has a low student-to-faculty ratio and offers more than 150 undergraduate and graduate majors.
Media Contact
Cara Hagan
336-609-3997
hagangelbercm@appstate.edu
What do you think?
Share your feedback on this story.