Posted Aug. 26, 2016 at 5:17 p.m.
BOONE—"If you aren't doing business for good, why are you doing business?" asked Bald Guy Brew proprietor Don Cox '93 at the second annual Business for Good event hosted by Appalachian State University's Walker College of Business (WCOB), Aug. 19.
The program included testimonials around commitment to operating a sustainable business from three community partners as well as presentations by Dr. Dan Fogel, author of "Strategic Sustainability;" keynote speaker Nicole Miller, managing director, Biomimicry 3.8; and Brad Sparks '97 '98, executive director of global corporate citizenship at KPMG.
The event, attended by approximately 100 faculty, staff and invited guests, was held at the Blowing Rock Art & History Museum. "Last year, we saw a need in the college to provide an educational opportunity on sustainable practices for this community," said WCOB Dean Heather Norris. "This is something we truly value in the college and we want to advance in the education, research and service aspects of what we do."
Interim Director of the Office of Sustainability Lee F. Ball thinks Norris is succeeding. "The second annual Business for Good event has quickly become an invaluable faculty development asset. Not only are faculty learning more about sustainability through the lens of the business world, they are able to develop a more personal connection related to their own professional areas of expertise," he said.
In her keynote, Miller defined Biomimicry as "conscious emulation of nature's genius, a science-based approach across disciplines where we look to nature for sustainable solutions… We mimic forms; we mimic process; we mimic systems."
Miller cited Interface® as an example of a company that has incorporated biomimicry into its product development. After biomimicry-driven research and development, Interface created interlocking carpet tiles patterned after the naturally layered and sectioned construction of a forest floor. Because of the company's stellar example in doing business for good, Interface Vice President for Sustainability Erin Meezan was the keynote speaker at last year's Business for Good event and also spoke at Appalachian's Global Opportunities Conference this past spring.
In her closing comments, Miller encouraged the audience to think beyond sustainable. "You wouldn't want to say you have a sustainable marriage," she said. "Sustainable is the base line. We have to ask, 'What is the next level?' We have to be in this for more than good, we have to do better."
Fogel's remarks were targeted largely to faculty, sharing resources and models for teaching strategic sustainability, many drawn from his book "Strategic Sustainability." To faculty, he offered the following counsel: "When students can articulate what they know, that's our goal. It is your obligation to teach people how to talk about things." To students, he offered equally candid advisement: "There are opportunities to get involved. Don't say 'no.' You're not old enough to say 'no.' Keep your hand raised."
At KPMG, Sparks focuses on integrating corporate responsibility across the KPMG global network – developing corporate citizenship strategies, representing KPMG at global sustainability events and reporting progress to KPMG leadership.
Sustainability – specifically in terms of asset valuation and reporting – has increased traction in the marketplace, Sparks said. Setting the scene, Sparks said, the likelihood of environmental impacts is high and the drivers moving industry and business toward sustainable action are regulatory, cost reduction, brand enhancement, risk management and customers and clients.
As indicators of the increased traction, he reported 44 percent of executives agree sustainability is a source for innovation and 33 percent see it as a source of opportunity for new business. Sparks said that in 1993 only 12 percent of a global sample of major corporations was submitting sustainability reports. In 2015, that figure was 92 percent.
During the reception, hosted by WCOB Executive-in-Residence Leigh Dunston and his wife, Pamela, Norris was presented with the first Green-E award from Appalachian's Sustainable Business Collaborative, a name preferred by the WCOB for its sustainable business program. The Green-E award recognizes individuals for outstanding accomplishments in the area of sustainable business at Appalachian. The "E" stands for economy, environment and equity.
Director of the collaborative, Jim Westerman, explained that Norris has provided the platform for the recent strides in sustainable business curriculum and practice at Appalachian. "Dean Norris has built sustainability into our vision, mission and values," said Westerman. "She has provided the necessary resources for accomplishing our mission and has been an inspiration for all of us in making the Walker College a distinctive driver of business sustainability and a better future."
In keeping with Appalachian's commitment to Zero Waste, the event diverted all waste related to the meeting and reception from landfills, instead recycling and/or composting all trash.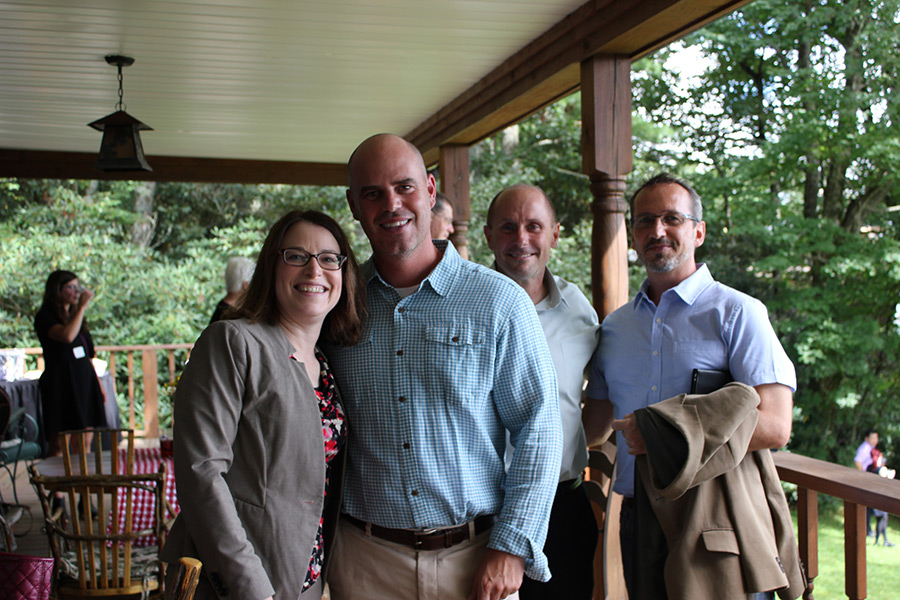 WCOB initiatives
In opening remarks, Sustainable Business Collaborative Director JimWesterman outlined a few of the programs and initiatives WCOB supports:
A sustainable business minor open to all majors, which helps leverage sustainable business change tools throughout the university
Sustainable business-focused courses at the undergraduate level in marketing, management, hospitality and tourism, economics, and accounting, among other programs
Sustainable business-focused research grants for faculty, and brown bag events to share research findings
Creation of an environmental monitoring system for Peacock Hall and a Green Workplace certification for its offices;
Increased faculty publication in all areas of sustainable business, with more than 50 percent of faculty publishing sustainable business-related research
Real-world outreach and application – from faculty and students helping to write sustainability reports, to data analytics projects tracking bees and power usage, to transportation and cross-cultural applications
Faculty collaboration with the Aspen Institute, AASHE, Cicero Center (Oslo) for International Climate Research, and the American Sustainable Business Council, among other groups
What do you think?
Share your feedback on this story.
About Appalachian State University
As the premier public undergraduate institution in the Southeast, Appalachian State University prepares students to lead purposeful lives as global citizens who understand and engage their responsibilities in creating a sustainable future for all. The Appalachian Experience promotes a spirit of inclusion that brings people together in inspiring ways to acquire and create knowledge, to grow holistically, to act with passion and determination, and to embrace diversity and difference. Located in the Blue Ridge Mountains, Appalachian is one of 17 campuses in the University of North Carolina System. Appalachian enrolls nearly 21,000 students, has a low student-to-faculty ratio and offers more than 150 undergraduate and graduate majors.