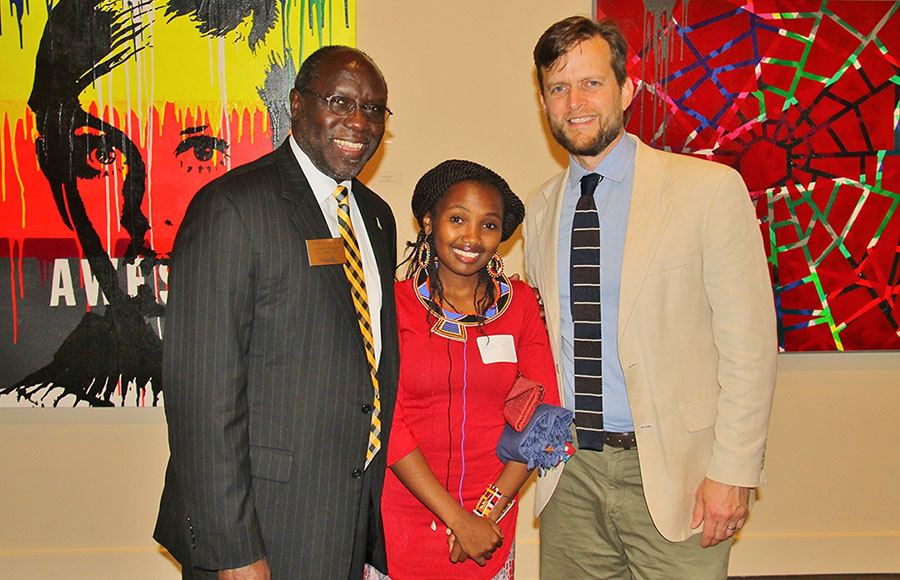 Posted July 20, 2017 at 11:51 a.m.
BOONE, N.C. — Here are two examples of the influence Appalachian State University has had on the young and promising African leaders who spend six weeks on campus as part of the Mandela Washington Fellowship for Young African Leaders, sponsored by the U.S. Department of State.
Faith Tanui of Kenya and Dr. Issoufa Bachir Bounou of Niger participated in 2016.
PendoAfrica: ready when opportunity knocked
Possibly, no one appreciates the value of an action plan more than 2016 Mandela Fellow Faith Tanui of Kenya. Tanui runs PendoAfrica, an organization that helps empower youth.
The action plan she created while at Appalachian included strategies for opening a recovery center for youth facing alcohol and drug addiction. She did not think the time was right for the center, but the professors persuaded her to make it a part of her plan anyway.
"When an opportunity opened up last November for our organization to run a recovery program and a center, we were prepared and jumped in right away," Tanui said.
A house had become available with enough rooms to serve 16 clients. PendoAfrica's recovery center graduated its first class this past June.
"Alcohol and drug abuse is such a big problem in our community," Tanui said. "There is a need, so we hope to expand and construct a residential facility in the near future that will give us space to help out more young people." The envisioned expansion would also include a vocational training center with a program geared for people who had gone through rehab, along with a clinic.
PendoAfrica – Pendo means love in Swahili – operates three other programs: one for youths struggling with substance abuse, a program to keep girls in school and a third that pairs students with young professionals who mentor them.
Tanui said her work has benefitted tremendously from the tips she received from Jennifer Warren, executive director of Western Youth Network, an Appalachia area non-profit whose mission is similar to PendoAfrica's.
Social entrepreneurism and agro-environmentalism
Dr. Issoufa Bachir Bounou, a 2016 fellow from Niger, is an agro-environmentalist. For him, Appalachian State University was a great source of ideas and inspiration.
Bounou is promoting the use of agricultural technologies and entrepreneurship to address two crises in his country: food insecurity and youth unemployment. The plan he developed during his fellowship at Appalachian outlines ambitious goals:
Develop agricultural technologies that would improve cropping-season production in the context of climate change in Niger;
Promote home gardens with a greater variety of better-quality vegetables as a way of reducing malnutrition among women and children;
Create a center for agribusiness that would serve as a kind of incubator for entrepreneurship;
Partner with the Nigerien educational system to adopt all of the above.
Fundraising to put these ideas into action is a challenge in Niger, but Bounou employs lessons learned here on social entrepreneurship.
An Appalachian workshop taught Bounou to adopt "an innovative and sustainable approach to fund my operations," he said. "For that reason, I have created an agribusiness consulting company. The main idea is that the revenue generated from our consultancy services underwrites our leadership and community activities."
What do you think?
Share your feedback on this story.
About the Office of International Education and Development
The OIED is responsible for spearheading the internationalization efforts at Appalachian. The internationalization mission of Appalachian is to develop awareness, knowledge, appreciation and respect of cultural differences in both domestic and international contexts in its students, faculty, staff and the surrounding communities. The university is also dedicated to creating a campus environment that builds the theoretical and practical skills needed to interact effectively in a global society. Learn more at https://international.appstate.edu.
About Appalachian State University
As the premier public undergraduate institution in the Southeast, Appalachian State University prepares students to lead purposeful lives as global citizens who understand and engage their responsibilities in creating a sustainable future for all. The Appalachian Experience promotes a spirit of inclusion that brings people together in inspiring ways to acquire and create knowledge, to grow holistically, to act with passion and determination, and to embrace diversity and difference. Located in the Blue Ridge Mountains, Appalachian is one of 17 campuses in the University of North Carolina System. Appalachian enrolls nearly 21,000 students, has a low student-to-faculty ratio and offers more than 150 undergraduate and graduate majors.