Posted Nov. 1, 2017 at 12:25 p.m.
North Carolina has a higher-than-average food insecurity rate — 16 percent, ranking it eighth among the United States for the number of people who lack access to enough food for an active, healthy life.
In comparison, a total of 13 percent of Americans were considered food insecure between 2013-15, according to the U.S. Department of Agriculture Economic Research Service.
When the Appalachian Community explores a social problem like this, it doesn't "just talk."
"I've never been surrounded by so many doers," Dr. Jacqui Ignatova said about the culture at Appalachian State University. "We don't just talk here. We're also committed to doing work that advances positive social change."
Ignatova teaches in the Goodnight Family Department of Sustainable Development and was a co-organizer of the 2017 Food Summit that brought together people interested in relevant issues such as food insecurity and agrobiodiversity conservation.
The following stories explore how she and others at Appalachian use innovative thinking and action to approach the issue of how to feed America: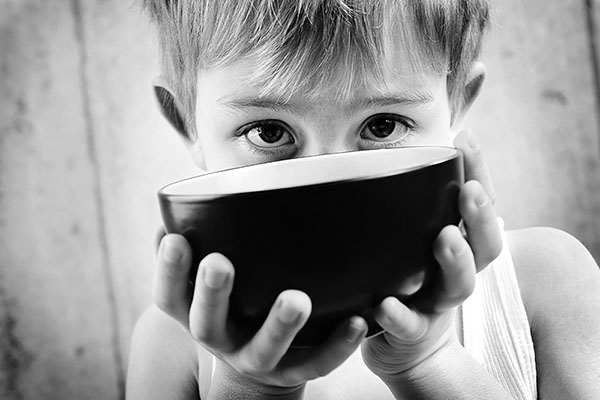 Food insecurity at a glance
Community Feast - October 3, 2017
Watch scenes from the October 2017 Community FEaST (Food Engagement and Story Telling) event on Sanford Mall. Video produced by University Documentary Services.
Transcript
Carla Ramsdell: I'm part of a collaborative on campus called AppalFRESH, which stands for Appalachian Food Research for Equity Sustainability and Health. We met this summer to try to decide how we could best promote an understanding about food and the importance of a sustainable food system.
Charlie Wallin: There is 48 percent of this population in a study done that on this campus who at some point in time during the semester were food insecure, which means they don't know where they're going to get their meal or if they're going to be able to eat so just to bring an awareness to a lot of these things that maybe people don't have time to sit down and talk about. That's why we're trying to provide talking points. We want people to talk just like you would around a table at home hopefully with a family and just talk about some of these issues that we face in this area and the country as a whole.
Carla Ramsdell: And so, there was a lot of enthusiasm about this possibility and then we'd start to try to talk about other ideas and everything kind of kept coming back to the idea of trying to set up one continuous table on campus, gather community, faculty, staff, students around that table and so we just couldn't move, couldn't turn away from it. There was a lot of enthusiasm and we decided to just give it a try.
Charlie Wallin: We kicked around "Hey, what if we had different restaurants who brought in local chefs and partnered with a local farmer they're using and each person had a different table with different items?" but, we thought logistically for the first one to see how it went, let's just start out small, easy, simple, and we can grow it from there and do different things. We wanted stuff to where people could go out and participate in this just like you did years ago as families, just sit down at the table and it would just be family style and you were sharing everything. We wanted this to be local, we wanted people to go out and buy local products and we felt like this was the easiest way to do it. There's many avenues around town for you to be able to pick up local vegetables that you could bring, local cheeses so, we just felt like that that was the best way and best avenue to showcase a lot of this and make it a true community event and it was a good starting point.
Carla Ramsdell: So, we brainstormed around some goals and chose three goals. The first was to build community around a common table about the importance of a sustainable food system, the second was to minimize waste, and the third was to maximize local sourcing of ingredients by educating the student groups on how we can be most responsible about those sourcings.
Charlie Wallin: I cannot remember the exact countage but there was very little that actually went to the landfill, it was barely a bag of trash. Everything else went to either recycling or composting so, I can't remember the exact figures but I know it was huge reduction in what would've normally been done at an event on this campus or anywhere.
Carla Ramsdell: I just want to thank everyone that made this event possible. It was the first event, we kind of went out on a limb thanks to the enthusiasm of the students and the faculty and staff and the AppalFRESH collaborative. I think it was a fabulous event where people were able to come together around a table which is such a beautiful act and I hope maybe to continue this in future years.
About Appalachian State University
As the premier public undergraduate institution in the Southeast, Appalachian State University prepares students to lead purposeful lives. App State is one of 17 campuses in the University of North Carolina System, with a national reputation for innovative teaching and opening access to a high-quality, affordable education for all. The university enrolls more than 21,000 students, has a low student-to-faculty ratio and offers more than 150 undergraduate and 80 graduate majors at its Boone and Hickory campuses and through App State Online. Learn more at https://www.appstate.edu.
What do you think?
Share your feedback on this story.