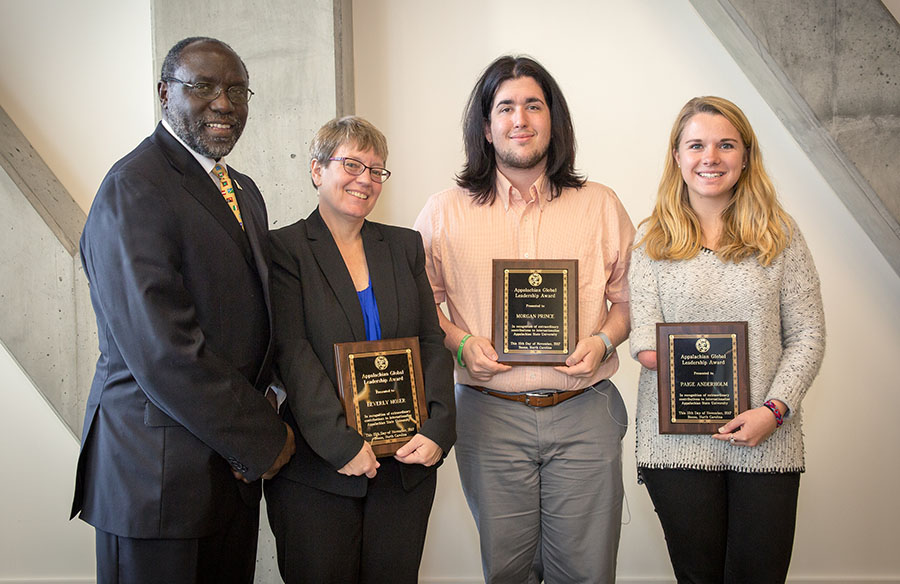 Paige Anderholm
Senior political science major, Department of Government and Justice Studies
Summerfield, North Carolina
2017 Global Leadership Undergraduate Student Award
Appalachian State University
Posted Dec. 1, 2017 at 10:12 a.m.
"I am deeply impressed with Paige Anderholm. She is a global citizen, to be sure, but she is much more: she is a global citizen who helps others become global citizens — on our campus and abroad."

Dr. Joseph Gonzalez, associate professor in Appalachian's Department of Cultural, Gender and Global Studies and Anderholm's award nominator
Paige Anderholm, a political science major from Summerfield, North Carolina, received Appalachian State University's 2017 Global Leadership Undergraduate Student Award during the university's International Education Week.
Anderholm's journey in becoming a global leader took her abroad, first to Cuba, then to Mauritius, Mexico, Peru and back to Cuba for a second time. In Cuba, she researched issues of community engagement and economic insecurity; in Mauritius, she worked on a marine conservation project for two months; and in Mexico and Peru, she represented Appalachian's AISEC program at Pan-American conferences devoted to promoting international exchanges.
Anderholm joined, and then eventually became vice president of AISEC, the international nonprofit leadership program developed and operated by students. During her time at AISEC, she helped to send at least 94 Appalachian students abroad, to volunteer and do internships.
Appalachian's annual Global Leadership awards recognize students, faculty and staff who have made a significant contribution — including the initiation, development and/or support of opportunities — to advance global learning. The Global Leadership Awards committee specifically looks for students who have demonstrated excellence as a global ambassador or global citizen.
The award was presented to Anderholm in the form of a plaque and a gift card to the University Bookstore.
About the Department of Government and Justice Studies
Appalachian State University's Department of Government and Justice Studies offers undergraduate programs in political science and criminal justice, and graduate programs in political science and public administration. Housed in the College of Arts and Sciences, the department has over 600 undergraduate majors and more than 70 graduate students. Learn more at https://gjs.appstate.edu.
About Appalachian State University
As the premier public undergraduate institution in the Southeast, Appalachian State University prepares students to lead purposeful lives as global citizens who understand and engage their responsibilities in creating a sustainable future for all. The Appalachian Experience promotes a spirit of inclusion that brings people together in inspiring ways to acquire and create knowledge, to grow holistically, to act with passion and determination, and to embrace diversity and difference. Located in the Blue Ridge Mountains, Appalachian is one of 17 campuses in the University of North Carolina System. Appalachian enrolls nearly 21,000 students, has a low student-to-faculty ratio and offers more than 150 undergraduate and graduate majors.
What do you think?
Share your feedback on this story.