Posted Feb. 15, 2018 at 11 p.m.
BOONE, N.C. — When Jake Keller '17, a student in the Master of Music Therapy program at Appalachian State University, told Dr. Cathy McKinney in 2014 he was considering joining the North Carolina Army National Guard, McKinney, who is the director of the music therapy program in Appalachian's Hayes School of Music, promised him the department's full support.
Keller, who is from Gaffney, South Carolina, became a specialist in the 878th National Guard Engineering Company and soon found out what McKinney's promise meant. Classmates, faculty and staff rallied around him and his wife, Hannah, especially as his March deployment to Iraq approaches.
"I'm really glad that people didn't try to avoid the subject. They were really curious about being in the Army National Guard," he said. "Just showing that curiosity was helpful because it showed they cared. They offered ideas of how I could use music over there."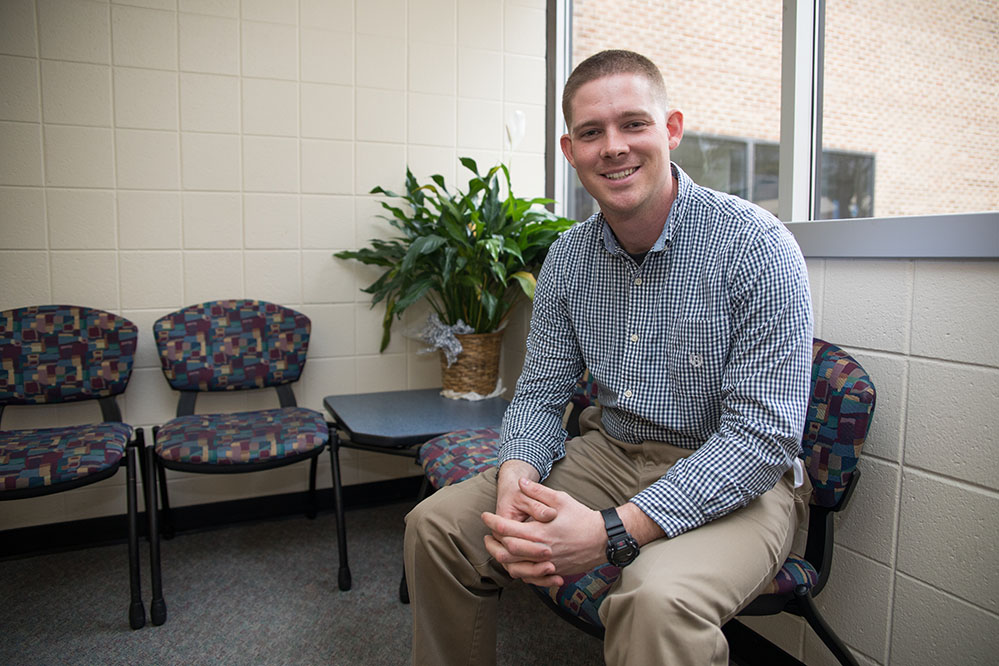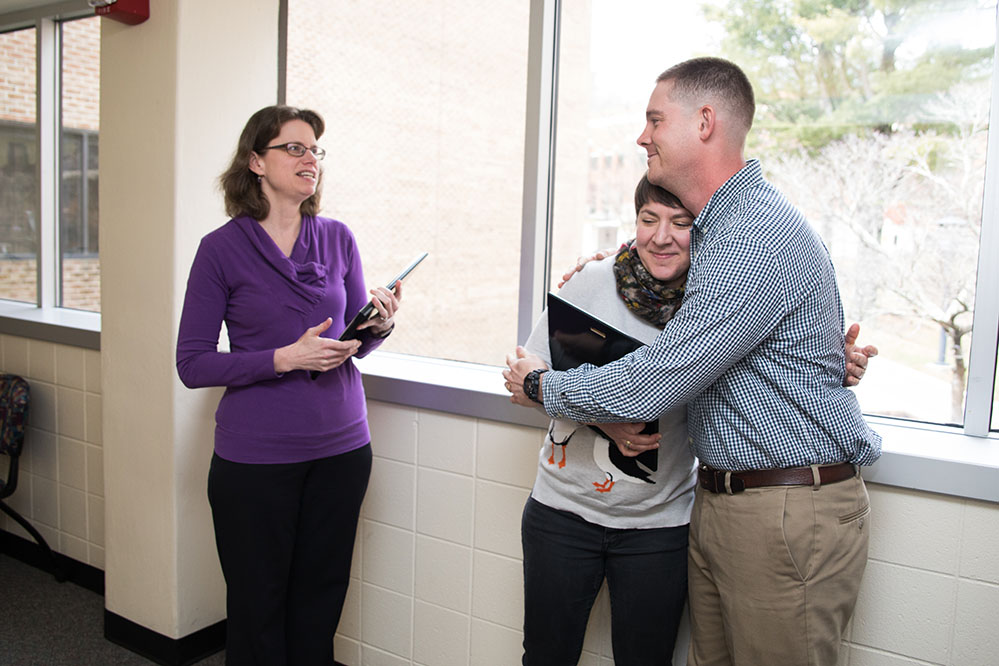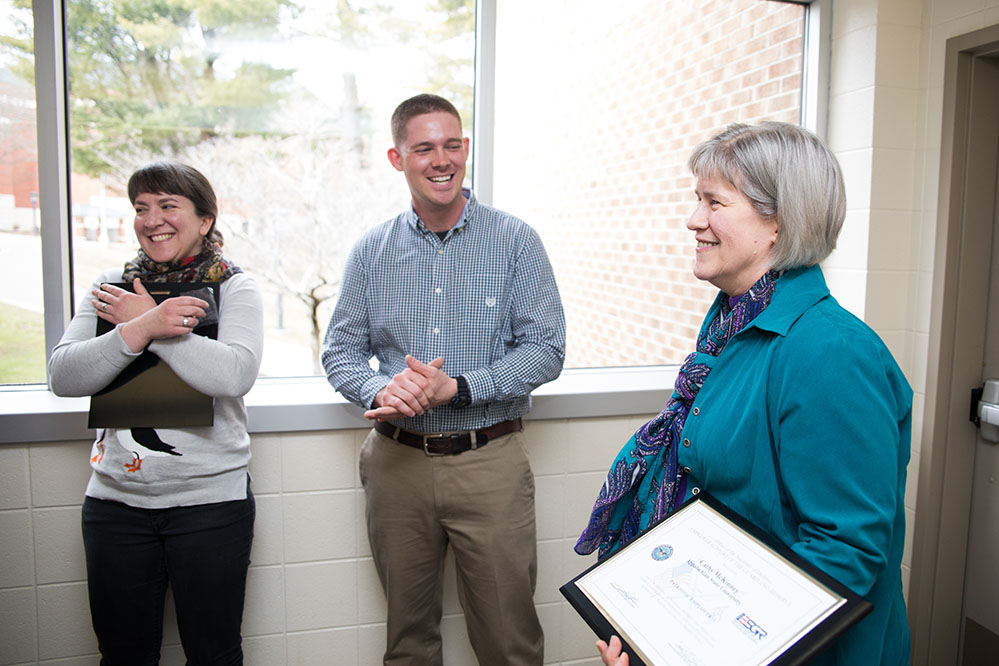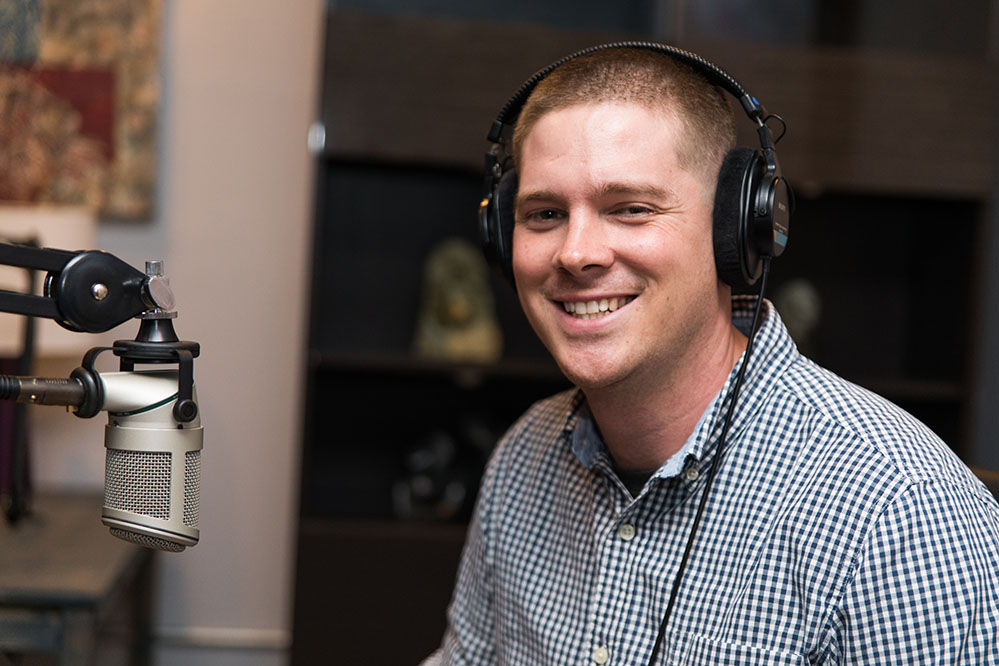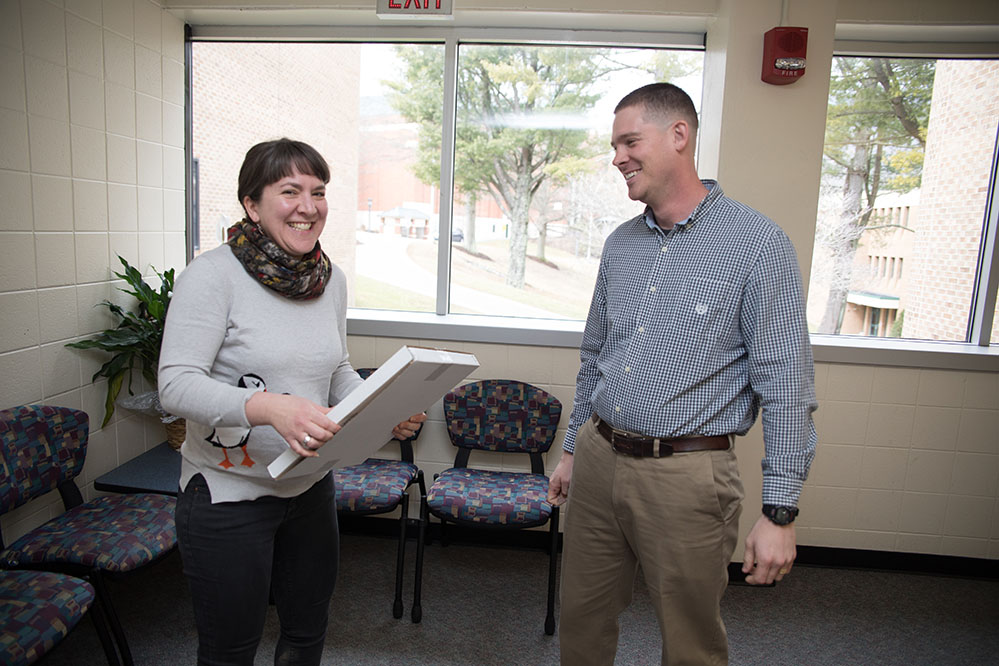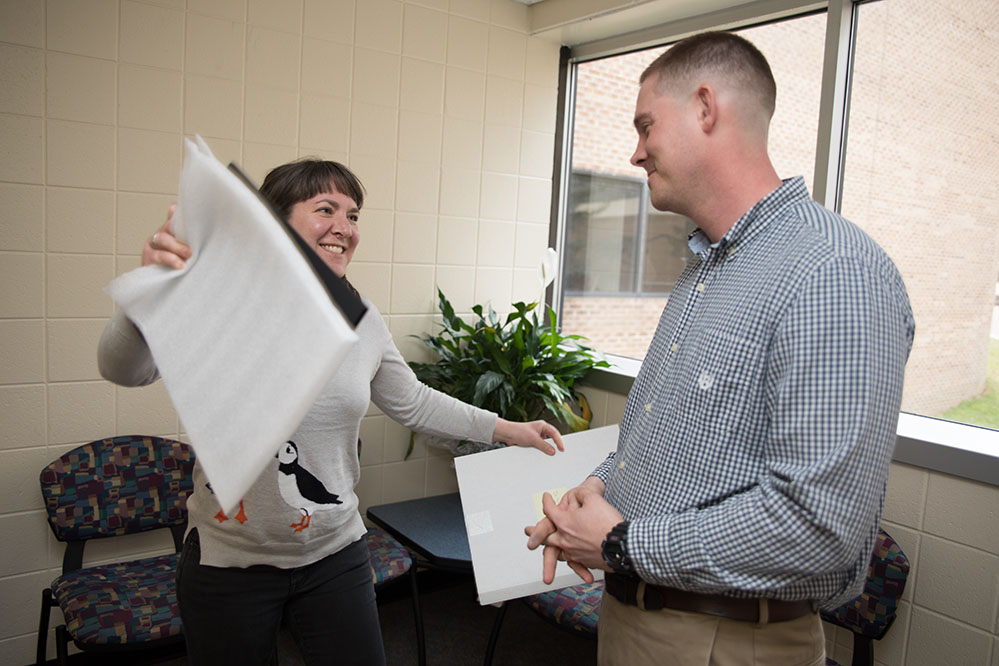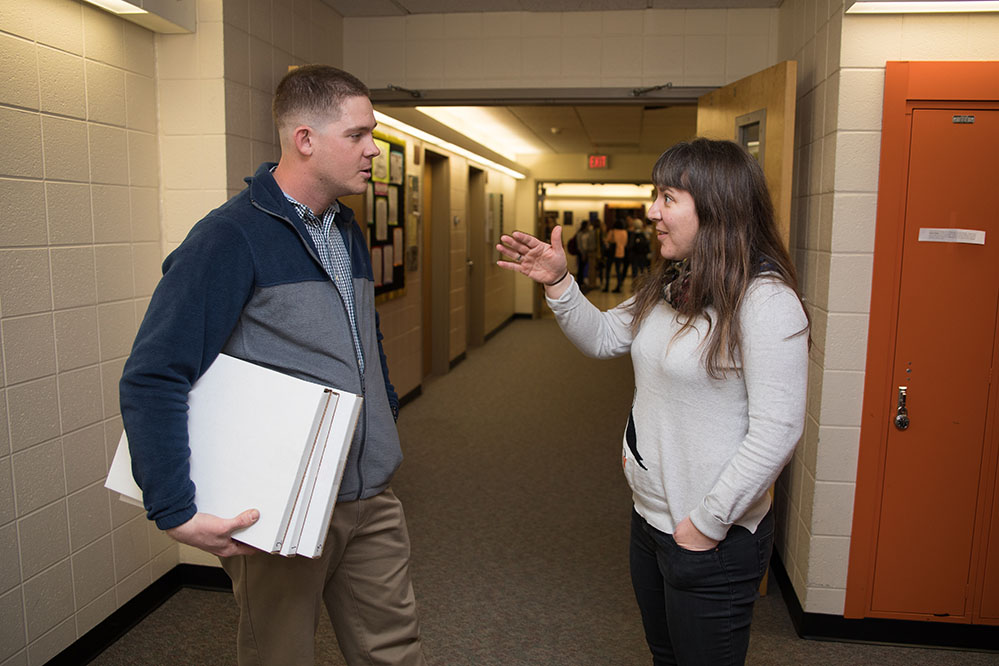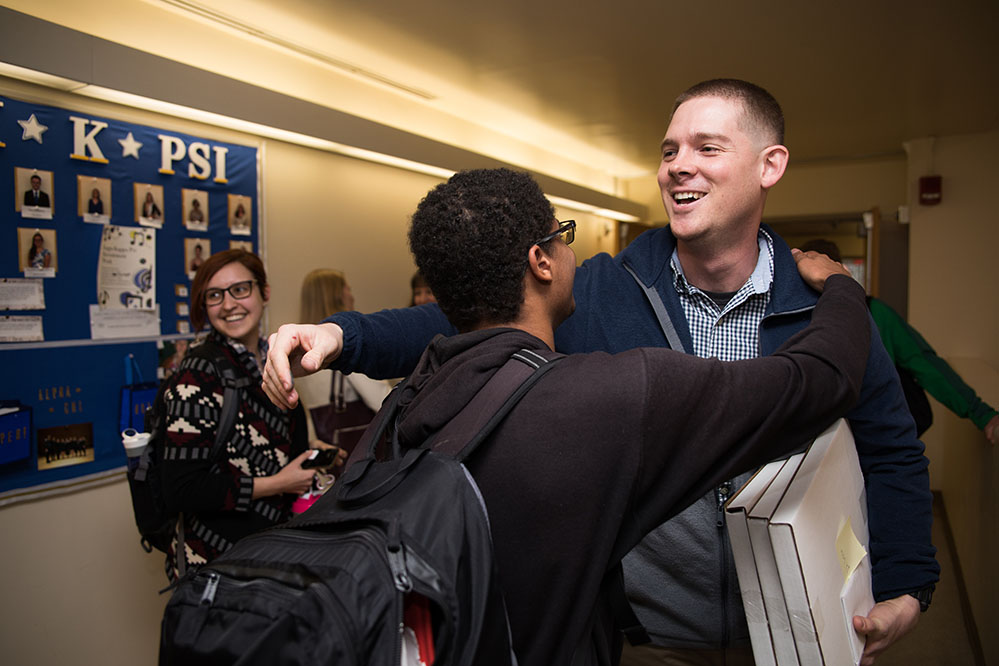 To show his gratitude for their support, Keller nominated three faculty members to each receive a Patriot Award from the Employer Support of the Guard and Reserve (ESGR), a program of the United States Department of Defense. He presented the award certificates to McKinney, Dr. Christine Pollard Leist, associate professor of music therapy, and Dr. Melody Schwantes, a senior lecturer in music therapy, on Feb. 14. He said the ESGR allows Guard and Reserve employees to nominate up to three people for the awards who have shown outstanding support of their service.
It was tough to limit himself to only three people, Keller said, but he chose the three who had helped organize an effort that both surprised and excited him. At the music therapy program's end-of-semester potluck, classmates in the American Music Therapy Association presented him with an Amazon gift card worth $580 so that he could buy a guitar once he reaches his assignment overseas.
"They said, 'We know how important music is to you, and we know how important playing guitar is to you,'" he said. "It showed how much they cared about my keeping an identity to music and being able to teach guitar lessons while I'm over there. It's a way to bring forth music therapy even overseas."
About the Hayes School of Music
The Hayes School of Music prepares young musicians for professional lives as performers, composers, music educators, music therapists, conductors and music industry professionals, ensuring the next generation of musical leadership for the state, region and nation. Noted for quality instruction by national and internationally recognized faculty musicians, the school offers four undergraduate degree programs and three graduate-level programs. Learn more at https://music.appstate.edu.
A Military Friendly School since 2010
Since 2010, Victory Media, the premier media entity for military personnel transitioning into civilian life, has awarded Appalachian the designation of Military Friendly School. The designation places Appalachian in the top 15 percent of colleges, universities and trade schools in the country that are doing the most to embrace military students, and to dedicate resources to ensure their success in the classroom and after graduation. For 2018, Appalachian made Victory Media's Top 10 list, ranking No. 9 among large public universities.
About Appalachian State University
As the premier public undergraduate institution in the Southeast, Appalachian State University prepares students to lead purposeful lives as global citizens who understand and engage their responsibilities in creating a sustainable future for all. The Appalachian Experience promotes a spirit of inclusion that brings people together in inspiring ways to acquire and create knowledge, to grow holistically, to act with passion and determination, and to embrace diversity and difference. Located in the Blue Ridge Mountains, Appalachian is one of 17 campuses in the University of North Carolina System. Appalachian enrolls nearly 21,000 students, has a low student-to-faculty ratio and offers more than 150 undergraduate and graduate majors.
What do you think?
Share your feedback on this story.