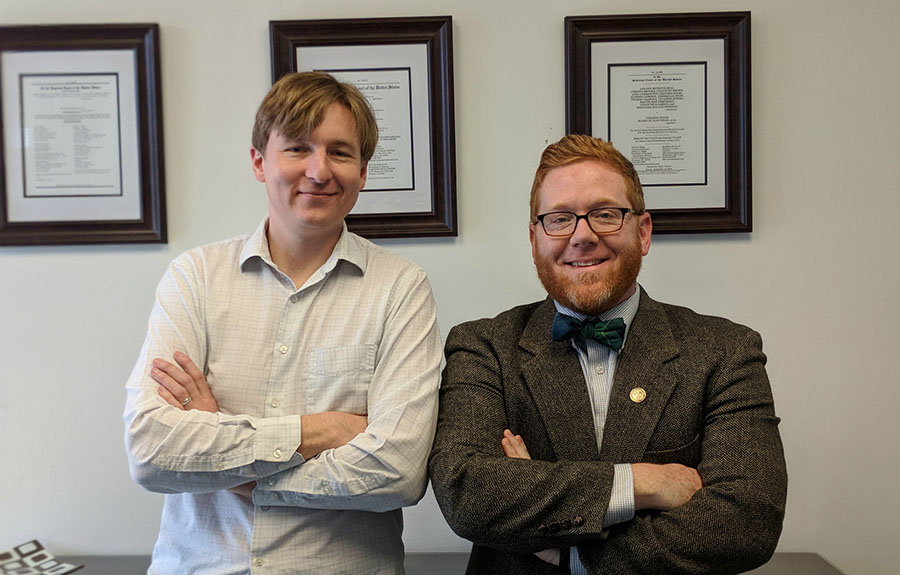 Posted April 12, 2018 at 5 p.m.
BOONE, N.C. — Ian Mance and Dustin Chicurel-Bayard lived on the same floor of Cannon Hall when they were freshmen at Appalachian State University in 1999. They became friends and often found themselves working for the same causes through the Student Government Association.
Eighteen years later, they work at the Southern Coalition for Social Justice, a nonprofit in Durham that protects voting rights, advocates for environmental justice and challenges racial discrimination.
Mance is a staff attorney on the criminal justice team, and Chicurel-Bayard is the organization's communications director.
Chicurel-Bayard, who left Appalachian a few courses short of earning a degree when he first enrolled, has recently been readmitted through the distance education program. He plans to earn a Bachelor of Science in communication studies and graduate in 2019.
Mance received a Bachelor of Science in criminal justice and a Master of Arts in political science from Appalachian in 2003 and 2005, respectively. He also holds a Juris Doctor from the University of North Carolina at Chapel Hill.
"I really enjoy working with Dustin. He's been a good friend for more than half my life," Mance said. "I didn't imagine when we were organizing around issues at App that we'd be doing the same kind of work together at a state and national level 15 years later."
Fond memories of Appalachian
While he was at Appalachian, Mance said he liked hearing Dr. Kenneth Mullen's stories about being a police officer in Foster City, California, and talking with Dr. Matthew Robinson, with whom he shared an interest in drug policy and often went to for advice.
"When I think back on that period in my life, I realize I learned the critical thinking skills that I draw on daily," Mance said.
During his senior year, Mance fulfilled his major's internship requirement while working as a private investigator for Vaughn Investigations in Boone.
"That was a great experience," he said. "I learned how to investigate, which is something I've done pretty much nonstop since I left Appalachian. That's my favorite part of my job now — getting out and knocking on doors and talking to people who might know anything about my cases."
As members of student government, Mance and Chicurel-Bayard persuaded then-Chancellor Francis T. Borkowski to endorse a resolution repealing a section of the Higher Education Act that prevented students with a drug conviction from receiving financial aid. Borkowski became one of the first chancellors of a public university to sign on, and the measure was repealed.
Chicurel-Bayard entered Appalachian with the idea of becoming a kindergarten teacher. But, through his involvement with campus politics and class work, he said he realized that there were other ways to contribute to society that might better suit his skills.
"App State helped me figure out who I was and what I wanted to achieve," he said. "My Introduction to Political Science course my freshman year helped me recognize this was something I was interested in. Dr. Andy Koch, who taught American Political Thought, helped me understand the collective roles of society and the changes that can be created."
Chicurel-Bayard left Appalachian to become a community organizer, and although he said he has had a rewarding career path, he also regretted not finishing his degree.
"The distance education program fits my skill set," he said, "and allows me the ability to continue my professional development while rectifying a youthful mistake."
What do you think?
Share your feedback on this story.
About the Department of Government and Justice Studies
Appalachian State University's Department of Government and Justice Studies offers undergraduate programs in political science and criminal justice, and graduate programs in political science and public administration. Housed in the College of Arts and Sciences, the department has over 600 undergraduate majors and more than 70 graduate students. Learn more at https://gjs.appstate.edu.
About the College of Arts and Sciences
The College of Arts and Sciences (CAS) at Appalachian State University is home to 17 academic departments, two centers and one residential college. These units span the humanities and the social, mathematical and natural sciences. CAS aims to develop a distinctive identity built upon our university's strengths, traditions and unique location. The college's values lie not only in service to the university and local community, but through inspiring, training, educating and sustaining the development of its students as global citizens. More than 6,400 student majors are enrolled in the college. As the college is also largely responsible for implementing App State's general education curriculum, it is heavily involved in the education of all students at the university, including those pursuing majors in other colleges. Learn more at https://cas.appstate.edu.
About graduate education at App State
Appalachian State University's Williams School of Graduate Studies helps individuals reach the next level in their career advancement and preparedness. The school offers 80 graduate degree and certificate programs — both in person and online — in a range of disciplines, including doctoral programs in education (Ed.D.) and psychology (Psy.D.). The graduate school enrolls nearly 2,000 students. Learn more at https://graduate.appstate.edu.
About App State Online
Recognized as one of the top online education destinations in the country by U.S. News & World Report, App State Online is designed to meet students wherever they are — whether they are seeking a degree, a credential or looking to sharpen their personal and/or professional skills. Through App State Online, Appalachian State University offers innovative, flexible and accredited undergraduate and graduate programs. Learn more at https://online.appstate.edu.
About Appalachian State University
As the premier public undergraduate institution in the Southeast, Appalachian State University prepares students to lead purposeful lives. App State is one of 17 campuses in the University of North Carolina System, with a national reputation for innovative teaching and opening access to a high-quality, affordable education for all. The university enrolls more than 21,000 students, has a low student-to-faculty ratio and offers more than 150 undergraduate and 80 graduate majors at its Boone and Hickory campuses and through App State Online. Learn more at https://www.appstate.edu.