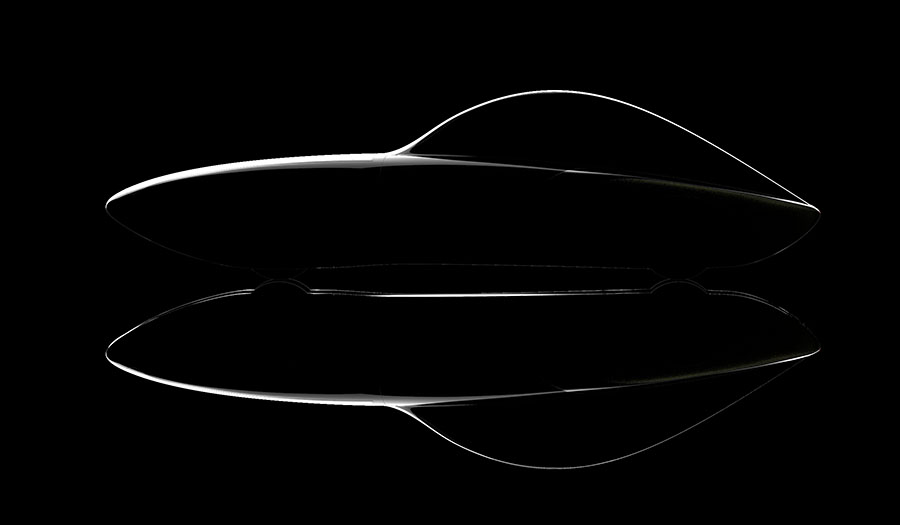 Name the solar car! Get your name predominantly featured inside the car.
Posted April 19, 2018 at 4 p.m.
BOONE, N.C. — Appalachian State University's new Cruiser Class solar car needs a name!
Team Sunergy, Appalachian's student-run solar vehicle team, is creating a new solar car — a Cruiser Class vehicle that seats two, has a carbon fiber body and will top out at 75 miles per hour. Using Apperion, the team's first vehicle, as a reference point, the new car aligns with the 2018 regulations for the American Solar Challenge (ASC) — a biennial solar car endurance event that takes teams across more than a thousand miles of open road.
But, unlike its predecessor, this car's features include a trunk, cup holders, conventional opening doors, audio and video systems, standard gauges, and dials and turn signals. "It will have the look and feel of a true automobile," said Dan Blakeley, project director for Team Sunergy. "A true car."
The team will debut the Cruiser Class car at the 2018 ASC this July. The person whose suggested name is selected will have their signature predominantly displayed inside the car.
Blakeley said sun or solar puns are popular names for solar vehicles. He also suggested considering Appalachian history and location, North Carolina's relationship with NASCAR and the functionality of the car when exploring ideas. Names may be submitted here. Naming ballots will also be distributed at the Monday, April 23, showing of the documentary about the team's 2017 ASC race in Texas in I.G. Greer, and on Sanford Mall Friday, April 27. The last day to submit a name is Monday, April 30.
On Friday, May 4, team members will announce the selected name, and share visuals of the car and the unveiling date for the actual vehicle.
Name the solar car! Get your name predominantly featured inside the car.
Running on shine
In July, select members of the solar vehicle team will leave for Omaha, Nebraska, to begin a journey covering more than 1,700 miles across portions of the Oregon Trail, from Nebraska to Oregon. As with previous events, the American Solar Challenge in 2018 will be preceded by a track-based qualifying event — the Formula Sun Grand Prix.
Hosting both the scrutineering and Formula Sun Grand Prix portions of the event will be Motorsport Park Hastings in Hastings, Nebraska. The 2018 Formula Sun Grand Prix will be the first at the 2.15-mile track.
Following the track race, teams will move to the starting point of the American Solar Challenge in Omaha, Nebraska, at the Lewis and Clark Landing. This is where the display day and multi-occupant judging will take place.
The team also plans to compete in October 2019 in the Bridgestone World Solar Challenge — a biennial solar-powered car race that covers 1,878 miles through the Australian Outback, from Darwin, the capital of Australia's Northern Territory, to Adelaide, the capital of South Australia.
Building more than a car
Appalachian does not offer an engineering degree; nonetheless, Appalachian is the first university in North Carolina to build and design a raceable solar car, and the team holds the leadership role for collegiate programs in the state. Since its inception in 2013, Team Sunergy has built a reputation as a solar force nationally and internationally:
July 28, 2016 — Team Sunergy took third place in the Formula Sun Grand Prix at the Pittsburgh International Race Complex in Wampum, Pennsylvania, completing the race with a total of 414 laps, behind Principia College with 454 laps and University of Michigan, which took first place with 518 laps.
Aug. 6, 2016 — Appalachian State University's solar vehicle team finished the 1,975-mile American Solar Challenge, earning sixth place overall.
July 3-8, 2017 — Team Sunergy took second place in the Formula Sun Grand Prix at the Circuit of The Americas track in Austin, Texas, completing the race with a total of 218 laps, behind UC Berkeley, which took first place with 228 laps.
October 2017 — Team Sunergy traveled to Australia to assist Team Antakari, a Chilean solar vehicle team, as it raced nearly 2,000 miles from Darwin to Adelaide, Australia, for the 2017 Bridgestone World Solar Challenge (BWSC). There, Team Sunergy advised the Chilean team on electrical engineering challenges while also learning about the race, in which Team Sunergy hopes to compete in 2019.
Not SunnyMcSolarFace, please.
Inside EVs
April 24, 2018
About Team Sunergy
Team Sunergy is Appalachian State University's interdisciplinary team of undergraduate and graduate students transforming solar-powered transportation. Its premier solar car, Apperion, gained national attention with top-three finishes in the 2016 and 2017 Formula Sun Grand Prix (FSGP), an international collegiate endurance competition that sets the standards for and tests the limits of solar vehicle technology. In 2018, the team's second, Cruiser Class car, ROSE (an acronym for Racing on Solar Energy), placed third in the FSGP competition and tied for second place in the American Solar Challenge — an international solar vehicle distance road race held biennially by the Innovators Educational Foundation. Team Sunergy brings together students from a variety of majors who have a passion for sustainable transportation and the ingenuity, innovation and drive to create it. Learn more at https://sunergy.appstate.edu.
About Appalachian State University
As the premier public undergraduate institution in the state of North Carolina, Appalachian State University prepares students to lead purposeful lives as global citizens who understand and engage their responsibilities in creating a sustainable future for all. The Appalachian Experience promotes a spirit of inclusion that brings people together in inspiring ways to acquire and create knowledge, to grow holistically, to act with passion and determination, and to embrace diversity and difference. Located in the Blue Ridge Mountains, Appalachian is one of 17 campuses in the University of North Carolina System. Appalachian enrolls more than 19,000 students, has a low student-to-faculty ratio and offers more than 150 undergraduate and graduate majors.
What do you think?
Share your feedback on this story.