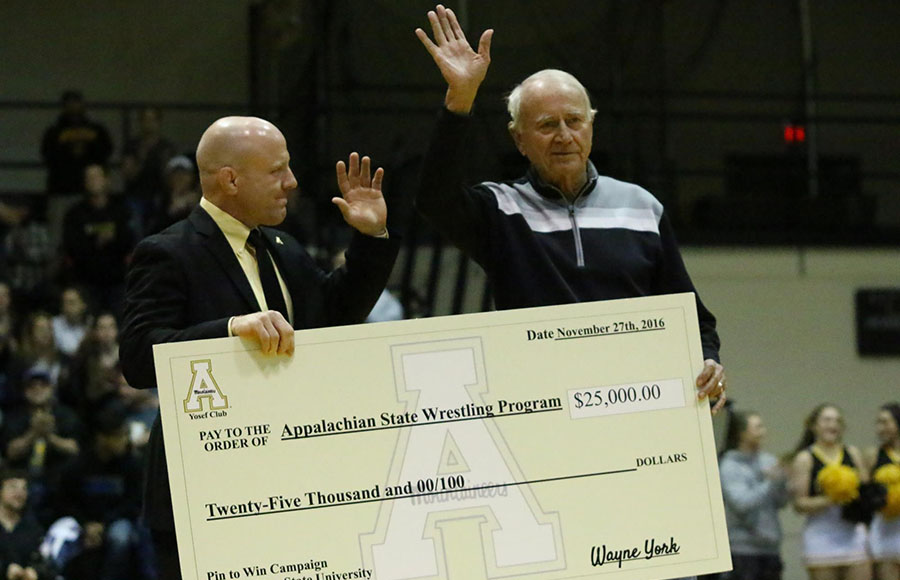 Posted May 17, 2018 at 3:12 p.m.
BOONE, N.C. — Appalachian State University wrestling Hall of Famer and alumnus Wayne York '51 has once again left his mark on the Mountaineers wrestling program.
Appalachian wresting head coach JohnMark Bentley recently announced that, as part of the university's A Mountaineer Impact initiative, York has contributed an $85,000 gift to make Varsity Gym an even better home to the wrestling program.
"I am extremely grateful for Wayne's generosity in helping move the wrestling program forward," Bentley said. "In the last three years, Wayne has made an enormous impact on the program's growth of scholarships and facilities."
According to Bentley, with York's contribution and the generosity of many others, the wrestling program has received $106,580 toward its goal of $150,000 to make desired facility improvements connected to the wrestling room, locker room and seating area in Varsity Gym.
York, who helped the Mountaineers raise more than $50,000 toward wrestling scholarships with the Pin to Win campaign in 2016, wrestled for Appalachian from 1949-51 and was a member of the undefeated 1950 squad that went 13-0 while setting a national scoring record with 368 points. He had a 32-3 record as a senior, competed in the Olympic trials in 1952 and was inducted into the Appalachian Athletics Hall of Fame in 1997.
Earlier this year, Appalachian's wrestling program won its third consecutive Southern Conference (SoCon) regular-season championship and also captured the SoCon tournament title. Four wrestlers competed at the NCAA Championships in Cleveland, Ohio, and Bentley was one of eight finalists for the Division I Theraworx/NWCA National Coach of the Year award.
The Mountaineers have a 20-1 record in SoCon dual meets since the start of the 2015-16 season, and they climbed to as high as No. 16 in the national polls with a 13-2 start to the 2016-17 season.
Over a three-year stretch (2015-2018), the team has held a 29-1 record against non-Power Five conference opponents, with five victories against teams from Power Five leagues.
Click here to donate to Appalachian's wrestling program, or contact the Yosef Club at 828-262-3108.
About Mountaineer Athletics
More than 450 student-athletes compete in 20 NCAA Division I varsity sports at Appalachian State University, 10 for men and 10 for women. Appalachian was a dominant force in the Southern Conference for more than 40 years before joining the Sun Belt Conference in July 2014 — one of 10 conferences that are members of the Division I Football Bowl Subdivision (FBS). The Mountaineer football team claimed back-to-back 10-win seasons and bowl victories in 2015 and 2016, providing a catalyst for comprehensive excellence to grow across all Appalachian sports while competing at the highest levels of college athletics. Learn more at https://www.appstate.edu/athletics.
About Appalachian State University
As the premier, public undergraduate institution in the state of North Carolina, Appalachian State University prepares students to lead purposeful lives as global citizens who understand and engage their responsibilities in creating a sustainable future for all. The Appalachian Experience promotes a spirit of inclusion that brings people together in inspiring ways to acquire and create knowledge, to grow holistically, to act with passion and determination, and to embrace diversity and difference. Located in the Blue Ridge Mountains, Appalachian is one of 17 campuses in the University of North Carolina System. Appalachian enrolls more than 19,000 students, has a low student-to-faculty ratio and offers more than 150 undergraduate and graduate majors.
What do you think?
Share your feedback on this story.