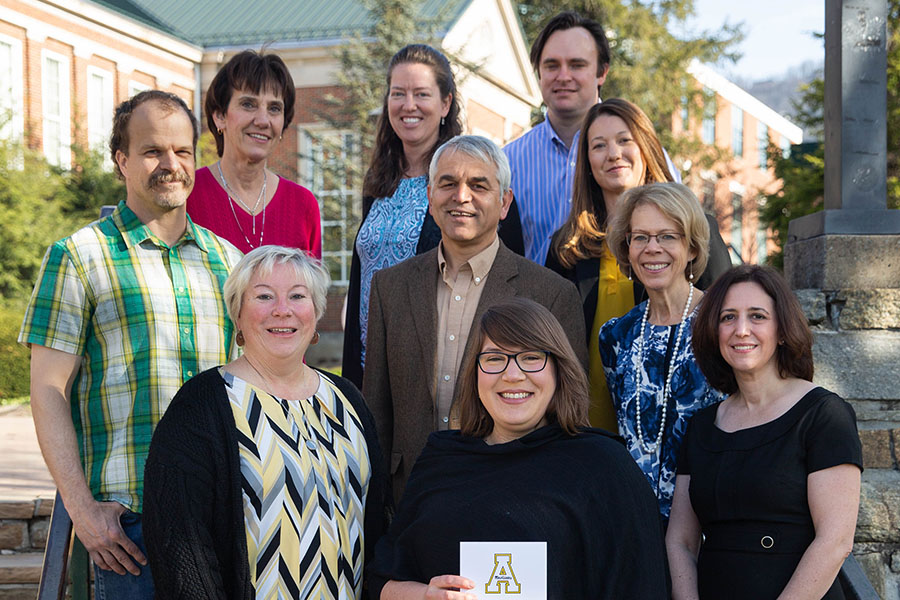 Posted May 18, 2018 at 4:29 p.m.
BOONE, N.C. — A National Science Foundation (NSF)-funded scholarship program at Appalachian State University is helping address the nation's shortage in STEM graduates and workers.
The program's leaders — a cross-disciplinary team of faculty members from Appalachian's College of Arts and Sciences and the Reich College of Education — have received an NSF S-STEM grant to establish a Type II program. This grant allocates up to $1 million to establish a five-year, multidisciplinary program titled The Appalachian High Achievers in STEM.
The program will build on successes and lessons learned from previous projects with similar objectives, such as STEP: Appalachian Undergraduate Academy of Science (2008-13) and the recently completed S-STEM: High Achievers in Computer Science and Mathematics (2013-17) project.
NSF scholarships worth $6,000 a year will be awarded to students based on academic ability and financial need, and focus on students in the region planning to obtain STEM degrees. The funding will cover up to eight semesters of study for undergraduate students and up to four semesters of study for graduate students in the chemistry, computer science, geological and environmental sciences, mathematical sciences and physics and astronomy degree programs.
"The goal of the program is to attract financially needy and academically talented students in the participating disciplines and help them succeed in the attempt to increase the number of workers in these fields," said Dr. Rahman Tashakkori, chair of Appalachian's Department of Computer Science and director of the university's NSF S-STEM scholarship program.
In addition to financial support, students will receive mentoring from faculty and from student peers. Each student in the S-STEM program will be paired with a faculty mentor within their respective discipline with whom they can talk about coursework or other matters of concern or interest. Moreover, graduate and upper-level students will help mentor new students in the program.
"This program offers both financial and academic support to recruit, retain and excite students about STEM careers. It offers a chance to view the various disciplines and to see how they can be integrated into research," said Dr. Neva J. Specht, dean of Appalachian's College of Arts and Sciences. "It will provide the type of training that will be exactly what the 21st-century employers or graduate programs are looking for."
Students are placed on teams in which they work on service and research projects together. To support student learning, study halls for common core classes are available along with a mentoring corner for extra help. Leadership and internship workshops, resume building and community activities are part of the programmatic structure as well.
"This funding provides the scholars of the program opportunities to build a strong community, conduct research and mentor each other. Our students perform better with mentoring and engagement in research," Tashakkori said.
For more information about the NSF S-STEM scholarship program at Appalachian, contact the Department of Computer Science at 828-262-2370 or visit http://www.cs.appstate.edu/sstem.
About the Department of Computer Science
Appalachian's Department of Computer Science provides a rigorous, high-quality education that prepares students for the computing industry or graduate education. It offers a Bachelor of Science degree in computer science, which is accredited by the Computing Accreditation Commission of ABET, and a Master of Science degree in computer science. Learn more at https://compsci.appstate.edu.
About the College of Arts and Sciences
The College of Arts and Sciences is home to 16 academic departments, one stand-alone academic program, two centers and one residential college. These units span the humanities and the social, mathematical and natural sciences. The College of Arts and Sciences aims to develop a distinctive identity built upon our university's strengths, traditions and unique location. The college's values lie not only in service to the university and local community, but through inspiring, training, educating and sustaining the development of its students as global citizens. There are approximately 6,100 student majors in the college. As the college is also largely responsible for implementing Appalachian's general education curriculum, it is heavily involved in the education of all students at the university, including those pursuing majors in other colleges. Learn more at https://cas.appstate.edu.
About the Reich College of Education
Appalachian offers one of the largest undergraduate teacher preparation programs in North Carolina, graduating about 500 teachers a year. The Reich College of Education enrolls approximately 2,400 students in its bachelor's, master's, education specialist and doctoral degree programs. With so many teacher education graduates working in the state, there is at least one RCOE graduate teaching in every county in North Carolina. Learn more at https://rcoe.appstate.edu.
About Appalachian State University
As the premier public undergraduate institution in the state of North Carolina, Appalachian State University prepares students to lead purposeful lives as global citizens who understand and engage their responsibilities in creating a sustainable future for all. The Appalachian Experience promotes a spirit of inclusion that brings people together in inspiring ways to acquire and create knowledge, to grow holistically, to act with passion and determination, and to embrace diversity and difference. Located in the Blue Ridge Mountains, Appalachian is one of 17 campuses in the University of North Carolina System. Appalachian enrolls more than 19,000 students, has a low student-to-faculty ratio and offers more than 150 undergraduate and graduate majors.
What do you think?
Share your feedback on this story.