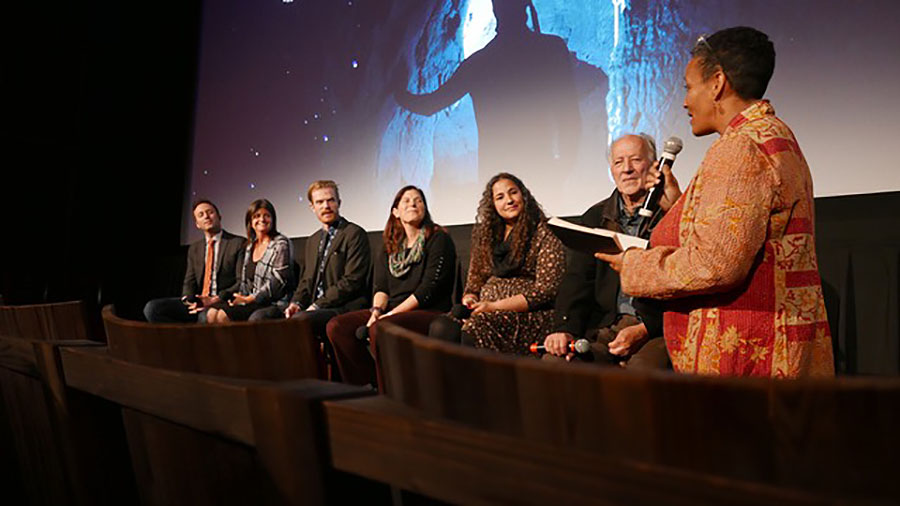 Posted June 8, 2018 at 9:40 a.m.
BOONE, N.C. — How did life begin? What is dark matter? What is consciousness? How much do we really know? These essential questions have fueled scientific inquiry for generations.
Dr. Rachel Smith, assistant professor in Appalachian State University's Department of Physics and Astronomy, which is housed in the College of Arts and Sciences, is one of nine scientists looking for answers to these big questions in "The Most Unknown," a new feature-length documentary from VICE Media's science and technology channel, Motherboard.
The documentary's premiere theatrical screening in the U.S. took place at a theater in downtown Manhattan in April. The screening also included a panel featuring Smith alongside other scientists from the documentary, as well as Peabody Award-winning filmmaker Ian Cheney ("The Search for General Tso," "King Corn"), who directed the film, and German filmmaker Werner Herzog ("Grizzly Man," "Cave of Forgotten Dreams," "Fitzcarraldo"), who advised on the film.
Beginning deep underground in the Frasassi Caves in Italy, the film follows nine scientists around the globe as they explore new fields and visit new places. The scientists met with each other to discuss their work and how their respective fields may overlap.
Smith met with Dr. Luke McKay, a postdoctoral research fellow at Montana State University who studies primitive microbial processes in Yellowstone National Park, and Dr. Victoria Orphan, the James Irvine Professor of Environmental Science and Geobiology at the California Institute of Technology (Caltech). McKay joined Smith on an observation trip to the W.M. Keck Observatory, which is located atop Mauna Kea on the Big Island of Hawaii. Smith then went to Costa Rica to accompany Orphan in research involving methane seeps using a deep-submergence vehicle named Alvin.
"'The Most Unknown' was something of an experiment; an attempt to break new ground in science storytelling while showcasing the work of remarkable scientists all over the world," Cheney said. "Our hypothesis as filmmakers was that in pairing up scientists from different disciplines, we might reveal the common languages of science, and provide a raw, human glimpse of what propels scientists into the unknown."
"The Most Unknown" was supported by a grant from Science Sandbox, a Simons Foundation initiative dedicated to engaging everyone with the process of science. The documentary will be shown in theaters across 20 U.S. cities and premiere on Netflix in August.
About Dr. Rachel Smith
Smith is an observational astronomer whose research interests include exploring how our solar system and other planetary systems form and evolve over time.
She earned her B.S. from Cornell University, her D.V.M. from Cornell University's College of Veterinary Medicine and her M.S. and Ph.D. both in cosmochemistry/astrochemistry (officially geochemistry) from the University of California, Los Angeles.
Smith teaches two undergraduate courses that she also developed for Appalachian — Astrobiology: Exploring Life in the Universe and Star Formation. These courses help introduce fundamental concepts that are at the core of astrophysics and space exploration, and the many facets of searching for life beyond Earth.
In addition to teaching at Appalachian, Smith is head of the astronomy and astrophysics research lab at the North Carolina Museum of Natural Sciences and curates the museum's meteorite collection. She also collaborates with scientists at the California Institute of Technology, NASA's Jet Propulsion Laboratory, the Space Telescope Science Institute, NASA's Ames Research Center and the American Museum of Natural History.
About the Department of Physics and Astronomy
The Department of Physics and Astronomy's curriculum has an applied nature that includes a core of fundamental physics courses and laboratory experiences. The department prepares graduates for a variety of scientific, teaching or engineering professions, as well as future educational endeavors. Learn more at https://physics.appstate.edu.
About the College of Arts and Sciences
The College of Arts and Sciences (CAS) at Appalachian State University is home to 17 academic departments, two centers and one residential college. These units span the humanities and the social, mathematical and natural sciences. CAS aims to develop a distinctive identity built upon our university's strengths, traditions and unique location. The college's values lie not only in service to the university and local community, but through inspiring, training, educating and sustaining the development of its students as global citizens. More than 6,400 student majors are enrolled in the college. As the college is also largely responsible for implementing App State's general education curriculum, it is heavily involved in the education of all students at the university, including those pursuing majors in other colleges. Learn more at https://cas.appstate.edu.
About Appalachian State University
As the premier public undergraduate institution in the state of North Carolina, Appalachian State University prepares students to lead purposeful lives as global citizens who understand and engage their responsibilities in creating a sustainable future for all. The Appalachian Experience promotes a spirit of inclusion that brings people together in inspiring ways to acquire and create knowledge, to grow holistically, to act with passion and determination, and to embrace diversity and difference. Located in the Blue Ridge Mountains, Appalachian is one of 17 campuses in the University of North Carolina System. Appalachian enrolls more than 20,000 students, has a low student-to-faculty ratio and offers more than 150 undergraduate and graduate majors.
What do you think?
Share your feedback on this story.