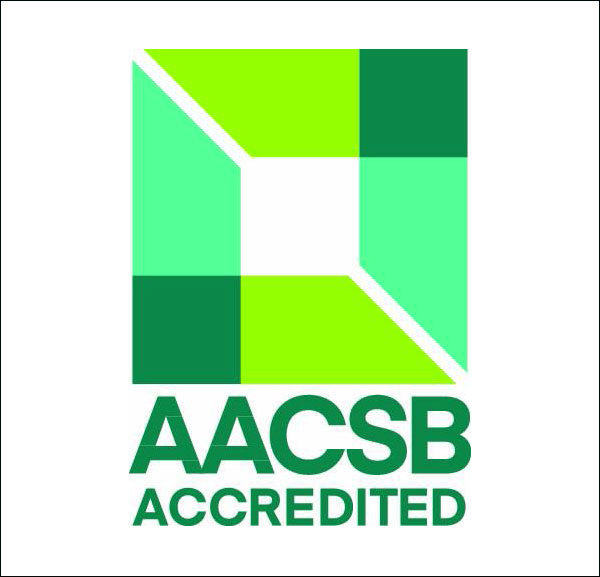 Posted June 12, 2018 at 4:50 p.m.
BOONE, N.C. — Appalachian State University and its Walker College of Business have been re-accredited for a standard, five-year extension by the Association to Advance Collegiate Schools of Business (AACSB) International.
Less than 5 percent of business schools worldwide have earned this distinction. Today, 817 business schools in 53 countries and territories hold AACSB accreditation. Appalachian has maintained the distinction since 1976.
"I am pleased that, following the rigorous and comprehensive peer review, Appalachian has once again maintained our accreditation," said Walker College of Business Dean Heather Hulburt Norris. "We are committed to ensuring excellence and continuous improvement in all we do."
AACSB International is the longest-serving global accrediting body for business schools offering undergraduate, master's and doctoral degrees in business and accounting. According to its website, the association's focus is to advance "quality management education worldwide through accreditation, thought leadership and value-added services."
Retaining accreditation is a process of rigorous internal review, evaluation and adjustment. The criteria include a high-quality teaching environment, a commitment to continuous improvement and curricula responsive to the needs of businesses.
"AACSB congratulates each institution on their achievement," said Stephanie M. Bryant, executive vice president and chief accreditation officer of AACSB. "Every AACSB-accredited school has demonstrated a focus on excellence in all areas, including teaching, research, curricula development, and student learning. The intense peer-review process exemplifies their commitment to quality business education."
Achieving accreditation is a process of rigorous internal focus, engagement with an AACSB-assigned mentor and peer-reviewed evaluation. During this multiyear path, schools focus on developing and implementing a plan to align with AACSB's accreditation standards. These standards require excellence in areas relating to strategic management and innovation; student, faculty and staff as active participants; learning and teaching; and academic and professional engagement.
The extension of accreditation covers the Walker College of Business' undergraduate business programs and its MBA, M.S. in accounting and M.S. in applied data analytics programs.
In their recommendations to extend accreditation, the AACSB's Peer Review Team cited the college's dynamic curricula, including the recent development of a graduate program in data analytics, an undergraduate program in supply chain management, eight undergraduate minors and five MBA concentrations to meet the needs of constituent groups and in response to employment trends and data.
The team also noted strong cocurricular programs and professional engagement opportunities, including "outstanding internship experiences, a robust study abroad program and ample opportunity to interact with the regional business community."
The Walker College of Business' next accreditation review is scheduled for 2022–23.
About AACSB International
As the world's largest business education alliance, the Association to Advance Collegiate Schools of Business (AACSB) International connects educators, students and business to achieve a common goal: to create the next generation of great leaders. Synonymous with the highest standards of excellence since 1916, AACSB provides quality assurance, business education intelligence and professional development services to over 1,500 member organizations and more than 785 accredited business schools worldwide. AACSB's aims to foster engagement, accelerate innovation and amplify impact in business education. Learn more at https://aacsb.edu.
About the Walker College of Business
The Walker College of Business at Appalachian State University delivers transformational educational experiences that prepare and inspire students to be ethical, innovative and engaged business leaders who positively impact our community, both locally and globally. The college places emphasis on international experiences, sustainable business practices, entrepreneurial programs and real-world applications with industry. Enrolling approximately 3,000 undergraduates in 10 majors and 175 graduate students in three master's programs, the Walker College is accredited by AACSB International – the premier global accrediting body for schools of business. Learn more at https://business.appstate.edu.
About Appalachian State University
As the premier public undergraduate institution in the Southeast, Appalachian State University prepares students to lead purposeful lives as global citizens who understand and engage their responsibilities in creating a sustainable future for all. The Appalachian Experience promotes a spirit of inclusion that brings people together in inspiring ways to acquire and create knowledge, to grow holistically, to act with passion and determination, and to embrace diversity and difference. Located in the Blue Ridge Mountains, Appalachian is one of 17 campuses in the University of North Carolina System. Appalachian enrolls nearly 21,000 students, has a low student-to-faculty ratio and offers more than 150 undergraduate and graduate majors.
What do you think?
Share your feedback on this story.