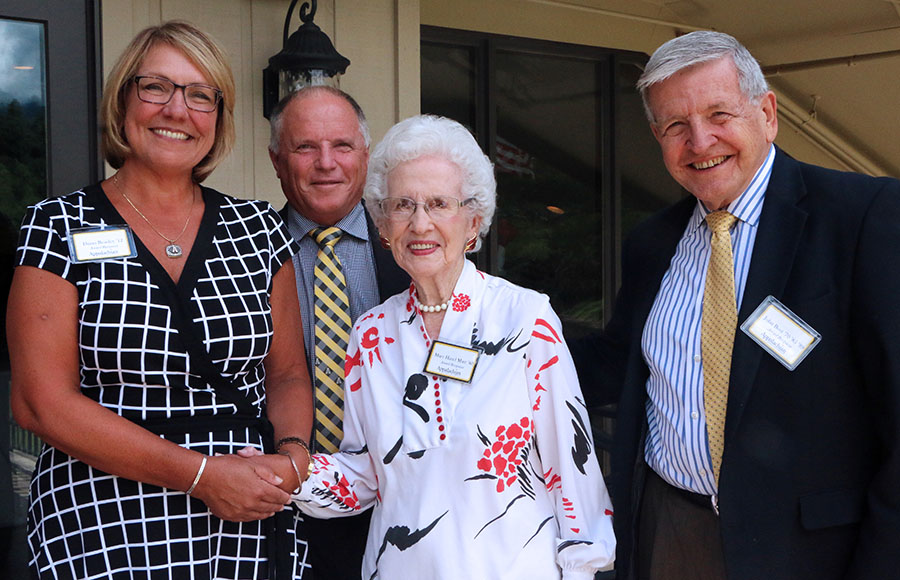 Posted July 13, 2018 at 2:37 p.m.
BOONE, N.C. — The four newest members of Appalachian State University's Rhododendron Society — alumni Diana Beasley '11, John Bost '70 '85 '89, Daron "Chip" Buckwell '82 '83 and Mary Hazel Farthing Mast '80 — were inducted into the society on June 22 during a brunch held at Hound Ears Club in Boone.
The brunch was attended by the award recipients and their guests, as well as previous recipients, Reich College of Education (RCOE) Advancement Board members and college leadership, including RCOE Dean Melba Spooner and Associate Dean Nickolas Jordan.
"Rhododendron Society members demonstrate a lifelong commitment to education. They serve their communities and share their talents as dedicated leaders and mentors," Spooner said. "They continue the legacy of great educators, inspiring us and reminding us why we do this important work. True to the purpose of the Rhododendron Society's core, these individuals reflect great credit on themselves, the field of education and the university."
Appalachian's RCOE established the Rhododendron Society in 1999, the university's centennial year. It is named for the native plant that blooms on and around campus, as well as Appalachian's one-time yearbook, "The Rhododendron," that captured the university's historic moments, activities and accomplishments.
As the highest honor given by the college, the award honors alumni for their exemplary service to education and to their communities. The society recognizes RCOE graduates whose service as teachers, librarians, human service professionals or administrators has reflected great credit on themselves, the field of education and the university.
Beasley, Bost, Buckwell and Mast join a distinguished group of 62 Rhododendron Society members.
Society members give back to the RCOE through an annual scholarship, which is awarded to an undergraduate and a graduate student who are outstanding in their course of study.
RCOE encourages Rhododendron Society nominations of Appalachian alumni currently working in the field of education as well as those who have retired. To learn more about the Rhododendron Society or to view nomination materials, visit https://rcoe.appstate.edu/rhododendron-society.
About Diana Beasley
Beasley has been an educator for more than 35 years. She earned a bachelor's degree in secondary science education from the University of Virginia in 1982 and a master's degree in higher education administration from Appalachian in 2011.
She began her education career as a science teacher at Bruton High School in Williamsburg, Virginia, in 1982. After marrying husband Rick, she moved to North Carolina and taught at North Edgecombe High School (1998–1989) in Leggett and Hickory High School (1989–2006) in Hickory.
During this time, Beasley received numerous accolades. She was named Bruton High School Teacher of the Year, was twice named Hickory High School Teacher of the Year and Hickory Public Schools Teacher of the Year, and was named 2006–2007 North Carolina Teacher of the Year. As part of this role, Beasley traveled extensively throughout the state visiting classrooms, universities, state offices and businesses to spread the good news of public education.
Beasley served on the founding board of the North Carolina State Chapter of National Network of State Teachers of the Year (NNSTOY) and as a Teacher Advisor (2006–2008) and a Public Higher Education Advisor (2008–2012) for the North Carolina State Board of Education. In addition, she has served on school improvement teams, accreditation committees and local advisory boards.
In 2007, Beasley returned to Appalachian as the RCOE's director of teacher education recruitment, where she worked diligently to recruit and retain students who would become future teachers.
Beasley retired from Appalachian in August 2017. After the mandatory six-month separation from her employment with the state of North Carolina, she accepted a position with Hickory Public Schools as a part-time instructional coach and science tutor at Hickory Career and Arts Magnet High School, because, according to Beasley, her "favorite spot is back in the classroom!"
About John Bost
A "servant leader" is how friends and colleagues describe John Bost, who was a long-time educator and is now an entrepreneur and community leader. He resides in Clemmons with his wife, LaDonna Bost, a retired English teacher and interior designer.
Bost earned three degrees from Appalachian — a bachelor's degree in biology in 1970, a master's degree in community education and resource development in 1985 and an educational specialist degree in leadership and administration in 1989. He is also an ordained minister and a certified executive coach.
Bost began his education career as a science teacher with Davidson County Schools (1970–1985) in Lexington. In 1985, he was named associate to the superintendent for Lexington City Schools. His responsibilities included media and community development. He was instrumental in creating the Lexington Education Association, which raises funds and distributes scholarships to students from the Lexington City Schools, and he supported adult education through the community college system.
Bost served in this role until 1990, when he took early retirement to accept a position as executive pastor for Winston-Salem First. In 1996, Bost left to open a consulting firm — Master Counsel and Associates Inc. An entrepreneur, Bost is also licensed with the North Carolina Real Estate Commission and is a co-founder of Master Counsel Technologies as well as two other start­up companies.
Bost has served his community as a member of the Winston-Salem/Forsyth County Planning Board, as a board member of various early childhood initiatives and as a Rotary Foundation Paul Harris Fellow. He is a previous chairperson of Leadership Winston-Salem, an organization that strives to educate, connect and energize community leaders, and a three-term mayor of the village of Clemmons.
About Chip Buckwell
Chip Buckwell is a dual Appalachian graduate: he earned a bachelor's degree in 1982 and a master's degree in adapted physical education in 1983. He also earned a principal certificate from the University of North Carolina at Charlotte in 1990 and a Doctor of Education from Nova Southeastern University in 1995. He currently resides in Kannapolis with his wife, Camilla.
Buckwell, who describes himself as a "teacher, athletic trainer and coach," has been empowering students in and out of the classroom for more than 35 years. He has served as a teacher, principal, student services director, assistant superintendent, superintendent and more.
In 1983, Buckwell began his career in education as a health and physical education teacher at Kinston Junior High in Kinston. Since 1985, he has worked for Kannapolis City Schools (KCS) in multiple roles. Notably, he served as principal of Kannapolis Middle School from 2001–2013, during which time he was named KCS Principal of the Year in both 2006 and 2012.
In 2016, Buckwell was named KCS superintendent, a role in which he continues to serve. He has led his school district in redistricting, establishing three magnet programs, building a new middle school and renovating the district's old middle school into an arts magnet school. Under his leadership, KCS has established or expanded programs in culinary arts, engineering, welding and automotives, and has plans to add HVAC and mechatronics programs.
In addition, Buckwell gives back to his alma mater. "I love being involved with anything Appalachian," he said. He serves on the Former Athletes Board, is a regular participant on university panel discussions and can be found cheering at every home football game.
About Mary Hazel Farthing Mast
At the age of 90, Mary Hazel Farthing Mast continues to volunteer five days a week in Debbie Glover's fourth-grade classroom at Valle Crucis Elementary School in Sugar Grove — the school where she taught for most of her 33-year career.
Mast is a Watauga County native, who was born and raised in the Valle Crucis community. She graduated from Women's College, now the University of North Carolina at Greensboro, at age 18 and married her childhood sweetheart, H.W. Mast Jr., during her senior year.
She first taught in the little red schoolhouse located behind the original Mast Store in Valle Crucis, and later at the current school. In 1980, Mary Hazel Farthing Mast earned a master's degree from Appalachian State University.
Nominator and friend Nanci Tolbert Nance shared, "She is the teacher all educators want to be and all parents want to see in their children's classroom, the community member everyone appreciates, and the friend everyone deserves."
Mary Hazel Farthing Mast retired in 1989 but continued to serve as a volunteer at the school, with an adult literacy program and at a local nursing home. She is also a highly respected member of the Valle Crucis community and her church, Valle Crucis Methodist, where she played piano and organ for many years. She has always and continues to make time to participate in community, church and school events.
About the Reich College of Education
Appalachian State University offers one of the largest undergraduate teacher preparation programs in North Carolina, graduating about 500 teachers a year. The Reich College of Education enrolls more than 2,000 students in its bachelor's, master's, education specialist and doctoral degree programs. With so many teacher education graduates working in the state, there is at least one RCOE graduate teaching in every county in North Carolina. Learn more at https://rcoe.appstate.edu.
About Appalachian State University
As the premier public undergraduate institution in the Southeast, Appalachian State University prepares students to lead purposeful lives as global citizens who understand and engage their responsibilities in creating a sustainable future for all. The Appalachian Experience promotes a spirit of inclusion that brings people together in inspiring ways to acquire and create knowledge, to grow holistically, to act with passion and determination, and to embrace diversity and difference. Located in the Blue Ridge Mountains, Appalachian is one of 17 campuses in the University of North Carolina System. Appalachian enrolls nearly 21,000 students, has a low student-to-faculty ratio and offers more than 150 undergraduate and graduate majors.
What do you think?
Share your feedback on this story.