Posted Oct. 5, 2018 at 1:39 p.m.
BOONE, N.C. — One by one, plots for each of the nine historically black fraternities and sororities — seven of which are currently represented at Appalachian State University — were revealed at a ribbon-cutting and unveiling ceremony for Appalachian's National Pan-Hellenic Council (NPHC) Plots and Garden project Sept. 29. Current NPHC members and alumni chanted, cheered, cried and celebrated as their respective plots were uncovered.
Nearly 10 years of advocating by students, staff and NPHC alumni for a gathering space and tribute to the Greek-letter organizations that compose the NPHC, often collectively called "The Divine Nine," became a reality during the university's Homecoming 2018 weekend festivities a year after the space was dedicated for the project.
"As an integral part of the Appalachian landscape, this location will provide a place for people to visit, to engage, to reminisce and to reflect," Appalachian Chancellor Sheri Everts said. "Standing here today, I am especially pleased to be one of the many members of the Appalachian Community that shares a commitment to inclusive excellence and all that stands for."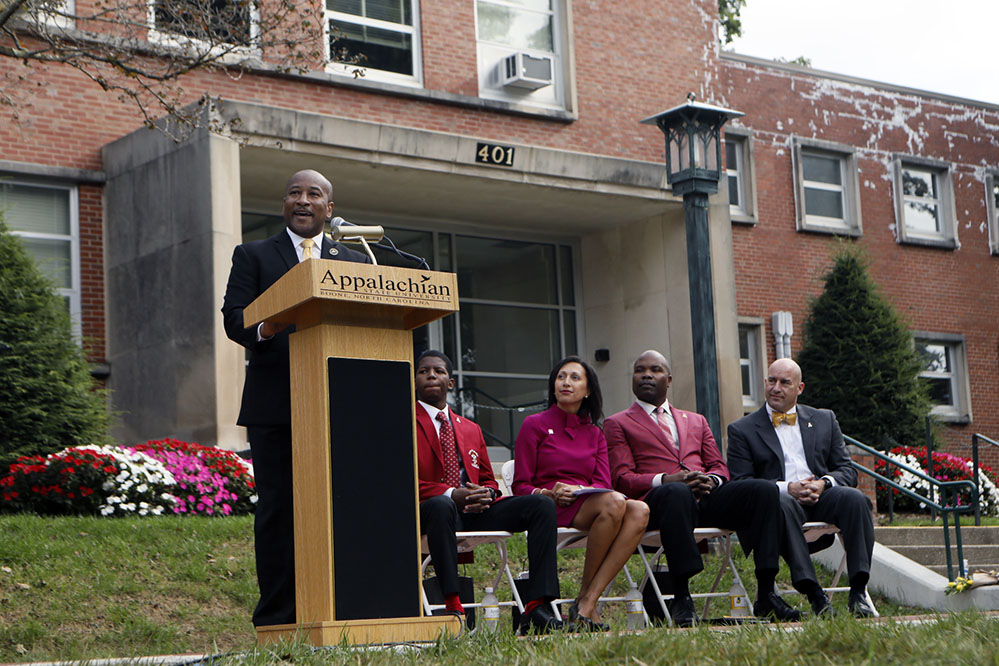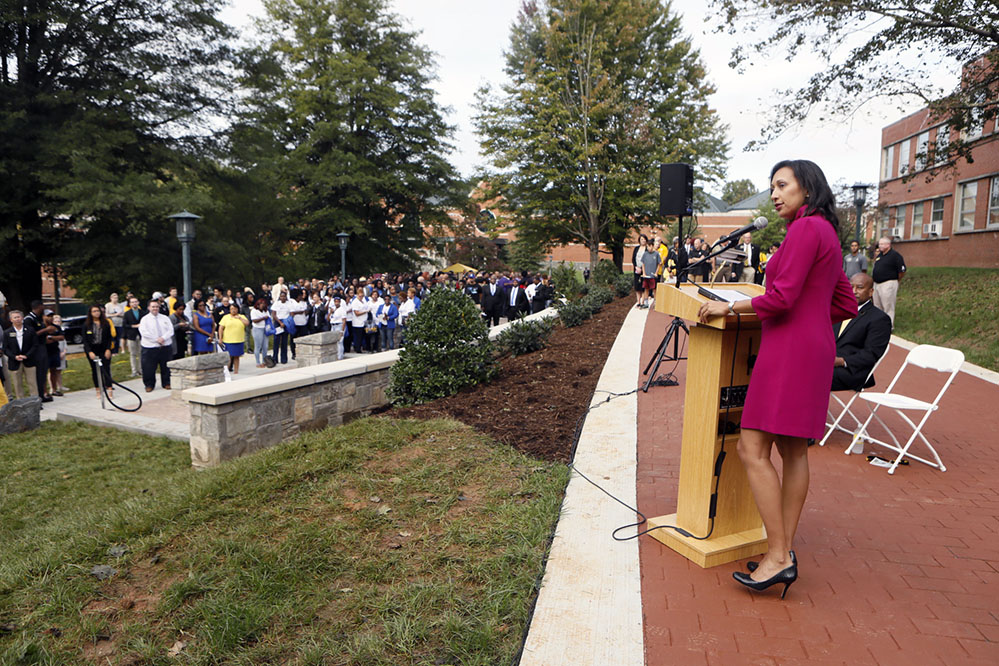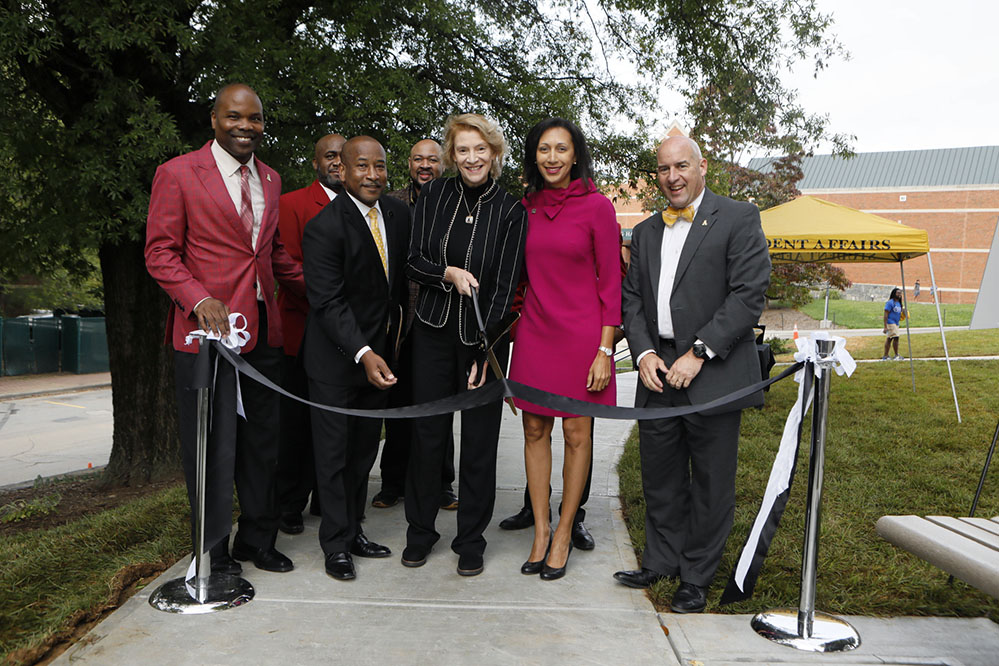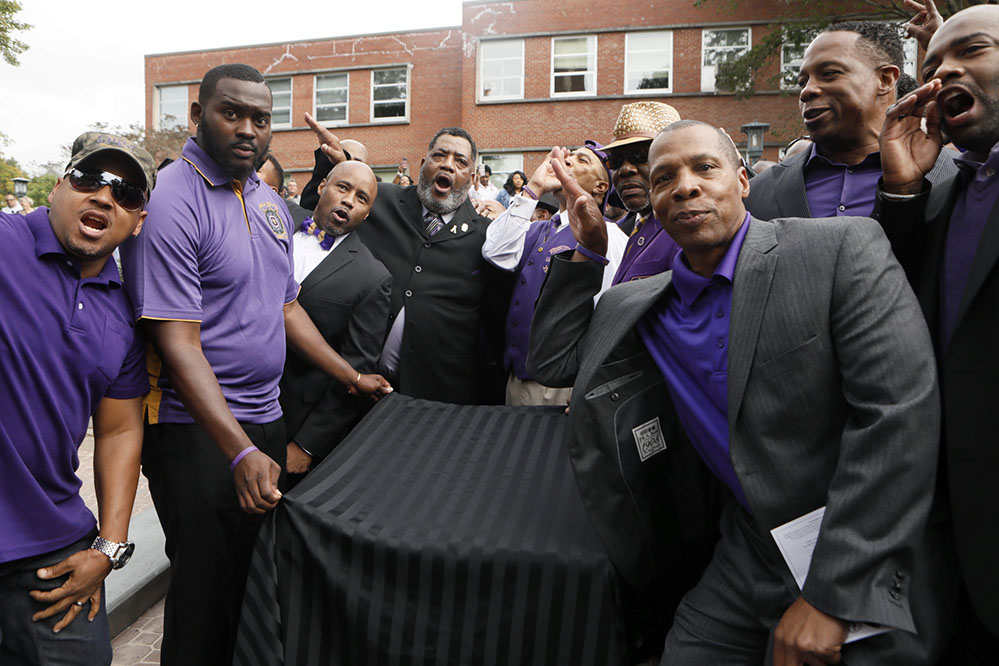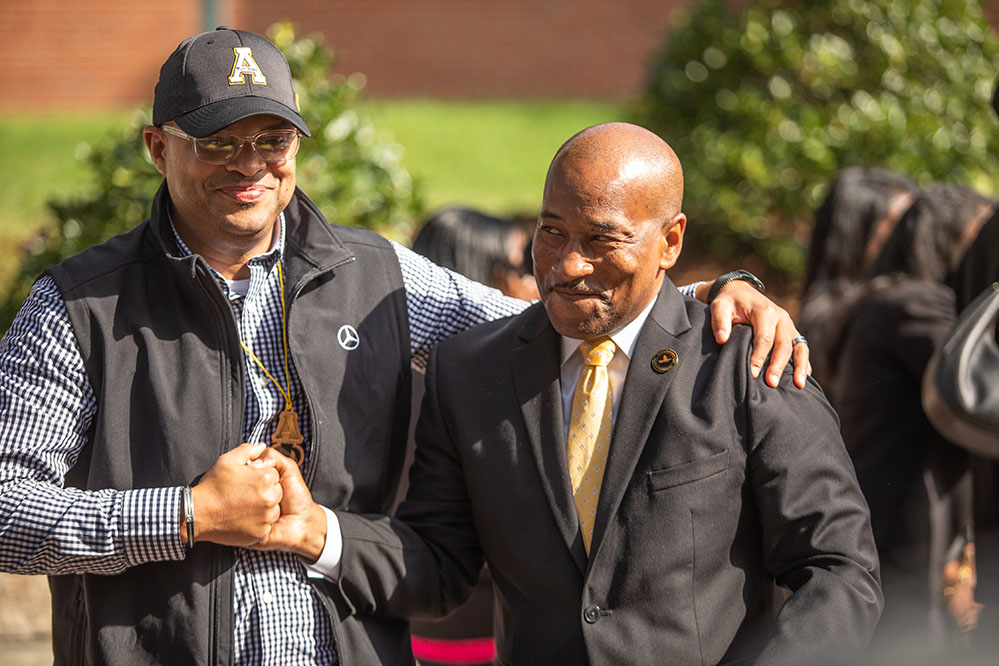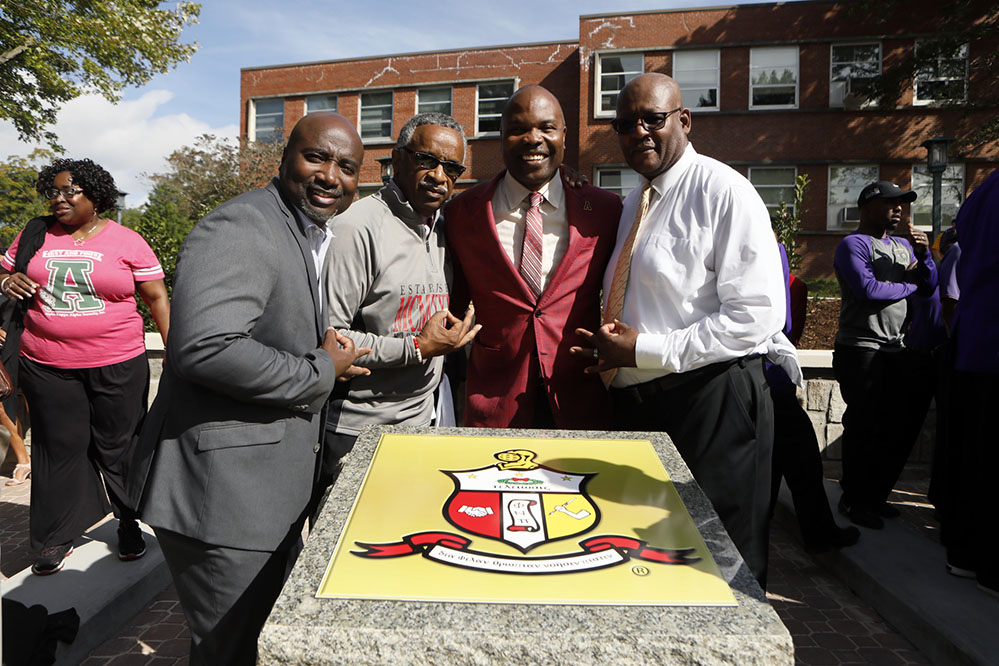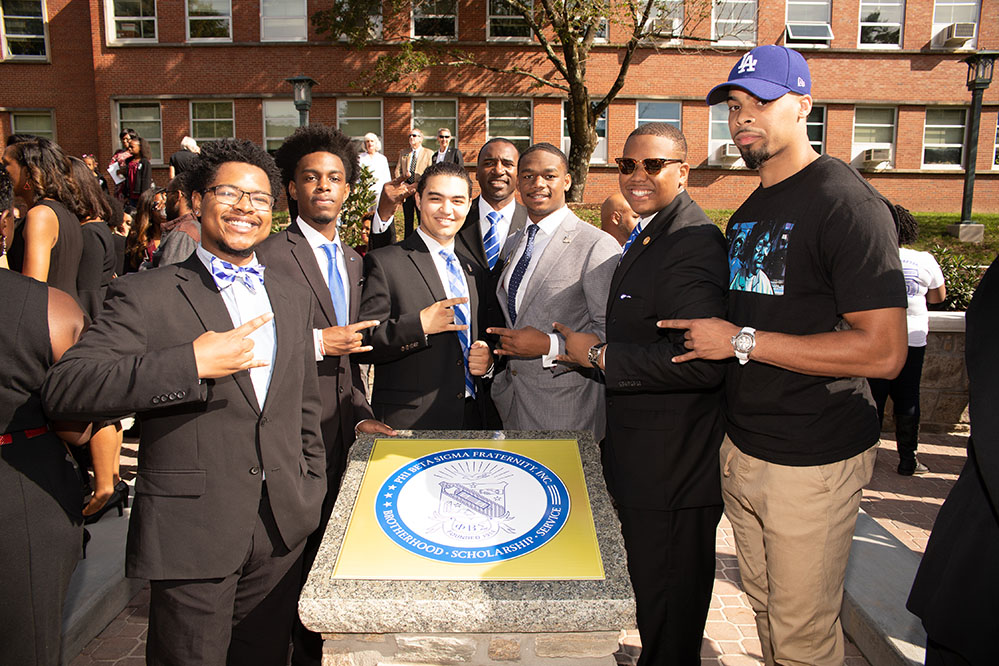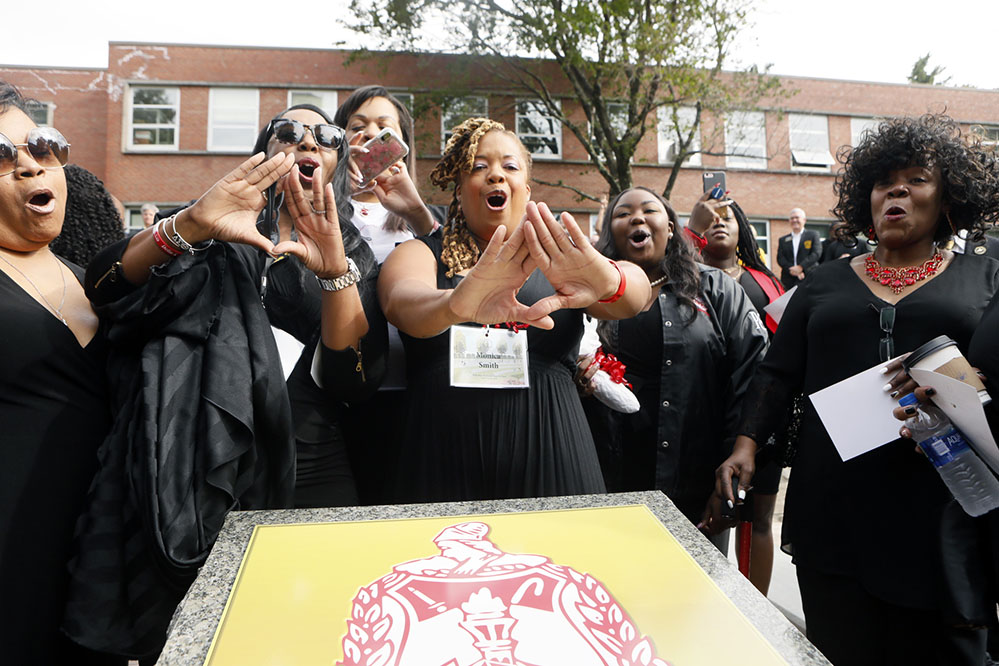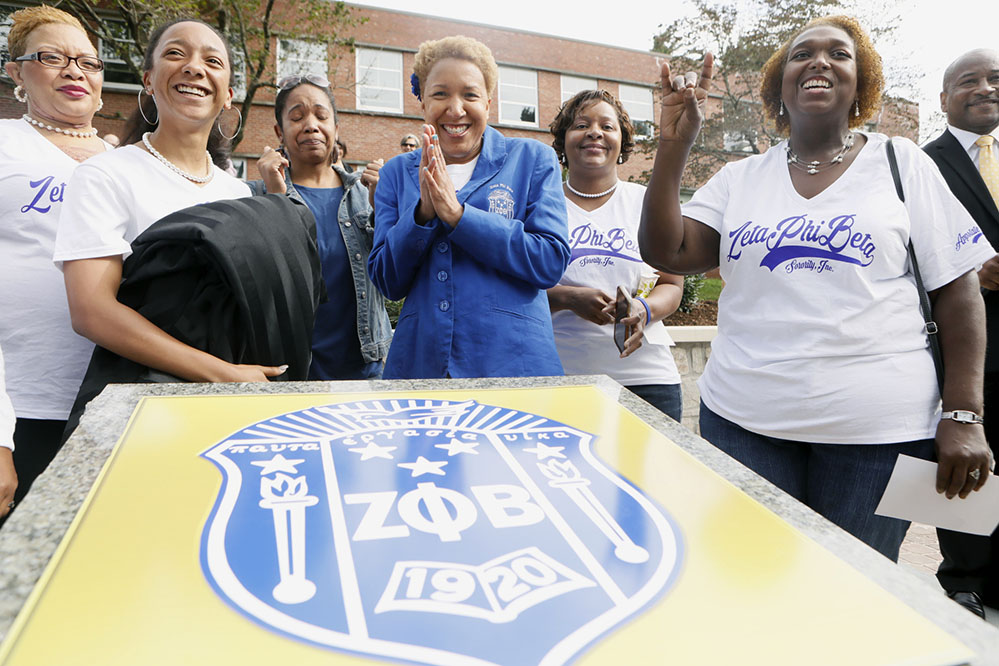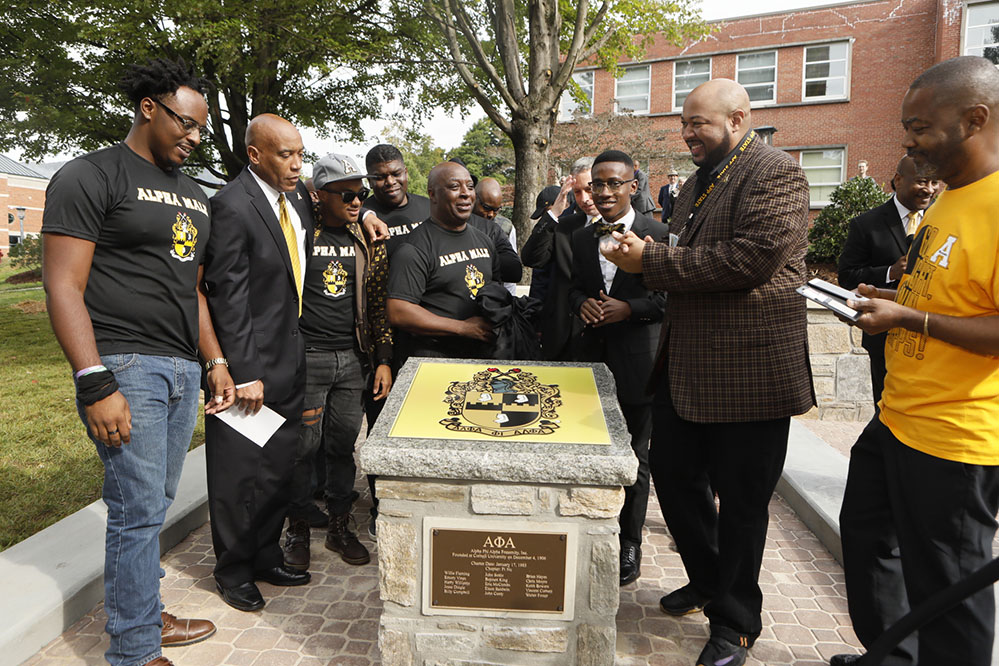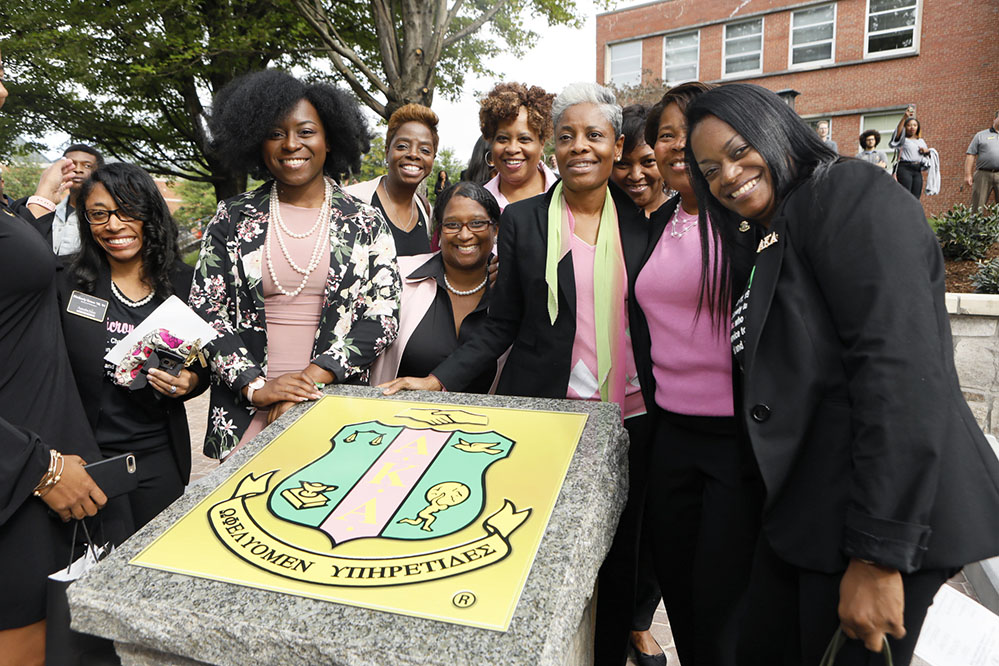 Members of the NPHC Plots and Garden Leadership Committee
The NPHC Plots and Garden are located in the grassy area between Roess Dining Hall, the B.B. Dougherty Administration Building, I.G. Greer Hall and the Steam Plant.
The project was funded through institutional support as well as money raised by Appalachian NPHC-affiliated alumni, faculty, staff and other friends. Fundraising efforts, which also support leadership development scholarships for NPHC members, surpassed $150,000 under the leadership of Appalachian alumni Susan Branch '99, James Tolliver '96 and James "J.K." Reaves '93.
Branch is secretary of Appalachian's Board of Trustees; Tolliver serves as co-chair of the NPHC fundraising subcommittee; and Reaves is a member of the Appalachian Foundation Board of Directors. They are all members of the NPHC Plots and Garden Leadership Committee.
At the event, Dr. Willie C. Fleming '80 '84, Appalachian's chief diversity officer, recited James Weldon Johnson's poem "Lift Ev'ry Voice and Sing"; he said he found the words "to describe the joy of this moment" in the poem's lyrics.
Branch acknowledged the role Everts played in the NPHC Plots and Garden project. "Thank you for recognizing the existence, perseverance and service of NPHC organizations at Appalachian," Branch said.
"My NPHC brothers and sisters, the next time you see Chancellor Everts, I want you to thank her not just for listening but for understanding and taking to heart how important having an NPHC Plots and Garden would be to the students and the alumni," she said.
Reaves said, "Today, we are expressing our thanks not only for NPHC's Plots and Garden, but for its significance to Appalachian State University."
Senior Malik Hargrave, of Lexington, past president of Appalachian's NPHC, played a leading role in bringing the NPHC Plots and Garden project to campus.
"Today we sit in front of a monument that will forever be a part of NPHC's legacy here at Appalachian State University," Hargrave said. "We all came together to make this happen, because this is not a project just for NPHC — this is a project that will support current and future diversity initiatives that Dr. Everts and the administration have set in place since she arrived on campus four years ago."
Senior Ina Colon-Villafranca, of Smithfield, who is the current president of Appalachian's NPHC, spoke about the history of NPHC at Appalachian, saying, "When you pass by these Plots and Garden, our desire is that you will reflect on the significance of this space and the significance of the sacrifices of an entire university and alumni community — composed of individuals from all walks of life — who made this historic space a reality."
Vice Chancellor for Student Affairs J.J. Brown closed the event, thanking the many individuals and groups involved with making the project a reality. In particular, he thanked all of the members of NPHC organizations.
Brown said, "All of you who are a member of these special organizations — thank you for the ways in which you have contributed to this campus, the ways that you have continued to contribute to this campus, but also to your respective communities in ways that continue to make a difference."
See more photos from the ceremony.
The NPHC Plots and Garden are finished, but fundraising efforts continue for The Divine Nine Leadership Development Endowment at Appalachian. This newly created fund, which derived from the Plots and Garden project, will provide leadership grants and awards to students within NPHC.
"The monies raised in this endowment will assist active NPHC students in their growth and development as transformational leaders, said Leroy Wright, associate vice chancellor for student affairs at Appalachian.
"Leading the team to develop our NPHC Plots and Garden has introduced me to some dynamic Appalachian NPHC alumni who are change-makers and leaders across the world. I give a standing ovation for their successes and commitment to raising funds for this endowment," he said.
Members of the NPHC Plots and Garden Leadership Committee
About Appalachian State University
As the premier public undergraduate institution in the Southeast, Appalachian State University prepares students to lead purposeful lives as global citizens who understand and engage their responsibilities in creating a sustainable future for all. The Appalachian Experience promotes a spirit of inclusion that brings people together in inspiring ways to acquire and create knowledge, to grow holistically, to act with passion and determination, and to embrace diversity and difference. Located in the Blue Ridge Mountains, Appalachian is one of 17 campuses in the University of North Carolina System. Appalachian enrolls nearly 21,000 students, has a low student-to-faculty ratio and offers more than 150 undergraduate and graduate majors.
What do you think?
Share your feedback on this story.