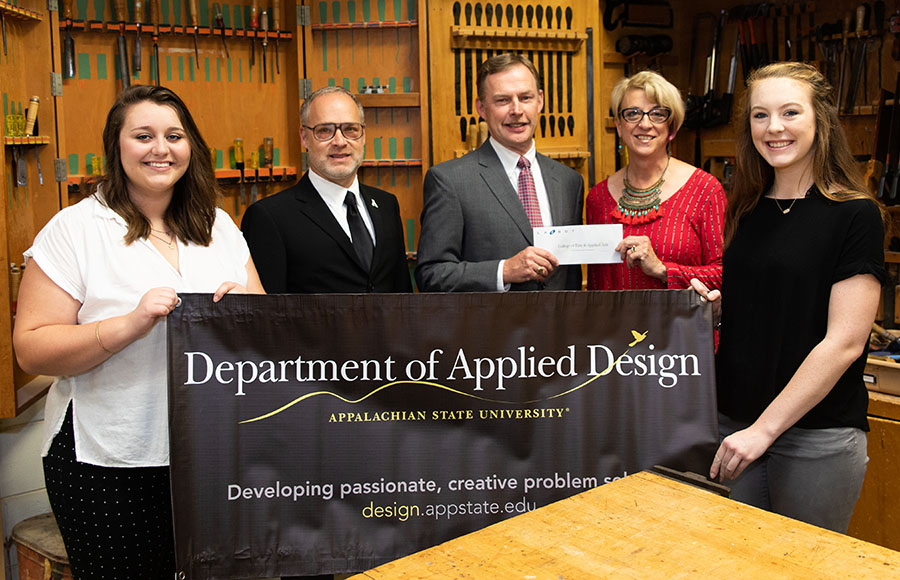 Posted Oct. 16, 2018 at 10:28 a.m.
BOONE, N.C. — Appalachian State University's Department of Applied Design has received a $75,000 gift from the La-Z-Boy Foundation to help fund the student-designed Lab for Innovating in Design (L.I.D.A.).
The state-of-the-art lab will be located in Katherine Harper Hall and engage 400 students across 28 different courses each year in hands-on, problem-based learning experiences using leading industry technologies.
Students taking associate professor Alex Poorman's spring 2018 Construction Documents and Detailing course were tasked with reimagining a current shop space in Harper Hall to create L.I.D.A. The lab, which will be a collaborative production area housing laser and vinyl cutters, 3D printers and space for a technician's office, is designed to facilitate the integration of technology to transform the student experience at Appalachian.
Hailey Estes, of Matthews, and Hannah Downs, of Raleigh, both interior design seniors, described their vision for L.I.D.A. as "a special environment making new equipment accessible to all."
"These new tools will expand students' creative output beyond what we have been able to produce before — creating projects that are truly innovative," Estes shared.
Downs agreed, adding that designing L.I.D.A. was a very rewarding process that offered an experience most students do not receive.
"The project not only allowed Hailey and I to use our passion and education to create a space that current students will benefit from, but (the space) will also be used to enhance the education of design majors in the years after us," she said.
Brian Davies, chair of the Department of Applied Design, said he is grateful to the students for contributing their talent and to the La-Z-Boy Foundation for its support.
"I'd like to thank La-Z-Boy for its largest single gift to upgrade our facilities to be as inspiring as our surroundings and to reflect our student and faculty talent," he shared. "This support for L.I.D.A. advances the department's commitment to fuel creativity with new technology and transformational experiences. Creativity pursues inspiration, and Appalachian exists in an inspiring natural and cultural context."
Tim Solesbee, vice president of human resources for La-Z-Boy Portfolio Brands, said he was excited to partner with Appalachian's Department of Applied Design on this project.
"Having an opportunity to assist in providing students with an innovative classroom work space fits nicely with what La-Z-Boy strives to achieve with our mantra of 'Build Something Amazing,'" he said.
"We've had the good fortune of working with students out of this program over the years and we continue to be impressed with their capabilities. With this type of lab environment, graduating students will enter our industry with more creativity, enabling them to provide the innovative solutions and product designs that consumers demand."
The renovation of the Harper Hall space is scheduled to begin in spring 2019.
About the Department of Applied Design
One of seven departments housed in the College of Fine and Applied Arts, the Department Applied Design at Appalachian State University fosters excellence in design education, design research and professional placement. The department balances theoretical and pragmatic approaches while exploring an awareness of impact through design decisions on the global community. Faculty focus on a holistic approach to creative problem-solving by integrating sustainability and ethical responsibility in teaching and practice. The department offers bachelor's degrees in apparel design and merchandising, industrial design and interior design. Learn more at https://design.appstate.edu.
About the College of Fine and Applied Arts
Appalachian State University's College of Fine and Applied Arts is a dynamic and innovative group of seven academic departments, bringing together a variety of perspectives, experiences and real-world education to provide unique opportunities for student success. The college has more than 3,000 undergraduate and graduate majors. Its departments are Applied Design, Art, Communication, Military Science and Leadership, Sustainable Development, Sustainable Technology and the Built Environment, and Theatre and Dance. Learn more at https://faa.appstate.edu.
About Appalachian State University
As the premier, public undergraduate institution in the state of North Carolina, Appalachian State University prepares students to lead purposeful lives as global citizens who understand and engage their responsibilities in creating a sustainable future for all. The Appalachian Experience promotes a spirit of inclusion that brings people together in inspiring ways to acquire and create knowledge, to grow holistically, to act with passion and determination, and to embrace diversity and difference. Located in the Blue Ridge Mountains, Appalachian is one of 17 campuses in the University of North Carolina System. Appalachian enrolls more than 19,000 students, has a low student-to-faculty ratio and offers more than 150 undergraduate and graduate majors.
What do you think?
Share your feedback on this story.