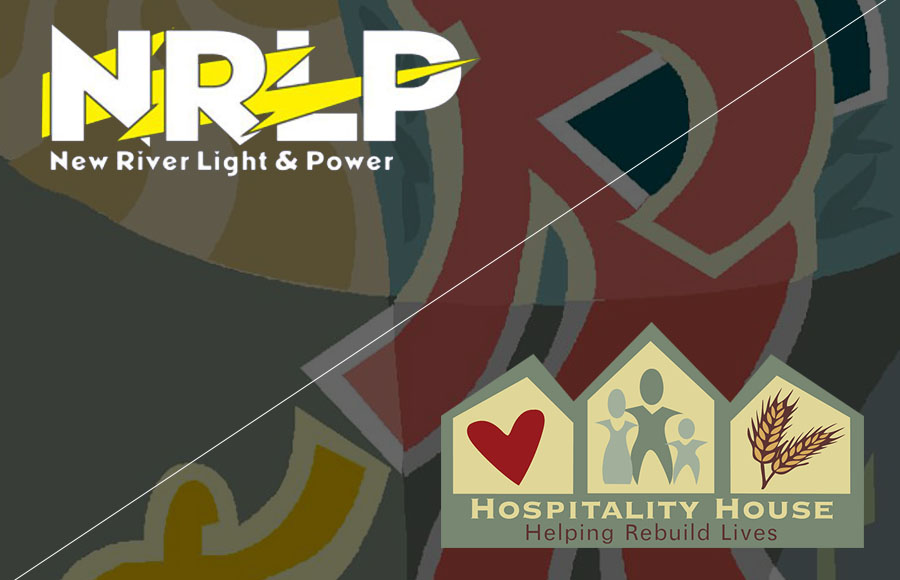 Posted Oct. 24, 2018 at 4:13 p.m.
BOONE, N.C. — For residents living in and around the Town of Boone who are near or below the poverty line, the transition from fall to winter brings the added financial stress of costs associated with heating their homes.
New River Light and Power (NRLP) Co., a nonprofit operating unit of Appalachian State University, aims to ease that burden with its Good Neighbor Round Up Program.
Since March 2012, NRLP has partnered with nonprofit Hospitality House of Boone, a 24-hour transition facility serving seven regional counties, in administering the program, which allows NRLP customers to make donations by rounding up their electric bill to the next nearest dollar to benefit customers in need of assistance with paying their electric bills.
For example, if an NRLP customer's electric bill is $65.55 for the month, it will be rounded up to $66, with 45 cents going into the NRLP Good Neighbor Round Up Program's trust account. Alternatively, customers can add an additional fixed amount to their monthly "rounded up" bill or make a one-time donation.
There are currently 652 NRLP customers participating in the program, said Joseph Piazza, business manager of NRLP. He said so far in 2018, 54 customers in need have received assistance through the program.
"With the cold winters we face each year, heating can be a challenge to local families in need," said Ed Miller, general manager of NRLP. "It is amazing how these extra pennies, nickels, dimes and quarters can add up and assist a customer/neighbor who has fallen on hard times. The Good Neighbor Round Up Program is a heartwarming example of how little generosities can provide great impact."
The donations NRLP collects from customers for the program are held in a trust account established by NRLP, and the company is responsible for disbursing the funds collected. Hospitality House of Boone assists NRLP by identifying customers in need and making decisions regarding which customers will receive assistance.
In addition to the importance of having heat and electricity, Piazza said it is important for people to keep their electricity up and running because of additional costs when accounts are disconnected for nonpayment. Customers must pay the past due amount plus all reconnection and service fees that apply before service is reconnected. In some cases, an additional deposit may also be required on the customer's account.
To learn more about the program or to participate, visit NRLP's Good Neighbor Round Up Program webpage.
About Appalachian's New River Light and Power
For more than 100 years, Appalachian State University's New River Light and Power (NRLP) — a nonprofit electric utility operated by the Division of Business Affairs — has provided power to Western North Carolina residents. Today, NRLP serves nearly 8,500 residential and commercial customers who reside in and near the town of Boone. In January 2022, the utility will begin purchasing its electricity from Carolina Power Partners — a partnership that opens greater renewable energy opportunities. In partnership with Appalachian's Office of Sustainability, Facilities Operations and Renewable Energy Initiative, NRLP has assisted with various energy efficiency projects across campus, including installing solar panels and providing funding for the Broyhill Wind Turbine located on Bodenheimer Drive. The utility holds the American Public Power Association's highest Reliable Public Power Provider (RP3) designation for providing reliable and safe electric service, and approximately $650,000 of its budget is reserved annually for contributions to Appalachian's general scholarship fund. Learn more at https://nrlp.appstate.edu.
About Appalachian State University
As the premier public undergraduate institution in the state of North Carolina, Appalachian State University prepares students to lead purposeful lives as global citizens who understand and engage their responsibilities in creating a sustainable future for all. The Appalachian Experience promotes a spirit of inclusion that brings people together in inspiring ways to acquire and create knowledge, to grow holistically, to act with passion and determination, and to embrace diversity and difference. Located in the Blue Ridge Mountains, Appalachian is one of 17 campuses in the University of North Carolina System. Appalachian enrolls more than 20,000 students, has a low student-to-faculty ratio and offers more than 150 undergraduate and graduate majors.
What do you think?
Share your feedback on this story.