Posted Oct. 25, 2018 at 5:07 p.m.
BOONE, N.C. — The Carolina Geological Society's 79th annual meeting in October brought 200 geoscience and environmental professionals, along with students, from a number of universities to Appalachian State University and the High Country.
A major portion of the trip focused on areas affected by the debris flows triggered by rainfall from the August 1940 tropical cyclone, including the Stony Fork community, to see first-hand the geological record of these landslides. The meeting also highlighted examples from the landslide mapping program that was conducted by the North Carolina Geological Survey in Watauga County after hurricanes Frances and Ian in 2004.
The Carolina Geological Society was founded in 1937, with the principal activity of the society being an annual field trip and membership meeting each fall. The purpose of the society is to promote the geosciences, especially within the states of North and South Carolina; promote and encourage study and research in the schools and colleges in these states; and a spirit of friendship and cooperation among earth scientists.
Over the course of its two-day visit, the group toured the Highway 105 quarry operated by Vulcan Materials Co. Here, geologists examined bedrock and structures related to slope stability along the Linville Falls and Boone faults. The geologists also stopped at Sky Valley Zip Tours, which provided an opportunity to walk along Flannery Fork, a headwaters tributary to the New River.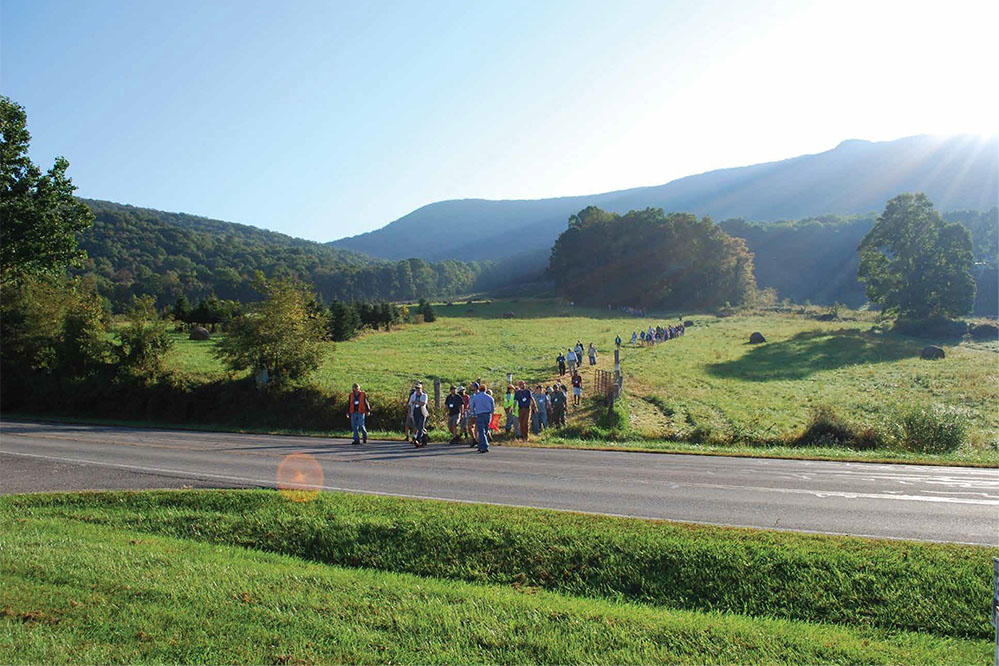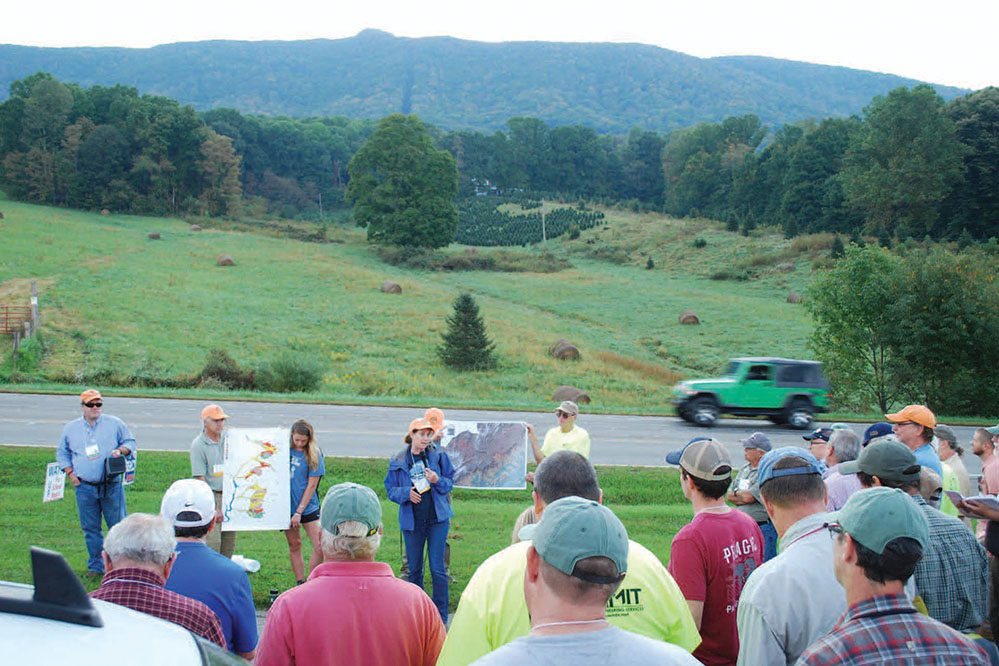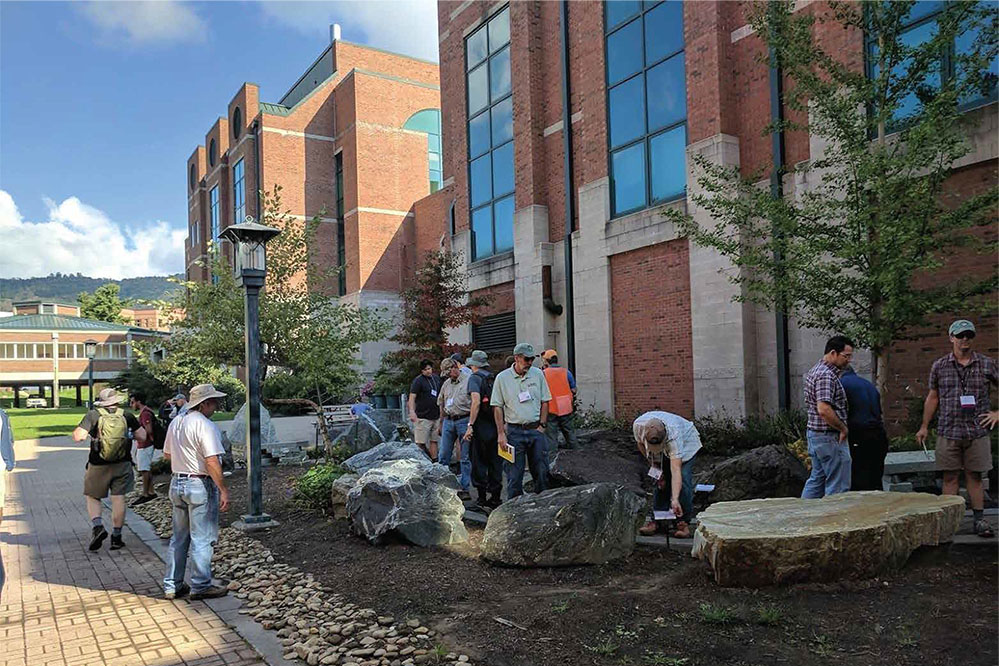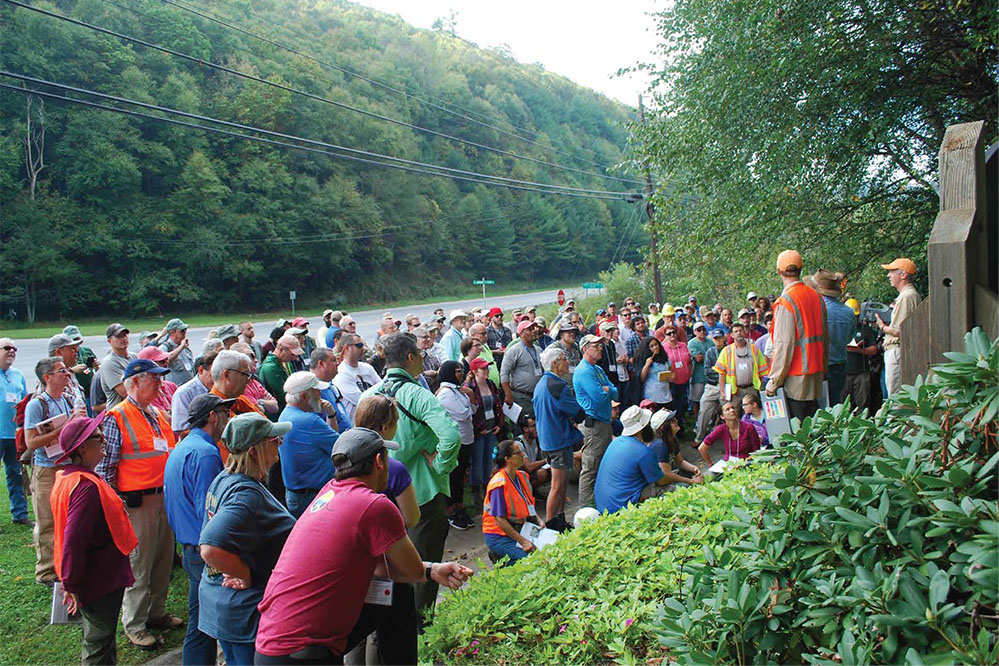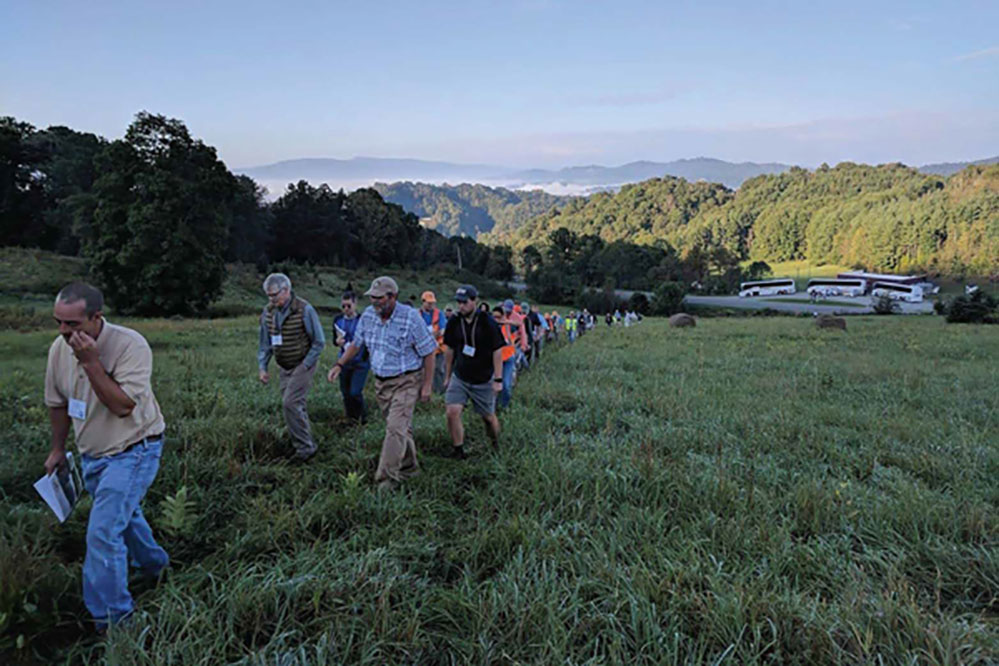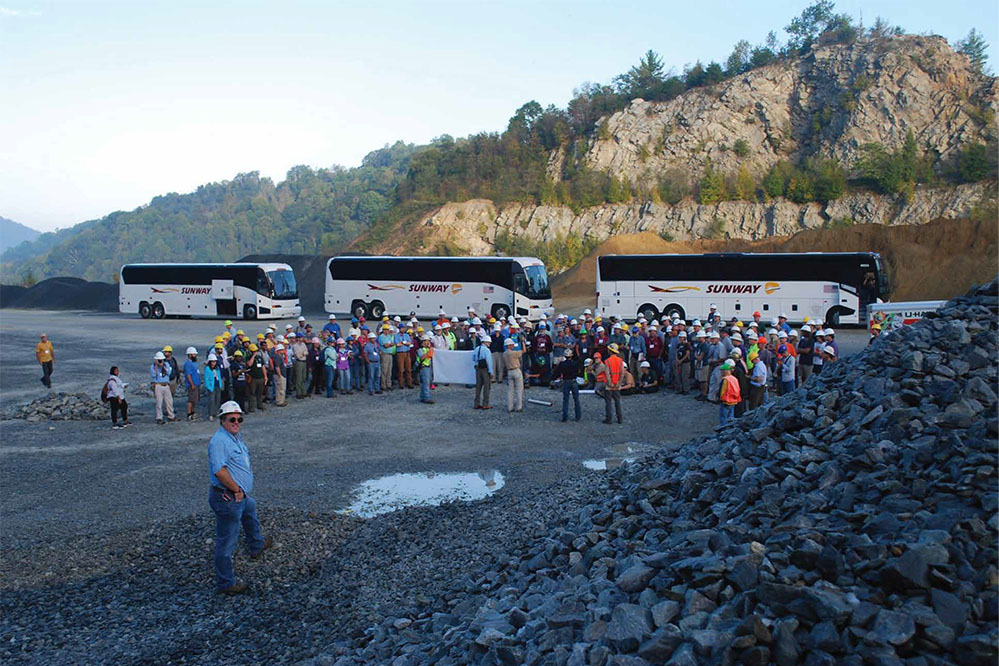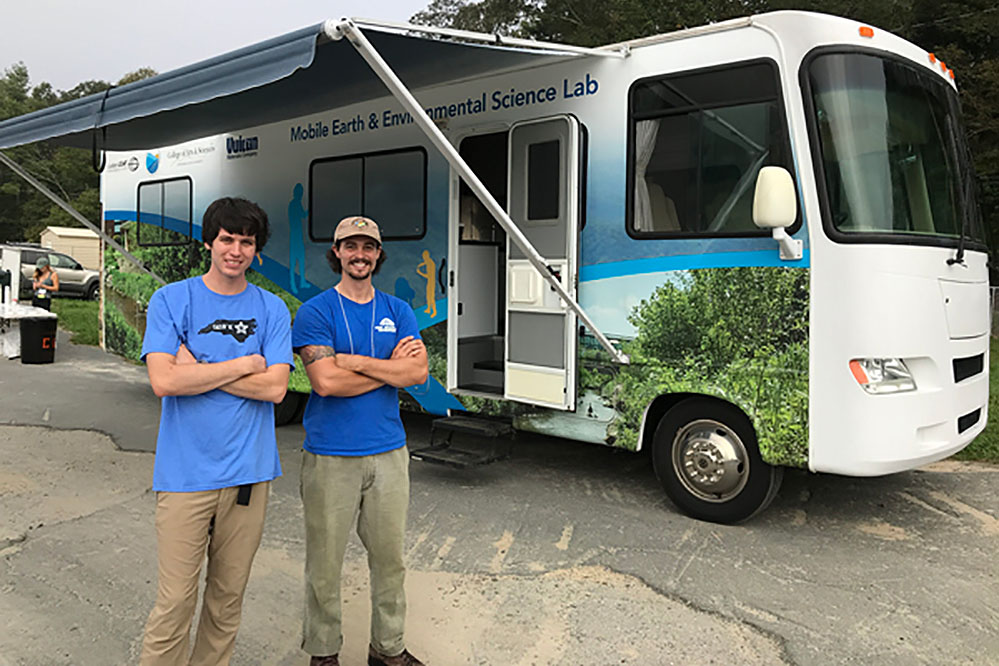 The tour was led by Drs. Ellen Cowan and Andrew Heckert, both professors in Appalachian's Department of Geological and Environmental Sciences, and Keith Seramur, adjunct professor in the department and owner of Seramur and Associates — a licensed geological professional corporation that provides assessment and counseling services.
Appalachian served as a destination on the trip, with geologists visiting the Fred Webb Jr. Outdoor Geology Laboratory on campus near the Rankin Science Building, which features boulder-sized pieces of bedrock gathered from across the Blue Ridge Mountains, throughout North Carolina and five other states.
Additional field trip leaders included Dr. Kevin Stewart, director of undergraduate students in the Department of Geological Sciences at University of North Carolina at Chapel Hill; Rick Wooten, senior geologist with the North Carolina Geological Survey; Jesse Hill, graduate teaching assistant at UNC Chapel Hill; and Anne Witt, geologist with Virginia's Division of Geology and Mineral Resources.
Four senior geology majors from Appalachian — Neeshell Bradley-Lewis, Emma Myrick, Jacob Pratt, and Brandon Thomas — also assisted with the event. Logistics were arranged by Tyler Clark, the secretary/treasurer of the Carolina Geological Society.
About the Department of Geological and Environmental Sciences
Located in Western North Carolina, Appalachian State University provides the perfect setting to study geological and environmental sciences. The Department of Geological and Environmental Sciences provides students with a solid foundation on which to prepare for graduate school or build successful careers as scientists, consultants and secondary education teachers. The department offers six degree options in geology and two degree options in environmental science. Learn more at https://earth.appstate.edu.
About the College of Arts and Sciences
The College of Arts and Sciences (CAS) at Appalachian State University is home to 17 academic departments, two centers and one residential college. These units span the humanities and the social, mathematical and natural sciences. CAS aims to develop a distinctive identity built upon our university's strengths, traditions and unique location. The college's values lie not only in service to the university and local community, but through inspiring, training, educating and sustaining the development of its students as global citizens. More than 6,400 student majors are enrolled in the college. As the college is also largely responsible for implementing App State's general education curriculum, it is heavily involved in the education of all students at the university, including those pursuing majors in other colleges. Learn more at https://cas.appstate.edu.
About Appalachian State University
As the premier public undergraduate institution in the Southeast, Appalachian State University prepares students to lead purposeful lives as global citizens who understand and engage their responsibilities in creating a sustainable future for all. The Appalachian Experience promotes a spirit of inclusion that brings people together in inspiring ways to acquire and create knowledge, to grow holistically, to act with passion and determination, and to embrace diversity and difference. Located in the Blue Ridge Mountains, Appalachian is one of 17 campuses in the University of North Carolina System. Appalachian enrolls nearly 21,000 students, has a low student-to-faculty ratio and offers more than 150 undergraduate and graduate majors.
What do you think?
Share your feedback on this story.