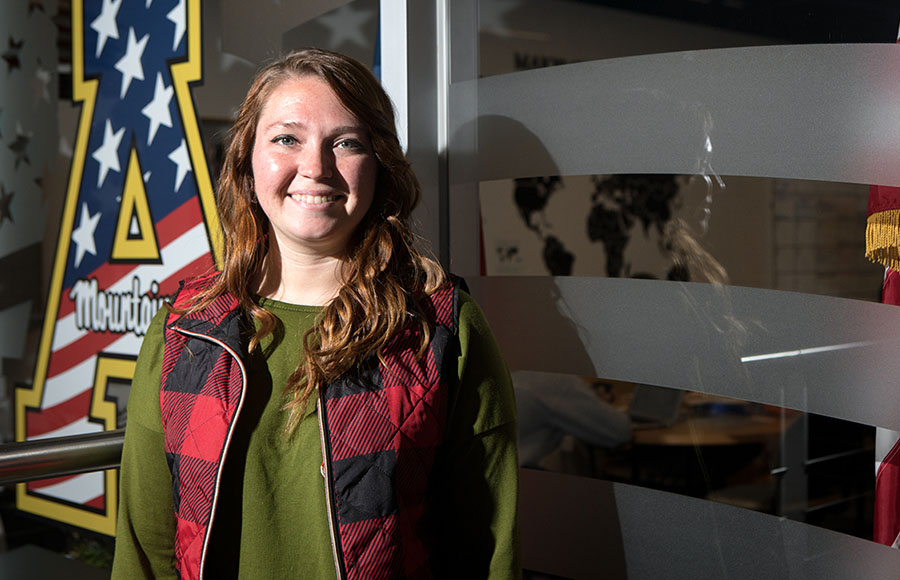 Posted Nov. 7, 2018 at 9:37 a.m.
BOONE, N.C. — Global studies major Becca Ryan says she "nailed it" by choosing to enroll at Appalachian State University after serving in the U.S. Marines — for the smooth transition coming in as a veteran, her choice of major and where she wants to go next.
"I love it here," said Ryan, a former corporal from Virginia Beach, Virginia, who worked at Camp Lejeune from 2013–17 as a travel clerk, processing travel reimbursements.
"The professors here are A+ and are more than willing to help if you reach out," the junior said.
Appalachian's support of veterans was among the top reasons she enrolled, she said: "We're ninth in the country for Military Friendly® Schools, and I see that from personal experience."
As a prospective student, she found the university's Student Veteran Services website comprehensive and offering the information she needed, she said. Student Veteran Services Coordinator Eric Gormly was on hand to answer questions.
"I had everything I needed. The transition was really smooth and that was really helpful," she said.
Once on campus, she took a part-time job in the Major General Edward M. Reeder Jr. Student Veteran Resource Center. "After working there and spending more time there, I came out of my shell. Helping other veterans make a smooth transition, too, is something I enjoy being a part of," Ryan said.
'Much to offer' to campus
Student veterans often experience a type of culture shock transitioning to college, Ryan said, due to differences in age and communication style with other students, and also a lost sense of routine, identity and purpose.
They also have much to offer — to both faculty and fellow students with their experience, she said.
"I think if students have the opportunity to reach out and gain the veteran perspective on class topics or projects, they should. I believe veterans should do the same, to remember to branch out and gain the perspectives of our fellow students as well.
"We are here with the same goals as everyone else: to challenge ourselves, learn, earn our degree and go into the world with more to offer — to make a difference," she said.
A strong recommendation to other veterans
Would Ryan recommend Appalachian to other veterans? "Absolutely," she said.
With her global studies major and a minor in Spanish, Ryan said she's looking forward to a career that combines her interests in language, culture, international studies, human rights and environmental sustainability.
Exactly how she'll shape those into her first job remains uncertain, but she's working with her faculty mentors to develop a plan.
While she feels a bit out of her "safe box" for life's next steps, she said she's been in that position before and turned out fine.
"I jumped out of my safe box to be in the military, so I've come full circle," Ryan said. "(By serving in the Marines) I did something I never thought I could do and learned when I put my mind to it, I can do it. I've carried that attitude — mind over matter — since being here at Appalachian."
A Military Friendly® School since 2010
Since 2010, Victory Media, the premier media entity for military personnel transitioning into civilian life, has awarded Appalachian the designation of Military Friendly® School. The designation places Appalachian in the top 15 percent of colleges, universities and trade schools in the country that are doing the most to embrace military students, and to dedicate resources to ensure their success in the classroom and after graduation. For 2018, Appalachian made Victory Media's Top 10 list, ranking No. 9 among large public universities.
About the College of Arts and Sciences
The College of Arts and Sciences is home to 16 academic departments, one stand-alone academic program, two centers and one residential college. These units span the humanities and the social, mathematical and natural sciences. The College of Arts and Sciences aims to develop a distinctive identity built upon our university's strengths, traditions and unique location. The college's values lie not only in service to the university and local community, but through inspiring, training, educating and sustaining the development of its students as global citizens. There are approximately 6,100 student majors in the college. As the college is also largely responsible for implementing Appalachian's general education curriculum, it is heavily involved in the education of all students at the university, including those pursuing majors in other colleges. Learn more at https://cas.appstate.edu.
About Appalachian State University
As the premier public undergraduate institution in the state of North Carolina, Appalachian State University prepares students to lead purposeful lives as global citizens who understand and engage their responsibilities in creating a sustainable future for all. The Appalachian Experience promotes a spirit of inclusion that brings people together in inspiring ways to acquire and create knowledge, to grow holistically, to act with passion and determination, and to embrace diversity and difference. Located in the Blue Ridge Mountains, Appalachian is one of 17 campuses in the University of North Carolina System. Appalachian enrolls more than 20,000 students, has a low student-to-faculty ratio and offers more than 150 undergraduate and graduate majors.
What do you think?
Share your feedback on this story.