Posted Nov. 12, 2018 at 4:38 p.m.
BOONE, N.C. — Under overcast skies, veterans were honored Monday during Appalachian State University's annual Veterans Day Ceremony held at the Veterans Memorial on Appalachian's campus. The memorial is located beside the B.B. Dougherty Administration Building.
The ceremony began with the presentation of the colors by cadets in Appalachian's ROTC program.
Appalachian Provost and Executive Vice Chancellor Darrell Kruger welcomed the approximately 150 gatherers at the event and introduced speaker Army Capt. Joseph Callaghan, a training officer and instructor with Appalachian's Department of Military Science and Leadership (ROTC), who reminded those gathered that World War I ended 100 years ago.
At the event, Callaghan recognized all veterans. He praised Vietnam veterans, whom he said "returned to a country where thanking veterans for their service wasn't such a widely practiced custom," and talked about the thousands of Afghanistan and Iraq veterans who "returned home and quietly returned to the business of life, going about their duties as husbands and wives, fathers and mothers, and striving to be productive members of society."
He described the relationship between Appalachian and ROTC as working "seamlessly together in mutual pursuit of sculpting leaders and scholars of substance and character."
"Though I am not an Appalachian alumnus," Callaghan said, "it has not taken much time for me to recognize and appreciate the rare and unique culture of excellence evident within this university and the ROTC program — each individually strengthened by the mutually supportive relationship they share."
He encouraged gatherers to remember and thank the veterans in their lives.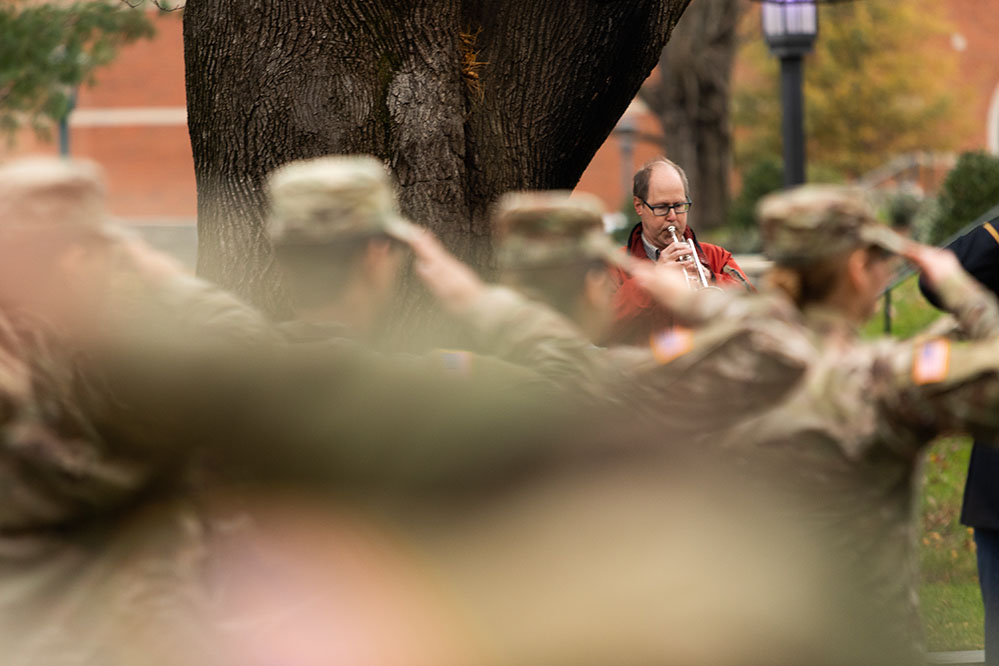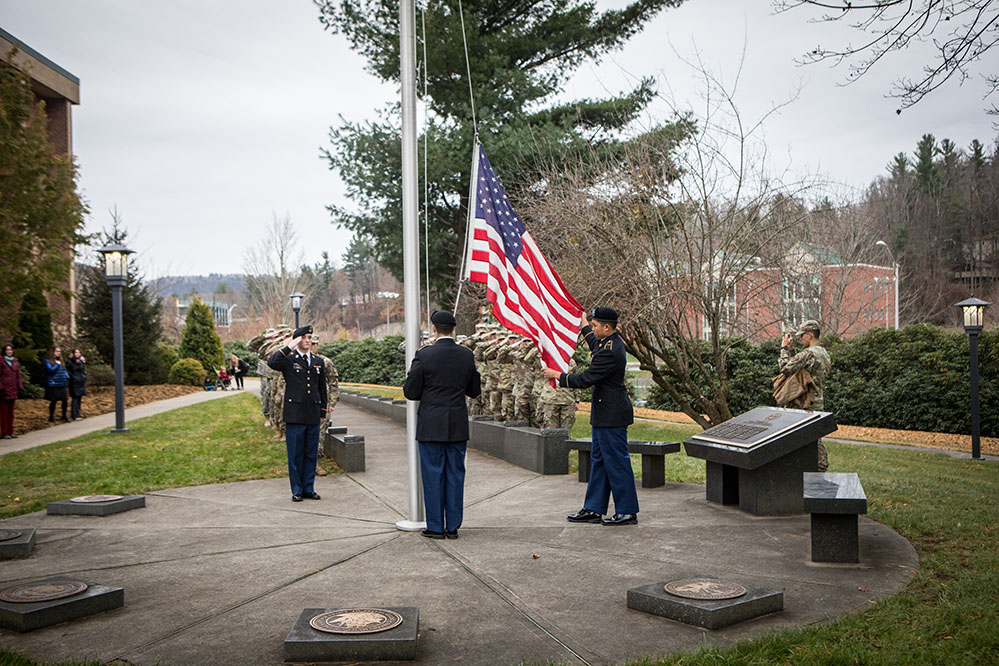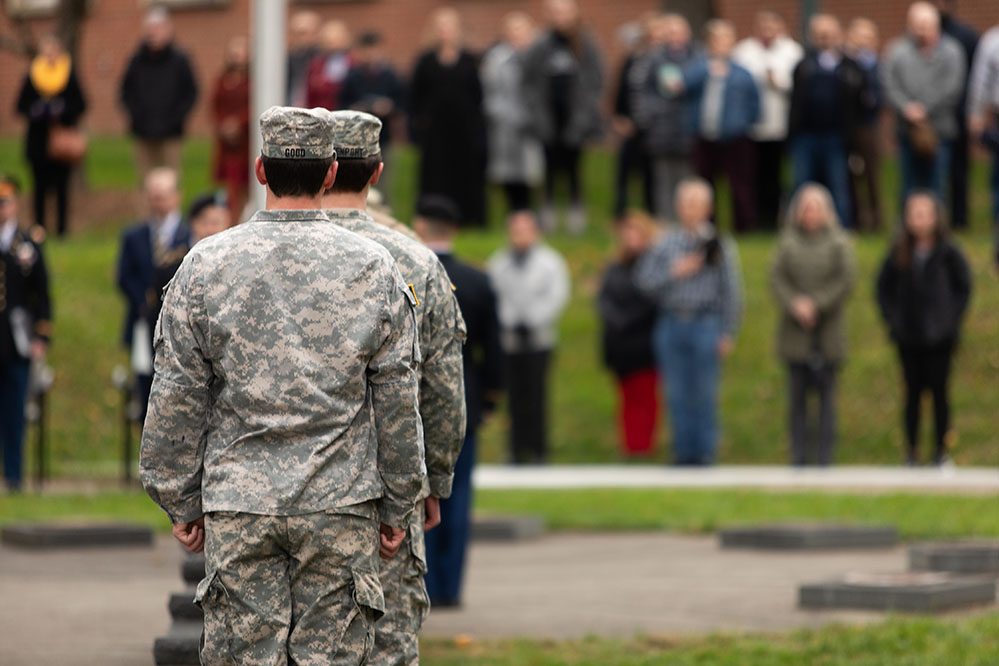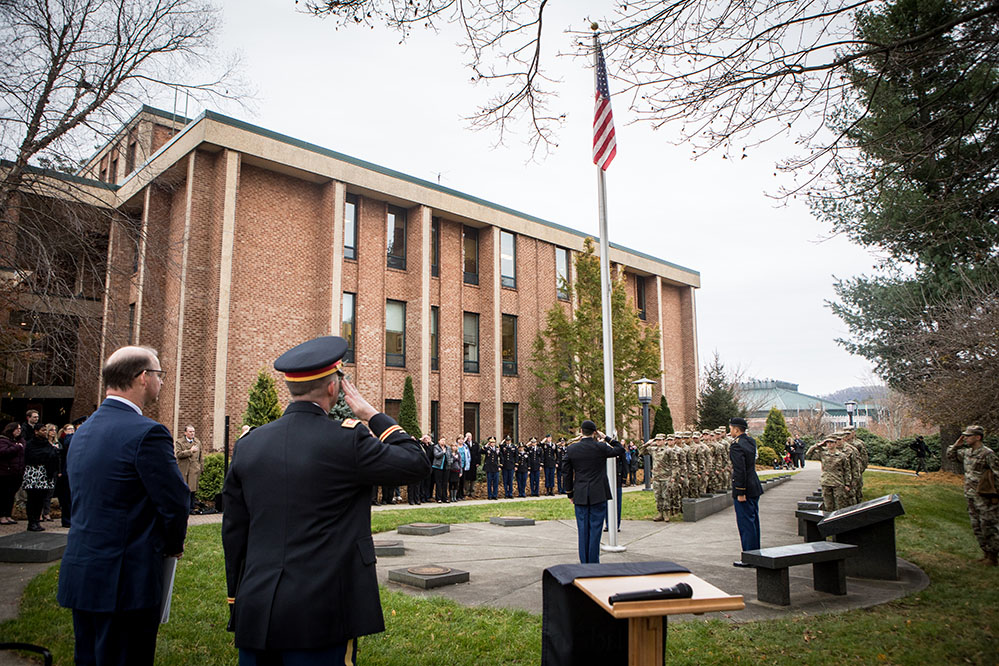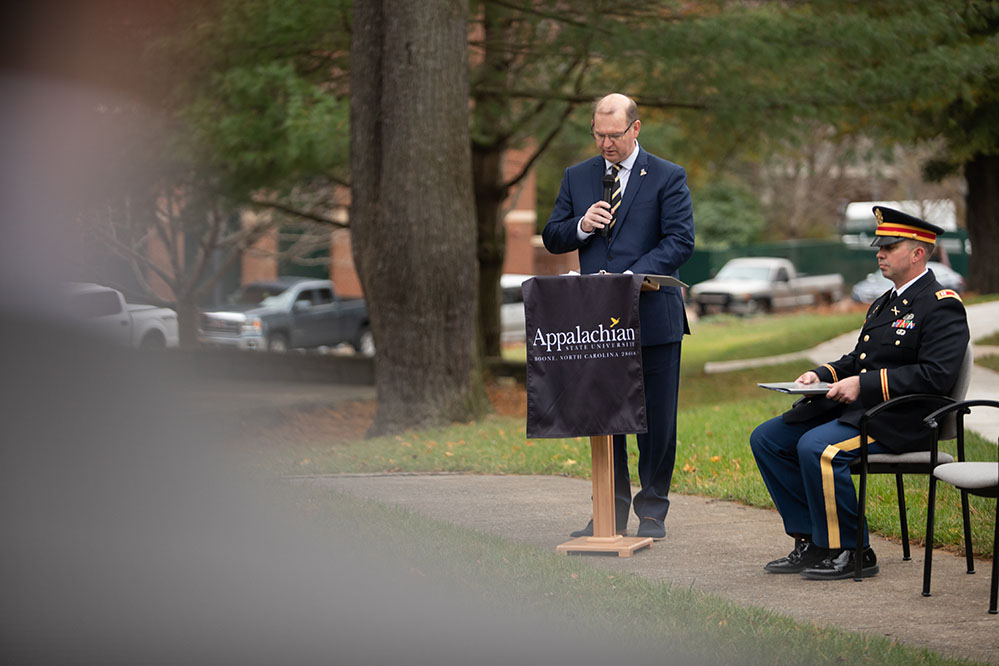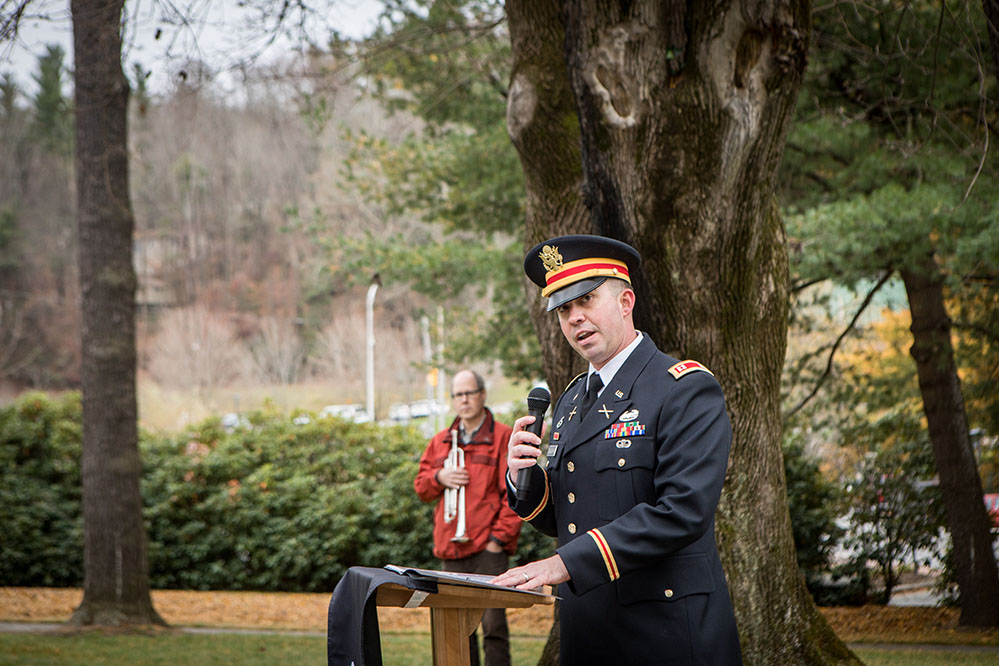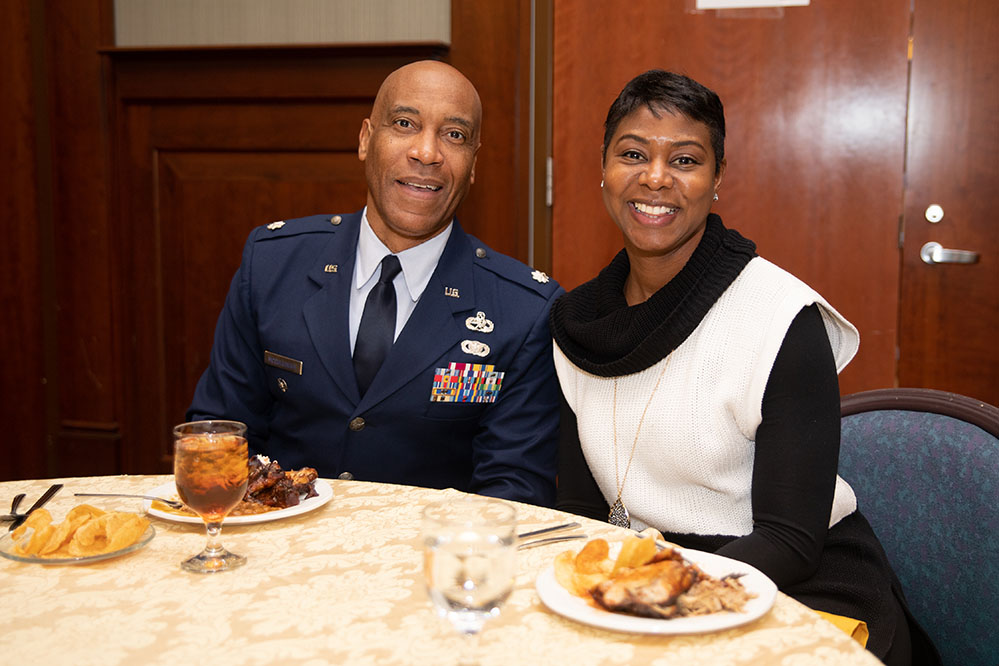 Veterans at Appalachian
"Appalachian is grateful to our veterans," Kruger said during the ceremony, adding that the university, designated as a Military Friendly® School since 2010, "has a powerful and long-standing commitment to those who serve and to their families."
A luncheon for Appalachian faculty and staff veterans — sponsored by Appalachian's Food Services and organized by the university's Student Veteran Services — was held in Roess Dining Hall following the ceremony. Coordinator of Student Veteran Services Eric Gormly said Appalachian has approximately 90 veteran faculty and staff members.
Nearly 300 of Appalachian's currently enrolled students self-identify as veterans — representing active duty, reserve/guard, separated from military and retirees. Appalachian's ROTC program, which celebrates its 50th anniversary in 2019, enrolls 127 students. Appalachian alumni include top-ranking officers and personnel at all levels across the military branches.
Kruger highlighted three veterans he said "we are proud to count among Appalachian's alumni":
Callaghan, as profiled by Kruger, enlisted in the Army in 2009. He was commissioned as a field artillery officer that year and deployed in 2012 to the Ghazni Province in Afghanistan in support of Operation Enduring Freedom.
Callaghan is a graduate of the Field Artillery Basic Officer Leadership Course, the Field Artillery Captains Career Course, and the University of Foreign Military and Cultural Studies Red Team Practitioners Course.
He has received several awards and decorations, including the Bronze Star, the Army Commendation Medal, the Army Achievement Medal, the Meritorious Unit Citation, the Combat Action Badge, the Parachutist Badge and the Polish Land Forces Parachutist Badge.
Open one year, Student Veteran Resource Center provides key services and important connections
Nov. 9, 2017
A Military Friendly® School since 2010
Since 2010, Victory Media, the premier media entity for military personnel transitioning into civilian life, has awarded Appalachian the designation of Military Friendly® School. The designation places Appalachian in the top 15 percent of colleges, universities and trade schools in the country that are doing the most to embrace military students, and to dedicate resources to ensure their success in the classroom and after graduation. In addition to a number of existing services, the university opened the Major General Edward M. Reeder Jr. Student Veteran Resource Center in November 2016.
About the Department of Military Science and Leadership
One of seven departments housed in the College of Fine and Applied Arts, Appalachian's Department of Military Science and Leadership is home to the Mountaineer Battalion. Established in 1969, the program provides students with training to develop self-discipline, physical stamina and poise, as well as the organizational and motivational skills that contribute to success in any career. Students who complete the ROTC program earn credits for a minor in military science and leadership and are commissioned as second lieutenants in the U.S. Army, Army Reserves or Army National Guard upon graduation. Learn more at https://rotc.appstate.edu.
About Appalachian State University
As the premier public undergraduate institution in the state of North Carolina, Appalachian State University prepares students to lead purposeful lives as global citizens who understand and engage their responsibilities in creating a sustainable future for all. The Appalachian Experience promotes a spirit of inclusion that brings people together in inspiring ways to acquire and create knowledge, to grow holistically, to act with passion and determination, and to embrace diversity and difference. Located in the Blue Ridge Mountains, Appalachian is one of 17 campuses in the University of North Carolina System. Appalachian enrolls more than 19,000 students, has a low student-to-faculty ratio and offers more than 150 undergraduate and graduate majors.
What do you think?
Share your feedback on this story.