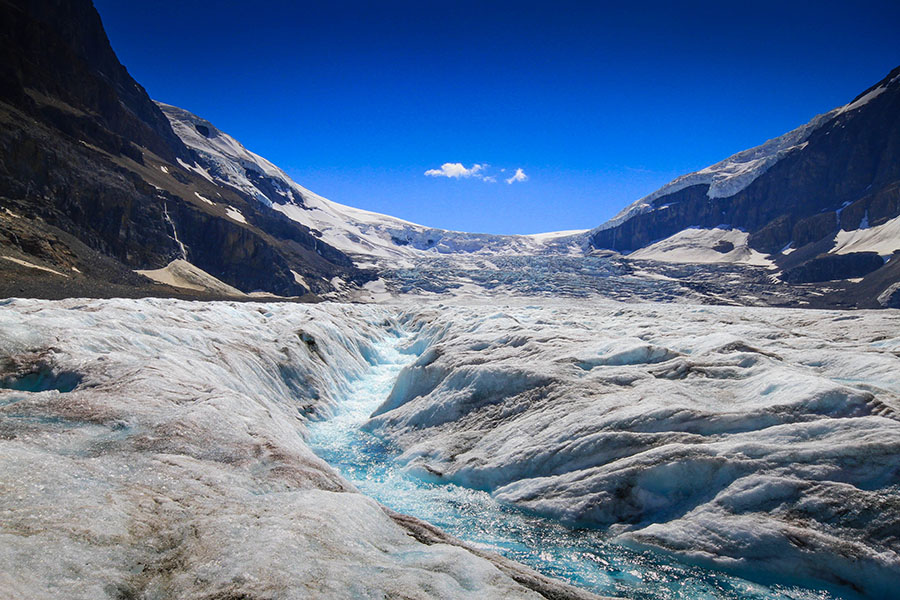 Posted Nov. 20, 2018 at 3:23 p.m.
BOONE, N.C. — Appalachian State University's Dr. William Armstrong has received more than a quarter million in funding from the National Science Foundation (NSF) to complete a three-year research project titled "A Half Century of Changing Glacier Dynamics at Athabasca Glacier."
"As glaciers and ice sheets decay in a warming climate, water previously stored as land ice is transferred to other reservoirs, affecting downstream habitat quality and the rate of sea level rise. Accurate prediction of glacier change requires a complete understanding of the controls on glacier motion," said Armstrong, who is a visiting assistant professor in Appalachian's Department of Geological and Environmental Sciences.
He said the project will take Appalachian undergraduates and faculty to the Athabasca Glacier in Jasper National Park to leverage a long-term dataset that investigates how the basal motion of the Athabasca Glacier has evolved over the past half century. The glacier has thinned by 20 percent and retreated by half a kilometer over the past half century, he added.
For the project, Armstrong is collaborating with Dr. Martin Truffer, professor in the Geophysical Institute at the University of Alaska Fairbanks, as well as junior geology major Hannah Field, of Pisgah Forest, and Anthony Hengst, a senior geology and mathematics double major from Palm Harbor, Florida.
The team's work focuses on the process of glacier basal motion, which is water-mediated sliding at the bottom of a glacier, where ice meets rock.
"This process is important," Armstrong said, "because it allows rapid changes in glacier speed and is the means by which glaciers erode their beds, making it a critical process for understanding how dramatic landscapes like Yosemite National Park were formed."
"Currently, many studies of glacier change extrapolate short-term behavior of basal motion far into the future to predict how these ice masses will evolve. However, we know the dynamics of glacier basal motion can change over decadal timescales, casting doubt upon the accuracy of such predictions," he explained.
The team's research, according to Armstrong, will combine detailed field study with satellite remote sensing and computer modeling to further the team's knowledge of glacier processes, allowing for a more accurate prediction of future glacier change and a deeper understanding of past landscape evolution.
About the Department of Geological and Environmental Sciences
Located in Western North Carolina, Appalachian State University provides the perfect setting to study geological and environmental sciences. The Department of Geological and Environmental Sciences provides students with a solid foundation on which to prepare for graduate school or build successful careers as scientists, consultants and secondary education teachers. The department offers six degree options in geology and two degree options in environmental science. Learn more at https://earth.appstate.edu.
About the College of Arts and Sciences
The College of Arts and Sciences (CAS) at Appalachian State University is home to 17 academic departments, two centers and one residential college. These units span the humanities and the social, mathematical and natural sciences. CAS aims to develop a distinctive identity built upon our university's strengths, traditions and unique location. The college's values lie not only in service to the university and local community, but through inspiring, training, educating and sustaining the development of its students as global citizens. More than 6,400 student majors are enrolled in the college. As the college is also largely responsible for implementing App State's general education curriculum, it is heavily involved in the education of all students at the university, including those pursuing majors in other colleges. Learn more at https://cas.appstate.edu.
About Appalachian State University
As the premier public undergraduate institution in the Southeast, Appalachian State University prepares students to lead purposeful lives. App State is one of 17 campuses in the University of North Carolina System, with a national reputation for innovative teaching and opening access to a high-quality, affordable education for all. The university enrolls more than 21,000 students, has a low student-to-faculty ratio and offers more than 150 undergraduate and 80 graduate majors at its Boone and Hickory campuses and through App State Online. Learn more at https://www.appstate.edu.
What do you think?
Share your feedback on this story.