Posted Nov. 20, 2018 at 3:08 p.m.
BOONE, N.C. — During the kick-off talk in Appalachian State University's fall 2018 Sustainable Energy Speaker Series: Alumni Edition, Bill Pfleger '04 '06 '13 said the U.S. electricity system, which has served the nation for more than 100 years, "is standing on the brink of disruption" — and that's a potentially good thing.
In his presentation titled "The New Energy Landscape: Microgrid Trends and Future Directions," Pfleger, solutions architect manager for energy management company Schneider Electric, said four global movements are spurring the disruption in the nation's outdated electrical grid.
According to Pfleger, his company — drawing upon data from such sources as the International Energy Agency (IEA), Bloomberg New Energy Finance and others — forecasts the world will become more digitized, decentralized, decarbonized and electric over the next 20–25 years. Schneider refers to these megatrends as the "3D's and E."
Microgrid technology can capitalize on these trends, Pfleger said, helping individuals, businesses and utility companies alike achieve integrated energy outcomes.
Pfleger, a three-time graduate of Appalachian, holds a B.S. in psychology, an M.S. in general experimental psychology and an M.S. in technology with concentrations in appropriate technology and building science.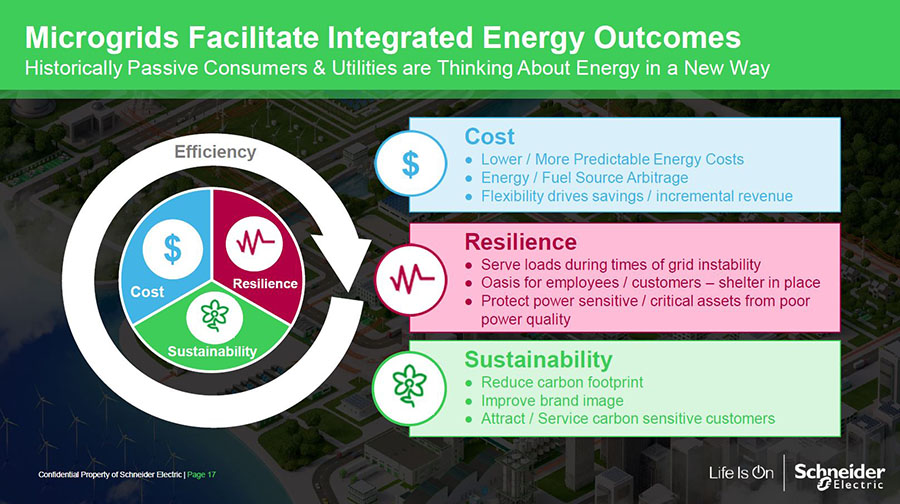 More on the 3D's and E
The "energy landscape," as Pfleger terms it, is moving from a linear model — one in which the transference of electricity moves from a central power plant through power lines and directly to consumers — to a more decentralized model that is "increasingly complex and multidirectional," he said.
Pfleger said this decentralization process "goes hand in hand with decarbonization," as energy efficiency and the incorporation of renewable energy technologies increase and both "companies, as well as individual end users of power look to produce more locally, or more sustainably."
In his presentation, Pfleger offered data supporting Schneider's 3D's and E hypothesis:
The world is becoming more digitized — by 2025, the world will contain 10 times more connected devices than people (IHS Markit, "IoT platforms: enabling the Internet of Things," 2016).
The world is becoming more decarbonized — 82 percent of untapped energy efficiency potential is in buildings and more than 50 percent is present in industry (IEA, 2012 World Energy Outlook).
The world's energy sources are becoming more decentralized — 70 percent of new energy capacity, or the maximum possible output of electricity, will consist of decentralized renewables by 2040 (Bloomberg New Energy Finance, New Energy Outlook 2017).
The world is becoming more electric — electricity demand will experience a growth rate two times faster than electricity production by 2040 (IEA, 2014 World Energy Outlook).
Other trends driving change in the world's energy landscape, Pfleger said, include an increased movement toward renewable energy, the declining cost of solar technology, the increasing affordability of energy storage, the natural gas boom and such technologies as electric vehicles (EVs).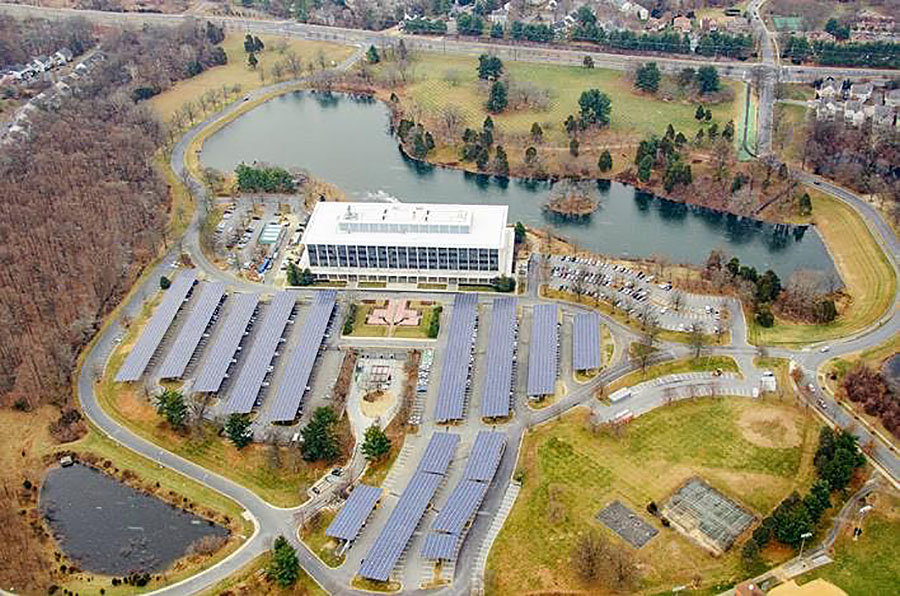 Microgrids and their benefits
Pfleger defined a microgrid as "an integrated energy system" that can contain a mix of several renewable and/or fossil fuel-based distributed energy resources (DERs), such as solar panels, wind turbines, diesel backup generators, batteries, etc.
The benefits for users, he said, are threefold: The energy microgrids provide is sustainable, cost-effective and resilient.
"One of the great things about microgrids is that we may incorporate renewables that have a 25-year operational life, and so you're locking your power rate in for the next 25 years," said Dr. Jamie Russell, associate professor in Appalachian's Department of Sustainable Technology and the Built Environment. "Whereas, we all know the price of fossil fuel generation is going to fluctuate, so you're removing that risk when you invest in a microgrid."
Some microgrids operate while being continuously synced to a larger electricity grid, Pfleger said, while others, depending upon their complexity, are able to operate as an island — meaning the microgrid can disconnect from the larger grid and be an independently operating source of dependable power supply for its users.
Dr. Brian Raichle, professor in and chair of Appalachian's Department of Sustainable Technology and the Built Environment, said microgrids are an attractive alternative because of their "ability, to some extent, to compensate for the downside of renewables, which is you can't just flip a switch and turn on the sun or turn on the wind — a fundamental limitation to renewable generation."
Pfleger said typical power monitoring suggests that an electrical system needs to have a DER ratio of 2-to-1 — or a balance of two traditional energy sources (fossil fuels) for every one renewable energy source.
This paradigm is being flipped on its head, he said, by "creating control systems that can regulate a veritable renewable source to where microgrids can now operate with two parts solar for every one part traditional."
The 'Wild West' of microgrid technology
"The current state of microgrid technology is a little bit like the Wild West," Pfleger said, with many competitors of all different types, ranging from start-ups to multinational corporations such as Schneider and General Electric Co., all with their own approach to microgrid design.
Pfleger said a microgrid could power Appalachian's main campus.
Russell agreed, adding, because "our utility, NRLP (New River Light and Power), is integrated within the university … it is a much more likely scenario to see something like a microgrid happening down the road."
"One of the things I've always valued about Appalachian State University is its investment in renewable energy, and you have some amazing assets right here on campus to be leveraged already," Pfleger said.
Raichle pointed to the university's Innovation Campus, to be located at the site of the former Broyhill Inn and Conference Center on Bodenheimer Drive and the edge of the neighboring Nature Preserve, as a possible ideal space for a microgrid facility that could power Appalachian's main campus and showcase renewable energy technologies.
"Some of us in the department see the development of the Innovation Campus as a really unique opportunity to be far out on the leading edge of those using sustainable energy technologies. This is an opportunity we cannot miss," he said.
The Innovation Campus will embrace multiple disciplines and include collaborations both on campus and with the community.
The Sustainable Energy Speaker Series — a joint effort of the Appalachian Energy Center and the Department of Sustainable Technology and the Built Environment — will resume Monday, Nov. 26, with a talk by Appalachian alumnus Landon Williams, a senior public engagement specialist with Duke Energy.
For more information about the series, click here.
About the Department of Sustainable Technology and the Built Environment
One of seven departments housed in the College of Fine and Applied Arts, the Department of Sustainable Technology and the Built Environment at Appalachian State University features an integrated array of programs spanning the fields of sustainable design and technology. Its mission is to foster a strong and vibrant culture of inquiry, discovery and innovation that integrates theory with application, problem seeking with problem-solving, local issues with global perspectives and technological progress with environmental stewardship. It offers bachelor's degrees in sustainable technology and building science, and a master's degree in technology. Learn more at https://stbe.appstate.edu.
About the College of Fine and Applied Arts
Appalachian State University's College of Fine and Applied Arts is a dynamic and innovative group of seven academic departments, bringing together a variety of perspectives, experiences and real-world education to provide unique opportunities for student success. The college has more than 3,000 undergraduate and graduate majors. Its departments are Applied Design, Art, Communication, Military Science and Leadership, Sustainable Development, Sustainable Technology and the Built Environment, and Theatre and Dance. Learn more at https://faa.appstate.edu.
About the Appalachian Energy Center
The Appalachian Energy Center (AEC) at Appalachian State University conducts energy research and applied program activities in the areas of energy efficiency, renewable energy technologies, forecasting and modeling, economic development and policy analysis in a multidisciplinary environment that leverages the expertise of faculty, staff and students from across the university as a resource for private industry, local, state and federal governments, as well as nonprofits. Through its outreach programs and research, the Appalachian Energy Center benefits communities and citizens across the state by helping create new jobs, businesses and increased investment and income. Learn more at https://energy.appstate.edu.
About Appalachian State University
As the premier public undergraduate institution in the Southeast, Appalachian State University prepares students to lead purposeful lives. App State is one of 17 campuses in the University of North Carolina System, with a national reputation for innovative teaching and opening access to a high-quality, affordable education for all. The university enrolls more than 21,000 students, has a low student-to-faculty ratio and offers more than 150 undergraduate and 80 graduate majors at its Boone and Hickory campuses and through App State Online. Learn more at https://www.appstate.edu.
What do you think?
Share your feedback on this story.