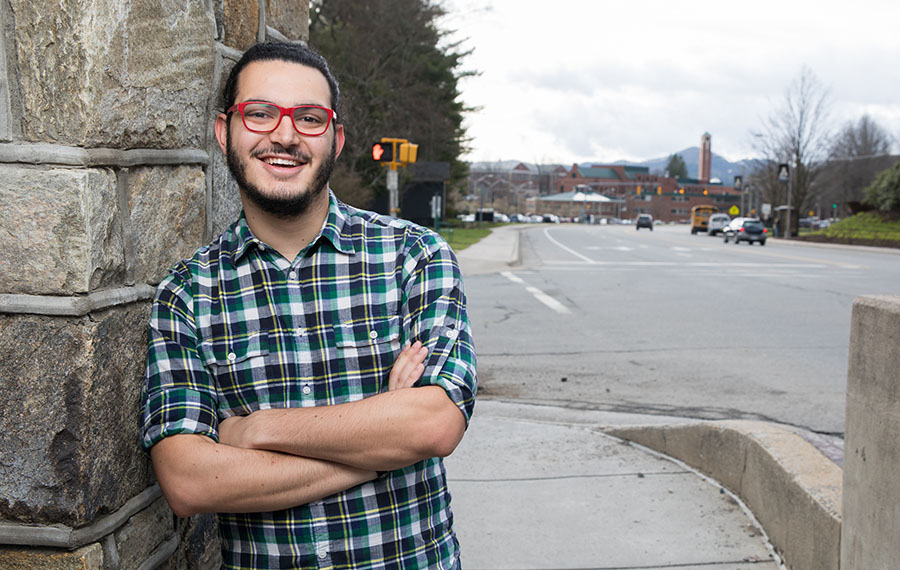 Posted Nov. 30, 2018 at 4:09 p.m.
BOONE, N.C. — At Appalachian State University, senior Murilo Artese wears many different hats — improv comedian, student ambassador and communication major with a concentration in electronic media/broadcasting, to name a few — which he pairs with his signature horn-rimmed red glasses.
From Brazil to Boone
Artese, who is from São Paulo, Brazil, is one of 125 international students from 44 countries at Appalachian this fall. He was an exchange student in Hickory his senior year of high school. His host mother was an Appalachian alumna, which provided him the opportunity to tour and visit the university's main campus.
When Artese returned to Brazil, he gave a PowerPoint presentation to his parents about his desire to attend college in the United States. He included a good bit about Appalachian — the only school to which he ultimately applied.
Around the time Artese learned he was accepted to Appalachian — and shortly after his birthday — he needed to get a new pair of glasses. At the store, he spotted a pair of bold red glasses and it was love at first sight.
His mother didn't think the glasses were professional enough and suggested he choose a black pair. Artese convinced his mother to buy the more expensive red pair and he bought the black pair. To this day, he still has them both but only wears the red spectacles.
"I believe glasses have the power to showcase people's personality without them saying a word," Artese said, "and my red glasses have definitely helped me showcase who I am."
During his first year at Appalachian, he learned about the university's electronic media/broadcasting program from a friend. After taking some of the program's classes, Artese knew he wanted to work on the creative side of television. "I'm minoring in English — focusing on creative writing — so I'm working towards writing my own television scripts," he said.
Getting involved at Appalachian
Artese struggled his first year at Appalachian — something didn't feel right, he said. "I still had a question in the back of my mind of whether this was where I was supposed to be and if I was making the right choice," he said.
Feeling more and more out of his comfort zone, he decided to become involved with organizations around campus. He joined several:
"It has helped me a lot," Artese said of his choice to get involved. He said it helped him to "grow professionally (and) become more comfortable with myself and my experiences with telling my story."
A representative of the school he loves
As a student ambassador, Artese serves three main offices on campus: the Office of Admissions, the Alumni Association and the Office of the Chancellor. The ambassadors are widely recognized as campus tour guides.
"Being a student ambassador has shaped my college career for the best," Artese said. "I have no words to describe the feeling of when I hear a student saying that I played a vital role in their college decision. To be able to represent this university that I love in this capacity is a privilege and an honor.
"What I tell the people on my tours is that, even though I'm from far away, I still had to choose a place that made me feel comfortable and that I thought would challenge me," Artese said. "My reason to be here is not that different from their reality."
As a senior, Artese has many stories to tell about his time at Appalachian, which he uses to deliver important information about the school.
Professional development and the first rule of improv
Improvisational comedy has helped shape Artese professionally, he explained.
"A lot of people don't understand how awesome improv can be in terms of helping in professional development and your daily life," Artese said.
The first rule of improvisational comedy, he said, is to say "yes, and" — meaning not only should a participant accept what the other participant said, he or she should expand on the line of thinking by adding to the narrative.
For Artese, the rule goes beyond improv.
"It has actually helped me a lot, when working in groups or in an interview when you don't really know what you're saying. You just go with the flow and keep going," Artese said. "Just accept what's surrounding you."
NouN Improv Comedy, in particular, he said, helped create the feeling he experiences on ambassador tours, which is having found his "family away from family" at Appalachian.
He said a family was created within the troupe because it was so fun. Artese remembers his first show at Legends: It was "the first time I actually felt like Appalachian was the place for me," he said.
"Over 200 people came to see us, and I was so terrified," Artese said. "Before the show, we do this little circle where we all talk and it was an emotional moment.
"It was where I realized, 'This is awesome. This is it; this is for me.'"
About the Department of Communication
One of seven departments housed in the College of Fine and Applied Arts, the Department of Communication at Appalachian State University focuses on preparing students to succeed in the varied fields within the communication industry. The department offers five majors – advertising, communication studies, electronic media/broadcasting, journalism and public relations – and a minor in communication studies. Graduates work in a wide range of positions in media, corporate, agency, government and nonprofit organizations. Learn more at https://communication.appstate.edu.
About the College of Fine and Applied Arts
Appalachian State University's College of Fine and Applied Arts is a dynamic and innovative group of seven academic departments, bringing together a variety of perspectives, experiences and real-world education to provide unique opportunities for student success. The college has more than 3,000 undergraduate and graduate majors. Its departments are Applied Design, Art, Communication, Military Science and Leadership, Sustainable Development, Sustainable Technology and the Built Environment, and Theatre and Dance. Learn more at https://faa.appstate.edu.
About Appalachian State University
As the premier public undergraduate institution in the Southeast, Appalachian State University prepares students to lead purposeful lives as global citizens who understand and engage their responsibilities in creating a sustainable future for all. The Appalachian Experience promotes a spirit of inclusion that brings people together in inspiring ways to acquire and create knowledge, to grow holistically, to act with passion and determination, and to embrace diversity and difference. Located in the Blue Ridge Mountains, Appalachian is one of 17 campuses in the University of North Carolina System. Appalachian enrolls nearly 21,000 students, has a low student-to-faculty ratio and offers more than 150 undergraduate and graduate majors.
What do you think?
Share your feedback on this story.