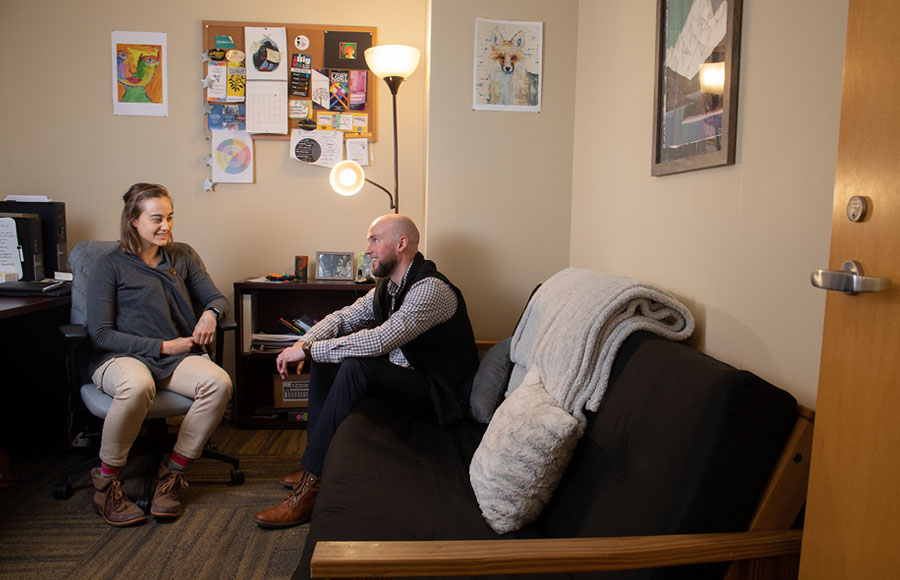 Posted Feb. 1, 2019 at 9:30 a.m.
BOONE, N.C. — Appalachian State University's Collegiate Recovery Community (CRC) provides students a space and community that support continued recovery.
It is also a place for their allies, for those looking for a sober space and for anyone focused on developing overall holistic well-being while in college, said Ben Asma, CRC team member and assistant director and substance abuse counselor in Appalachian's Department of Wellness and Prevention Services (WPS), which oversees the program.
CRC promotes academic excellence by giving each student who wants to be a part of the community a customized success plan, staff and peer support, and proactive, recovery-focused programming.
"One in seven individuals is going to have an issue with substances," said Lexi Gross, a substance use counselor in WPS and member of the CRC team. She said a university is a "really high-risk environment, so having that support on campus can help those individuals looking to be successful in their academics as well as their recovery."
The CRC is one of many collegiate recovery programs located at universities in North Carolina and around the country. Asma said the program at Appalachian grew "as a grassroots movement of creating a space and having weekly meetings. It just came from a place where we knew there was need."
Before the CRC, students' recovery needs were met through off-campus programs such as Alcoholics Anonymous (AA).
Collegiate recovery programs at some schools focus on a 12-step model similar to AA, but Appalachian's CRC is grounded in a student-led support model.
"Through group therapeutic interventions and interactions," Asma said, "we can help students develop coping strategies and skills to maintain their recovery, whatever that recovery may be for them."
The CRC currently holds weekly social check-ins, which Asma said focus on topics such as stress management, as well as building skills, resiliency and community.
In addition to the recovery aspect, the CRC is also an environment for sober activities. Gross said the activities are a chance for people with the "same language and experience" to engage with people in the community and have fun.
Past activities have included a sober tailgate, trivia night and a Halloween party. The CRC team was skeptical people would even show up for the Halloween party, but they did, Asma said, "and had a blast and a lot of fun."
To build awareness, the team is working with the Appalachian Popular Programming Society and Student Government Association to create more opportunities for sober events.
What do you think?
Share your feedback on this story.
About the Division of Student Affairs
The Division of Student Affairs at Appalachian State University is committed to the development of lifelong learners and leaders by engaging and challenging students within a culture of care and inclusion. The division consists of 16 units that offer activities and services to help students develop more fully by becoming global learners, fostering healthy relationships, appreciating diversity and different perspectives, understanding community responsibility, enhancing self-awareness, developing autonomy and living ethically. These units include the Career Development Center, Campus Activities, Office of Community-Engaged Leadership, Wellness and Prevention Services, Counseling and Psychological Services, Student Health Service, Parent and Family Services, University Housing, Student Conduct, University Recreation, Intercultural Student Affairs, Student Legal Clinic and Off-Campus Student Services, Electronic Student Services, Child Development Center, and Staff Development and Strategic Initiatives. Learn more at https://studentaffairs.appstate.edu.
About Appalachian State University
As the premier public undergraduate institution in the Southeast, Appalachian State University prepares students to lead purposeful lives as global citizens who understand and engage their responsibilities in creating a sustainable future for all. The Appalachian Experience promotes a spirit of inclusion that brings people together in inspiring ways to acquire and create knowledge, to grow holistically, to act with passion and determination, and to embrace diversity and difference. Located in the Blue Ridge Mountains, Appalachian is one of 17 campuses in the University of North Carolina System. Appalachian enrolls nearly 21,000 students, has a low student-to-faculty ratio and offers more than 150 undergraduate and graduate majors.