Posted Feb. 7, 2019 at 11:20 a.m.
BOONE, N.C. — The North Carolina School Psychology Association (NCSPA) has bestowed three of its highest honors to two alumnae of Appalachian State University's master's-level school psychology program, as well as to Dr. Jim Deni, professor in Appalachian's Dr. Wiley F. Smith Department of Psychology. The alumnae are Jennifer Reilly '09, a school psychologist with Guilford County Schools, and Amy Lowder '03, lead school psychologist in Cabarrus County Schools.
The NCSPA renamed their highest honor — formerly known as the Jack L. Bardon Lifetime Achievement Award — in honor of Deni, who is one of only six recipients of the award.
He received the award in recognition of his numerous contributions to North Carolina public schools and to the training of over 400 school psychologists, as well as his many years of leadership and service within the association, having served four times as NCSPA president and chaired innumerable committees and task forces.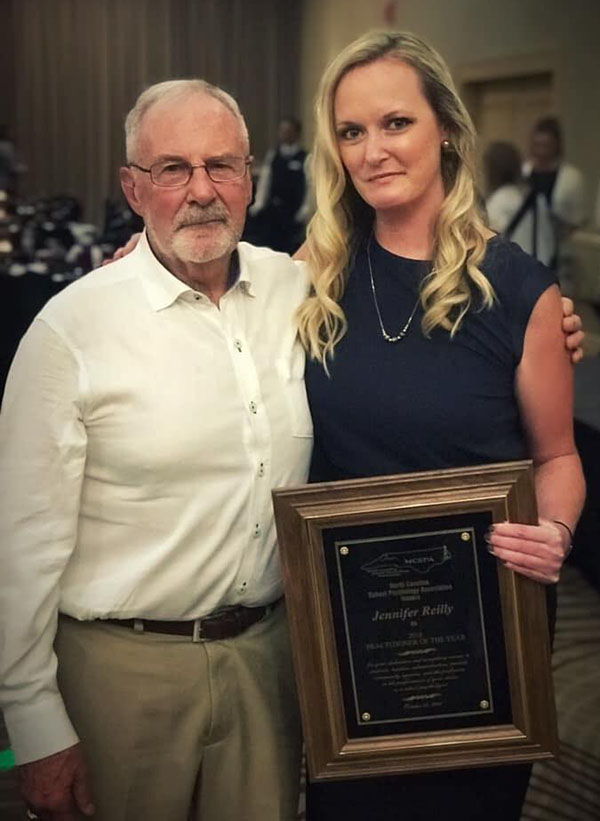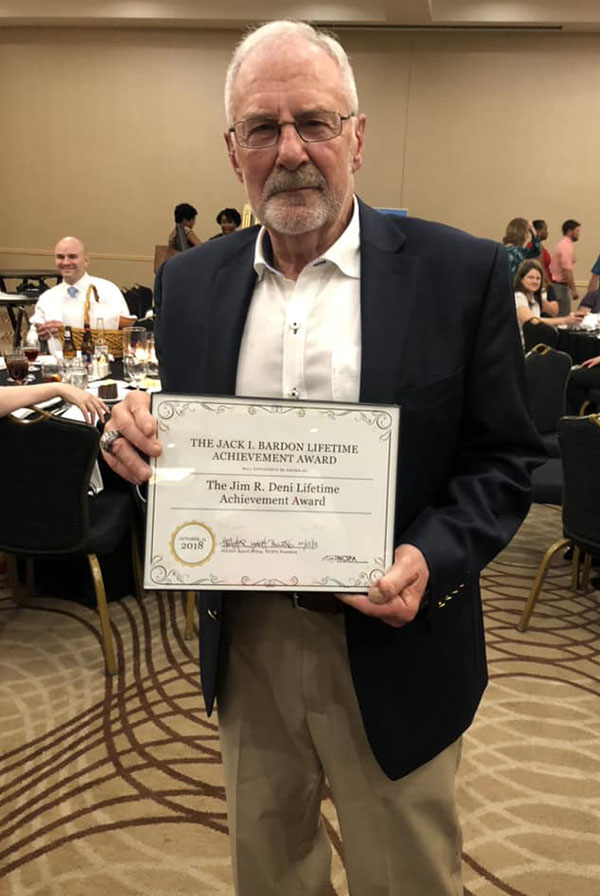 "It's wonderful to see Dr. Deni and the school psychology program recognized in this way," said Dr. Neva J. Specht, dean of Appalachian's College of Arts and Sciences. "The ongoing need for additional practitioners in the schools continues, and the faculty in the program are making sure our graduates are well prepared."
Reilly, a graduate of Appalachian's dual Master of Arts and specialist in school psychology degree program, received the NCSPA's 2018 Practitioner of the Year Award.
Materials submitted in support of her nomination detailed her involvement in numerous school- and district-level training and support teams, as well as her delivery of professional development programs to over 4,200 Guilford County School faculty and staff members.
According to the NCSPA website, the annual Practitioner of the Year Award recognizes "excellence in school psychological services by honoring a school psychologist who exemplifies the highest level of professionalism in their daily practice."
Lowder received the 2018 NCSPA Innovative Practice Award. She graduated from the university's M.A. and specialist in school psychology degree program in 2003.
"The NCSPA Innovative Practice Award is presented to a school psychologist who has been engaged in innovative practices that have provided significant benefits to a group of teachers, school or school system, as well as the children within those school systems," the NCSPA website states.
Lowder's nomination detailed her collaborative efforts "to design and implement a district-wide tiered framework for a comprehensive Specialized Instructional Support Personnel (SISP) services delivery model to address safety and wellness for her district of nearly 34,000 Pre-K–12 students."
Appalachian's dual Master of Arts and specialist in school psychology degree program provides learning experiences grounded in the scientist–practitioner model that enable graduates to become well-rounded, effective school psychologists who practice competently and ethically in all domains of school psychology, and who are prepared to work effectively with diverse populations in a variety of settings.
Deni, Reilly and Lowder each received their respective NCSPA awards at the NCSPA Fall Conference in Charlotte in October 2018.
Reilly and Lowder are two of approximately 800 school psychologists in the state.
What do you think?
Share your feedback on this story.
About the North Carolina School Psychology Association
The North Carolina School Psychology Association (NCSPA) is a professional association of over 400 North Carolina school psychologists. NCSPA serves its members and society by promoting the rights, welfare, education and mental health of children and youth; and advancing the profession of school psychology. Learn more at http://www.ncspaonline.com.
About the Dr. Wiley F. Smith Department of Psychology
Appalachian's Dr. Wiley F. Smith Department of Psychology serves more than 1,000 undergraduate majors seeking the Bachelor of Arts or Bachelor of Science degree in psychology, as well as 80 graduate students in three master's programs (experimental psychology, school psychology, and industrial-organizational psychology and human resource management) and the clinical psychology (Psy.D.) doctoral program. Learn more at https://psych.appstate.edu.
About the College of Arts and Sciences
The College of Arts and Sciences is home to 16 academic departments, one stand-alone academic program, two centers and one residential college. These units span the humanities and the social, mathematical and natural sciences. The College of Arts and Sciences aims to develop a distinctive identity built upon our university's strengths, traditions and unique location. The college's values lie not only in service to the university and local community, but through inspiring, training, educating and sustaining the development of its students as global citizens. There are approximately 6,100 student majors in the college. As the college is also largely responsible for implementing Appalachian's general education curriculum, it is heavily involved in the education of all students at the university, including those pursuing majors in other colleges. Learn more at https://cas.appstate.edu.
About Appalachian State University
As the premier public undergraduate institution in the state of North Carolina, Appalachian State University prepares students to lead purposeful lives as global citizens who understand and engage their responsibilities in creating a sustainable future for all. The Appalachian Experience promotes a spirit of inclusion that brings people together in inspiring ways to acquire and create knowledge, to grow holistically, to act with passion and determination, and to embrace diversity and difference. Located in the Blue Ridge Mountains, Appalachian is one of 17 campuses in the University of North Carolina System. Appalachian enrolls more than 19,000 students, has a low student-to-faculty ratio and offers more than 150 undergraduate and graduate majors.