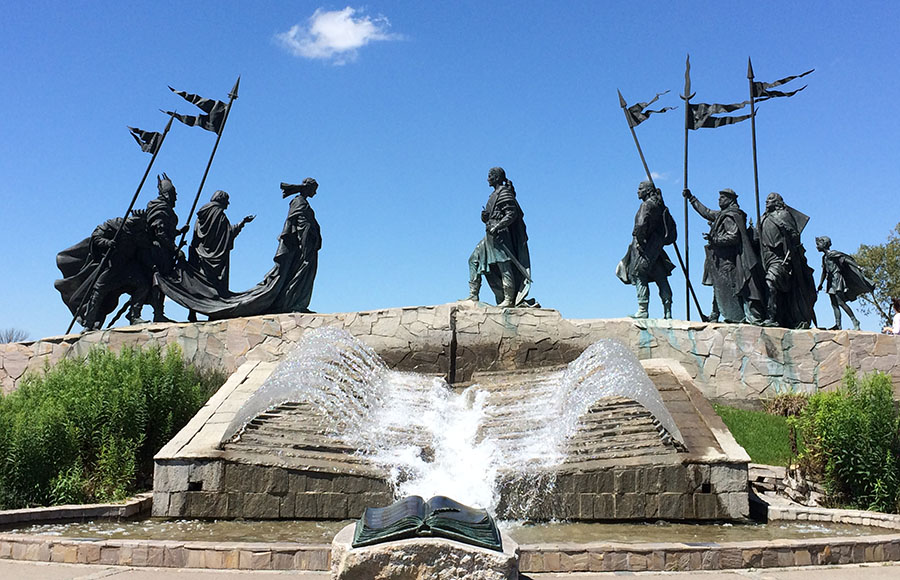 Posted April 23, 2019 at 12:45 p.m.
BOONE, N.C. — Through the Fulbright Scholar Program, Dr. Alexandra Sterling-Hellenbrand, professor of German and global studies in the Department of Languages, Literatures, and Cultures at Appalachian State University, has been selected to serve as the Fulbright Visiting Professor of Cultural Studies at the University of Graz in Graz, Austria, during spring 2020.
While in Austria, Sterling-Hellenbrand will teach two interdisciplinary courses — Borders and Walls and The American Middle Ages — for the University of Graz's Center for Inter-American Studies.
The Fulbright Program provides participants — chosen for their academic merit as well as leadership potential — the opportunity to study, teach and conduct research, exchange ideas, and contribute to finding solutions to shared international concerns.
Sterling-Hellenbrand's research project for the program, titled "Medieval Literature in the Modern Landscape: Heritage, Culture and Identity in Contemporary Austria," builds on her forthcoming monograph "Medieval Literature on Display: Heritage and Culture in Modern Germany" (Bloomsbury, November), which is on the display of medieval German literature as an integral element of local heritage.
The project involves a comparative study of recent examples in which the medieval narrative past becomes new heritage for Austrian communities today, she said, citing the Styrian literature pathways of the Middle Ages and the Nibelung monuments on the Danube River in the cities of Tulln (2005) and Pöchlarn (1987), respectively, as examples.
She said, "Each installation embeds the literary past in the local landscape; medieval texts and public memory intersect in a potential third space for cultural encounter. This project explores how such displays tangibly and consciously reflect the identity of Austrian communities that celebrate older narratives as 21st-century heritage.
"Notions of identity foster the kind of investment, not only monetary but also intellectual, that will continue to support the monuments. 'Medieval Literature in the Modern Landscape' will therefore also examine medievalism as a mechanism of cultural sustainability, as well as a vehicle for memory, reflection and change."
Furthermore, Sterling-Hellenbrand said her project offers a replicable template other researchers can use to study the reception of the Middle Ages and the subsequent creation of modern heritage in other contexts in Austria as well as in the United States.
Sterling-Hellenbrand holds a Ph.D. in German from Pennsylvania State University. She earned her M.A. in German from the University of Wisconsin–Madison and her B.A. in English from the University of Rochester.
At Appalachian, she has served as chair of the Department of Languages, Literatures and Cultures (2003–08) and director of the global studies program (2008–17). Her teaching and research areas include German language and culture, medieval German literature, fairy tales and Arthurian legends.
She has been principal or co-principal investigator with Dr. Beverly Moser, professor in Appalachian's Department of Languages, Literatures and Cultures, on two Undergraduate International Studies and Foreign Languages (UISFL) grants through the U.S. Department of Education: "Making Local to Global Connections: Strengthening Foreign Languages across the Curriculum" (2010–12) and "From the South to the Global South: Language and Area Studies for a Changing World" (2014–16).
Sterling-Hellenbrand has also been recognized for student mentorship and advising. In 2012, she received the University College Advising and Mentoring Award. Additionally, in 2014, she received the Outstanding Faculty Advisor Award from Appalachian's College of Arts and Sciences, and in 2016, she was the recipient of the Appalachian Global Leadership Award for her work on internationalization at the university.
Additionally, she is the second in her family to receive the prestigious Fulbright award. Her son, Ryan Hellenbrand '17, who holds a dual B.A. in global studies and sustainable development, received a Fulbright U.S. Student Program award in 2017 to complete research and teach English in Austria.
For information about how to apply for faculty and staff Fulbright awards, as well as more information regarding international scholarship assistance, visit the university's Office of International Education and Development (OIED).
What do you think?
Share your feedback on this story.
About the Department of Languages, Literatures and Cultures
The Department of Languages, Literatures and Cultures offers courses that enhance students' understanding of other cultures and languages as well as their own, making them prepared for lifelong learning in a multicultural world. Learn more at https://dllc.appstate.edu.
About the College of Arts and Sciences
The College of Arts and Sciences (CAS) at Appalachian State University is home to 17 academic departments, two centers and one residential college. These units span the humanities and the social, mathematical and natural sciences. CAS aims to develop a distinctive identity built upon our university's strengths, traditions and unique location. The college's values lie not only in service to the university and local community, but through inspiring, training, educating and sustaining the development of its students as global citizens. More than 6,400 student majors are enrolled in the college. As the college is also largely responsible for implementing App State's general education curriculum, it is heavily involved in the education of all students at the university, including those pursuing majors in other colleges. Learn more at https://cas.appstate.edu.
About the Office of International Education and Development
The OIED is responsible for spearheading the internationalization efforts at Appalachian. The internationalization mission of Appalachian is to develop awareness, knowledge, appreciation and respect of cultural differences in both domestic and international contexts in its students, faculty, staff and the surrounding communities. The university is also dedicated to creating a campus environment that builds the theoretical and practical skills needed to interact effectively in a global society. Learn more at https://international.appstate.edu.
About Appalachian State University
As the premier public undergraduate institution in the Southeast, Appalachian State University prepares students to lead purposeful lives. App State is one of 17 campuses in the University of North Carolina System, with a national reputation for innovative teaching and opening access to a high-quality, affordable education for all. The university enrolls more than 21,000 students, has a low student-to-faculty ratio and offers more than 150 undergraduate and 80 graduate majors at its Boone and Hickory campuses and through App State Online. Learn more at https://www.appstate.edu.