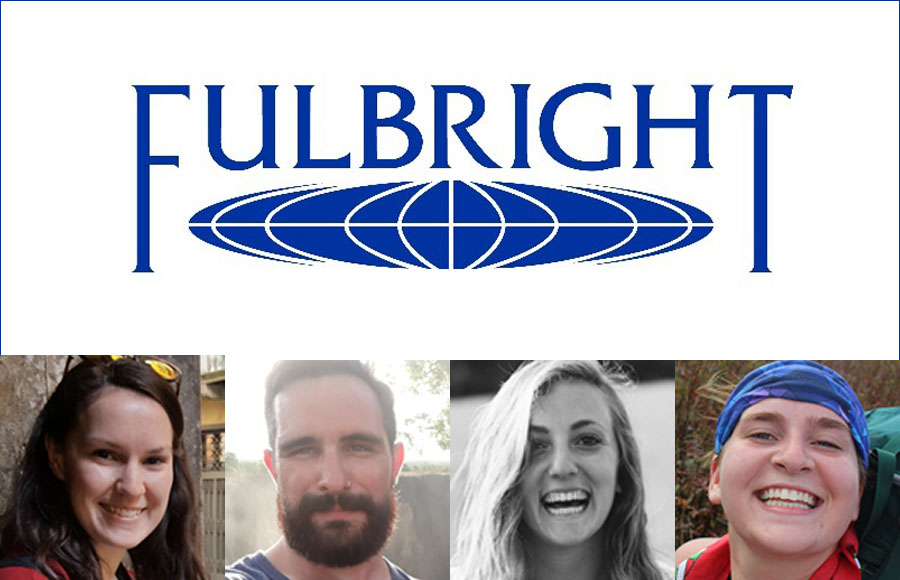 Posted April 30, 2019 at 4:43 p.m.
BOONE, N.C. — An Appalachian State University senior and three university alumni have been named Fulbright U.S. Student Program finalists for the 2019–20 academic year — a record-breaking number for the university. Prior to these recipients, only five Appalachian students have received a Fulbright since the program's beginning in 1946.
Finalists were selected on the basis of academic and professional achievement, as well as their record of service and leadership potential in their respective fields. The following statistics illustrate the level of Fulbright competition in 2018–19:
Over 10,000 applicants.
700-plus institutions participated.
2,100 grants awarded.
140 countries offering opportunities for research, study and/or teaching.
Students and alumni who applied to Fulbright through Appalachian and have become Fulbright Student finalists are:
Finalist: Megan Holt-Smith '15 '16.
Degree: B.A. in Spanish, M.A. in romance languages with concentration in Spanish college teaching.Hometown: Mount Airy.
Award: Fulbright English Teaching Assistant (ETA) Award to Germany.
Finalist: John Kennedy '16.
Degree: B.A. in sustainable development.
Hometown: High Point.
Award: Fulbright ETA Award to Mongolia.
Finalist: Emma Labovitz '18.
Degree: B.A. in political science, B.A. in global studies.
Hometown: Salisbury.
Award: Fulbright Study/Research Award to the Netherlands.
Finalist: Caroline Webb.
Major: psychology, minor in communication sciences and disorders.
Hometown: Raleigh.
Award: Fulbright ETA Award to Timor-Leste.
"I extend a heartfelt congratulations to Megan, John, Emma and Caroline — our four successful Fulbright students," said Dr. Darrell Kruger, Appalachian's provost and executive vice chancellor. "This experience will enrich their lives and the trajectory of their professional and personal lives."
Additionally, Kruger thanked the Appalachian faculty and staff "who have invested in our students to enable them to reach this milestone. The investment we have made in prestigious scholarships and Fulbright, in particular, is paying dividends."
Through grants awarded by the U.S. Department of State and the J. William Fulbright Foreign Scholarship Board, Holt-Smith, Kennedy, Labovitz and Webb will spend the 2019–20 academic year living with, working alongside and learning from the people of their host countries.
More on the Fulbright finalists
Holt-Smith earned her Bachelor of Arts in Spanish with a minor in German in 2015 and her Master of Arts in romance languages with a concentration in Spanish college teaching in 2016, both from Appalachian. Through her Fulbright, she will travel to Germany to teach English in 2019–20.
"After my first interaction with language studies (Spanish) in high school, I quickly realized that working with world languages and cultures in some capacity would be my pathway in life," Holt-Smith explained.
With prior teaching assistant (TA) and teaching experience, both at Appalachian and abroad, Holt-Smith said she understands that "students need to see that they have an ally in their instructors, someone who they trust and can depend on to provide the support they need in an academic setting."
She said she is honored to be awarded a Fulbright. "I take great pride in the fact that I have made it to a point where I can now give back, and I am excited about the opportunity to move forward in my chosen pathway," Holt-Smith said.
Kennedy graduated from Appalachian in 2016 with a Bachelor of Arts in sustainable development and a minor in history, and most recently served as a U.S. Peace Corps volunteer and volunteer leader in Zambia, Africa.
"Living and working within rural Zambia has given me the tools and proper humility necessary to appropriately approach the ethereal knowledge that living within a culture not of your own can provide," Kennedy said.
In addition to drawing from his experience in Zambia, Kennedy plans to infuse his English classroom in Mongolia — where he will teach during 2019–20 — with Appalachian folk music and content-based language instruction that incorporates agriculture and animal husbandry from both cultures.
"I grew up learning about Mongolian nomadism and even studied the culture around Mongolian throat singing and folk music in high school and college. Mongolia has always been the country for which my cultural intrigue has yearned," he said.
Labovitz, a Wilson Scholar, Honors College student and Appalachian Student Ambassador, graduated from Appalachian in 2018 with a double major in political science and global studies and a minor in Spanish.
This fall, Labovitz, who has been conferred a Fulbright Study/Research Award, will travel to the Netherlands to pursue her Master of Public Administration, with a focus on migration and diversity, at Erasmus University Rotterdam.
"I was 8 years old when I asked my father who Hitler was. He bravely delved into the history of the Holocaust, telling me of my own great-grandmother who had fled Russia as a refugee at the turn of the century," she said. "As a Jewish American, I could not believe that such a salient part of my own identity had been the premise for so much sorrow."
This formative experience put Labovitz on an irreversible track to understand migration issues throughout her undergraduate career.
When asked why the Netherlands is the right context in which to continue her studies, Labovitz said, "The Netherlands, a country with a unique classification of migrant populations, history of making major migration policy changes and rich diversity, can teach me what my other experiences could not."
Webb, a psychology major and communication sciences and disorders minor set to graduate in May, will use her Fulbright Student award to teach English in the post-conflict nation of Timor-Leste during 2019–20. She was drawn to Timor-Leste due to the complex linguistic landscape and historical tensions that can accompany languages in decolonized spaces, she said.
While at Appalachian, she has served as a Student Leadership Consultant and TA, which she said fostered a passion within her for facilitating group activities and discussions.
"Each position has had a critical role in shaping my views on who I am as a leader and what classroom environment I want to create as an ETA," Webb said.
Webb has also taken four courses in American Sign Language, and while in Timor-Leste, she hopes to partner with the Agape School for the Deaf, in addition to her primary teaching responsibilities. "I am eager to be challenged and taken beyond my comfort zone because that's where the magical 'aha!' moments happen," she said.
"Applying for a Fulbright Scholarship was one of the best decisions I made during undergrad," she shared. "The staff at NCS was extremely supportive, and I encourage anyone who is even thinking about applying to reach out! The application process is long, but also one of the most transformative experiences I have had at Appalachian State."
The Fulbright U.S. Student Program at Appalachian is facilitated through the university's Office of Nationally Competitive Scholarships (NCS).
For more information about the program and how to apply, visit https://ncs.appstate.edu and/or contact the NCS office at ncs@appstate.edu.
What do you think?
Share your feedback on this story.
Related links
About Nationally Competitive Scholarships
Nationally Competitive Scholarships (NCS) works with the Appalachian community to recruit and support students for nationally competitive scholarships and fellowships, including those that support research, teaching and critical language learning. This is achieved with outreach, mentorship and advising throughout the entire application and selection process. NCS is committed to helping undergraduate and graduate students find ways to connect their Appalachian education to their future endeavors through scholarship opportunities. Learn more at https://ncs.appstate.edu.
About the College of Arts and Sciences
The College of Arts and Sciences (CAS) at Appalachian State University is home to 17 academic departments, two centers and one residential college. These units span the humanities and the social, mathematical and natural sciences. CAS aims to develop a distinctive identity built upon our university's strengths, traditions and unique location. The college's values lie not only in service to the university and local community, but through inspiring, training, educating and sustaining the development of its students as global citizens. More than 6,400 student majors are enrolled in the college. As the college is also largely responsible for implementing App State's general education curriculum, it is heavily involved in the education of all students at the university, including those pursuing majors in other colleges. Learn more at https://cas.appstate.edu.
About the College of Fine and Applied Arts
Appalachian State University's College of Fine and Applied Arts is a dynamic and innovative group of seven academic departments, bringing together a variety of perspectives, experiences and real-world education to provide unique opportunities for student success. The college has more than 3,000 undergraduate and graduate majors. Its departments are Applied Design, Art, Communication, Military Science and Leadership, Sustainable Development, Sustainable Technology and the Built Environment, and Theatre and Dance. Learn more at https://faa.appstate.edu.
About Appalachian State University
As the premier public undergraduate institution in the Southeast, Appalachian State University prepares students to lead purposeful lives. App State is one of 17 campuses in the University of North Carolina System, with a national reputation for innovative teaching and opening access to a high-quality, affordable education for all. The university enrolls more than 21,000 students, has a low student-to-faculty ratio and offers more than 150 undergraduate and 80 graduate majors at its Boone and Hickory campuses and through App State Online. Learn more at https://www.appstate.edu.