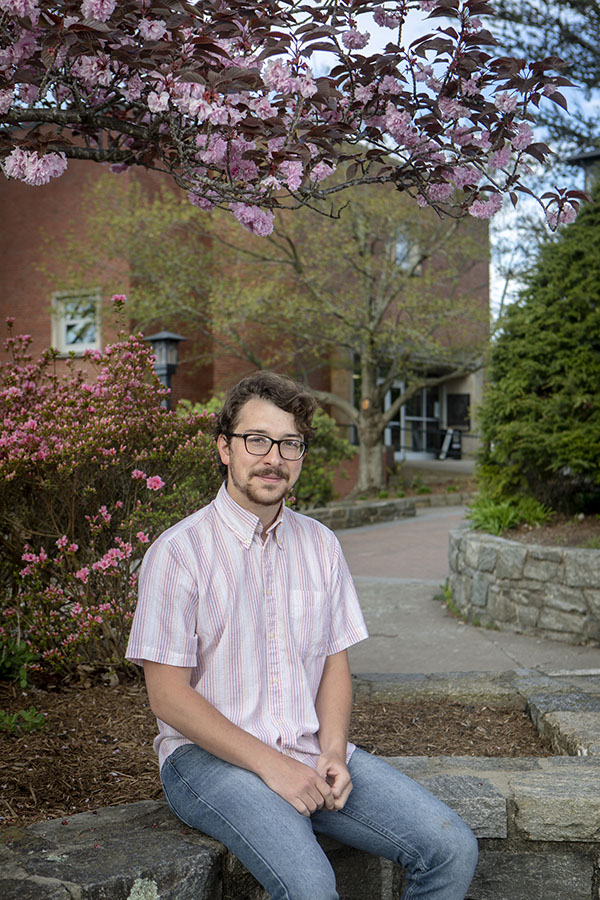 Posted May 6, 2019 at 3:23 p.m.
BOONE, N.C. — Matthias Kramer's childhood passion for Pokémon led him on a path toward Asian studies and comparative literature. A graduating senior from Raleigh, Kramer is about to be one of Appalachian State University's earliest graduates from its Bachelor of Arts degree in languages, literatures and cultures with a concentration in East Asian languages and cultures.
The East Asian concentration was introduced at Appalachian in fall 2017. Kramer will also earn a B.A. in English with dual concentrations in creative writing and literary studies. He said his three majors are intertwined.
"The creative writing major allowed me to study how a story is constructed. Literary studies allowed me to get theoretical and analyze the text. Then the East Asian language major allowed me to cross the linguistic gap and analyze texts between the languages," Kramer said.
In the fall, Kramer will begin the University of Oregon's combined M.A./Ph.D. program in comparative literature — a field of study dealing with literature across national traditions, historical periods and theoretical models.
Kramer grew up with worldly influences. He attended an international magnet elementary school in Raleigh, where he studied the Japanese language from kindergarten through fifth grade.
"We were required to learn a second language at the school," he said. "I chose Japanese because I really liked Pokémon as a kid."
In addition, Kramer traveled extensively as a child.
"My father is an ethnomusicologist — one who studies the role of music in different cultures — and I was able to accompany him on trips all over the world," he said. "That gave me a chance to see that my identity doesn't necessarily have to be constrained by national boundaries."
After high school, Kramer — an accomplished vocalist — went to the Peabody Conservatory of Music at John Hopkins University to study opera. He discovered that a career in music wasn't for him and came to Appalachian without any particular field of study in mind, he said.
"As it turned out, Appalachian was the perfect school for me," Kramer shared. "Some of the professors in the English department had a huge impact on my life and helped me define my goals."
"My comparative literature instructors, Dr. Germán Campos-Muñoz, Dr. Christopher Meade, and Dr. Başak Çandar-Meade, are some of the smartest people I've ever met in my life. I've taken class after class with them and have had my whole world opened up," he added.
His interest in Japanese literature began when he read a book by Haruki Murakami, an award-winning author. "After one book, I was hooked. I fell in love with his style and his way of looking at the world," Kramer said. "Now I've read his entire collection, as well as books by other Japanese authors, both in native language and in translations."
While at Appalachian, Kramer exercised his creativity by writing short stories and poems for The Peel, the university's student-run literary magazine. He earned the Marian Coe Scholarship in Creative Writing as a winner of a creative writing contest through Appalachian's Department of English.
Kramer participated in a number of Japanese Culture Club events on campus, including the Cherry Blossom Festival. "I composed and recited poetry at some of the events, which exposed me to the language in a different way," he said.
Kramer spent a semester abroad studying at the Kansai Gaidai University in Hirakata, Japan, and then completed an internship teaching English at a Japanese high school.
"It was a complicated experience in many ways," he shared. "I could read Japanese well, but my speaking was pretty rough. It was very beneficial to me to be in that type of situation."
During his internship, Kramer discovered he loved being in front of a classroom. "Waking up every day to go and teach was amazing. I love teaching," he said.
Kramer served as an instructional assistant during his final semester at Appalachian for Misa Yamamoto, senior lecturer in the Department of Languages, Literatures and Cultures.
"Matthias is always excited to share his knowledge about Japan and the Japanese language, and his charismatic personality energizes the class," Yamamoto said.
Another of Kramer's instructors in the department, Dr. Xiaofei Tu, added, "Matthias is a very intelligent student and always passionate about what he is learning."
Ultimately, Kramer said he'd like to teach at the college level after he earns his doctorate.
What do you think?
Share your feedback on this story.
About the Department of Languages, Literatures and Cultures
The Department of Languages, Literatures and Cultures offers courses that enhance students' understanding of other cultures and languages as well as their own, making them prepared for lifelong learning in a multicultural world. Learn more at https://dllc.appstate.edu.
About the Department of English
The Department of English at Appalachian State University is committed to outstanding work in the classroom, the support and mentorship of students, and a dynamic engagement with culture, history, language, theory and literature. The department offers master's degrees in English and rhetoric and composition, as well as undergraduate degrees in literary studies, film studies, creative writing, professional writing and English education. Learn more at https://english.appstate.edu.
About the College of Arts and Sciences
The College of Arts and Sciences (CAS) at Appalachian State University is home to 17 academic departments, two centers and one residential college. These units span the humanities and the social, mathematical and natural sciences. CAS aims to develop a distinctive identity built upon our university's strengths, traditions and unique location. The college's values lie not only in service to the university and local community, but through inspiring, training, educating and sustaining the development of its students as global citizens. More than 6,400 student majors are enrolled in the college. As the college is also largely responsible for implementing App State's general education curriculum, it is heavily involved in the education of all students at the university, including those pursuing majors in other colleges. Learn more at https://cas.appstate.edu.
About Appalachian State University
As the premier public undergraduate institution in the Southeast, Appalachian State University prepares students to lead purposeful lives as global citizens who understand and engage their responsibilities in creating a sustainable future for all. The Appalachian Experience promotes a spirit of inclusion that brings people together in inspiring ways to acquire and create knowledge, to grow holistically, to act with passion and determination, and to embrace diversity and difference. Located in the Blue Ridge Mountains, Appalachian is one of 17 campuses in the University of North Carolina System. Appalachian enrolls nearly 21,000 students, has a low student-to-faculty ratio and offers more than 150 undergraduate and graduate majors.