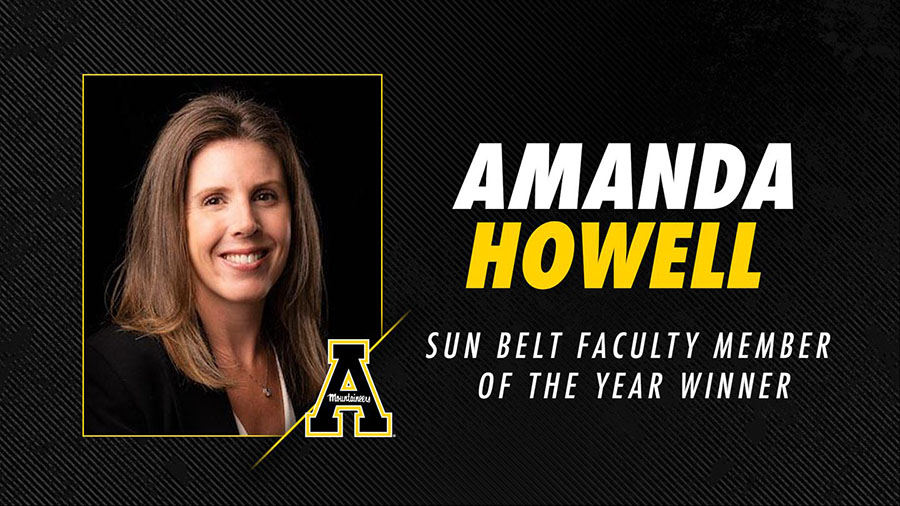 Posted June 25, 2019 at 5 p.m.
BOONE, N.C. — Appalachian State University's Dr. Amanda C. Howell, along with 11 other educators in the Sun Belt Conference, was recognized Monday as the league announced its inaugural Faculty Member of the Year Awards. Howell is a senior lecturer and chemistry lab coordinator in Appalachian's A.R. Smith Department of Chemistry and Fermentation Sciences, housed in the College of Arts and Sciences.
"These educators continue to go above and beyond to positively impact the lives of students and student-athletes at our Sun Belt universities," Sun Belt Commissioner Keith Gill said. "We are honored to recognize their dedication to student success on their respective campuses."
One award winner is named from each Sun Belt institution. The honors recognize a faculty member who displays valuable classroom skills, such as developing relationships, being a good communicator and showing a passion for teaching, and engaging and inspiring students, while also separating themselves from their peers outside the classroom by regularly attending athletics events and displaying enthusiasm for the athletics department.
According to Pierre Banks, Appalachian's director of student-athlete development, students who have worked with Howell said her "positive attitude and willingness to help students is unlike any other professor," and that she "has a unique way of presenting material, making the class inclusive, (and) is approachable and understanding."
The concept for the award originated at the Sun Belt's 2018 fall meeting, during conversations between the Sun Belt Ambassadors — a collection of student-athletes from the conference schools — and Faculty Athletic Representatives. The Sun Belt's 12 honorees were chosen from nearly 10,000 full-time faculty members, and the combined enrollment across the conference is more than 160,000 students, with student-athletes comprising more than 3,100 of these students.
Howell has served as a senior lecturer in Appalachian's chemistry and fermentation sciences department since 2016 and is a two-time finalist for the College of Arts and Sciences' Non-Tenure Track Excellence in Teaching Award.
Howell, who holds a B.S. in chemistry with a concentration in biochemistry, received her Ph.D. in chemistry in 2006. Most recently, she participated in a Course (Re)Design workshop provided by the Center of Academic Excellence at Appalachian — an experience she said helps "keep her teaching fresh."
What do you think?
Share your feedback on this story.
The 12 Faculty Member of the Year recipients
About the A.R. Smith Department of Chemistry and Fermentation Sciences
The A.R. Smith Department of Chemistry and Fermentation Sciences offers a Bachelor of Arts in chemistry, a Bachelor of Science in chemistry with eight different concentrations and an interdisciplinary Bachelor of Science degree in fermentation sciences. The department's programs prepare students to attend graduate and professional schools, as well as for employment in the pharmaceutical and fermentation industries and other business sectors. Learn more at https://dcfs.appstate.edu.
About the College of Arts and Sciences
The College of Arts and Sciences (CAS) at Appalachian State University is home to 17 academic departments, two centers and one residential college. These units span the humanities and the social, mathematical and natural sciences. CAS aims to develop a distinctive identity built upon our university's strengths, traditions and unique location. The college's values lie not only in service to the university and local community, but through inspiring, training, educating and sustaining the development of its students as global citizens. More than 6,400 student majors are enrolled in the college. As the college is also largely responsible for implementing App State's general education curriculum, it is heavily involved in the education of all students at the university, including those pursuing majors in other colleges. Learn more at https://cas.appstate.edu.
About Mountaineer Athletics
More than 400 student-athletes compete in 17 NCAA Division I varsity sports at Appalachian State University. App State's nationally ranked football team has enjoyed unprecedented success at the highest level of Division I (Football Bowl Subdivision), with six bowl wins in its first six years at the FBS level and four Sun Belt Conference championships. The Mountaineers were a dominant force in the Southern Conference for more than 40 years before moving up to the Sun Belt Conference in 2014. App State student-athletes in all sports pursue daily comprehensive excellence in academics, competition and community involvement. All varsity teams compete in the Sun Belt Conference, except for field hockey (MAC) and wrestling (SoCon). Learn more at https://appstatesports.com.
About Appalachian State University
As the premier public undergraduate institution in the Southeast, Appalachian State University prepares students to lead purposeful lives. App State is one of 17 campuses in the University of North Carolina System, with a national reputation for innovative teaching and opening access to a high-quality, affordable education for all. The university enrolls more than 21,000 students, has a low student-to-faculty ratio and offers more than 150 undergraduate and 80 graduate majors at its Boone and Hickory campuses and through App State Online. Learn more at https://www.appstate.edu.