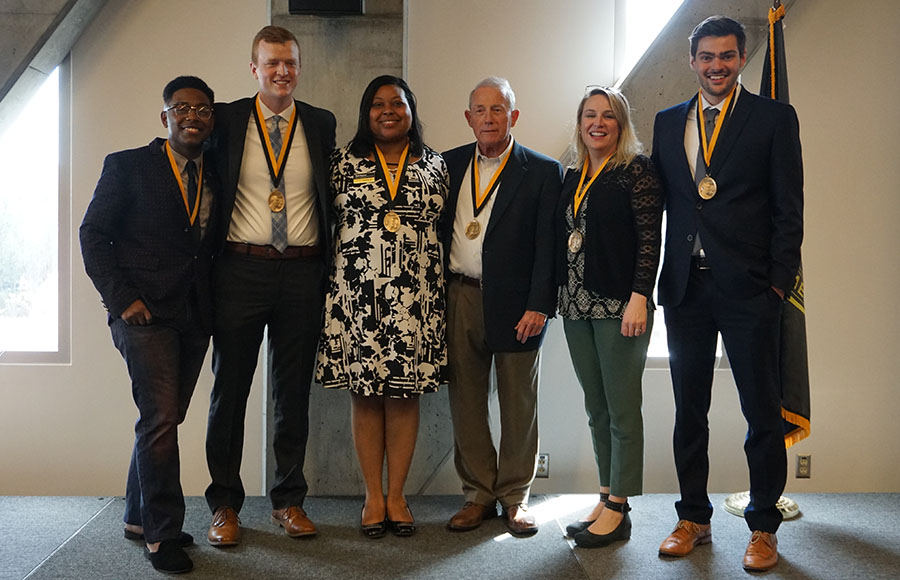 Posted Aug. 14, 2019 at 11:11 a.m.
BOONE, N.C. — Six members of the Appalachian State University Community were awarded W.H. Plemmons Leadership Medallions in recognition of their efforts to provide campus leadership for students.
The medallions were conferred in April during the Celebration of Leadership and Legacy awards ceremony in Appalachian's Plemmons Student Union to the following:
Evan Atkinson '19, of Raleigh, who holds a B.S. in communication with a concentration in journalism from Appalachian — W.H. Plemmons Leadership Scholar category.
Roy Dale Cox '19, of Birmingham, Alabama, who holds a B.A. in theatre arts with a concentration in performance from Appalachian — student leader category.
Jon Garst '19, of Huntersville, who holds a BSBA in risk management and insurance from Appalachian — student leader category.
Dr. Harry Davis, the North Carolina Bankers Association (NCBA) Professor of Banking in Appalachian's Department of Finance, Banking and Insurance — faculty category.
Nikki Crees, executive director of University College's orientation and new student programs — staff category.
Traci Royster, director of staff development and strategic initiatives in Appalachian's Division of Student Affairs — student affairs educator category.
The medallion, named in honor of Appalachian's second president, Dr. William H. Plemmons, is presented annually by the university's Board of Trustees, which established the award in 1996. The award recognizes the time, energy, skills and commitment of students, faculty, student affairs educators and staff who exceed their peers in providing leadership that enriches the quality of student life and advances the education of students at Appalachian.
Each year nominations are sought from Appalachian students, faculty and staff. These nominations are reviewed, and a recommendation is made to the Board of Trustees for recipients of this award.
Leroy Wright, Appalachians' former associate vice chancellor for student affairs, served as chair of the 2018–19 W.H. Plemmons Medallion Committee, and J.J. Brown, vice chancellor for student affairs, conferred the awards.
More about the 2018-19 Plemmons Medallion recipients
Evan Atkinson '19
W.H. Plemmons Leadership Scholar category
Traci Royster
Student affairs educator category
To learn more about the W.H. Plemmons Leadership Medallion and view lists of past recipients, visit https://plemmonsmedallion.appstate.edu.
What do you think?
Share your feedback on this story.
Give to Appalachian
Sep. 22, 2017
About Appalachian's Board of Trustees
The Appalachian State University Board of Trustees is a 13-member body that promotes the development of the institution within the functions prescribed by the UNC Board of Governors. The board serves as advisor to the Board of Governors on matters pertaining to the university and also serves as advisor to the chancellor concerning the management and development of Appalachian. The powers and duties of the Board of Trustees are primarily defined and delegated by the Board of Governors. Individuals are appointed to four-year terms by the President Pro Tempore of the Senate, the Speaker of the House of Representatives, and the UNC Board of Governors. Included as a voting member of the board is the president of Appalachian's Student Government Association. The president of Appalachian's Alumni Council and chairs of the Faculty Senate and Staff Senate serve as ex officio constituency representatives to the board. Learn more at http://chancellor.appstate.edu/bot.
About Appalachian State University
As the premier public undergraduate institution in the Southeast, Appalachian State University prepares students to lead purposeful lives. App State is one of 17 campuses in the University of North Carolina System, with a national reputation for innovative teaching and opening access to a high-quality, affordable education for all. The university enrolls more than 21,000 students, has a low student-to-faculty ratio and offers more than 150 undergraduate and 80 graduate majors at its Boone and Hickory campuses and through App State Online. Learn more at https://www.appstate.edu.