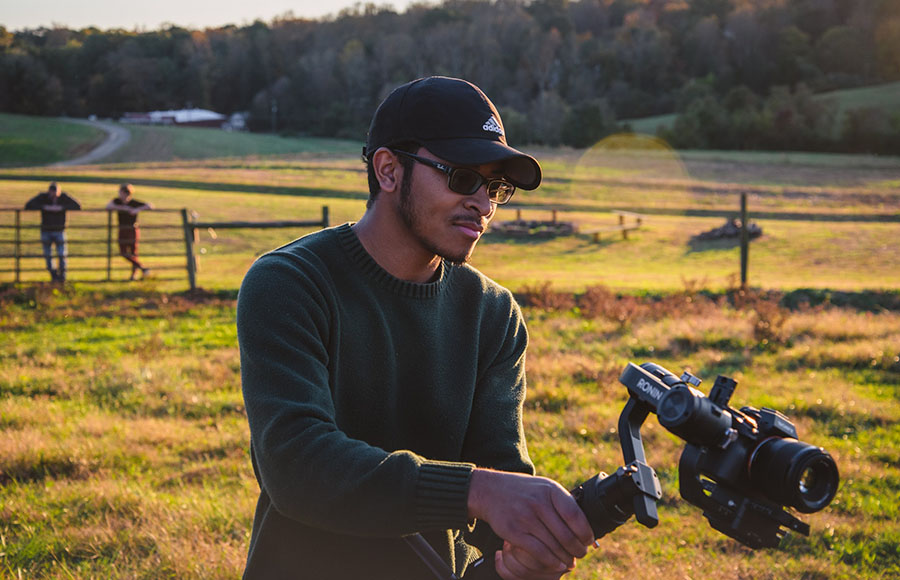 Posted Aug. 22, 2019 at 11:10 p.m.
BOONE, N.C. — Appalachian State University alumnus Maleek Loyd '18 considers himself a storyteller, traveling the world directing and editing videos. He graduated cum laude in December 2018 with a B.S. in communication, electronic media/broadcasting, yet began his professional career long before he had a degree in hand.
"I started Loyd Visuals, now based in Charlotte, as a sophomore at Appalachian, with the help of my two older brothers," he said. "My oldest brother, Khaleel, handles the business management, and Najm helps with social media and creative direction. Our creative skill sets complement each other's in a way that we can pursue our passions together as a team."
The Loyd brothers create promotional videos and documentaries for small businesses, nonprofits and corporate clients such as Airbnb.
"I love the freedom of time and the travel opportunities," Loyd shared. "This year I've been working in Mexico City, Cancun, San Francisco, Barcelona and Lisbon — all while creating video content for Airbnb. I'm able to learn from every project that I work on while having flexibility with my schedule and working environment."
Loyd gained a wealth of practical experience during his time at Appalachian. Some examples:
He directed and edited multiple projects with Appalachian's University Documentary Film Services, including one video that screened at three North Carolina film festivals and aired on the East Tennessee PBS station.
He joined The Appalachian newspaper team, beginning as a first-year student and progressing to the visual managing editor in his junior year.
He helped develop the weekly news show "The Appalachian Update" — now called "The Appalachian Weekly News" — for AppTV, Appalachian's student-staffed television service.
He earned first place in the 2017 College Media Association Film Festival for Best Promotional Video at the National College Media Convention in Dallas.
He created promotional and educational videos for Appalachian's Office of Transfer Services, First Year Seminar and App State Online.
Under the guidance of associate professor Dr. Shanshan Lou and assistant professor Dr. Ashley Han, both of whom teach in Appalachian's Department of Communication, Loyd produced a travel film promoting study abroad opportunities during his own education abroad experience in the Chinese cities of Beijing, Shanghai and Hangzhou.
He attended the Publicis Groupe Multicultural Talent Pipeline event in New York City with Lou and Han, where they networked with different media, marketing and advertising companies.
Loyd interned with the National Park Service, filming and editing a documentary titled "A History of Moses H. Cone Estate Memorial Park: From Private Retreat to Public Pleasure Ground." The film is shown in the visitor center at the Flat Top Manor.
His interest in electronic media production began in high school, and Loyd said he chose Appalachian because the editing rooms and TV studios in the university's Beasley Media Complex were unlike anything he'd seen at other universities.
"Several faculty mentors helped influence my career path," Loyd shared. "Dr. Beth Davison of the University Documentary Film Services helped me work and grow as a filmmaker, capturing meaningful stories around the High Country. I learned the ins and outs of live studio production from Rob Gelber at AppTV, and Dr. Stephen McCreery taught me everything I know about audio production."
"Dr. Han and Dr. Lou also contributed to my growth immensely, on the career development trip to New York and the study abroad in China," he continued.
The Golden and Stella Choi Scholarship, offered through Appalachian's Department of Communication, and other Appalachian academic scholarships provided Loyd financial assistance. "I wouldn't have been able to participate in many of the experiences I had at Appalachian without the generosity of the donors," he shared.
"Appalachian has a variety of great programs that allow you to take advantage of opportunities inside and outside of the classroom. Students can grow at their own pace — there is no box that defines where they need to take their careers," Loyd said. "There are a variety of paths to take, and I was able to create my own path."
Loyd said he would advise Appalachian students to actively seek opportunities and practice their passion early on.
What do you think?
Share your feedback on this story.
About the Department of Communication
One of seven departments housed in the College of Fine and Applied Arts, the Department of Communication at Appalachian State University focuses on preparing students to succeed in the varied fields within the communication industry. The department offers five majors – advertising, communication studies, electronic media/broadcasting, journalism and public relations – and a minor in communication studies. Graduates work in a wide range of positions in media, corporate, agency, government and nonprofit organizations. Learn more at https://communication.appstate.edu.
About the College of Fine and Applied Arts
Appalachian State University's College of Fine and Applied Arts is a dynamic and innovative group of seven academic departments, bringing together a variety of perspectives, experiences and real-world education to provide unique opportunities for student success. The college has more than 3,000 undergraduate and graduate majors. Its departments are Applied Design, Art, Communication, Military Science and Leadership, Sustainable Development, Sustainable Technology and the Built Environment, and Theatre and Dance. Learn more at https://faa.appstate.edu.
About Appalachian State University
As the premier public undergraduate institution in the Southeast, Appalachian State University prepares students to lead purposeful lives as global citizens who understand and engage their responsibilities in creating a sustainable future for all. The Appalachian Experience promotes a spirit of inclusion that brings people together in inspiring ways to acquire and create knowledge, to grow holistically, to act with passion and determination, and to embrace diversity and difference. Located in the Blue Ridge Mountains, Appalachian is one of 17 campuses in the University of North Carolina System. Appalachian enrolls nearly 21,000 students, has a low student-to-faculty ratio and offers more than 150 undergraduate and graduate majors.