Posted Nov. 15, 2019 at 4:10 p.m.
BOONE, N.C. — When students Jake Still and Grace McCormick began brainstorming designs for a project in their applied design studio class at Appalachian State University last spring, they dreamed big. That dream led to a collaboration with The Container Store — a national retail chain offering storage and organizational products — and the opportunity to see their design actually fabricated for retail display.
Working together, senior interior design majors Still, from Wesley Chapel, Florida, and McCormick, from Greensboro, designed a prototype, 10-by-10-foot pop-up shop that packages key essentials for college students to organize their living spaces.
Their winning design was chosen by The Container Store as part of the 2019 Planning and Visual Education (PAVE) GlobalShop Design Challenge. The pop-up shop was displayed this past summer in Chicago at Retail X: GlobalShop — the world's largest annual trade show for shopper-facing retail design — after which it was installed at The Container Store's flagship location in Dallas in time for college move-in weekends.
"We worked closely with The Container Store to incorporate their feedback to create their first ever pop-up shop designed to appeal to college students. Being a student in applied design has given me the chance to work on behalf of real clients and get real feedback, all before I graduate next year," Still said.
Appalachian's was one of just four design programs — out of 160 certified design schools in the U.S. and Canada — invited to participate in the 2019 PAVE Student Design Challenge, a project that pairs student designers with store fixture manufacturers and their retail brand clients.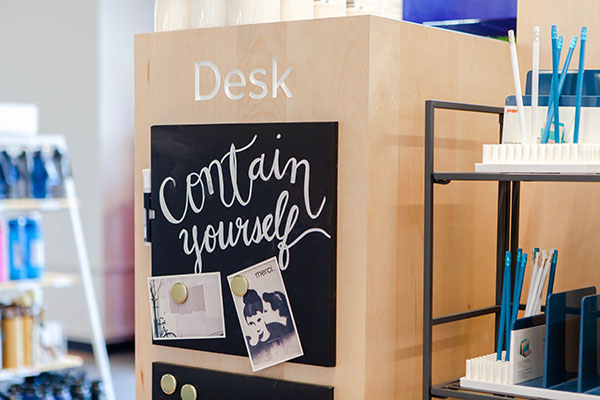 "Appalachian's interior design program has a decadelong connection with the PAVE Student Design Competition," said Brian Davies, chair of Appalachian's Department of Applied Design.
"Our students place winners regularly — the quality of Appalachian's submissions coupled with professional endorsements gave PAVE and The Container Store confidence we could deliver an international caliber solution for GlobalShop. And we did. The Class of 2020 provided a total of 16 innovative proposals from which The Container Store selected Grace and Jake's vision," Davies added.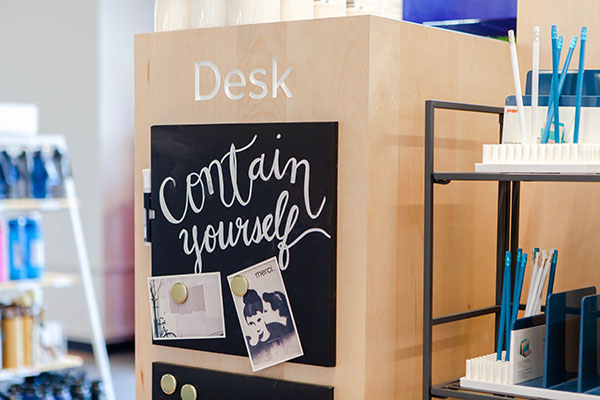 This was The Container Store's first year to participate as a partner in the PAVE competition, according to an article on the company's website. The retailer challenged 14 student teams from Appalachian to design a temporary display to showcase storage and organization solutions for dorm room living.
Citing the design's implementation of clean lines and natural materials, Brian Morrison, vice president of visual merchandising for The Container Store, said, "We were blown away by Still and McCormick's design. It's youthful and clever."
Seeing their award-winning design — and their dream — come to life through the support of the PAVE program was a surreal experience, Still and McCormick reported.
About the company's participation in the PAVE challenge, Morrison said, "As in any business, it's important to build the pipeline of talent, and retail needs to attract top talent coming out of college today to remain relevant and innovative."
What do you think?
Share your feedback on this story.
About the Department of Applied Design
One of seven departments housed in the College of Fine and Applied Arts, the Department Applied Design at Appalachian State University fosters excellence in design education, design research and professional placement. The department balances theoretical and pragmatic approaches while exploring an awareness of impact through design decisions on the global community. Faculty focus on a holistic approach to creative problem-solving by integrating sustainability and ethical responsibility in teaching and practice. The department offers bachelor's degrees in apparel design and merchandising, industrial design and interior design. Learn more at https://design.appstate.edu.
About the College of Fine and Applied Arts
Appalachian State University's College of Fine and Applied Arts is a dynamic and innovative group of seven academic departments, bringing together a variety of perspectives, experiences and real-world education to provide unique opportunities for student success. The college has more than 3,000 undergraduate and graduate majors. Its departments are Applied Design, Art, Communication, Military Science and Leadership, Sustainable Development, Sustainable Technology and the Built Environment, and Theatre and Dance. Learn more at https://faa.appstate.edu.
About Appalachian State University
As the premier public undergraduate institution in the Southeast, Appalachian State University prepares students to lead purposeful lives as global citizens who understand and engage their responsibilities in creating a sustainable future for all. The Appalachian Experience promotes a spirit of inclusion that brings people together in inspiring ways to acquire and create knowledge, to grow holistically, to act with passion and determination, and to embrace diversity and difference. Located in the Blue Ridge Mountains, Appalachian is one of 17 campuses in the University of North Carolina System. Appalachian enrolls nearly 21,000 students, has a low student-to-faculty ratio and offers more than 150 undergraduate and graduate majors.