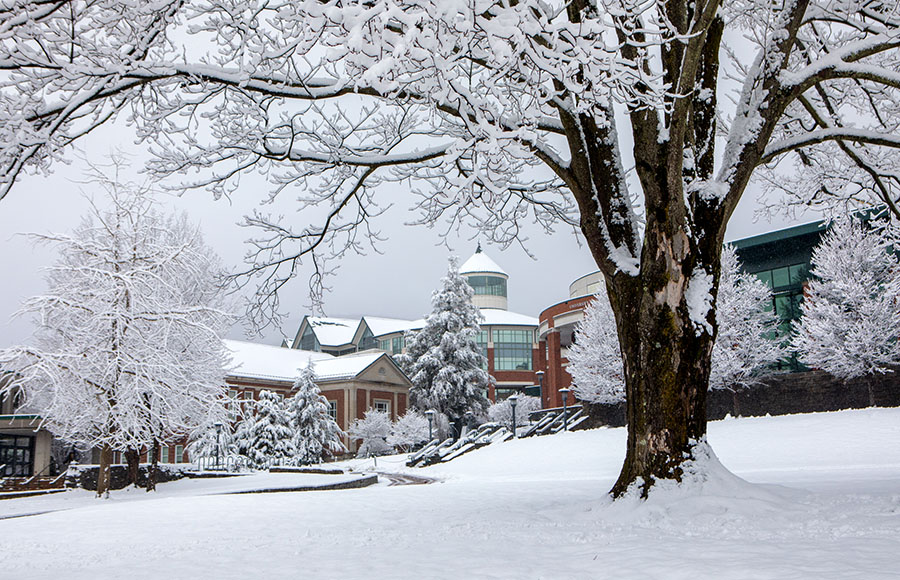 Appalachian's Climate Resiliency Community Challenge research team
Posted Feb. 7, 2020 at 8:34 a.m.
BOONE, N.C. — AT&T has selected Appalachian State University as one of five universities nationally to conduct research designed to help communities in the southeastern United States build resilience to climate change.
Joining Appalachian in participating in the Climate Resiliency Community Challenge will be the Georgia Institute of Technology, the University of Georgia, the University of Miami and the University of South Florida.
"We are excited about this project and thrilled that a North Carolina institution was selected to participate," said Trey Rabon, president of AT&T North Carolina. "I'm confident that the work of the Appalachian team, along with that of their colleagues on other campuses, will make a lasting difference for communities across the state."
"This research project aligns well with Appalachian's commitment to creating a sustainable future," said Dr. Ece Karatan, Appalachian's vice provost for research. "It will provide practical and immediately accessible information to predict and mitigate climate risks for rural communities in Western North Carolina."
She continued, "The partnership between Watauga County government and Appalachian researchers will provide impactful solutions for problems faced by the community and highlights the importance of collaboration to address challenges in our region."
Appalachian researchers will focus on assessing how socioeconomic disparities that affect rural communities contribute to climate vulnerability. The climate risk estimates produced by the team will better inform adaptation strategies, identify specific regional data needs and guide decision-making on disparities between risks in inland rural areas versus urban or coastal areas.
Commenting on the value of this partnership with AT&T and the $50,000 grant awarded, Dr. Tammy Kowalczyk, the grant's principal investigator (PI) and a professor of accounting and sustainable business in the Walker College of Business (WCOB), noted the research will suggest opportunities for improving access to services in rural communities, including expanded broadband.
Better access is critical for rural students who miss school because of weather, she said, as well as for those who work from home and for rural health care services, including telehealth practices.
In addition, the work is intended to help local authorities with hazard mitigation planning, as well as provide insight for how climate vulnerability — and mitigation — impacts economic development in rural regions, Kowalczyk said.
In 2019, AT&T engaged the U.S. Department of Energy's Argonne National Laboratory (ANL) to develop a Climate Change Analysis Tool that visualizes climate impacts on AT&T's network and operations at the neighborhood level 30 years into the future. To enhance climate resilience more broadly, AT&T made the ANL data publicly available.
The Climate Resiliency Community Challenge is the second phase of the project, with five teams using this data and funding from AT&T to conduct innovative research on climate impacts and community responses in the Southeast. The participating universities will work with local government to prepare and share a report about their findings, including proposals for potential solutions for action, with the community and online.
The project timeline indicates final reports will be submitted June 1, with a mid-term progress review slated for March 31.
The participating university teams were selected through an application process that included a review by a panel of nonprofit climate and resiliency experts from the Center for Climate and Energy Solutions (C2ES) and World Wildlife Fund (WWF).
"Climate resiliency is becoming increasingly important for all types of communities — from major coastal cities to small rural towns," said David Kuhn, a WWF researcher. "Data and financial support, like that provided by AT&T and Argonne National Laboratory for this competition, are essential to allowing researchers and decision-makers to better assess the risks from climate change across the Southeast and take steps to keep communities safe."
Appalachian's grant application, titled "Assessing Climate Risk and Resiliency in Rural Appalachia," states, "Rural communities are increasingly vulnerable to climate change because of their dependence on natural resources, physical isolation, limited economic diversity and higher poverty rates."
What do you think?
Share your feedback on this story.
Appalachian's Climate Resiliency Community Challenge research team
A faculty-led study abroad in Peru supports NSF experiments and student learning
March 15, 2019
About the Research Institute for Environment, Energy, and Economics
Since 2008, Appalachian State University's Research Institute for Environment, Energy, and Economics (RIEEE) has fostered interdisciplinary research on the environment, energy and economics, especially the areas in which these subjects intersect. The institute serves as an umbrella organization for three centers: the Appalachian Energy Center, Center for Economic Research and Policy Analysis (CERPA) and the Southern Appalachian Environmental Research and Education Center (SAEREC). The work supported by RIEEE is integrated into Appalachian's academic programs, used to facilitate discovery among K-12 student students and teachers, and employed in the region's economic development. Learn more at https://rieee.appstate.edu.
About Sustainability at Appalachian
Appalachian State University's leadership in sustainability is known nationally. The university's holistic, three-branched approach considers sustainability economically, environmentally and equitably in relationship to the planet's co-inhabitants. The university is an active steward of the state's interconnected financial, cultural and natural resources and challenges students and others think critically and creatively about sustainability and what it means from the smallest individual action to the most broad-based applications. The university offers both undergraduate and graduate academic degree programs that focus on sustainability. In addition, 100 percent of Appalachian's academic departments offer at least one sustainability course or course that includes sustainability, and all students graduate from programs that have adopted at least one sustainability learning outcome. Learn more at https://appstate.edu/sustainability.
About Appalachian State University
As the premier public undergraduate institution in the Southeast, Appalachian State University prepares students to lead purposeful lives. App State is one of 17 campuses in the University of North Carolina System, with a national reputation for innovative teaching and opening access to a high-quality, affordable education for all. The university enrolls more than 21,000 students, has a low student-to-faculty ratio and offers more than 150 undergraduate and 80 graduate majors at its Boone and Hickory campuses and through App State Online. Learn more at https://www.appstate.edu.