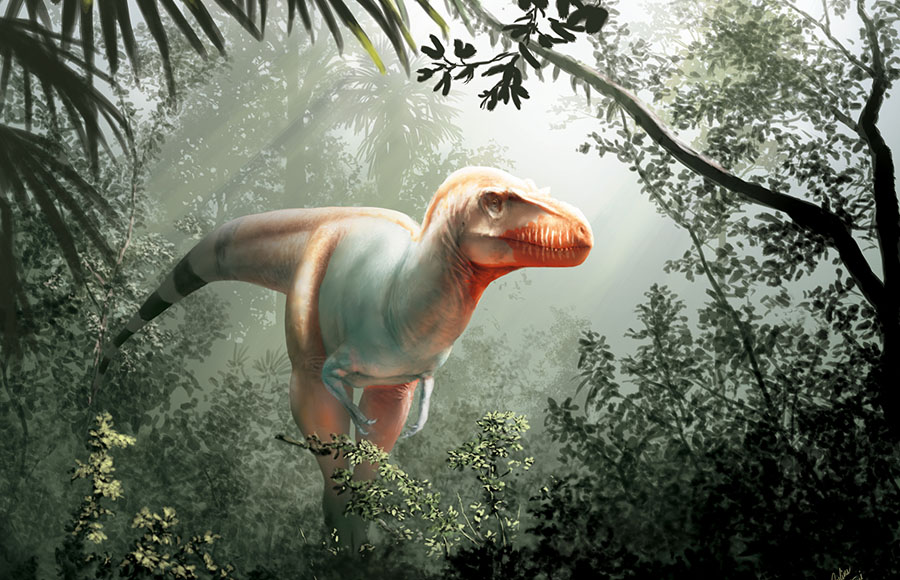 Posted March 25, 2020 at 10:52 a.m.
BOONE, N.C. — Jared Voris '16 had his hands on a ferocious beast — and lived to tell about it. In fact, this Appalachian State University alumnus has been called on quite a few times to tell his tale.
While studying some skull fragments for his master's thesis at the University of Calgary in Alberta, Canada, Voris identified a new species of tyrannosaurid dinosaur, and his findings have received worldwide attention from news media.
Voris, who is now pursuing his Ph.D. in geology and geophysics at the University of Calgary, said Thanatotheristes degrootorum — whose genus name translates to "Reaper of Death" — was a predator at the top of its food chain that lived approximately 79.5 million years ago. It is Canada's oldest known tyrannosaur and was an "imposing creature," Voris said, measuring about 30 feet long and 8 feet tall.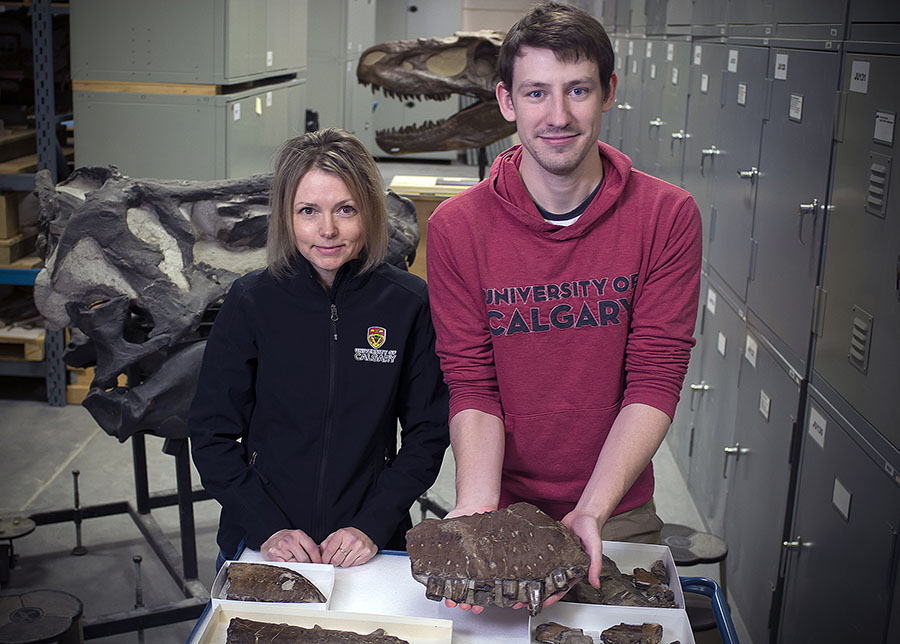 Dr. Andy Heckert, professor in Appalachian's Department of Geological and Environmental Sciences, said, "Jared has a great combination of intellect, interest, curiosity and creativity that served him well at Appalachian. As a first-year student, he rapidly developed an acumen for finding and identifying fossils. By his senior year, he was the unquestioned leader of my large undergraduate research team."
His skills in the lab helped Voris realize the fossils — which had been discovered by a farmer and his family almost 10 years ago and stored in Alberta's Royal Tyrrell Museum — differed from other tyrannosaur bones he had studied, which initiated the identification of the new species. "There were vertical ridges lining the dinosaur's jaw — something we hadn't seen before," he said.
The discovery is significant because it fills in a gap in the evolution of tyrannosaurs, Voris said. "This pushes the window into Alberta's tyrannosaur species back about 2.5 million years from what we originally understood," he said.
Alberta is known within the paleontology community for its abundance of tyrannosaur remains, Voris added, and it's been 50 years since the last new species in Canada was named.
Voris determined there was much more work to do on the subject and decided to make it the focus of his Ph.D. research. He led an article about the evolution of tyrannosaurs that was published in the scientific journal Cretaceous Research earlier this year.
His interest in dinosaurs began when he was growing up in Brevard, and Voris said he chose Appalachian for its paleontology program.
"Dr. Heckert provided me opportunities and research projects, and he helped me understand what is expected in a career in paleontology. At Appalachian, the geology professors focus on giving undergraduate students high-level research experiences, which help prepare us for graduate school," Voris said.
When he completes his Ph.D., Voris hopes to become a professor or museum curator. "I'd like a position that provides the opportunity to do hands-on research," he shared.
What do you think?
Share your feedback on this story.
About the Department of Geological and Environmental Sciences
Located in Western North Carolina, Appalachian State University provides the perfect setting to study geological and environmental sciences. The Department of Geological and Environmental Sciences provides students with a solid foundation on which to prepare for graduate school or build successful careers as scientists, consultants and secondary education teachers. The department offers six degree options in geology and two degree options in environmental science. Learn more at https://earth.appstate.edu.
About the College of Arts and Sciences
The College of Arts and Sciences (CAS) at Appalachian State University is home to 17 academic departments, two centers and one residential college. These units span the humanities and the social, mathematical and natural sciences. CAS aims to develop a distinctive identity built upon our university's strengths, traditions and unique location. The college's values lie not only in service to the university and local community, but through inspiring, training, educating and sustaining the development of its students as global citizens. More than 6,400 student majors are enrolled in the college. As the college is also largely responsible for implementing App State's general education curriculum, it is heavily involved in the education of all students at the university, including those pursuing majors in other colleges. Learn more at https://cas.appstate.edu.
About Appalachian State University
As the premier public undergraduate institution in the Southeast, Appalachian State University prepares students to lead purposeful lives. App State is one of 17 campuses in the University of North Carolina System, with a national reputation for innovative teaching and opening access to a high-quality, affordable education for all. The university enrolls more than 21,000 students, has a low student-to-faculty ratio and offers more than 150 undergraduate and 80 graduate majors at its Boone and Hickory campuses and through App State Online. Learn more at https://www.appstate.edu.