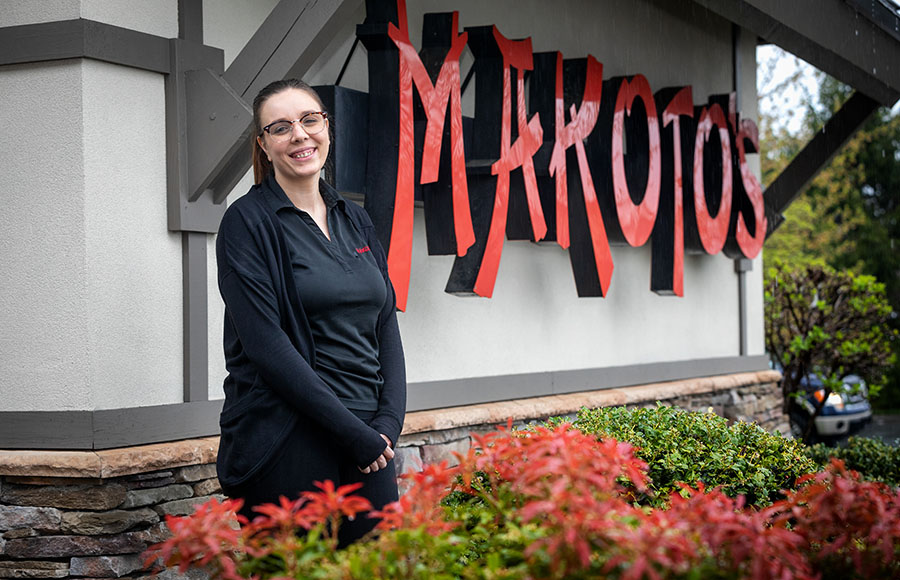 Posted April 29, 2020 at 3:09 p.m.
BOONE, N.C. — Students in a business writing course at Appalachian State University have been given the chance to turn their final projects into community outreach — a move that reflects Appalachian faculty's approach to adapting curricula to COVID-19 circumstances.
Donna Akers, an adjunct instructor in the Department of English, transitioned the two sections of her ENG 3100 Business Writing class to an online platform. Simultaneously, she reimagined the course's final project as an opportunity to support local businesses that are struggling, including several that employ students in her class.
Dr. Leonardo Flores, chair of Appalachian's Department of English, said, "In the midst of a global health crisis and stay-at-home orders, there is no way to possibly account for everyone's personal circumstances. It is therefore essential to rethink our assignments and expectations, going forward, to better account for our circumstances."
After a few adjustments to the project structure, Akers' students had the option to create a business writing project that helped a local cause, organization or business — either in the High Country or their hometown — respond to challenges related to COVID-19. The students could choose to complete a feasibility analysis, marketing study, business plan or social media marketing plan.
Christian Lynott, a junior computer information systems major from Boone, currently serves as a general manager at Makoto's Japanese Steakhouse and Sushi Bar in Boone. She designed a social media plan to "tell the restaurant's story and keep the community informed" about the daily experiences of the restaurant's employees during this time.
"The project gives me a chance to go beyond just being a student — it is helping me become a more active member of the community," she said.
Makoto's owner Gwen Dhing '90, who earned a bachelor's degree in communication from Appalachian, said her husband, as well as many of her staff, are also Appalachian alumni.
"It means a lot that Christian chose to showcase Makoto's in her project and especially during this time when restaurants are taking a hit," Dhing said. "I want all of my team to feel a sense of ownership in what we do. They are the most important assets we have besides our loyal customers."
Other student projects include the following:
Andrew Wilson, a junior computer information systems major from Indian Trail and current employee of Dan'l Boone Inn in Boone, is using the Dan'l Boone Inn restaurant as a case study of how establishments are adapting to regulations and guidelines related to COVID-19. Regarding the importance of this project, Wilson said, "I think that this project will help me learn how to adapt and work under these unusual circumstances."
Brandi Pastusic, a sophomore finance and banking major from Banner Elk, is creating a social media marketing plan for Rustic Farmhouse Finds, an antique furniture business in Jonesville's Antique Mall of the Foothills, to help it generate more traffic and sales. Pastusic said this project has helped her better understand the effort put into advertising by businesses.
Dinah Rubner, a sophomore marketing major from Hickory, and Colton Brookshire, a junior finance and banking major from Asheville, are designing a website that aggregates information about local High Country activities. They aim to encourage community members to "get out and be active" as a way to help combat cabin fever resulting from stay-at-home orders during COVID-19. The website will also include information about local mental health resources, to help address mental health issues such as seasonal depression. Rubner said the lessons they are learning through this project "can be transferred to other classes as well as life in general." Brookshire added, "Being able to make this website to help someone in need means so much to both of us."
Among the students' other chosen clients are Food Lion grocery store of Boone; Second Harvest Food Bank of Northwest North Carolina in Winston-Salem; Short Sugar's Pit Bar-B-Q in Reidsville; low-income housing groups; and nonprofits.
About the value of this experience, Flores said, "Writing at a technical and professional level is an essential skill and service. Redesigning course assignments for students to use their skills to benefit their communities makes this point clear to both students and the communities they are from."
Akers reports the majority of her approximately 40 students have been excited to invest in their communities. She shared that many students felt stress because of the rapidly changing circumstances caused by COVID-19, and this project is providing a "cathartic opportunity for them to focus on something that will help others."
What do you think?
Share your feedback on this story.
About the Department of English
The Department of English at Appalachian State University is committed to outstanding work in the classroom, the support and mentorship of students, and a dynamic engagement with culture, history, language, theory and literature. The department offers master's degrees in English and rhetoric and composition, as well as undergraduate degrees in literary studies, film studies, creative writing, professional writing and English education. Learn more at https://english.appstate.edu.
About the College of Arts and Sciences
The College of Arts and Sciences (CAS) at Appalachian State University is home to 17 academic departments, two centers and one residential college. These units span the humanities and the social, mathematical and natural sciences. CAS aims to develop a distinctive identity built upon our university's strengths, traditions and unique location. The college's values lie not only in service to the university and local community, but through inspiring, training, educating and sustaining the development of its students as global citizens. More than 6,400 student majors are enrolled in the college. As the college is also largely responsible for implementing App State's general education curriculum, it is heavily involved in the education of all students at the university, including those pursuing majors in other colleges. Learn more at https://cas.appstate.edu.
About Appalachian State University
As the premier public undergraduate institution in the Southeast, Appalachian State University prepares students to lead purposeful lives as global citizens who understand and engage their responsibilities in creating a sustainable future for all. The Appalachian Experience promotes a spirit of inclusion that brings people together in inspiring ways to acquire and create knowledge, to grow holistically, to act with passion and determination, and to embrace diversity and difference. Located in the Blue Ridge Mountains, Appalachian is one of 17 campuses in the University of North Carolina System. Appalachian enrolls nearly 21,000 students, has a low student-to-faculty ratio and offers more than 150 undergraduate and graduate majors.