Posted May 18, 2020 at 9:50 a.m.
BOONE, N.C. — "You can't manage what you can't measure," is a saying attributed to Peter Drucker (1909–2005), one of the most widely known and influential management consultants. This adage propelled Appalachian State University's Center for Analytics Research and Education (CARE) to launch a global initiative to count the world's bee and other pollinator population.
Approximately 75% of the world's commercially grown crops depend on pollination, said Dr. Joseph Cazier, professor in Appalachian's Department of Computer Information Systems and executive director of CARE. Many of the pollinators — including bees (the most common managed pollinator), butterflies, birds, moths and some animals, such as bats — are in decline or facing extinction, endangering the food supply, Cazier said.
"What is missing is a way to track pollinators systematically," he said.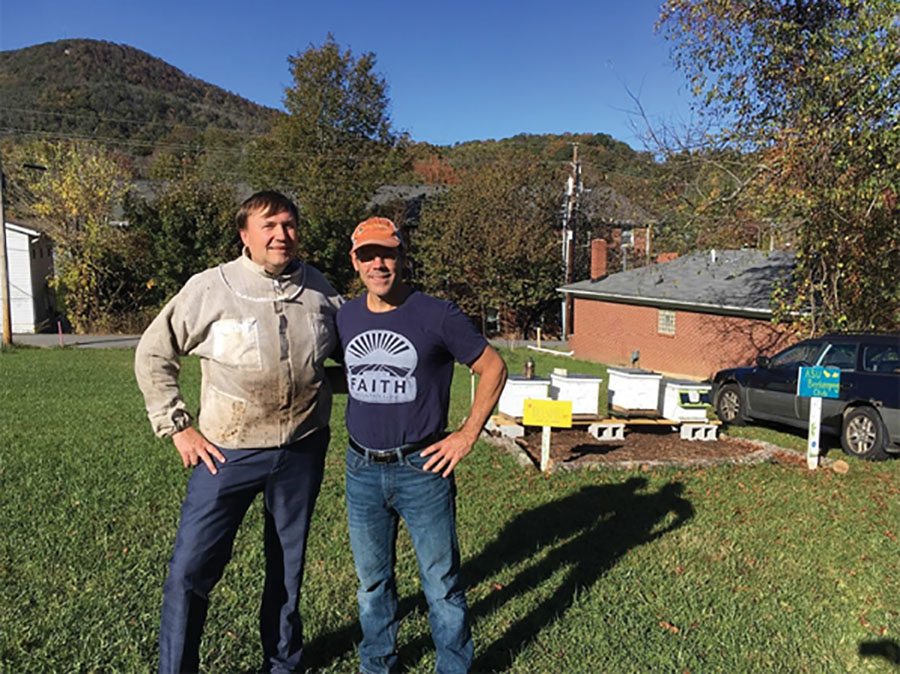 In 2019, Cazier and Dr. James Wilkes, a professor in Appalachian's Department of Computer Science, attended a conference in Rome, where they worked with the United Nations Food and Agricultural Organization (FAO), Apimondia and other international beekeeping organizations on integrating bees and technology. During this trip, they had the idea to develop a smartphone app to engage users around the world to help count pollinators.
Max Rünzel, who worked at the FAO, joined the CARE team as an associate research fellow to help Wilkes design the World Bee Count app, which launched May 16. Participants can use the app to take and upload pictures of pollinators at work in their natural habitats. Location coordinates and other data will be automatically recorded.
"The project is designed to be as simple as possible," Wilkes said. "We want to build awareness of the critical role various insects and other pollinators play in our food systems."
CARE's pollinator research team is funded in part by grants from Bayer, nonprofit bee research organization Project Apis m, the North Carolina Biotechnology Center and other organizations. CARE is also working in partnership with analytics leader SAS, based in Cary, to analyze the data over time to glean insights such as the following:
Types of pollinators, based on machine learning algorithms that will identify the species.
Where the pollinators live and dates of activity, based on location and time stamps.
Other information such as the types of flowers or plants that attract pollinators, based on what is visible in the background of the photos.
In the near term, the collected data will populate an interactive digital map, highlighting key insights about pollinators. Rünzel and Cazier will present the map with preliminary results and analysis plan during the 2020 U.N. World Bee Day on May 20. Due to the coronavirus pandemic, the event will be held virtually this year via a livestream broadcast.
During its first year, Cazier said the team plans to collect sample data and build awareness of the project through media exposure, social media and alliances with the FAO and international beekeeping organizations.
"Over time, our data will grow until we have a data repository that we and other like-minded researchers can analyze. We can make policy reports about where pollinators reside and what factors are influencing them — and ultimately put measures in place to protect them," he said.
What do you think?
Share your feedback on this story.
International World Bee Count coverage
Los Angeles Times
April 23, 2020
Department of Computer Information Systems
Oct. 2, 2019
Department of Computer Information Systems
Oct. 2, 2019
Appalachian student and faculty researchers seek to recover declining honeybee population
July 13, 2017
Walker College of Business
April 4, 2018
About the Center for Analytics Research and Education (CARE)
The Center for Analytics Research and Education is housed within the Walker College of Business at Appalachian State University. The mission of CARE is to engage and utilize the knowledge of students, faculty and staff to help promote prosocial behavioral change within organizations and society. Specifically, CARE uses big data and analytics for research in sustainability, education, economic development, human resources science, and health and wellness. Learn more at https://care.appstate.edu.
About the Department of Computer Information Systems
At Appalachian State University, computer information systems (CIS) students gain valuable professional skills and capabilities that prepare them for careers in a wide variety of technology-related industries. Students learn how to successfully interface between the technical and management aspects within organizations. Part of the Walker College of Business, the Department of Computer Information Systems offers two of 13 undergraduate business majors at App State, all of which promote solid business acumen and technical fundamentals. Learn more at https://cis.appstate.edu.
About the Walker College of Business
The Walker College of Business at Appalachian State University delivers transformational educational experiences that prepare and inspire students to be ethical, innovative and engaged business leaders who positively impact our community, both locally and globally. The college places emphasis on international experiences, sustainable business practices, entrepreneurial programs and real-world applications with industry. Enrolling approximately 3,000 undergraduates in 10 majors and 175 graduate students in three master's programs, the Walker College is accredited by AACSB International – the premier global accrediting body for schools of business. Learn more at https://business.appstate.edu.
About the Department of Computer Science
Appalachian's Department of Computer Science provides a rigorous, high-quality education that prepares students for the computing industry or graduate education. It offers a Bachelor of Science degree in computer science, which is accredited by the Computing Accreditation Commission of ABET, and a Master of Science degree in computer science. Learn more at https://compsci.appstate.edu.
About the College of Arts and Sciences
The College of Arts and Sciences (CAS) at Appalachian State University is home to 17 academic departments, two centers and one residential college. These units span the humanities and the social, mathematical and natural sciences. CAS aims to develop a distinctive identity built upon our university's strengths, traditions and unique location. The college's values lie not only in service to the university and local community, but through inspiring, training, educating and sustaining the development of its students as global citizens. More than 6,400 student majors are enrolled in the college. As the college is also largely responsible for implementing App State's general education curriculum, it is heavily involved in the education of all students at the university, including those pursuing majors in other colleges. Learn more at https://cas.appstate.edu.
About Appalachian State University
As the premier public undergraduate institution in the Southeast, Appalachian State University prepares students to lead purposeful lives as global citizens who understand and engage their responsibilities in creating a sustainable future for all. The Appalachian Experience promotes a spirit of inclusion that brings people together in inspiring ways to acquire and create knowledge, to grow holistically, to act with passion and determination, and to embrace diversity and difference. Located in the Blue Ridge Mountains, Appalachian is one of 17 campuses in the University of North Carolina System. Appalachian enrolls nearly 21,000 students, has a low student-to-faculty ratio and offers more than 150 undergraduate and graduate majors.