Posted Oct. 31, 2019 at 3:50 p.m.
BOONE, N.C. — The Walker College of Business (WCOB) at Appalachian State University recently honored two WCOB faculty members with 2019 Green E Awards during its fifth annual Business for Good conference held on Appalachian's campus Friday, Oct. 18.
The awards recognize individuals in the college for outstanding accomplishments in the area of sustainable business, with the "E" referring to the three E's of sustainability — economy, environment and equity.
This year's recipients are Dr. Joseph Cazier, professor in the Department of Computer Information Systems and executive director of the college's Center for Analytics Research and Education (CARE), and Dr. Todd Cherry '92, professor in and chair of the Department of Economics and senior research fellow at the Center for International Climate Research Oslo in Norway.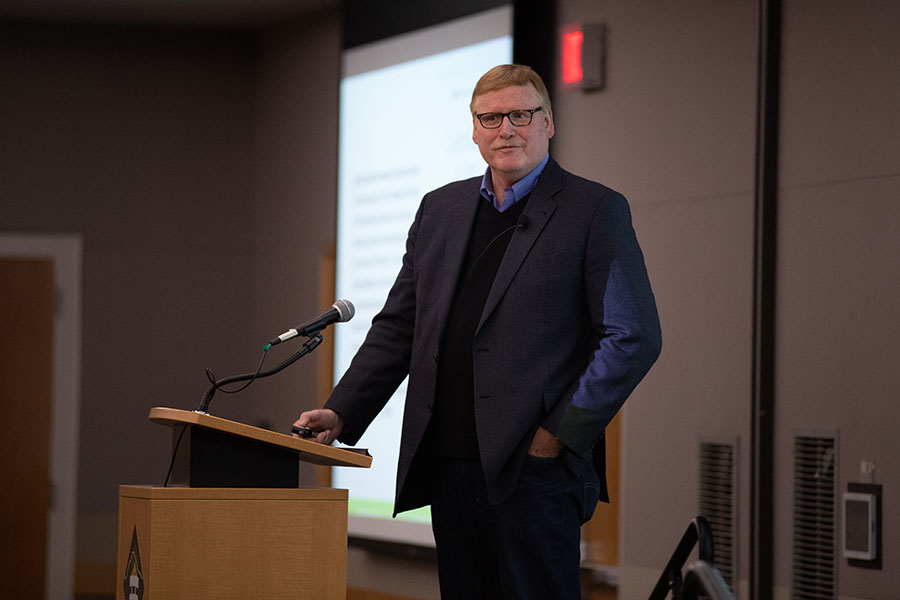 Dr. Jim Westerman, the Holshouser Distinguished Professor in Ethics in the college's Department of Management, conferred the Green E Awards, which are presented by Appalachian's Sustainable Business Collaborative and funded by the university's Holshouser Ethics Program.
Westerman said the college's Green E Awards recipients are "sustainable business champions, who embody the best of Walker, advancing the college's sustainability work in meaningful and impactful ways — both locally and internationally."
Cazier was recognized for his research work with the United Nations, Apimondia and other organizations on applying data analytics to aid in bee-saving efforts. In summer 2018, Cazier presented on how farmers and beekeepers can work together to save bees during the seventh annual BeeWeek in Brussels, Belgium, hosted by the European Parliament.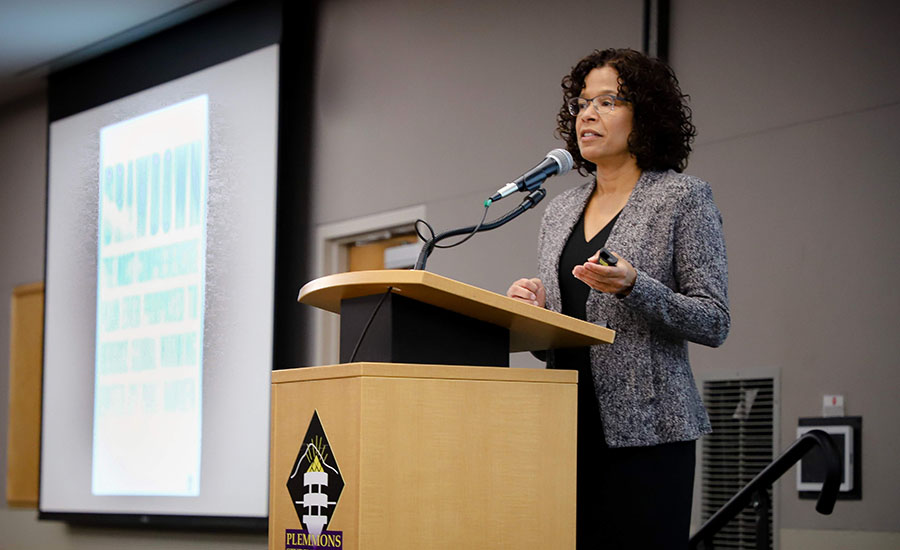 Additionally, Westerman highlighted Cazier's work to make Appalachian's campus more energy efficient by performing research in partnership with the university's electric utility company, New River Light and Power. Cazier has used analytics to measure and promote more sustainable behaviors, including predicting power consumption and developing ways to help people track and lower power use in real time.
Cherry was recognized for his contributions to sustainable business through his extensive research in the field of environmental and natural resource economics. His research focuses on how behavioral insights can improve environmental policies and has contributed to major climate change reports by the United Nations and World Bank.
In 2014, Cherry held the distinguished Rasmuson Chair of Economics at the University of Alaska Anchorage, a position previously held by Nobel Laureate Vernon Smith. At Appalachian, he created the Experimental and Environmental Economics Workshop, which draws scholars to Appalachian from all over the world to advance economics in environmental research.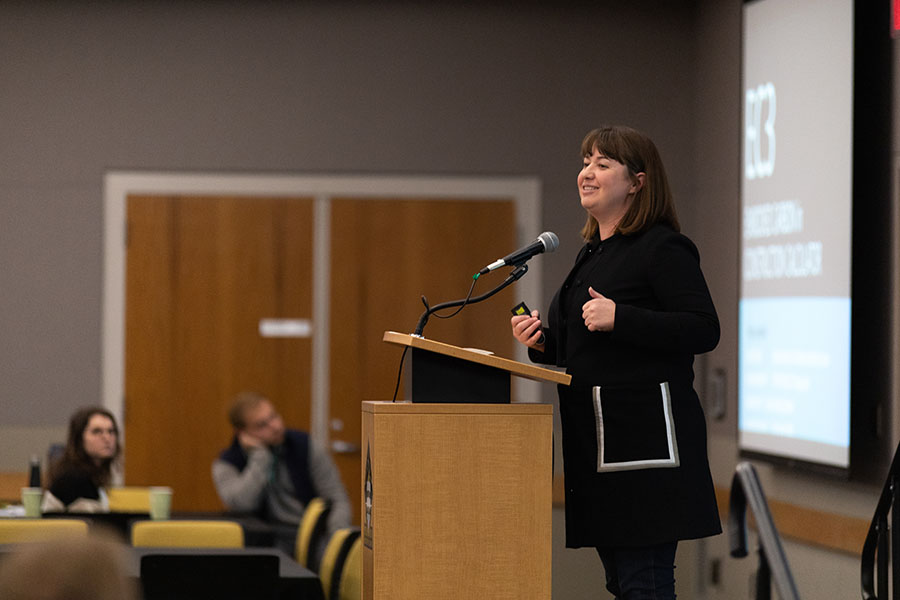 During the WCOB's Business for Good conference — a one-day educational summit — Appalachian students, faculty and guests hear from leaders in sustainable business practice and learn about how such practices affect everyone.
The guest speakers at this year's Business for Good conference:
Stuart Hart, author of "Capitalism at the Crossroads" and one of the world's top authorities on implications of environment and poverty for business strategy.
Crystal Chissell, vice president of operations and engagement for Project Drawdown, a global research organization that identifies, reviews and analyzes the most viable solutions to climate change and shares these findings with the world.
Erin Meezan, vice president of sustainability at Interface Inc., a globally recognized leader in innovations in sustainability, including initiatives such as Climate Take Back, ReEntry and Net-Works.
More on the Green E Awards winners
Cazier has a keen interest in using analytics to build a better world, especially in the areas of education and sustainability. He serves as the chief analytics officer for Blowing Rock Software LLC and its Hive Tracks brand, a role in which he leads analytics efforts to improve the survival of bees and their use in agriculture.
In addition to directing Appalachian's CARE, Cazier chaired the Business Analytics Task Force that designed the WCOB's MBA in business analytics concentration, the analytics graduate certificate and the new M.S. in applied data analytics.
In 2016, Cazier was named the University of North Carolina System Fellow in Technology Commercialization.
He holds a Ph.D. in information systems from Arizona State University, an MBA from Brigham Young University and a B.S. from Washington State University.
Cherry has served as a professor in the WCOB's Department of Economics since 2009 and as chair of the department since 2017. In addition to his appointment at the Center for International Climate Research, he is also a research fellow for the university's Appalachian Energy Center, for which he served as interim director in the 2008–09 school year.
From 2008–17, Cherry served as director of Appalachian's Center for Economic Research and Policy Analysis (CERPA). He served also as an adviser for the North Carolina General Assembly's Mountain Resource Commission (2011–13) and the North Carolina Rural Economic Development Center (2009–10).
Additionally, he was a Stokley Scholar at the University of Tennessee Knoxville (2007) and a faculty fellow at the Institute for Emerging Issues at North Carolina State University (2006–07).
His research interests include environmental and natural resource economics, behavioral and experimental economics, energy and climate policy, and public economics.
He holds a Ph.D. in economics from the University of Wyoming, an M.A. in economics from the University of North Carolina at Greensboro and a BSBA in economics from Appalachian.
Appalachian's Walker College of Business is committed to advancing sustainable business practices that promote responsible management of economic, social and natural resources. The college offers a sustainable business minor available to business and non-business majors, a bachelor's degree in environmental economics and policy and an MBA concentration in sustainable business, all of which focus on student engagement, research and community involvement.
For a list of previous Green E Awards recipients and more information about Appalachian's Business for Good conference, visit https://business.appstate.edu/b4g.
What do you think?
Share your feedback on this story.
Walker College of Business
Nov. 30, 2017
Walker College of Business
April 4, 2018
Walker College of Business
Nov. 28, 2018
About the Department of Computer Information Systems
At Appalachian State University, computer information systems (CIS) students gain valuable professional skills and capabilities that prepare them for careers in a wide variety of technology-related industries. Students learn how to successfully interface between the technical and management aspects within organizations. Part of the Walker College of Business, the Department of Computer Information Systems offers two of 13 undergraduate business majors at App State, all of which promote solid business acumen and technical fundamentals. Learn more at https://cis.appstate.edu.
About the Department of Economics
The Department of Economics offers diverse courses that cover standard fields such as microeconomic and macroeconomic theory, labor, public finance, regional and development economics. The department is particularly strong in the areas of environmental and experimental economics. It offers the Bachelor of Science in business administration (B.S.B.A.) and the Bachelor of Arts (B.A.). Learn more at https://economics.appstate.edu.
About the Walker College of Business
The Walker College of Business at Appalachian State University delivers transformational educational experiences that prepare and inspire students to be ethical, innovative and engaged business leaders who positively impact our community, both locally and globally. The college places emphasis on international experiences, sustainable business practices, entrepreneurial programs and real-world applications with industry. Enrolling approximately 3,000 undergraduates in 10 majors and 175 graduate students in three master's programs, the Walker College is accredited by AACSB International – the premier global accrediting body for schools of business. Learn more at https://business.appstate.edu.
About Appalachian State University
As the premier public undergraduate institution in the Southeast, Appalachian State University prepares students to lead purposeful lives as global citizens who understand and engage their responsibilities in creating a sustainable future for all. The Appalachian Experience promotes a spirit of inclusion that brings people together in inspiring ways to acquire and create knowledge, to grow holistically, to act with passion and determination, and to embrace diversity and difference. Located in the Blue Ridge Mountains, Appalachian is one of 17 campuses in the University of North Carolina System. Appalachian enrolls nearly 21,000 students, has a low student-to-faculty ratio and offers more than 150 undergraduate and graduate majors.