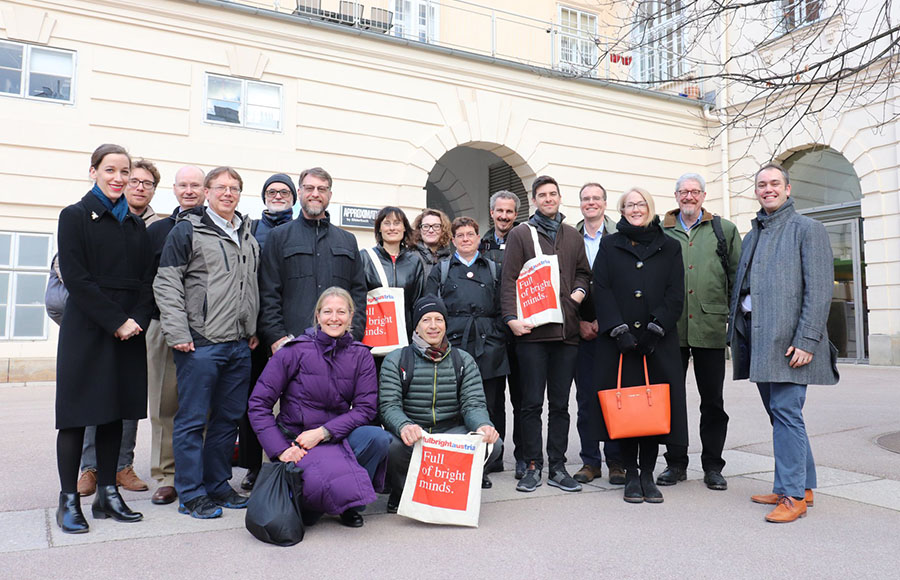 Posted May 29, 2020 at 10:48 a.m.
BOONE, N.C. — Many of Appalachian State University's 2019–20 Fulbright scholars were overseas when the COVID-19 pandemic began, requiring them to cut short their residencies and return to the U.S. Despite the circumstances, many of the faculty members are continuing their work remotely, citing the importance of international connections.
"The less stable the world is, the more important programs like the Fulbright are. We need a world built on cooperation and mutual understanding — exactly what the Fulbright Program is built to foster," said Mark Powell, associate professor of creative writing at Appalachian and a 2019–20 Fulbright scholar.
The Fulbright Program is the flagship international educational exchange program sponsored by the U.S. government to build relations between the people of the United States and of other countries.
Appalachian's Office of International Education and Development (OIED) and Office of Research encourage and assist with faculty applications for Fulbright awards in support of the program's global focus. Earlier this year, Appalachian was ranked the nation's top producer of Fulbright U.S. Scholars for 2019–20.
The work continues
Fulbright scholars engage in teaching, research or both during their time abroad. Dr. Maria Anastasiou, OIED's executive director, advised that while traveling to and having a physical presence at the partner institution is a critical component of the Fulbright experience, there are other ways for the scholars to remain connected, and, in some cases, to complete their work.
Powell was teaching a course on contemporary U.S. literature at Ovidius University of Constanta, in Romania, as well as conducting research for his seventh novel, tentatively titled "Black Sea." He has continued to teach his students remotely.
Dr. Paul Wallace, professor of instructional technology at Appalachian and a 2019–20 Fulbright scholar, had spent nearly seven months living in Veliky Novgorod, Russia, while teaching and developing curriculum at Yaroslav-the-Wise Novgorod State University (NovSU). He returned to the U.S. in March and is continuing to work on the curriculum design for a course titled "Technology for International Collaborations" that will be offered at Appalachian and NovSU during fall 2020.
Wallace also taught classroom technology workshops for NovSU instructors, and he has since made that content available virtually, with an emphasis on technologies for teaching online.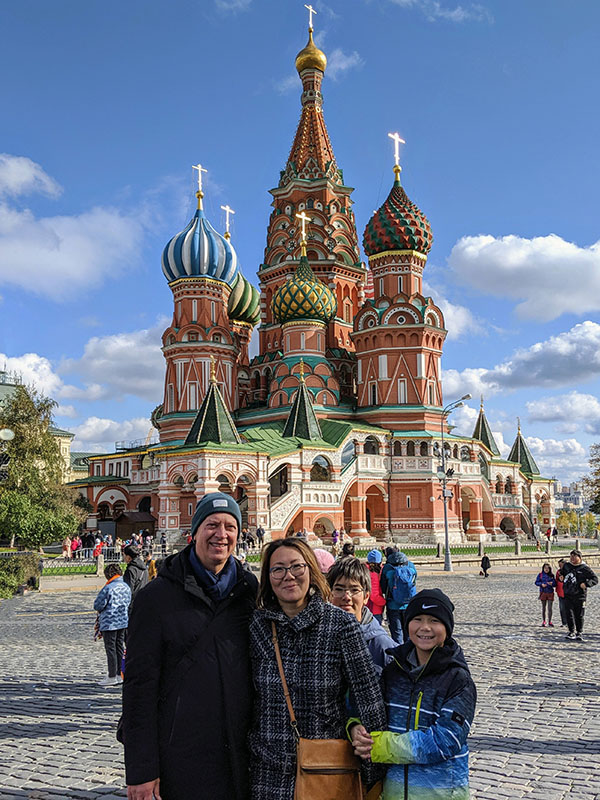 Dr. Alexandra Sterling-Hellenbrand, professor of German and global studies in the Department of Languages, Literatures and Cultures at Appalachian, has also continued her work as the Fulbright Visiting Professor of Cultural Studies at the University of Graz in Graz, Austria.
She started teaching her courses remotely while she was still on site because Austrian universities transitioned to a virtual format early in the spring semester. "I did get to meet each of my classes once before the lockdown," Sterling-Hellenbrand said.
Her Fulbright grant also included a research component for travel to eight sites in Austria to inform her project titled "Medieval Literature in the Modern Landscape: Heritage, Culture and Identity in Contemporary Austria." She was able to visit three of the sites and gather project materials before returning to the U.S. She plans to adjust her project objectives since she is no longer on site and resume her research later this month.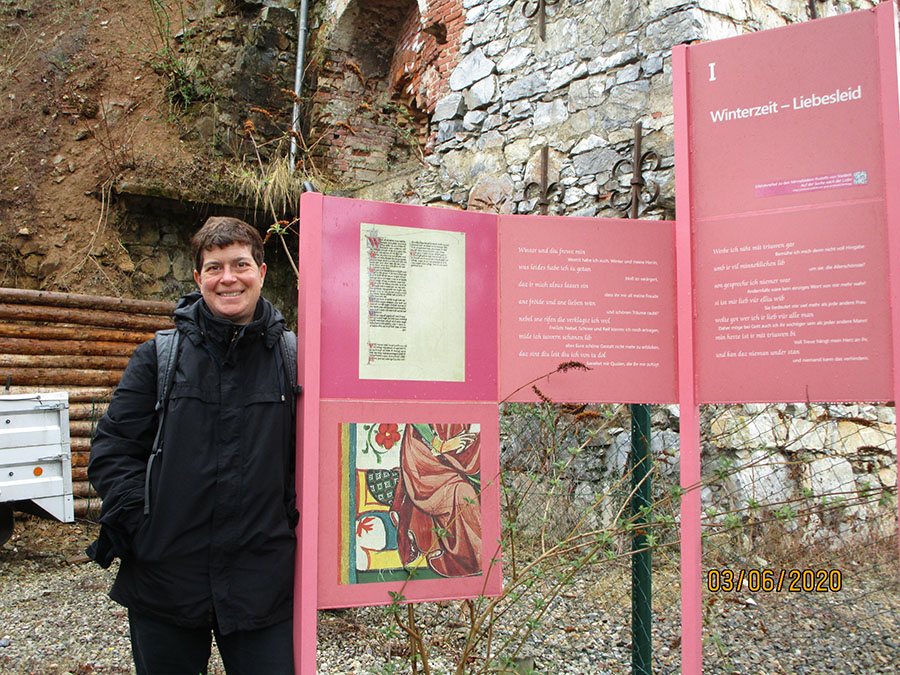 Importance of global connections
Several of the Fulbright scholars noted they were continuing their work because of the importance of global connections for their students, both at Appalachian and the partner institutions.
"The global COVID-19 pandemic underscores the need for current and future generations to be engaged in international communication, collaboration and cooperation to work on this emergency and future threats, such as climate change and natural disasters," Wallace said.
Wallace said he will incorporate his Fulbright experiences into his courses at Appalachian. "In my undergraduate course, ITC-2010 Narrative, New Media and Gaming, students research myths and folktales from other cultures as a basis for a digital storytelling project. I had my students in Russia research and collect information on Russian myths, folktales and legends to share with my future Appalachian students."
Sterling-Hellenbrand said she also has new experiences in teaching to share with her Appalachian students and colleagues, as well as connections at the University of Graz she hopes may support future exchange opportunities.
Looking to the future
Appalachian currently has 67 active global partnerships. Anastasiou said it is critically important to continue to foster those relationships and for the Fulbright scholars to share their experiences with the broader Appalachian Community.
"The long-term value of the Fulbright Program is the experience itself as well as the ongoing learning experience that results for our students and faculty," Anastasiou said.
She said the experiences of Appalachian's faculty members play a significant role in encouraging students to study abroad or engage with new cultures as they help students understand how these experiences can relate to their program of study or career aspirations.
"The pandemic is undeniably changing, among other things, how we think about borders and travel in our globalized world," Sterling-Hellenbrand said. "As an engine of intercultural exchange for students and teachers and scholars, the Fulbright Program is now more important than ever.
What do you think?
Share your feedback on this story.
About the Office of International Education and Development
The OIED is responsible for spearheading the internationalization efforts at Appalachian. The internationalization mission of Appalachian is to develop awareness, knowledge, appreciation and respect of cultural differences in both domestic and international contexts in its students, faculty, staff and the surrounding communities. The university is also dedicated to creating a campus environment that builds the theoretical and practical skills needed to interact effectively in a global society. Learn more at https://international.appstate.edu.
About the Office of Research
Appalachian State University's Office of Research provides support for the research, creative, and scholarly endeavors of Appalachian faculty, staff and students. The office consists of four units: Grants Resources and Services, Sponsored Programs, Research Design and Analysis, and Research Protections. The Office of Research also collaborates with the university's Special Funds Accounting on the fiscal management of awarded projects. Learn more at https://research.appstate.edu.
About Appalachian State University
As the premier public undergraduate institution in the Southeast, Appalachian State University prepares students to lead purposeful lives as global citizens who understand and engage their responsibilities in creating a sustainable future for all. The Appalachian Experience promotes a spirit of inclusion that brings people together in inspiring ways to acquire and create knowledge, to grow holistically, to act with passion and determination, and to embrace diversity and difference. Located in the Blue Ridge Mountains, Appalachian is one of 17 campuses in the University of North Carolina System. Appalachian enrolls nearly 21,000 students, has a low student-to-faculty ratio and offers more than 150 undergraduate and graduate majors.