Posted June 5, 2020 at 4:01 p.m.
BOONE, N.C. — Throughout June, more than 5,000 new Appalachian State University students — including incoming first-year and transfer students — are attending one-day virtual orientation sessions for the upcoming 2020–21 academic year.
Although orientation attendees are not physically on campus because of COVID-19-related restrictions, the "soul" of the sessions is the same as always — thanks to 32 Student Orientation Undergraduate Leaders (SOULs) who are dedicated to providing incoming students a welcoming and informative introduction to their time at Appalachian.
"Orientation is really important for new students to make some of their first connections with all the other new students and with their SOUL," said SOUL Hunter Lynne Koch, a senior from Chapel Hill who is pursing dual degrees in art education (K–12) and global studies, with a minor in Spanish.
"We are the first face that students see at Appalachian and that is vital, especially at a critical time right now in this unprecedented pandemic," added Koch, who also served as a SOUL in summer 2018.
First-time SOUL McKenzie Mack, a senior from Charlotte majoring in elementary education with a concentration in diversity studies, said she was inspired to become a SOUL because of her own orientation experience.
"I vividly remember being terrified when I first arrived, but once I met my SOUL and went through the orientation process, I felt at home," she shared.
Mack said her most important role as a SOUL is to create a sense of community.
"You never know what each student's life is like outside of our one-day orientation. I think the most important concept to convey is that they are not alone," she said. "Even down to building their schedules and deciding what they want to be in life or what they want to get involved in on campus, Appalachian offers resources to make the best of the college experience."
SOUL training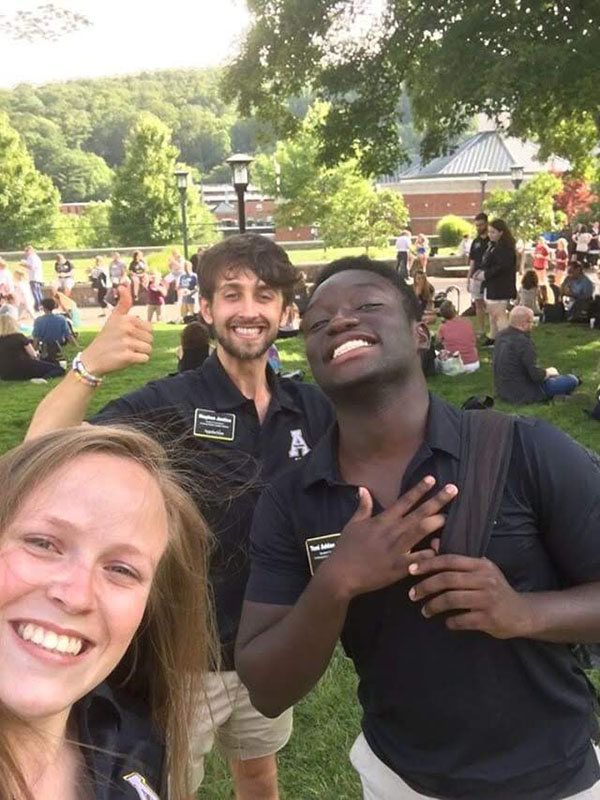 During orientation sessions, SOULs — undergraduate students hired and trained to speak about a variety of university resources — are assigned a group of students to lead through the day's activity. They then follow up with information throughout the summer to build and maintain the relationship forged during orientation.
The SOUL training includes learning in-depth information about offices and organizations on campus; coaching in ways to effectively facilitate sessions with both the students and their parents; and honing of leadership, problem-solving and presentation skills. This year, SOULs were also taught how to use virtual platforms and employ methods to connect and engage students online.
"We use Zoom to present material using PowerPoint or Google Slides, similar to how we'd present it in a live classroom," said Hannah Bean '20, a graduate student from High Point who is pursuing her master's degree in social work and interning with Appalachian's University College Academic Advising and Orientation this summer.
"Students are getting the same content, with the same speakers, but instead of walking to different parts of campus, they're logging into different Zoom sessions," she explained.
Garner native Josh Harker '20, who holds a Bachelor of Science in geology with a concentration in earth/environmental science, secondary education from Appalachian and is also interning with the University College orientation staff, said he and Bean spent some time finding icebreakers and engagement tools to use with a virtual format.
"During on-campus orientation, SOULs lead icebreaker activities that get people up and moving and using the whole body. On Zoom sessions, people are usually visible from the shoulders up, so we had to adapt. We're doing things like scavenger hunts designed for a typical room and games that can be played virtually," Harker said.
Sessions are offered for parents and students separately and scheduled so that access to a single computer does not create a conflict.
SOULs guide students to meet with representatives from various departments, covering topics that include the following:
On-campus resources, including health and wellness services, academic support and student services.
Introduction to academic colleges, depending on students' intended majors.
Advising sessions for class selections and academic planning.
Navigation of AsULearn, Appalachian's online learning platform.
Introduction to AppalNet, the students' portal to financial account information, class registrations, grades and activities.
Campus services such as parking and transportation, dining and the bookstore.
Question-and-answer sessions about life on Appalachian's campus.
Orientation includes a combination of live sessions and prerecorded information throughout the seven-hour event and is required for all new students.
SOULs share tips
Several SOULs for the 2020–21 academic year shared philosophies, "insider knowledge" and tips for how to thrive as a Mountaineer. Read on to learn their advice for incoming students.
What do you think?
Share your feedback on this story.
About University College
Formed in 2007, University College consists of the university's general education program, faculty and student support, and co-curricular programming and support – all designed to support the work of students both inside and outside the classroom. All students at Appalachian begin their education in University College and benefit from its programs until they graduate. Learn more at https://universitycollege.appstate.edu.
About Appalachian State University
As the premier public undergraduate institution in the Southeast, Appalachian State University prepares students to lead purposeful lives. App State is one of 17 campuses in the University of North Carolina System, with a national reputation for innovative teaching and opening access to a high-quality, affordable education for all. The university enrolls more than 21,000 students, has a low student-to-faculty ratio and offers more than 150 undergraduate and 80 graduate majors at its Boone and Hickory campuses and through App State Online. Learn more at https://www.appstate.edu.