Adrianna Nelson
Posted June 26, 2020 at 4:47 p.m.
BOONE, N.C. — Do you know the call of a magnolia warbler from the evening song of an Acadian flycatcher? And can you spot the difference between a bluebird and a blue jay? Appalachian State University sophomore and avian admirer Adrianna Nelson, of Bristol, Tennessee, can and does — her birding skills have gained national recognition from the American Birding Association (ABA).
Nelson, a biology major with a concentration in ecology, evolution and environmental biology, is one of two students named 2020 Young Birder of the Year by ABA. Middle school student Gracie McMahon, from Rockford, Illinois, is the other Young Birder for 2020.
According to the ABA website, the Young Birder of the Year Mentoring Program, established in 1998, exists to encourage, mentor and develop the talents of teenage birders. Each participant receives written feedback from the competition's judges — three highly regarded birding professionals — to help them improve their skills.
A budding ornithologist
For the Young Birder competition, Nelson, who serves as a coordinator for the Tennessee Bluebird Society, used the observational and collaborative skills she is honing through her biology degree at Appalachian to complete a field notebook and a conservation and community leadership project on bluebirds.
She set up bluebird boxes at a local park and monitored them during the breeding season. She also gave public presentations on her work and submitted nesting data collected during the project to the Cornell Lab of Ornithology's eBird database — data that can be used by scientists and other birders.
Dr. Lynn Siefferman, a professor in Appalachian's Department of Biology whose research specialty is the eastern bluebird, said Nelson is a "wonderful, enthusiastic person" who has helped her with field research and prepared bird study skins — dead birds that are preserved for study — for Appalachian's zoology collection.
"I would like to get more involved in Dr. Siefferman's research so I can gain more skills as an ornithologist, naturalist and scientist. I can also take an ornithology class at Appalachian. There are many ways that my studies in biology support my birding," said Nelson, who is a member of Appalachian's Audubon Chapter and served as social media and outreach intern for the High Country Audubon Society in early spring 2020.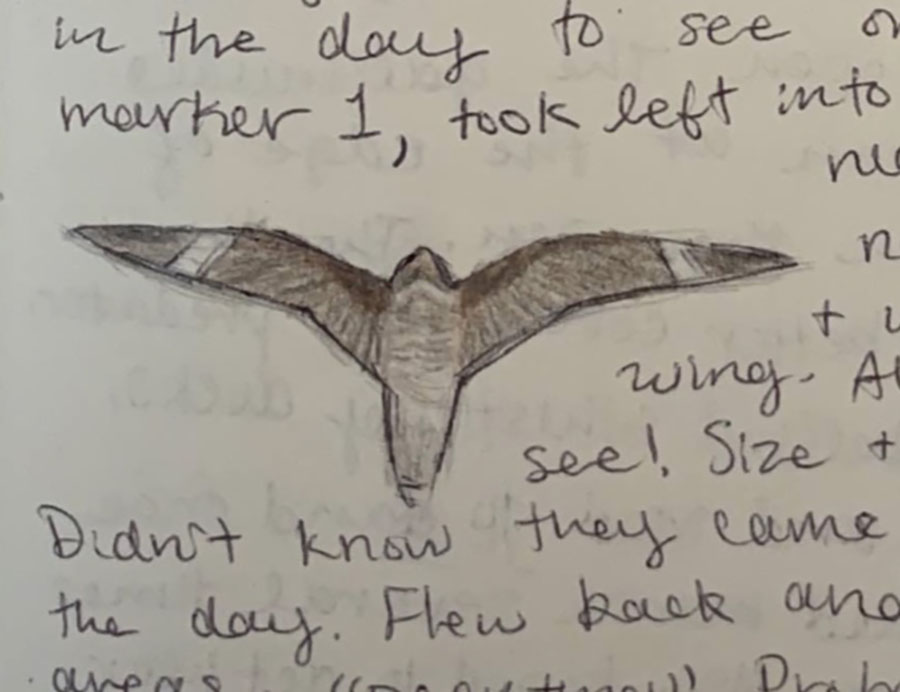 Bird species native to Western North Carolina
Observations from the field
For the field notebook, which consisted of four parts — a physical notebook, an annotated eBird checklist, a formal write-up and a summary with accompanying pictures on social media — Nelson recorded 87 bird species during five outings, two of which were completed near her hometown of Bristol. The other three outings took place at Whitetop Mountain in Southwest Virginia; Savannah Wildlife Refuge in South Carolina; and outside her residence hall on Appalachian's campus.
Most of the information Nelson recorded for the field notebook was relevant to bird breeding and nesting behavior, as well as the birds' physical characteristics, habitat, vocalizations and interactions with other birds. She also recorded other observations — besides birds — while in the field.
"The Appalachian Mountains are a very biodiverse region, so I have many opportunities here in Northwestern North Carolina, even outside the university, to practice my ornithological skills," she said.
For her final field notebook entry, Nelson recorded the vocalizations, or "flight calls," of birds that migrate at night in order to identify them.
"I used software to edit the recordings and make spectrograms of the calls, which are visual representations of a sound in terms of time and frequency," she explained. "This is how I identified some of the birds I recorded, because their sounds and spectrograms are unique to each species. It was really cool being able to do this right on campus."
A dark-eyed junco sparks a lifelong interest
Appalachian's Young Birder, who has been an avid birdwatcher for more than a decade, became interested in learning more about birds at age 9, when she spotted a feathered friend in her family's yard that she didn't recognize.
"I was confused as to why this new bird showed up in our yard in winter because I thought all birds were supposed to migrate to Florida, which is very inaccurate by the way — I did not have a good understanding of migration as a 9-year-old," Nelson joked.
Upon further investigation, Nelson discovered the new visitor was a dark-eyed junco. "While I was searching for its identification, I saw many other species that had interesting appearances and ranges," she said. "That's when I decided I wanted to see all bird species."
Nelson, who is minoring in Appalachian studies at Appalachian, said she is aiming for a career as an ornithologist.
What do you think?
Share your feedback on this story.
Bird species native to Western North Carolina
Observations from the field
About the Department of Biology
The Department of Biology is a community of teacher-scholars, with faculty representing the full breadth of biological specializations — from molecular genetics to landscape/ecosystem ecology. The department seeks to produce graduates with sound scientific knowledge, the skills to create new knowledge, and the excitement and appreciation of scientific discovery. Learn more at https://biology.appstate.edu.
About the College of Arts and Sciences
The College of Arts and Sciences (CAS) at Appalachian State University is home to 17 academic departments, two centers and one residential college. These units span the humanities and the social, mathematical and natural sciences. CAS aims to develop a distinctive identity built upon our university's strengths, traditions and unique location. The college's values lie not only in service to the university and local community, but through inspiring, training, educating and sustaining the development of its students as global citizens. More than 6,400 student majors are enrolled in the college. As the college is also largely responsible for implementing App State's general education curriculum, it is heavily involved in the education of all students at the university, including those pursuing majors in other colleges. Learn more at https://cas.appstate.edu.
About Appalachian State University
As the premier public undergraduate institution in the Southeast, Appalachian State University prepares students to lead purposeful lives. App State is one of 17 campuses in the University of North Carolina System, with a national reputation for innovative teaching and opening access to a high-quality, affordable education for all. The university enrolls more than 21,000 students, has a low student-to-faculty ratio and offers more than 150 undergraduate and 80 graduate majors at its Boone and Hickory campuses and through App State Online. Learn more at https://www.appstate.edu.