Posted Aug. 14, 2020 at 2:10 p.m.
BOONE, N.C. — The campus dining experience at Appalachian State University will be different this fall — including a selection of local food trucks on campus. Choice, convenience and quality remain the focus, according to Campus Dining Director Pam Cline.
"This fall, as we manage safety issues around COVID-19, operations will be different," Cline said. "Among the changes are reduced seating capacity to accommodate physical distancing, and takeout and preordering will be encouraged."
In the following video, Cline shares a glimpse of the fall dining experience:
Returning to AppState | Campus Dining
Transcript
Pam Cline: We've been preparing since we left for Spring Break and realized that things were going to be different upon return from Spring Break with Covid. We've constantly adjusted and pivoted from the different phases of North Carolina, and getting ready for students to come back has been on ongoing process all summer long. We've really worked hard in the last month to get signage ready, to get a Grubhub contract ready, to get some agreements with some food trucks to come to campus. It's been a busy endeavor but we're really excited about welcoming students back and showing students how we can keep them safe and provide some delicious dining options for them. You'll notice it right when you walk in our front door with signage that says "Entrance" versus "Exit." You'll notice that we have hand sanitizing stations at the entrances. We have arrows on the floors. We have some Mountaineer boot prints on our floors where we want you to stand. We have socially distanced the tables so that the tables are six feet apart. As you enter Rivers Street Cafe we've got a beautiful display case of what's on offering for the day, so that you can see and visualize what your meal would look like. And you can make a decision before you enter the servery so that you can get in and out very quickly and protect yourself.
Jules Bott: Cafeteria-style service doesn't work very well right now. So we're streamlining the process. We're limiting self-service areas...we have to. So instead of a build-your-own salad bar, the one in Sanford Commons is a built-for-you salad bar. Instead of the students pulling their own food out of the slides, our staff will be filling bags, pulling the food out of the slides, placing it in a bag, package it up for you, and you can go.
PC: We're excited about our Grubhub partnership and how you can order food from a mobile app. We're gonna flip a little toggle on an iPad and send you a text message that says "Your meal is ready for pickup," so that you don't have to come in and wait in a line. So we're going to have four food trucks on Sanford Mall for you to choose from that you can order from your Grubhub app, and go right there and enjoy some local community restaurants right on Sanford Mall without leaving campus. All the safety precautions that you've seen in Roess Dining Hall today are throughout Campus Dining in all of our facilities and venues throughout campus. So we're excited to welcome you back to campus, and we want you to know that we're ready to protect you...to dine safely within all of our facilities.
Some of the innovations and options on tap:
Locally owned food trucks will be around Sanford Mall, including The Cardinal Burger Wagon, Higher Grounds Coffee Truck, Betty's Biscuit Truck and Village Inn Pizza Truck.
Signage throughout campus dining facilities will direct traffic and encourage diners to take safety measures, and seating will be arranged for distancing. Hand sanitizer stations will be placed throughout the facilities. No cash will be accepted.
Dining hall meals will be prepackaged to ensure the safety of both staff and students during Campus Dining service. Glass display cases will show pre-plated meal choices so students can view their options in advance and be ready to order and exit with their food.
Salad bars will be closed, but dining services staff will compose salads to order. Pre-bult salads will also be available in the grab-and-go sections.
The mobile food ordering platform Grubhub will provide a pickup option for all on-campus dining locations and will accept campus meal cards for payment.
Recognizing a history of sustainable dining practices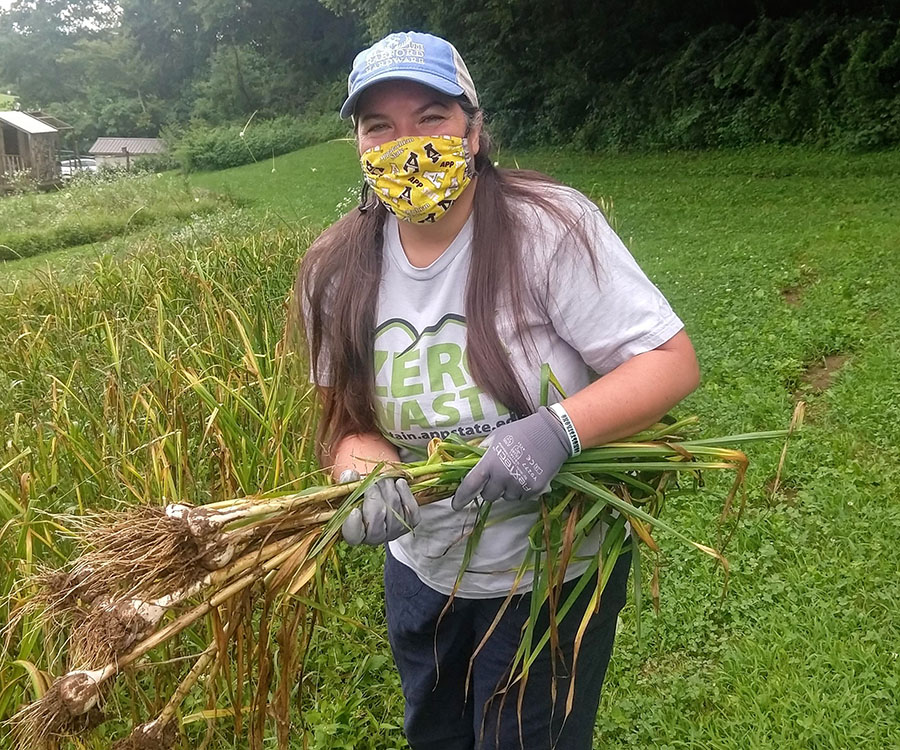 Safety and sustainability — it's up to everyone
What do you think?
Share your feedback on this story.
About Campus Dining
Campus Dining is owned and operated by Appalachian State University and offers dining services tailored to the campus community's specific needs. With three dining facilities and daily catering events, Campus Dining provides opportunities for nourishment and also building and fostering relationships over shared meals and experiences. Campus Dining is committed to serving the Appalachian Community using sustainable practices such as local sourcing and contributing to campus composting and a constantly evolving partnership with the Office of Sustainability. Learn more at https://dining.appstate.edu.
About Sustainability at Appalachian
Appalachian State University's leadership in sustainability is known nationally. The university's holistic, three-branched approach considers sustainability economically, environmentally and equitably in relationship to the planet's co-inhabitants. The university is an active steward of the state's interconnected financial, cultural and natural resources and challenges students and others think critically and creatively about sustainability and what it means from the smallest individual action to the most broad-based applications. The university offers both undergraduate and graduate academic degree programs that focus on sustainability. In addition, 100 percent of Appalachian's academic departments offer at least one sustainability course or course that includes sustainability, and all students graduate from programs that have adopted at least one sustainability learning outcome. Learn more at https://appstate.edu/sustainability.
About Appalachian State University
As the premier public undergraduate institution in the Southeast, Appalachian State University prepares students to lead purposeful lives as global citizens who understand and engage their responsibilities in creating a sustainable future for all. The Appalachian Experience promotes a spirit of inclusion that brings people together in inspiring ways to acquire and create knowledge, to grow holistically, to act with passion and determination, and to embrace diversity and difference. Located in the Blue Ridge Mountains, Appalachian is one of 17 campuses in the University of North Carolina System. Appalachian enrolls nearly 21,000 students, has a low student-to-faculty ratio and offers more than 150 undergraduate and graduate majors.