Posted Aug. 18, 2020 at 2:43 p.m.
BOONE, N.C. — How can universities help thousands of new students feel at home in their new surroundings? At Appalachian State University, the answer this fall is the Trailhead Experience, a newly reimagined orientation and leadership development program designed to help students learn how to create connections, build community and navigate the many changes to university life necessitated by the novel coronavirus.
In past years, the Trailhead Experience was a three-day program held off campus for 200 incoming students. This year, as a part of a newly conceptualized Welcome to App Week, more than 2,400 incoming first-year students participated in a two-day version of the program during their first days on campus.
"Trailhead is an important bridge between the virtual orientation sessions in the summer and the start of classes for first-year students," said Courtney Holder, associate director of leadership education and development in Appalachian's Department of Student Engagement and Leadership. "All students need additional support in navigating the changes we'll see this academic year, which is why Trailhead was expanded and changed."
This fall's Trailhead Experience — which was a coordinated effort between the Department of Student Engagement and Leadership, Orientation, and the Division of Student Affairs — is designed to help students make friends, learn to access campus resources, get involved in student organizations and succeed in new class formats, Holder said.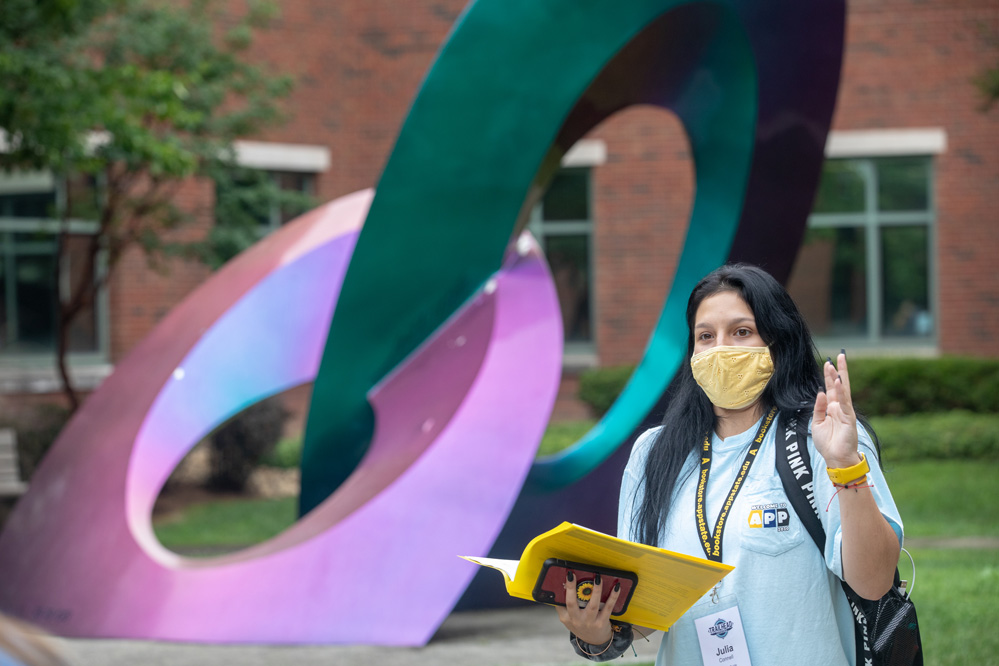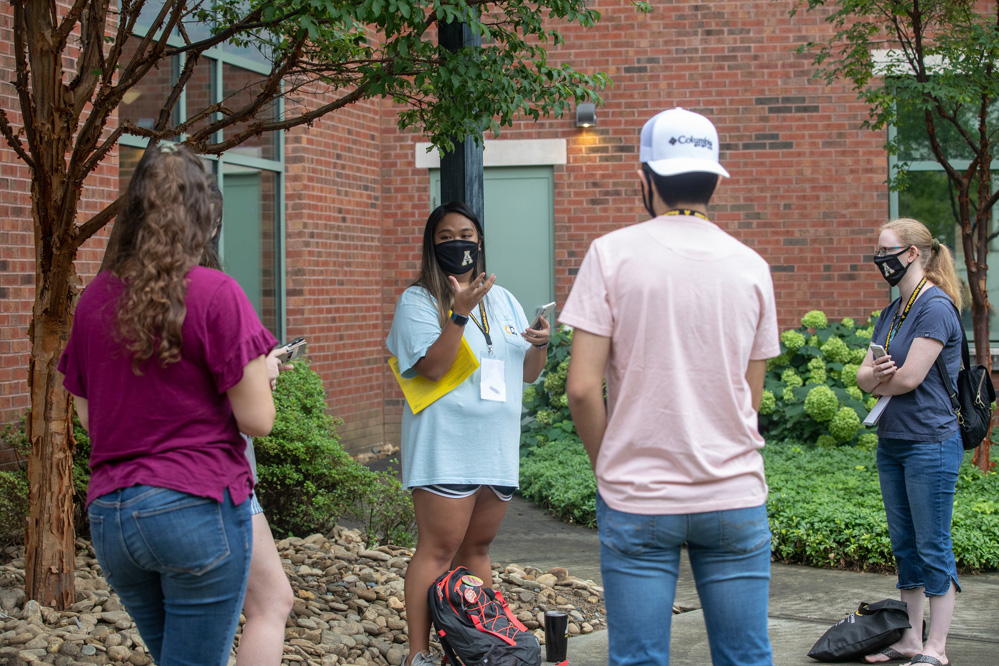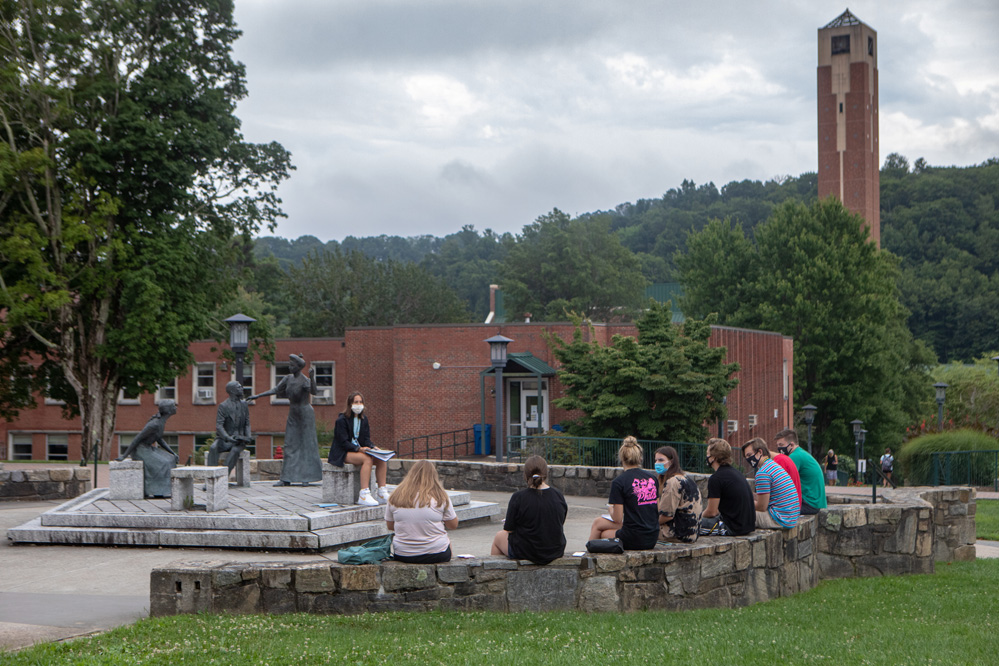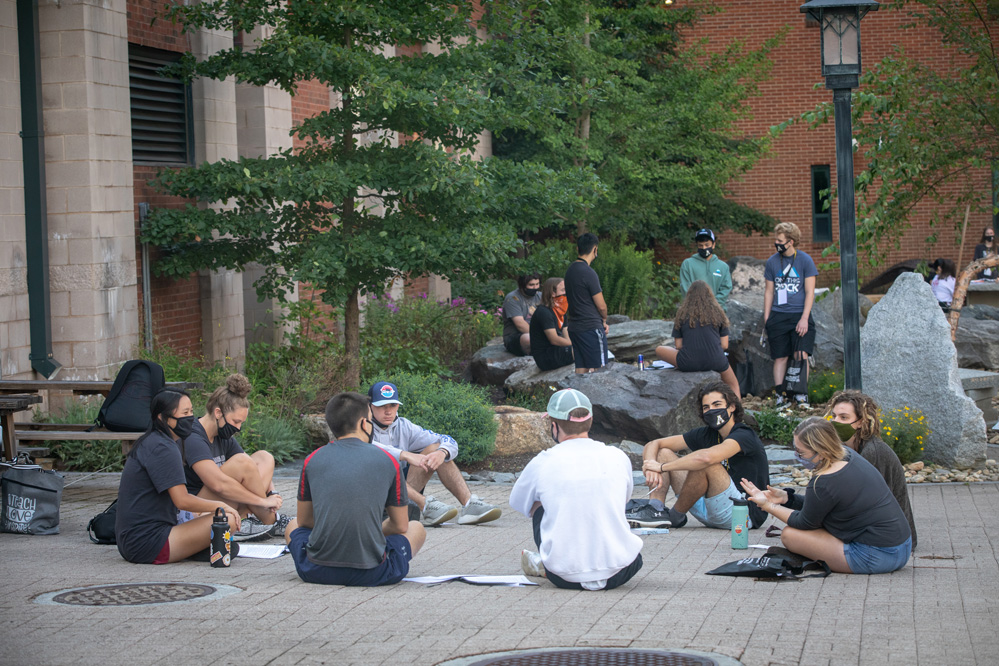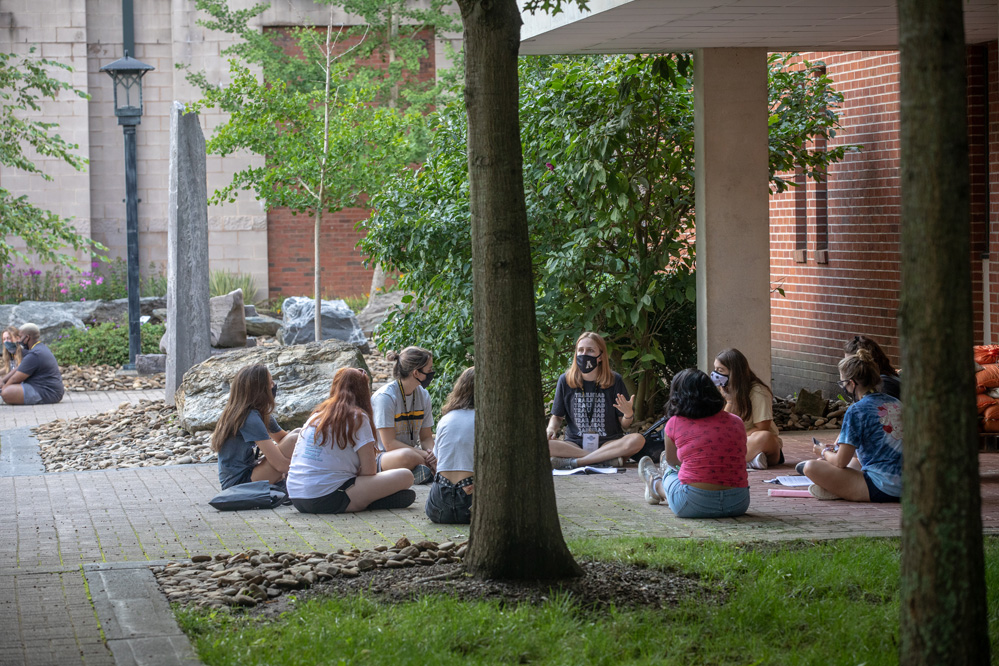 Learning about university life
First-year students met in small groups of approximately 10–12 peers to engage in activities, dialogues and sessions, many of which guided them to evaluate their own identities and experiences and consider how they can enrich the Appalachian Community.
Steven Cromartie, a first-year Trailhead participant from Concord who plans to major in instrumental music education (K–12), said he learned about the "locations and uses of buildings around campus" as well as "what to do and what not to do while I'm here at my new home." He said his favorite part of the experience was meeting new people.
"We were all strangers meeting for the first time, but we talked as if we were really close friends," Cromartie said. "I feel like I gained some new friends through my group."
Two upper-level students serving as Trailhead Guides led each group of first-year students. The program had 140 Trailhead Guides, who were nominated by staff and faculty across campus based on their "prior leadership experience and roles on campus, as well as their interest in helping to welcome new students to App," Holder said.
Throughout the Trailhead Experience, students had the opportunity to practice and discuss important, required behaviors related to COVID-19 — such as wearing face coverings, respecting physical distancing guidelines and practicing good hygiene to help reduce the spread of the novel coronavirus.
What do you think?
Share your feedback on this story.
About the Division of Student Affairs
The Division of Student Affairs at Appalachian State University is committed to the development of lifelong learners and leaders by engaging and challenging students within a culture of care and inclusion. The division consists of 16 units that offer activities and services to help students develop more fully by becoming global learners, fostering healthy relationships, appreciating diversity and different perspectives, understanding community responsibility, enhancing self-awareness, developing autonomy and living ethically. These units include the Career Development Center, Campus Activities, Office of Community-Engaged Leadership, Wellness and Prevention Services, Counseling and Psychological Services, Student Health Service, Parent and Family Services, University Housing, Student Conduct, University Recreation, Intercultural Student Affairs, Student Legal Clinic and Off-Campus Student Services, Electronic Student Services, Child Development Center, and Staff Development and Strategic Initiatives. Learn more at https://studentaffairs.appstate.edu.
About University College
Formed in 2007, University College consists of the university's general education program, faculty and student support, and co-curricular programming and support – all designed to support the work of students both inside and outside the classroom. All students at Appalachian begin their education in University College and benefit from its programs until they graduate. Learn more at https://universitycollege.appstate.edu.
About Appalachian State University
As the premier public undergraduate institution in the state of North Carolina, Appalachian State University prepares students to lead purposeful lives as global citizens who understand and engage their responsibilities in creating a sustainable future for all. The Appalachian Experience promotes a spirit of inclusion that brings people together in inspiring ways to acquire and create knowledge, to grow holistically, to act with passion and determination, and to embrace diversity and difference. Located in the Blue Ridge Mountains, Appalachian is one of 17 campuses in the University of North Carolina System. Appalachian enrolls more than 20,000 students, has a low student-to-faculty ratio and offers more than 150 undergraduate and graduate majors.