Posted Oct. 2, 2020 at 3:25 p.m.
BOONE, N.C. — Developing leadership skills, working as a team and making split-second decisions were all part of the training exercises in Appalachian State University's Operation Agile Leader (OAL) — an intensive, outdoor leadership evaluation for 20 App State senior ROTC cadets, held Sept. 11–12.
The leadership field assessment is one of the final evaluations for the U.S. Army that ROTC seniors typically undergo during ROTC Advanced Camp, held each summer at Fort Knox in Kentucky. It's also one of 12 data points used to calculate a cadet's national ranking, which impacts their ability to secure preferred job assignments as active-duty Army, National Guard or Reserve members after they graduate.
Due to COVID-19, this year's Advanced Camp for App State senior cadets, as well as for cadets at several other state universities, was rescheduled to take place at Fort Bragg. However, App State's Department of Military Science and Leadership took further precautions to minimize students' exposure to others and help keep them safe during the global pandemic.
Lt. Col. Chris Kleman, chair of App State's Department of Military Science and Leadership, and his staff redesigned the exercises the cadets would experience at Fort Bragg and partnered with App State's Goodnight Family Department of Sustainable Development to use the department's Teaching and Research Farm in Ashe County as the OAL site. They also selected 20 junior cadets to participate in the training as soldiers who were led by the senior cadets.
"We've been able to recreate the same type of tasks we would have done at Fort Bragg," Kleman said. "With the different lanes of training, we're able to assess the seniors' leadership skills and their aptitudes and attributes. After the exercises, we talk with the cadets about their strengths and developmental needs and what we observed during the lanes. It's mentally and physically taxing, from start to finish."
"The mission doesn't stop," explained senior cadet Connor Hoy, an App State history major from Charlotte. "One of the guys in our platoon has a torn ACL. When we were going downhill, his knee gave out on him, but we still needed to complete the mission. I handed off my rifle to someone else and carried his rucksack so he could get to the base of the hill."
During the OAL mission, cadets were assigned different roles and responsibilities to assess their leadership skills. Hoy, a member of the North Carolina National Guard since 2015, was given one of the top posts.
"As the platoon sergeant, you're making sure everyone is OK and has the equipment, food and ammunition that they need," Hoy said. "I didn't get as stressed as I would have a year ago because we have run so many practice labs during class that it's almost muscle memory at this point."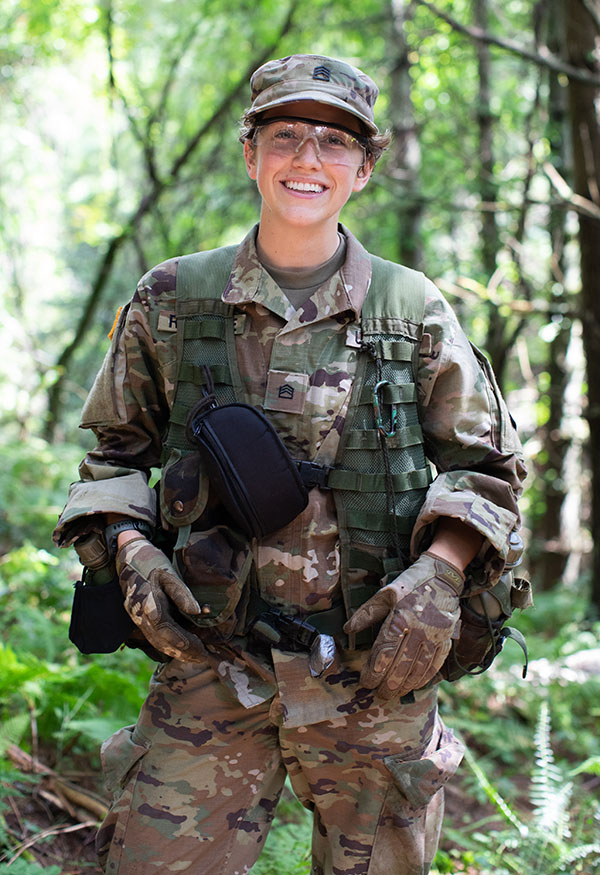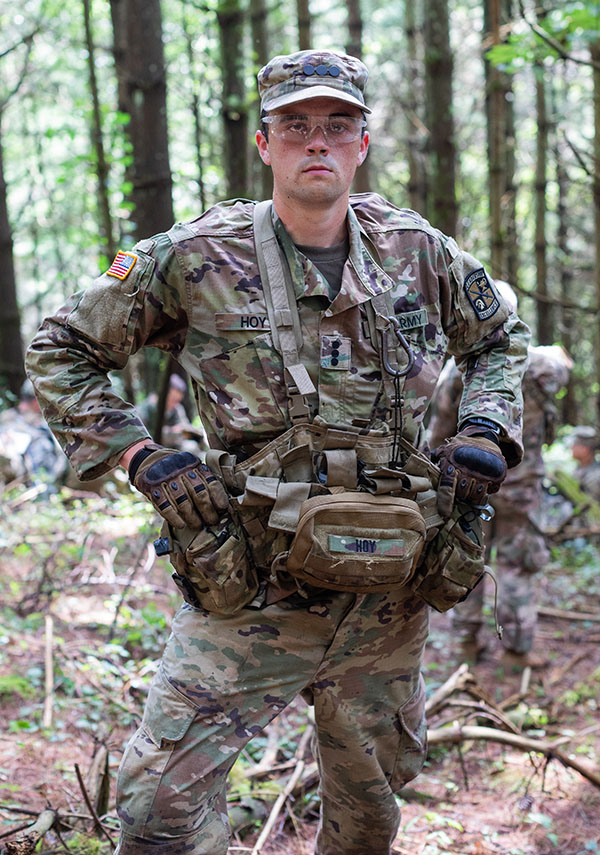 Genevieve Robertie, of Mooresville, a sustainable development major with a concentration in community, regional and global development and a minor in military science and leadership, was one of the 20 junior cadets selected to participate in the training exercise.
Robertie said she and the other junior cadets learned from the experience by listening to and following the seniors' instructions. "It was really helpful to be part of Operation Agile Leader so we could prepare for our training exercises coming up in a couple weeks," she said.
"This is a crucible event for our seniors," Kleman said. "This year in particular, we had to be agile and react to the changing requirements and developments related to the pandemic."
What do you think?
Share your feedback on this story.
About the Department of Military Science and Leadership
One of seven departments housed in the College of Fine and Applied Arts, Appalachian's Department of Military Science and Leadership is home to the Mountaineer Battalion. Established in 1969, the program provides students with training to develop self-discipline, physical stamina and poise, as well as the organizational and motivational skills that contribute to success in any career. Students who complete the ROTC program earn credits for a minor in military science and leadership and are commissioned as second lieutenants in the U.S. Army, Army Reserves or Army National Guard upon graduation. Learn more at https://rotc.appstate.edu.
About the College of Fine and Applied Arts
Appalachian State University's College of Fine and Applied Arts is a dynamic and innovative group of seven academic departments, bringing together a variety of perspectives, experiences and real-world education to provide unique opportunities for student success. The college has more than 3,000 undergraduate and graduate majors. Its departments are Applied Design, Art, Communication, Military Science and Leadership, Sustainable Development, Sustainable Technology and the Built Environment, and Theatre and Dance. Learn more at https://faa.appstate.edu.
About Appalachian State University
As the premier public undergraduate institution in the state of North Carolina, Appalachian State University prepares students to lead purposeful lives as global citizens who understand and engage their responsibilities in creating a sustainable future for all. The Appalachian Experience promotes a spirit of inclusion that brings people together in inspiring ways to acquire and create knowledge, to grow holistically, to act with passion and determination, and to embrace diversity and difference. Located in the Blue Ridge Mountains, Appalachian is one of 17 campuses in the University of North Carolina System. Appalachian enrolls more than 20,000 students, has a low student-to-faculty ratio and offers more than 150 undergraduate and graduate majors.