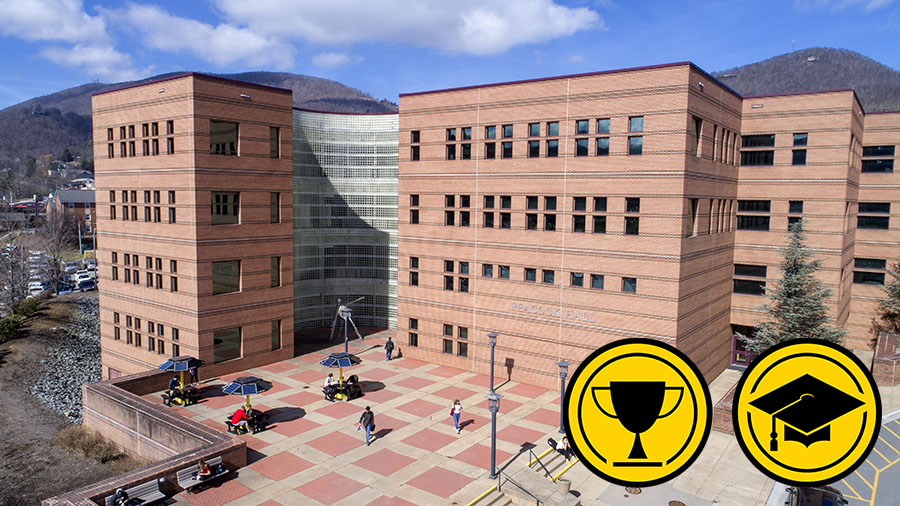 Posted Dec. 22, 2020 at 11:55 a.m.
BOONE, N.C. — "We recommend Appalachian State University as an excellent choice for an aspiring MBA," said Rob Franek, editor-in-chief of The Princeton Review.
The national publication has named App State's Walker College of Business (WCOB) in its "The Best Business Schools 2021" list, released Dec. 8, which recognizes a total of 244 national colleges and universities for having the best on-campus Master of Business Administration (MBA) degree programs. Schools included in the list are unranked.
"Our faculty are preparing App State students to make a positive impact in society, and the successes of our alumni are a testament to both our in-person and online programs," said Walker College Acting Dean Sandra Vannoy. "We are honored to be included again in The Princeton Review's list of 'Best Business Schools.'"
Additionally, the Walker College and its on-campus MBA program were recognized among the best in the Southeast for 2021, according to The Princeton Review list.
The publication noted App State's MBA program for having an international experience requirement, rigorous academics, and accessible and interesting professors.
In its online profile of App State, The Princeton Review highlighted the affordability of the university's MBA, as well as App State's three MBA options — an accelerated one-year full-time program, a part-time night program on its main campus in Boone, and a part-time program through App State Online. The ability of App State's MBA to cover all functional areas of business — including accounting, economics, finance, management, marketing, supply chain management, business analytics and statistics — was also noted in the profile.
According to The Princeton Review, schools were chosen for the 2021 list based on data from the publication's surveys of administrators at business schools during the 2019–20 academic year. The administrator survey, which included more than 200 questions, covered topics from academic offerings and admission requirements, to data about currently enrolled students as well as graduates' employment.
The list also factors in data from The Princeton Review's surveys of students attending the schools about their campus and classroom experiences. For the 2021 list, more than 17,800 students at 244 business schools across the nation completed an 80-question survey, which asked students about their school's academics, student body and campus life, as well as about themselves and their career plans. The student surveys were conducted during the past three academic years.
View The Princeton Review's 2021 list of best on-campus MBA schools.
What do you think?
Share your feedback on this story.
About the Walker College of Business
The Walker College of Business at Appalachian State University delivers transformational educational experiences that prepare and inspire students to be ethical, innovative and engaged business leaders who positively impact our community, both locally and globally. The college places emphasis on international experiences, sustainable business practices, entrepreneurial programs and real-world applications with industry. Enrolling approximately 3,000 undergraduates in 10 majors and more than 180 graduate students in three master's programs, Walker College has the highest enrollment of full-time undergraduate students in the University of North Carolina System. Walker College is accredited by AACSB International — the premier global accrediting body for business schools. Learn more at https://business.appstate.edu.
About Appalachian State University
As the premier public undergraduate institution in the Southeast, Appalachian State University prepares students to lead purposeful lives. App State is one of 17 campuses in the University of North Carolina System, with a national reputation for innovative teaching and opening access to a high-quality, affordable education for all. The university enrolls more than 21,000 students, has a low student-to-faculty ratio and offers more than 150 undergraduate and 80 graduate majors at its Boone and Hickory campuses and through App State Online. Learn more at https://www.appstate.edu.