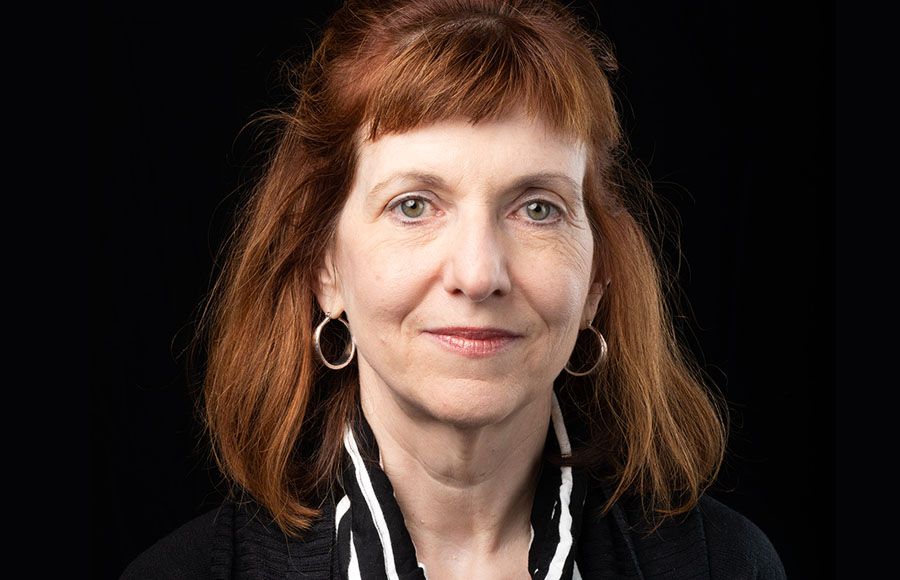 Posted Feb. 12, 2021 at 2:07 p.m.
BOONE, N.C. — Dr. Sandie Gravett, professor of religious studies in the Department of Philosophy and Religion at Appalachian State University, has received the 2020 Award for Academic Freedom and Faculty Governance from the university's chapter of the American Association of University Professors (AAUP). She was presented the award during App State's Spring 2021 Faculty and Staff Meeting, held virtually Friday, Feb. 5.
The award recognizes a member of the university community whose outstanding service has enriched the university by defending, supporting and working to advance academic freedom and faculty governance across the campus.
Gravett, a native of Greensboro, has been an advocate for faculty governance throughout her career. She has served as chair of the University of North Carolina System Faculty Assembly, a member of the UNC System Presidential Search Committee, a faculty grievance mediator at App State and a member of the university's Faculty Senate Budget Committee.
Most recently, Gravett is chair of the Ad Hoc Committee on Shared Governance, established in fall 2020 by the university's Faculty Senate. She is also a member of App State's Faculty Grievance Assistance Committee, working to advocate for the rights of faculty in grievance proceedings.
One of her award nominators wrote, "Dr. Gravett is incredibly knowledgeable about university and System policies and has used her knowledge and skills to protect and promote academic freedom and faculty governance on our campus and across the UNC System. … she's a go-to resource on university policies and procedures and on AAUP principles."
With App State colleague Dr. Stella Anderson, professor of management, Gravett set up the Faculty Employment Rights Project — a study of faculty experiences with the grievance processes across the UNC System. Gravett and Anderson gathered data to determine if adverse employment situations and hearing processes were meaningfully resolved. They then used this data to review and recommend revisions to App State's Faculty Handbook that would prioritize professional standards and the principles of faculty governance.
Gravett was awarded an Appalachian State University Research Grant to support her work for the Faculty Employment Rights Project.
She has also helped develop UNC System policy for military students, to foster student success and for UNC Online — a web portal designed to facilitate registration for online classes offered by each of the System's university campuses.
Gravett earned her bachelor's degree from UNC Greensboro and her Ph.D. from Duke University.
About AAUP
Founded in 1915, the American Association of University Professors (AAUP) is a national organization of American college and university professors that has chapters on over 450 campuses. AAUP has helped to shape American higher education by developing the standards and procedures that maintain quality in education and academic freedom in the nation's colleges and universities.
Additionally, AAUP defines fundamental professional values and standards for higher education, advances the rights of academics, particularly as those rights pertain to academic freedom and shared governance, and promotes the interests of higher education teaching and research. Prominent members have included John Dewey and Albert Einstein. Learn more.
What do you think?
Share your feedback on this story.
Excellence in teaching recognized
About the Department of Philosophy and Religion
The Department of Philosophy and Religion invites students to explore the world, examine beliefs, understand a diversity of worldviews, and challenge the ideas and values that instruct our lives. The department offers a Bachelor of Arts in philosophy and a Bachelor of Arts in religious studies, as well as a minor in both of these areas. Learn more at https://philrel.appstate.edu.
About the College of Arts and Sciences
The College of Arts and Sciences (CAS) at Appalachian State University is home to 17 academic departments, two centers and one residential college. These units span the humanities and the social, mathematical and natural sciences. CAS aims to develop a distinctive identity built upon our university's strengths, traditions and unique location. The college's values lie not only in service to the university and local community, but through inspiring, training, educating and sustaining the development of its students as global citizens. More than 6,400 student majors are enrolled in the college. As the college is also largely responsible for implementing App State's general education curriculum, it is heavily involved in the education of all students at the university, including those pursuing majors in other colleges. Learn more at https://cas.appstate.edu.
About Appalachian State University
As the premier public undergraduate institution in the Southeast, Appalachian State University prepares students to lead purposeful lives as global citizens who understand and engage their responsibilities in creating a sustainable future for all. The Appalachian Experience promotes a spirit of inclusion that brings people together in inspiring ways to acquire and create knowledge, to grow holistically, to act with passion and determination, and to embrace diversity and difference. Located in the Blue Ridge Mountains, Appalachian is one of 17 campuses in the University of North Carolina System. Appalachian enrolls nearly 21,000 students, has a low student-to-faculty ratio and offers more than 150 undergraduate and graduate majors.