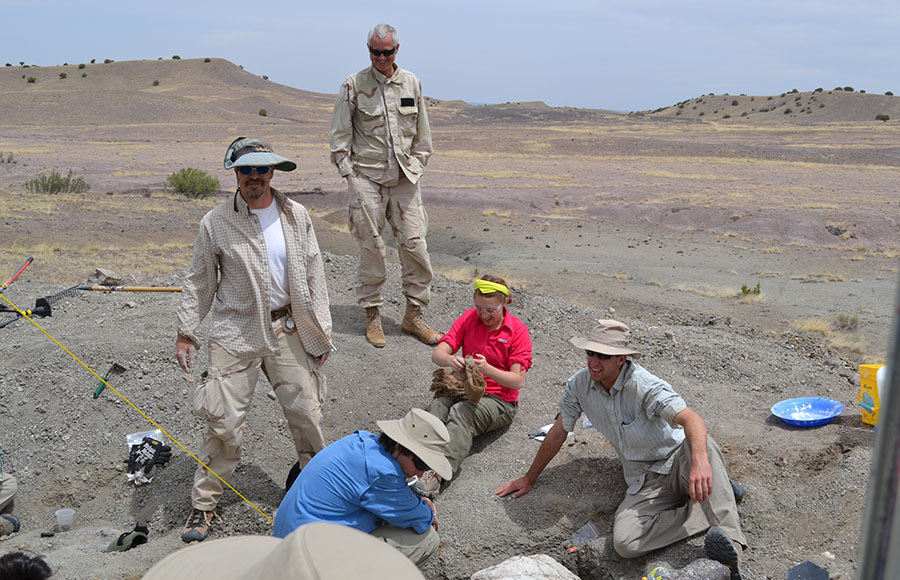 Posted March 4, 2021 at 12:15 p.m.
Dr. Andy Heckert has more than 25 years of experience as a practicing paleontologist, and he shares his passion for fossils with Appalachian State University students. A former collections manager at the New Mexico Museum of Natural History and Science, Heckert is director of App State's McKinney Geology Teaching Museum in the Department of Geological and Environmental Sciences (GES).
Among his adventures, he and his students identified a new genus and species of aetosaur from fossils found in Raleigh — of which a bronze sculpture now resides on campus — and his students have gone on to make significant contributions in research and education, as well.
Heckert teaches a course that takes students to the American Southwest and combines paleontological field and museum work, a popular class students affectionately call "The Triassic Trip," "Jurassic Journey" or "Cretaceous Cruise."
In his dedication to student success, he serves as a Faculty Transfer Mentor, helping students who have transferred to App State from another institution adjust to their new academic home.
What excites you about the field of geology?

All of it. What most excites me, however, is the ability to decipher the rock record of the planet — the ability to make a few observations and piece together a history of events that spans over millions, if not billions, of years. I particularly enjoy doing this with fossils, as then you are not just recreating an environment, but a whole ecosystem.

Why did you choose to come to Appalachian to teach?

I grew up in a university town and went to a liberal arts, undergraduate-only institution. To me, teaching undergraduates is the primary mission of a university, and I wanted to go somewhere where teaching and making an impact on undergraduates' lives was valued.

In my interview I made it clear that I could involve undergraduates in my research team, and that they would make their first scientific presentations, and perhaps even co-author papers, based on their work with me. Through their hard work, we have kept that promise, and we now operate a highly successful research lab.

What is your research specialty and how does it fit into and/or strengthen your teaching?

My particular interest is in vertebrate paleontology, particularly microvertebrates (animals with small bones and teeth, less than a centimeter long), especially those from the Late Triassic (approximately 230 million years old), although I will work with species from the Jurassic and Cretaceous and on larger animals, as well.

The beauty of my research is that, unlike many vertebrate paleontologists, I do not need a huge amount of lab space and trained technicians to make an impact on the fossil record. Through my Finding Fossils on Fridays (FFF) program, interested undergraduates come in and help sift through sediment, looking at grains of sand under the microscope to pick out the tiny fossils that tell us the history of smaller vertebrates on the planet.

As a practicing paleontologist, with more than 25 years of experience, I love that I can teach courses in the field, often providing students with their first real opportunity to conduct science, to interpret the fossil record, through immersion in the fossil record of the American Southwest.

What do you hope students take away from the classes you teach?

At the simplest level, all of my students should leave my classes with an improved understanding that the Earth is very, very, very, very, very, very, very, very, very old, and that earth systems involve enormous amounts of energy expended over that period of time, so the entirety of our human experience is just the merest glimpse of an amazing planetary history. Fortunately, through interpreting the geologic record, particularly the fossil record, we can resurrect some of that history, and reveal the story of the planet.

How are your former students using their degree?

Appalachian GES alumni are well represented in an array of fields. I am proud that many of the students who did research with me have gone on to earn master's degrees and Ph.D.s, but also proud that others have gone on to begin productive careers in industry and education. One of the more flattering things is that several alumni of my "Triassic trip" field and museum methods course have gotten together to put together a scholarship to help future students take the course.

One good thing that came out of the pandemic is that, when my research group meeting had to switch to virtual platforms, I realized that I could bring in alumni across the continent, and thus my alumni are helping mentor my current students.

Why should a student interested in geology choose App State? Are there particular aspects that make it special?

There are so many reasons for a future geologist or environmental scientist to come to Appalachian. Our location is one obvious one — we are perched on a breathtaking natural geologic laboratory and have constructed a "rock garden" to augment our traditional laboratories. We have to be one of the largest departments in the country, but that's in terms of both faculty and students, so we still provide lots of individualized attention to our majors.

All of the faculty are excellent teachers and actively engage students in their research projects. In non-pandemic times, we offer trips across the country and even overseas, where students can explore the field firsthand.

Those in our extended network of alumni are excited — several have, or are pursuing, Ph.D.s and would all love to come back here to teach. I can think of no better testimony than that they emerge from here and want to come back to pay it forward.
What do you think?
Share your feedback on this story.
About the Department of Geological and Environmental Sciences
Located in Western North Carolina, Appalachian State University provides the perfect setting to study geological and environmental sciences. The Department of Geological and Environmental Sciences provides students with a solid foundation on which to prepare for graduate school or build successful careers as scientists, consultants and secondary education teachers. The department offers six degree options in geology and two degree options in environmental science. Learn more at https://earth.appstate.edu.
About the College of Arts and Sciences
The College of Arts and Sciences (CAS) at Appalachian State University is home to 17 academic departments, two centers and one residential college. These units span the humanities and the social, mathematical and natural sciences. CAS aims to develop a distinctive identity built upon our university's strengths, traditions and unique location. The college's values lie not only in service to the university and local community, but through inspiring, training, educating and sustaining the development of its students as global citizens. More than 6,400 student majors are enrolled in the college. As the college is also largely responsible for implementing App State's general education curriculum, it is heavily involved in the education of all students at the university, including those pursuing majors in other colleges. Learn more at https://cas.appstate.edu.
About Appalachian State University
As the premier public undergraduate institution in the Southeast, Appalachian State University prepares students to lead purposeful lives. App State is one of 17 campuses in the University of North Carolina System, with a national reputation for innovative teaching and opening access to a high-quality, affordable education for all. The university enrolls more than 21,000 students, has a low student-to-faculty ratio and offers more than 150 undergraduate and 80 graduate majors at its Boone and Hickory campuses and through App State Online. Learn more at https://www.appstate.edu.