Posted March 5, 2021 at 4:21 p.m.
BOONE, N.C. — On a path with a few stumbling stones along the way, Wendy Wilt — a 10-year staff member at Appalachian State University — persisted to earn her high school diploma at the age of 39 and, after two years at a community college, is now a junior majoring in public health in App State's Beaver College of Health Science (BCHS).
Wilt said her stepmother pulled her out of school when she was in the seventh grade, planning to home-school her. Ultimately the responsibilities of paying for the home-school program and managing coursework fell on Wilt — and she dropped out to work full time when she was a teenager.
In her 20s, Wilt reenrolled in home-school programs several times, but, as a single mother of two, she struggled with the time and financial commitment required to complete her coursework.
"Over many years, I chipped away at the assignments but always seemed to get derailed. Sometimes weeks turned to months without me touching the schoolwork," shared Wilt, who often worked up to three jobs at a time to support her family.
When she began working in the call center in App State's Office of Student Financial Aid in 2011, Wilt said her outlook changed, thanks to the influence of her supervisor, Jennifer Perry '17.
"Jennifer saw something in me that I didn't see in myself. She encouraged me to complete my coursework and reminded me of what the bigger goal was," Wilt said.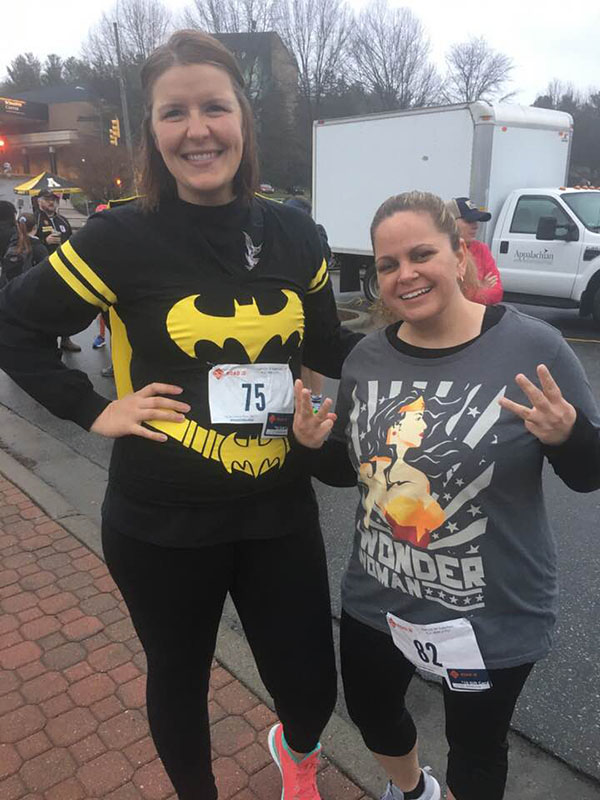 Perry — who has since earned her Master of Arts in higher education from App State and is now an assistant director for the Career Development Center and a career coach for BCHS — said she recognized in Wilt the passion and drive to get ahead.
"Wendy is a natural leader and motivator who easily stepped in to help train the other call center representatives. She advocated for all of the students she helped and was a force to be reckoned with in the best way possible," Perry said.
Perry's advice for Wilt: "In five years you can still be working here and wishing you could make a change — or you can start working toward your degree and in five years you'll have earned your degree or will be well on your way."
In spring 2016, Wilt completed her high school classes online. She accepted her diploma, as her father and her teenage children looked on, and then immediately enrolled at Caldwell Community College and Technical Institute. There, she earned an associate degree and later transferred to App State in 2019.
Adult learner and advocate
Wilt, who lives in Lenoir, works full time as an alumni records manager in Advancement Services while attending App State as a part-time student.
At App State, Wilt said she has benefited from Online and Transfer Services initiatives introducing her and other nontraditional students to helpful resources — such as the University Writing Center, services at Belk Library and Information Commons and activities on campus targeting various age groups.
She is a member of an adult learner advisory group led by Eric Fotheringham, director of community college partnerships and adult learner initiatives for the University of North Carolina System. This group is tasked with finding ways around the barriers that nontraditional students may encounter.
"Being part of the advisory group has helped me to know I am not alone in feeling like an outsider because I am an older student," Wilt said. "I am happy to contribute to initiatives instrumental in helping other nontraditional students across the UNC System fit in more easily."
Wilt is no stranger to the role of advocate. Her son, age 20, was diagnosed on the autism spectrum at a young age. Navigating through treatment options in three different states during their lives opened her eyes to inequities in resources and approaches, Wilt said.
"When I learned about the public health major, focusing on the preventative approach to social and mental health issues, I thought that would be a good fit for me," Wilt said. "I have always had a desire to help others and to help them feel better about themselves. I want to serve in a role that comes natural to who I am."
What do you think?
Share your feedback on this story.
About the Department of Health and Exercise Science
The Department of Health and Exercise Science in Appalachian State University's Beaver College of Health Sciences delivers student-centered education that is accentuated by quality teaching, scholarly activity and service. The department includes two undergraduate academic disciplines: exercise science and public health. The department also offers two master's degrees: athletic training, which leads to professional licensure, and exercise science, which prepares students for advanced study in a variety of related fields as well as research. Learn more at https://hes.appstate.edu.
About the Beaver College of Health Sciences
Appalachian's Beaver College of Health Sciences opened in 2010 as the result of a strategic university commitment to significantly enhance the health and quality of life for individuals, families and communities in North Carolina and beyond. In 2015, the college was named for an Appalachian alumnus and pioneer in the health care industry — Donald C. Beaver '62 '64 of Conover. The college offers nine undergraduate degree programs and seven graduate degree programs, which are organized into six departments: Communication Sciences and Disorders; Health and Exercise Science; Nursing; Nutrition and Health Care Management; Recreation Management and Physical Education; and Social Work. Learn more at https://healthsciences.appstate.edu.
About Transfer Admissions and Engagement
Transfer Admissions and Engagement at Appalachian State University supports students through all stages of their transfer journey, including admission counseling and pretransfer advising, credit evaluation, transitional assistance as they begin at App State and through involvement and retention efforts during their App State education. The office serves undergraduate transfer students studying on the main campus in Boone as well as App State Online students who complete their classes fully online or at an off-site location. The services and resources provided by Transfer Admissions and Engagement ensure the university's transfer student population finds academic and social success at App State. Learn more at https://transfer.appstate.edu.
About Appalachian State University
As the premier public undergraduate institution in the state of North Carolina, Appalachian State University prepares students to lead purposeful lives as global citizens who understand and engage their responsibilities in creating a sustainable future for all. The Appalachian Experience promotes a spirit of inclusion that brings people together in inspiring ways to acquire and create knowledge, to grow holistically, to act with passion and determination, and to embrace diversity and difference. Located in the Blue Ridge Mountains, Appalachian is one of 17 campuses in the University of North Carolina System. Appalachian enrolls more than 20,000 students, has a low student-to-faculty ratio and offers more than 150 undergraduate and graduate majors.