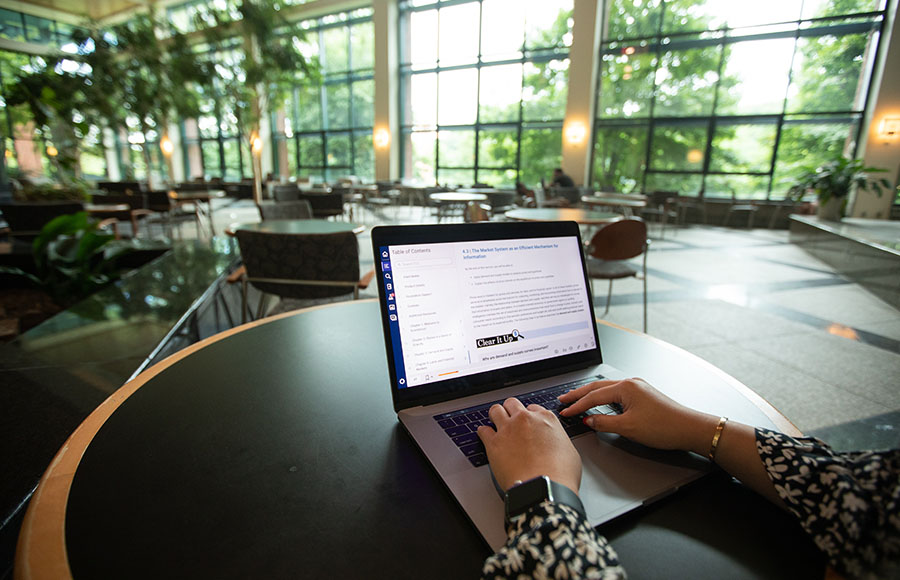 Obtain textbooks and course materials
Posted Aug. 13, 2021 at 11:42 a.m.
BOONE, N.C. — The textbook rental program at Appalachian State University has gone digital, offering students significant savings and value. App State students can now read and download textbooks and class materials on their tablets and phones, improving the accessibility and volume of material available via the university's popular textbook rental program, which has been in place since 1938.
"We seek every opportunity to improve the teaching and learning experience," said App State Chancellor Sheri Everts. "Our textbook rental program is one of the oldest in the country and has helped improve access to course materials for more than 80 years. With this improvement, our rental program has become state of the art, providing even more value for our students and aligning with our goal of providing equal access for all to the premier public undergraduate institution in the Southeast."
Through the program — only the second of its kind in the nation — students will pay a flat rate of $250 each semester that covers required textbooks and learning materials. Before, the program covered one physical book per course and cost $156 per semester.
Across the University of North Carolina System, the average cost of books and supplies for full-time undergraduate students was $1,113 in the 2019–20 academic year, according to the System's estimated cost of attendance figures.
Approximately 70%–80% of course materials are available in digital form; titles that are not will be available in hard copy. Students who wish to have a printed copy of a textbook have a few options available.
John Eckman, associate vice chancellor for campus services, explained that in the past, some students who had to buy extra books and course materials would choose to delay buying or not order at all. "Without the materials, students fell behind," Eckman said, adding that e-books give students equitable access to most course materials.
More than 6,800 students participated in the program during App State's 2021 Summer Sessions. Only 2% opted out.
Sustainable, flexible access
Benefits of the digital program include:
Students arrive on the first day of class with access to course materials already in place.
Students can access content anywhere, anytime — including offline.
Digital books are ADA compliant and accommodate screen readers or font enlargement.
Digital books lighten a student's load.
Digital books are sustainable, requiring no physical delivery, packing materials or labor, nor do they contribute to landfill waste.
The rental program is optional each semester for each student. Students who have internships or limited need for materials during a term may choose to opt out. Others might want to buy and keep their materials for future reference.
What do you think?
Share your feedback on this story.
Obtain textbooks and course materials
About Appalachian State University
As the premier public undergraduate institution in the Southeast, Appalachian State University prepares students to lead purposeful lives as global citizens who understand and engage their responsibilities in creating a sustainable future for all. The Appalachian Experience promotes a spirit of inclusion that brings people together in inspiring ways to acquire and create knowledge, to grow holistically, to act with passion and determination, and to embrace diversity and difference. Located in the Blue Ridge Mountains, Appalachian is one of 17 campuses in the University of North Carolina System. Appalachian enrolls nearly 21,000 students, has a low student-to-faculty ratio and offers more than 150 undergraduate and graduate majors.