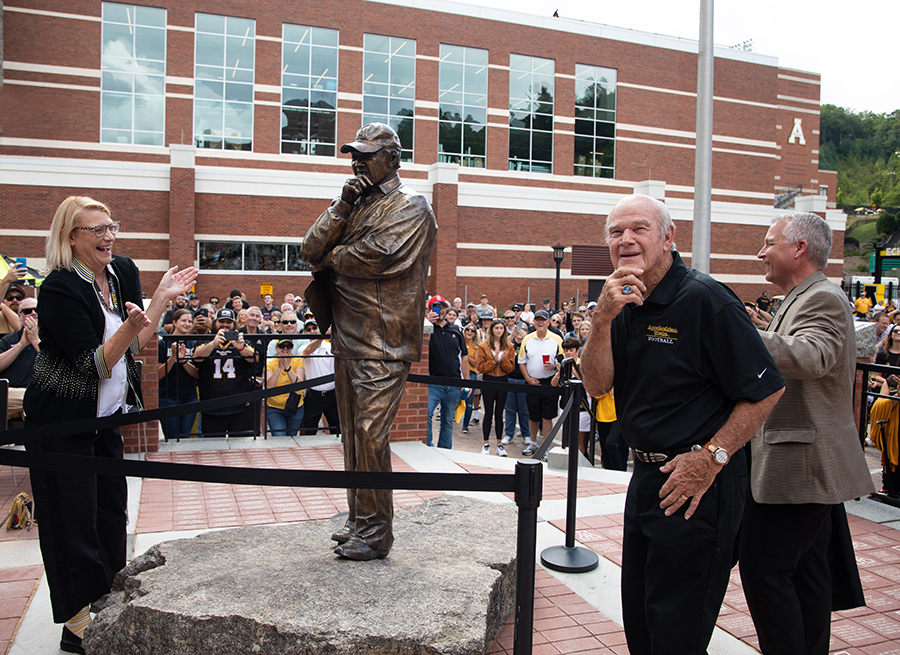 Posted Sep. 20, 2021 at 12 p.m.
BOONE, N.C. — Excitement was electric in the air on Saturday, Sept. 18, as the Jerry Moore Plaza was dedicated and its eponymous statue unveiled in the shadow of Appalachian State University's Kidd Brewer Stadium.
The event took place just a couple of hours before kickoff of the Mountaineers' home opener football game — a fitting time to honor the coach who impacted scores of young student-athletes, including the Mountaineers' current head football coach, Shawn Clark, who played for Moore in the late 1990s.
App State Chancellor Sheri Everts lauded Moore's legacy both on and off the field — from being named to the National Football Foundation and College Football Hall of Fame and earning multiple Coach of the Year honors, to receiving the prestigious North Carolina Order of the Long Leaf Pine award.
Of Moore, Everts said, "He leads and inspires. He is tough yet fair, and, above all, he helps lift up those around him as they pursue their dreams."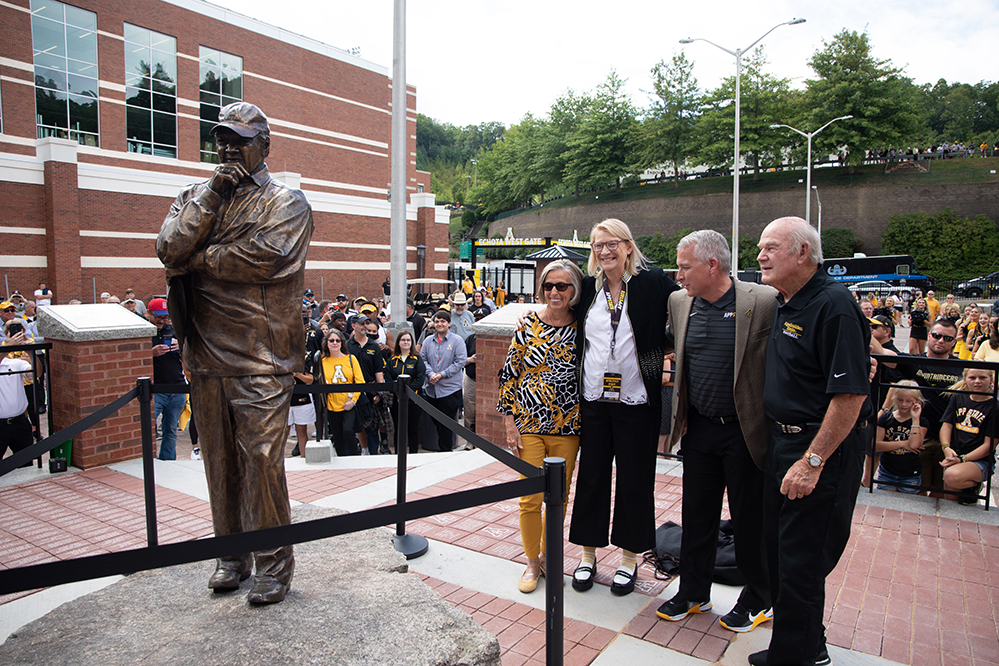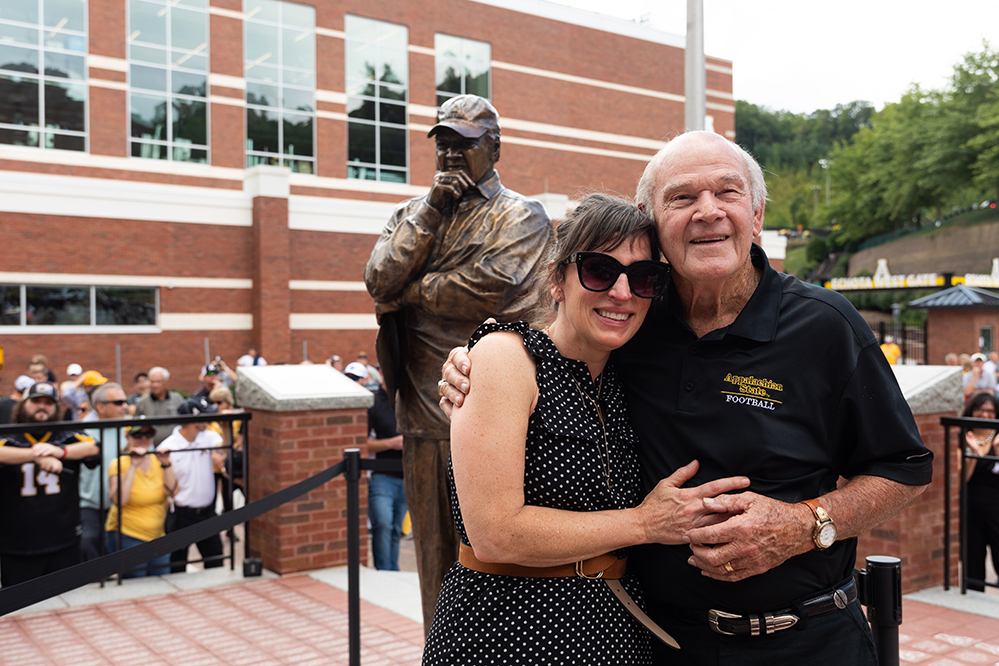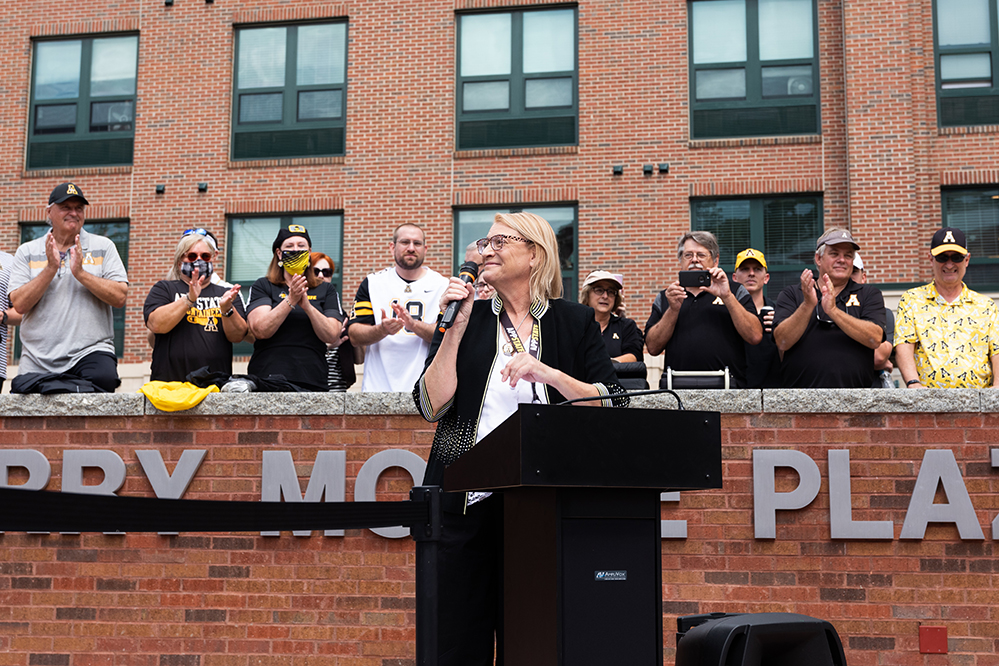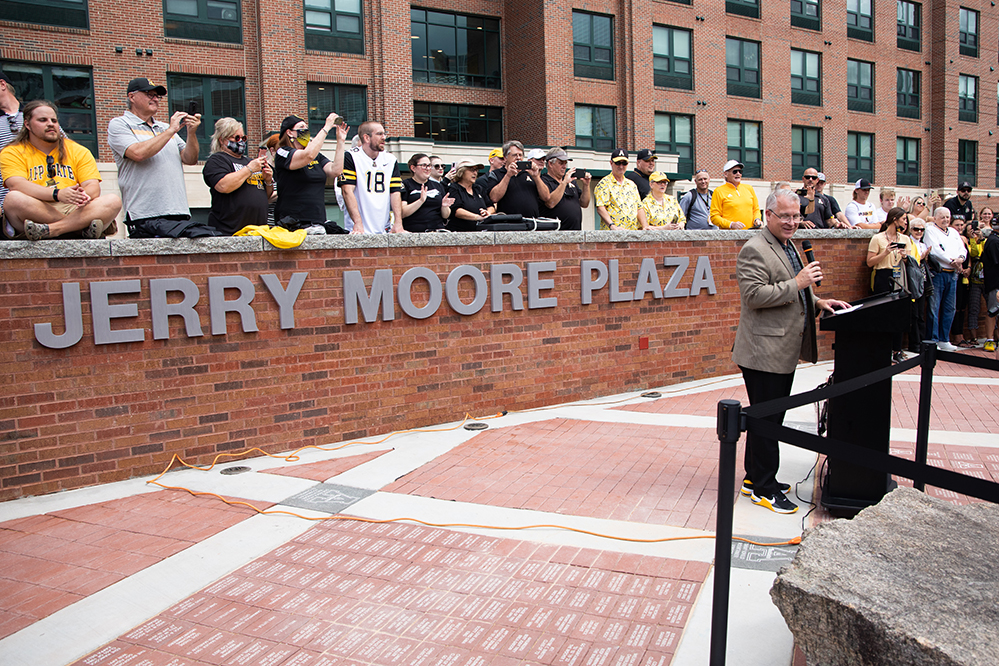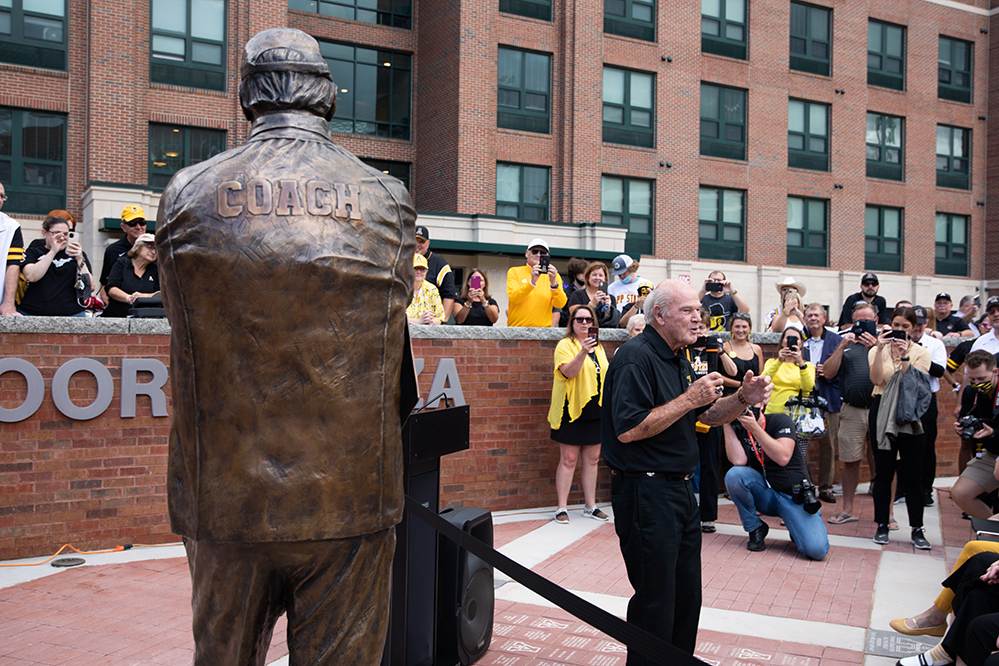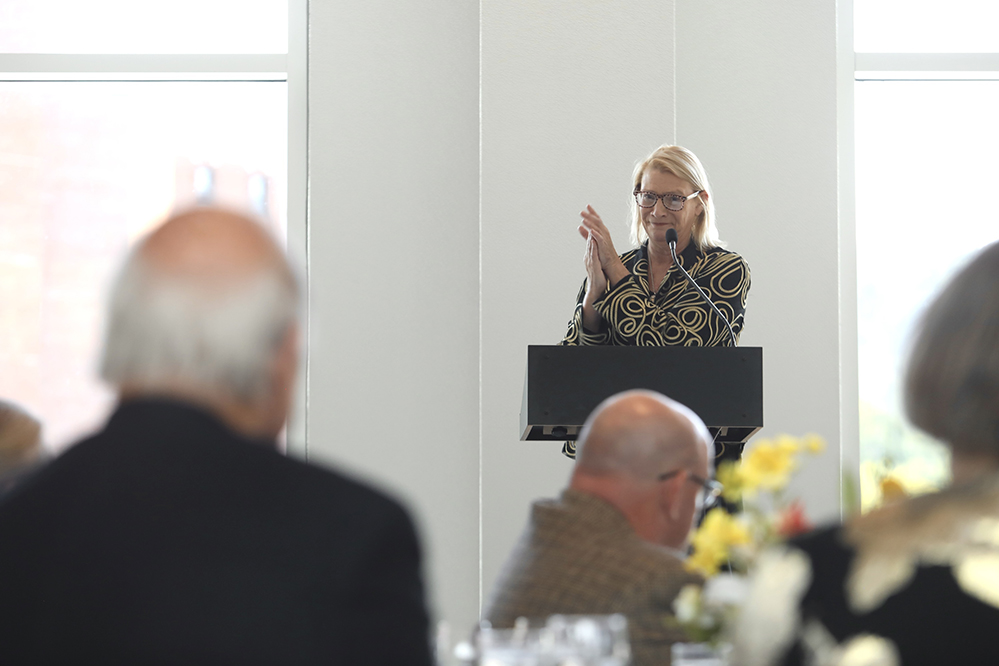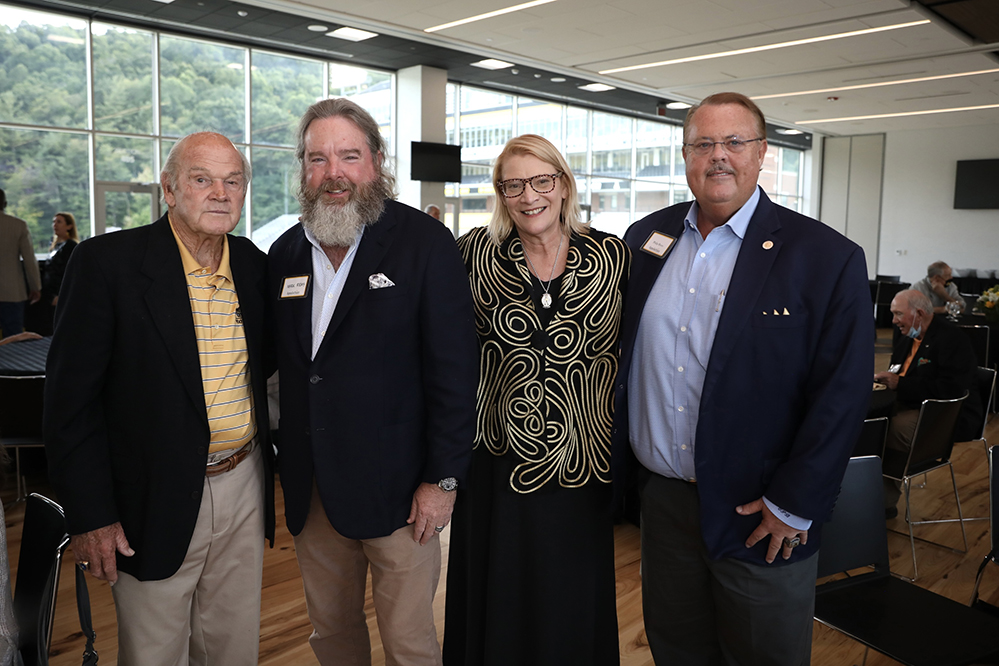 Moore served as App State's head football coach from 1989 to 2012, leading the Mountaineers to three consecutive national championships and 23 winning seasons in 24 years.
App State Director of Athletics Doug Gillin said, "Because Coach Moore, those who took the field with him and many others who paved the way, the future of App State Athletics continues to be bright. The impact he had on countless student-athletes, fans, alums and friends of Appalachian State University is immeasurable."
The bronze statue of Moore, which depicts him in a contemplative pose with a clipboard — a common sight on the sidelines during his time as a coach, was crafted by local artist Suzie Hallier. Hallier is also the creator of the Lillie Shull Dougherty statue located in Founders Plaza on App State's campus.
Coach Jerry Moore received the 2010 Appalachian Medallion
Coach Jerry Moore received the 2010 Appalachian State University's Appalachian Medallion. The award recognizes an individual's long and sustained commitment and significant service to Appalachian.
Transcript
Narrator: The Appalachian Medallion is the highest honor conferred by Appalachian State University. Established in 1992, the Appalachian Medallion is selectively awarded to an individual who has earned both the respect and admiration of the University community. Recipients must demonstrate high moral character, a long and sustained commitment, and significant service to Appalachian. Past recipients of the Appalachian Medallion are Sadie Hunt Broyhill, Lois Reich, Mariam Cannon Hayes, Seby Jones and William C. Friday.
Tonight, we recognize Jerry Moore as the next recipient of the Appalachian Medallion.
Now in the 49th year of his career, Coach Moore is the winningest coach in Southern Conference history and is regarded as one of the nation's finest. He speaks the language of winning and integrity to his players and community alike. He inspires championship behavior both on and off the field. Profound devotion to his players, the community and the Appalachian family have cemented Coach Moore's place in the history of Appalachian State University and his contributions will be remembered for generations to come.
Engraved on the back of Coach Moore's Appalachian Medallion are the words "Appalachian State University on April 24, 2010, awards this medallion to Jerry Moore, who through generous service to this institution exemplifies the dedication and commitment so identified with the rich heritage of the University."
Coach Jerry Moore—every day he gives his all to Appalachian State University.
What do you think?
Share your feedback on this story.
About Mountaineer Athletics
More than 400 student-athletes compete in 17 NCAA Division I varsity sports at Appalachian State University. App State's nationally ranked football team has enjoyed unprecedented success at the highest level of Division I (Football Bowl Subdivision), with six bowl wins in its first six years at the FBS level and four Sun Belt Conference championships. The Mountaineers were a dominant force in the Southern Conference for more than 40 years before moving up to the Sun Belt Conference in 2014. App State student-athletes in all sports pursue daily comprehensive excellence in academics, competition and community involvement. All varsity teams compete in the Sun Belt Conference, except for field hockey (MAC) and wrestling (SoCon). Learn more at https://appstatesports.com.
About Appalachian State University
As the premier public undergraduate institution in the Southeast, Appalachian State University prepares students to lead purposeful lives as global citizens who understand and engage their responsibilities in creating a sustainable future for all. The Appalachian Experience promotes a spirit of inclusion that brings people together in inspiring ways to acquire and create knowledge, to grow holistically, to act with passion and determination, and to embrace diversity and difference. Located in the Blue Ridge Mountains, Appalachian is one of 17 campuses in the University of North Carolina System. Appalachian enrolls nearly 21,000 students, has a low student-to-faculty ratio and offers more than 150 undergraduate and graduate majors.