Posted Dec. 10, 2021 at 9:50 a.m.
BOONE, N.C. — Millions of years and thousands of miles stand between Appalachian State University paleontologist Dr. Andy Heckert and new insights into the evolutionary path of Earth's animals.
Heckert, a professor in the Department of Geological and Environmental Sciences (GES), has been awarded a 2021–22 Fulbright through the Fulbright U.S. Scholar Program to study and compare two fossil collections from the Triassic period — one in South Africa and one in Poland.
Through his research, Heckert aims to help his paleontologist peers and other scientists unlock answers to questions about the great evolutionary upheaval that occurred during the Triassic (approximately 252–201 million years ago) — a time during which Earth's dominating species transitioned from synapsids, or mammal-like reptiles, to archosaurs, a large reptilian group that included the dinosaurs.
Examining fossils across hemispheres
Phase 1 — assessing South Africa's Driefontein fossils
From August to October, Heckert worked alongside geologist Dr. John Hancox at the Evolutionary Studies Institute (ESI) in Johannesburg, South Africa, to visually examine and classify ESI's Driefontein collection of microvertebrate fossils — the remains of tiny prehistoric animals.
This fossil assemblage, discovered by Hancox, is extremely rich and diverse, Heckert reported, with thousands of fossils representing many different types of vertebrates, including fish, amphibians and tetrapods, or four-footed animals.
"Some of these fossils are of known animals, but they have never been reported from South Africa before. Others may be new to science but are mysterious and will require further comparisons to accurately diagnose as new animal groups," Heckert said.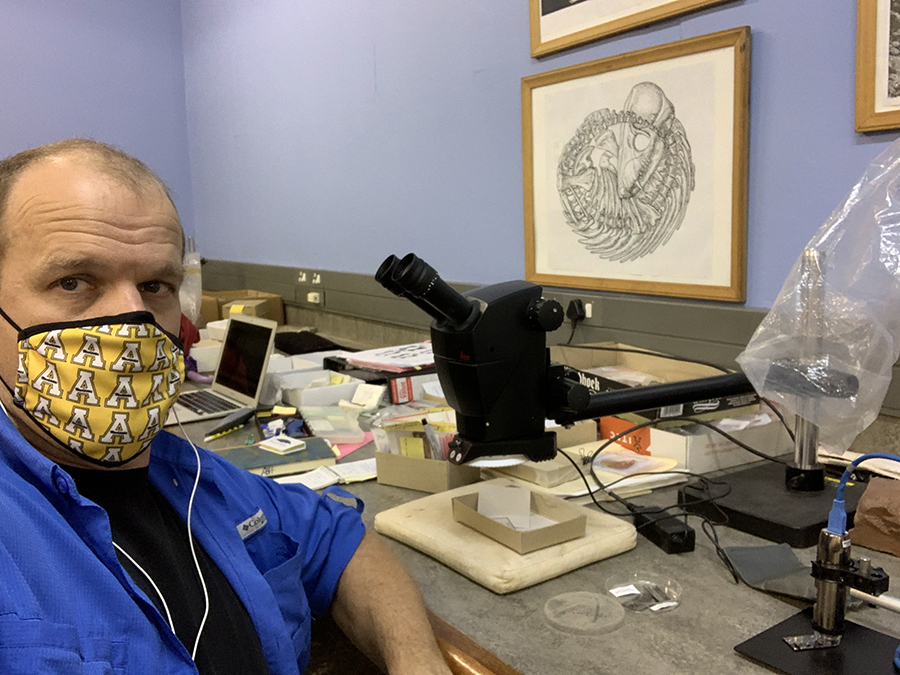 Phase 2 — comparing fossil collections
Currently Heckert is in Warsaw, Poland, where since November he has worked to compare South Africa's Driefontein fossils to the Czatkowice microvertebrate fossil collection of similar age, which is housed at the Institute for Paleobiology in the Polish Academy of Sciences.
Because fossils are often fragile — and irreplaceable — it is usually impractical to ship them, Heckert said, adding, "Museum visits are the single most important tool for a specimen-based researcher such as myself to acquire knowledge of a microvertebrate assemblage, and there is no substitute for interacting not just with the fossils but with diverse research teams from different places."
If the two fossil sets show similar animals, then the evolutionary origins of the animals lie in the early Triassic period, Heckert explained, but if the specimens are distinct, this is evidence of a disruption in the evolutionary timeline of the animals across the ancient supercontinent known as Pangea.
Phase 3 — sharing new insights
Heckert will return to App State for the spring 2022 semester before returning to South Africa for a one-month follow-up visit. There, he will integrate his knowledge of the Polish microvertebrates with the Driefontein collection.
Heckert plans to share his findings with the broader scientific community through peer-reviewed articles co-authored with Hancox, with his students through related class materials and with local and regional K–12 students who take part in the GES department's outreach activities. He has also delivered presentations on his research at App State to scientists in both South Africa and Poland.
He plans to involve some of his undergraduate students in his Fulbright research once he returns to App State in spring 2022.
Devin K. Hoffman '17, who earned a Bachelor of Science in geology from App State, is also analyzing part of the South African fossil assemblage, with Heckert now assisting his former student. Hoffman is pursuing his doctorate in the Department of Geosciences at Virginia Polytechnic Institute and State University.
In addition to his GES department appointment, Heckert oversees the department's McKinney Geology Teaching Museum, and he has taught courses in the Honors College and served as a reader on students' honors theses.
What do you think?
Share your feedback on this story.
A Triassic treasure trove of evolutionary clues
Q&A with Dr. Andy Heckert
March 4, 2021
About the Department of Geological and Environmental Sciences
Located in Western North Carolina, Appalachian State University provides the perfect setting to study geological and environmental sciences. The Department of Geological and Environmental Sciences provides students with a solid foundation on which to prepare for graduate school or build successful careers as scientists, consultants and secondary education teachers. The department offers six degree options in geology and two degree options in environmental science. Learn more at https://earth.appstate.edu.
About the College of Arts and Sciences
The College of Arts and Sciences (CAS) at Appalachian State University is home to 17 academic departments, two centers and one residential college. These units span the humanities and the social, mathematical and natural sciences. CAS aims to develop a distinctive identity built upon our university's strengths, traditions and unique location. The college's values lie not only in service to the university and local community, but through inspiring, training, educating and sustaining the development of its students as global citizens. More than 6,400 student majors are enrolled in the college. As the college is also largely responsible for implementing App State's general education curriculum, it is heavily involved in the education of all students at the university, including those pursuing majors in other colleges. Learn more at https://cas.appstate.edu.
About Appalachian State University
As the premier public undergraduate institution in the Southeast, Appalachian State University prepares students to lead purposeful lives. App State is one of 17 campuses in the University of North Carolina System, with a national reputation for innovative teaching and opening access to a high-quality, affordable education for all. The university enrolls more than 21,000 students, has a low student-to-faculty ratio and offers more than 150 undergraduate and 80 graduate majors at its Boone and Hickory campuses and through App State Online. Learn more at https://www.appstate.edu.