Posted Dec. 13, 2021 at 2:08 p.m.
BOONE, N.C. — Mountaineer graduates waved to their families and friends, pumped fists into the air and even shed a few happy tears at Appalachian State University's Fall 2021 Commencement ceremonies on Dec. 10.
At three ceremonies held at the Holmes Convocation Center, the university conferred degrees to 1,642 graduates, including 1,286 undergraduate and 356 graduate students. Recordings of the ceremonies are available on App State's commencement website.
Chancellor Sheri Everts presided over the ceremonies, and Provost and Executive Vice Chancellor Heather Hulburt Norris presented the candidates for graduation. University of North Carolina System Board of Governors member John Fraley and App State Board of Trustees member John Blackburn also shared remarks.
"Each of you came to this moment on a distinct path," Everts said to the graduates. "All of you have earned this day, this celebration."
"As App State students, you have learned new ways to innovate and persevere," she added. "As graduates of App State, you will be uniquely positioned to adapt, to lead and to serve in a world that has been fundamentally changed. You will make real and powerful differences in your communities and beyond."
"You will always be a part of App State," Everts concluded, "as you are our most enduring legacy."
Everts also recognized App State faculty, staff and the family and friends of graduates for their roles in helping Mountaineer students reach this achievement.
Fraley brought greetings from the UNC Board of Governors and the UNC System Office.
"You are now ambassadors of this institution and mentors to those coming behind you," Fraley told the graduates. "These new responsibilities and myriad opportunities are beckoning you."
Representing App State's Board of Trustees, Blackburn offered congratulations and best wishes to the Class of 2021.
"To the members of this graduating class, we are equally proud of you and of your accomplishments, which we recognize here today," Blackburn said. "As you begin a new phase in your lives, we are confident that you are prepared for the future, no matter what it holds for you."
In her introductions, Norris thanked the ceremonies' macebearers and banner bearers as well as the Appalachian Brass Ensemble. She also recognized Mountaineer alumni, student veterans and military-affiliated students who were in attendance.
"We are so glad to be able to celebrate your hard work, perseverance and success," Norris told the Class of 2021.
App State's commencement ceremonies concluded with a special performance of the university's alma mater, prerecorded by country music star and Country Music Association Entertainer of the Year Luke Combs, a former App State student.
During the ceremonies, graduates walked across the commencement stage, had their names announced — along with the Latin and/or departmental honors they received, and were professionally photographed receiving their diploma covers. The ceremonies included graduates from each of the university's academic colleges and graduate school:
Honorary degrees
At the Fall 2021 Commencement ceremonies, Everts awarded honorary App State degrees to Glenn W. Wilcox Sr. and Sarah Alice Evans Heustess in recognition of their significant contributions to the university.
Wilcox moved to Boone as a small child so his father could manage the local train station and, later, a bus station. Wilcox followed in his father's footsteps, and his early business experiences included delivering freight, sending Western Union telegrams, opening a roller-skating rink and driving charter motorcoaches.
In 1953, he founded Wilcox Travel Agency, specializing in airline travel and tours. His company, which is now based in Asheville, became a success, and the historic stone façade of the Boone business is preserved as the Glenn W. Wilcox Senior Plaza, adjacent to App State's Beasley Media Complex, located at the corner of Depot and Rivers streets. Wilcox remains active with his three businesses in printing, real estate and travel.
"A steadfast supporter of App State, Glenn's love of this university spans decades," said Everts, who introduced Wilcox. "He is a past chairman and former member of the university's Board of Trustees, and, most impressively, he has known every president and chancellor of App State — from B.B. Dougherty to me.
"Glenn has said it is his 'lifetime goal' to receive a college degree, and we are so very proud to honor him with an honorary bachelor's degree from App State. We extend our sincere gratitude for his unwavering support," she said.
Wilcox, who was married to his late wife Pauline for 66 years, has five children, 10 grandchildren and 15 great-grandchildren, and more than two dozen of his family members were in attendance at the ceremony.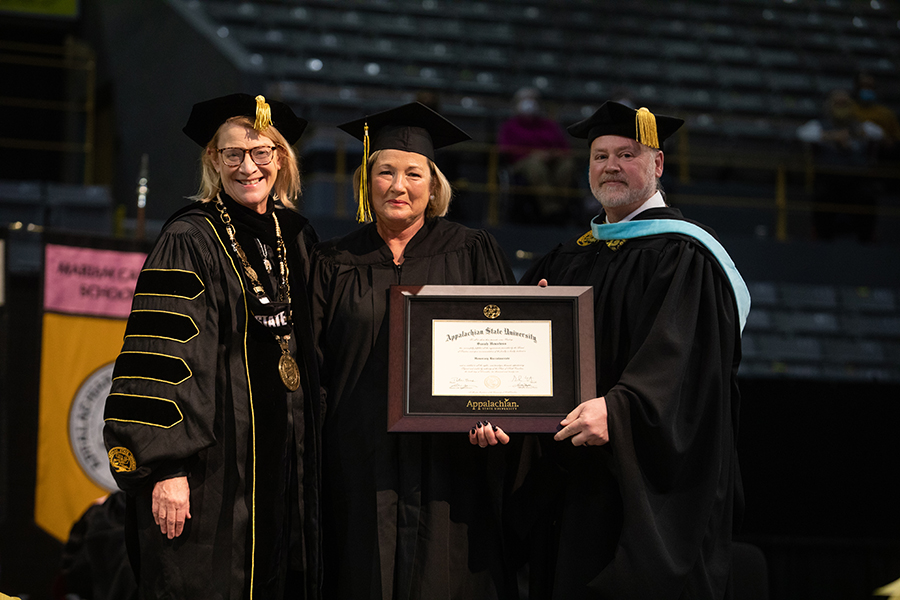 Heustess retired in August 2020 after devoting three decades to App State, serving as director of sales and patron relations. She was the front-of-house manager of the Schaefer Center for the Performing Arts, the university's nearly 1,700-seat venue that hosts more than 150 campus and community events annually.
In 2011, her role was expanded to include oversight of the Valborg Theatre Box Office, where she worked with staff and faculty from the Department of Theatre and Dance to plan and execute ticket sales for all departmental productions. She also lent her expertise to Hayes School of Music productions.
Hank Foreman, vice chancellor for external affairs and strategic initiatives and chief of staff at App State, introduced Heustess.
"While Sarah Alice's main duties were to oversee box office operations, supervise student employees and ensure the satisfaction of patrons of the performing arts, the influence of her work went far beyond her assigned responsibilities," Foreman said. "Without doubt, Sarah Alice has helped shape a bright future for the performing arts at App State."
"Sarah Alice easily cultivated meaningful relationships with patrons and staff, creating a warm, welcoming environment everywhere she went," Foreman added. "She provided thoughtful mentorship to many of her co-workers and countless student employees, many of whom keep in touch with her to this day, and who also attribute their successful careers to her candid and caring guidance and support.
"We are so very proud to honor Sarah Alice Evans Heustess with an honorary bachelor's degree from App State and extend our sincere gratitude for her unwavering commitment to the success of this university," he concluded.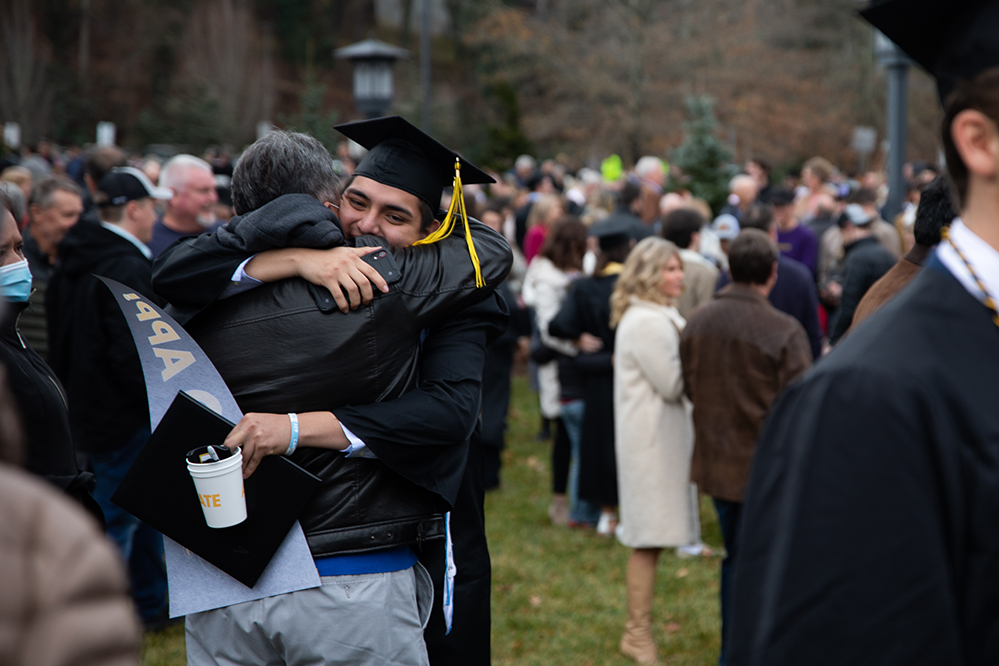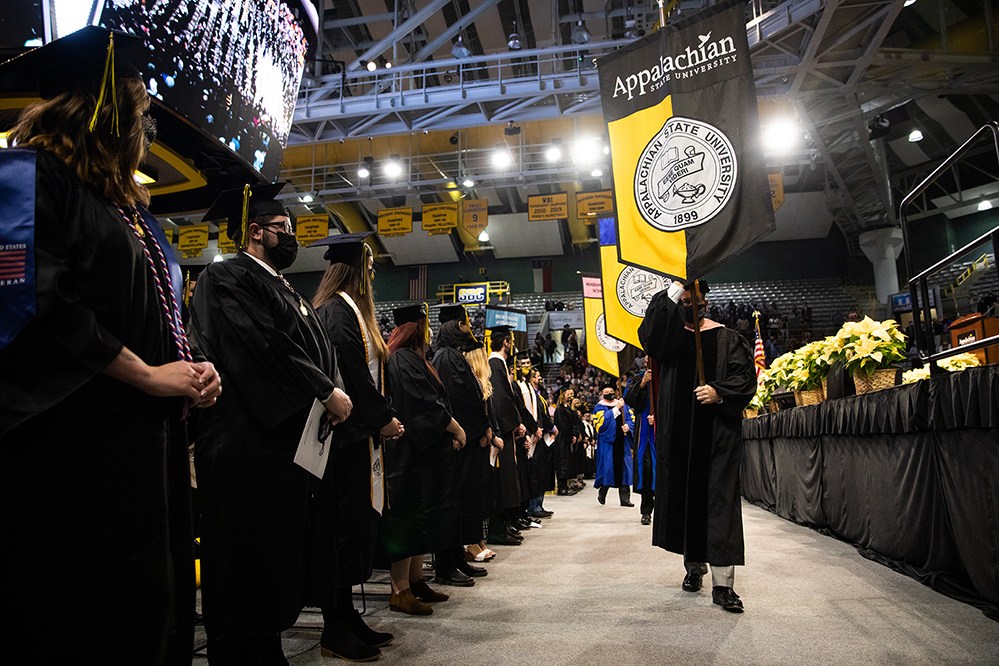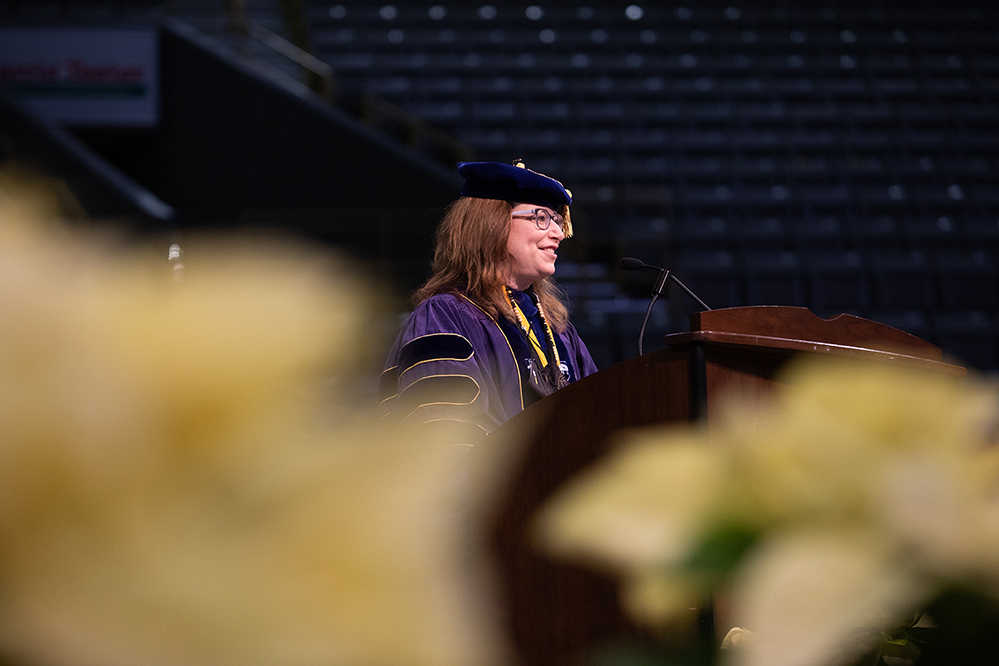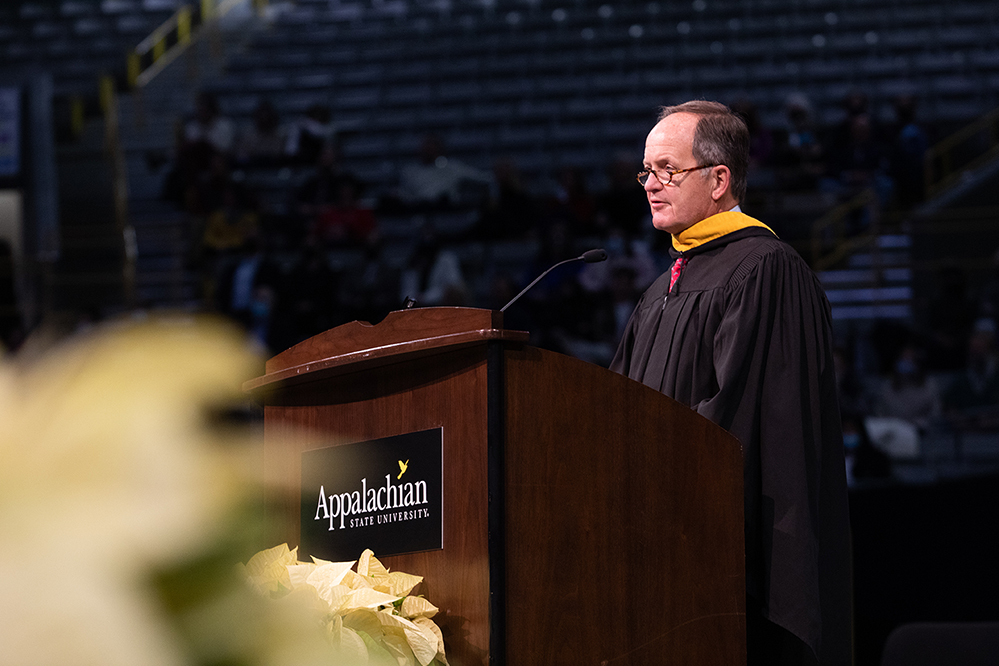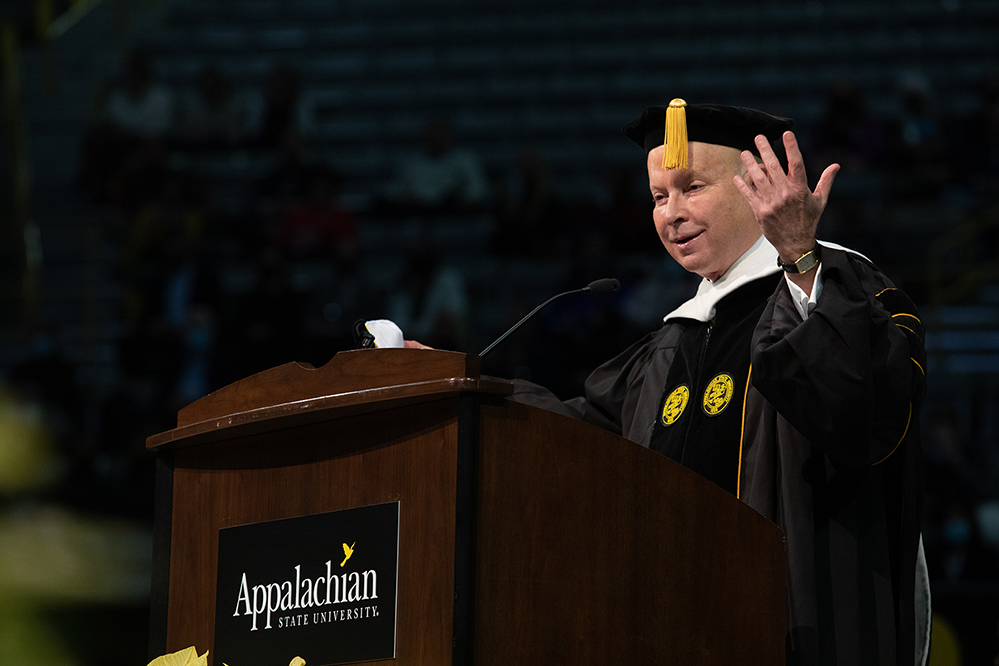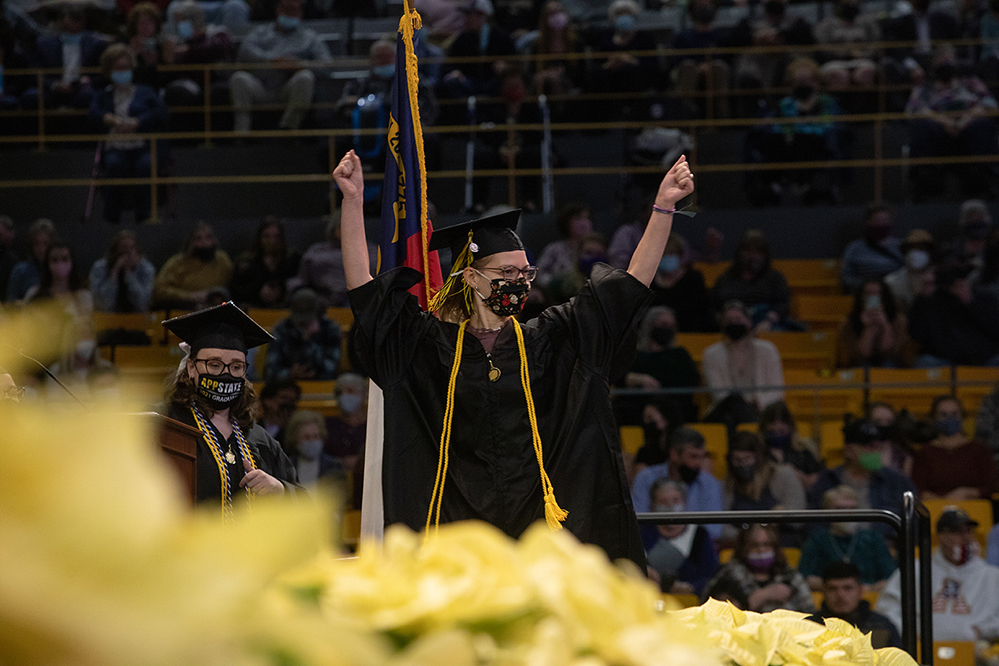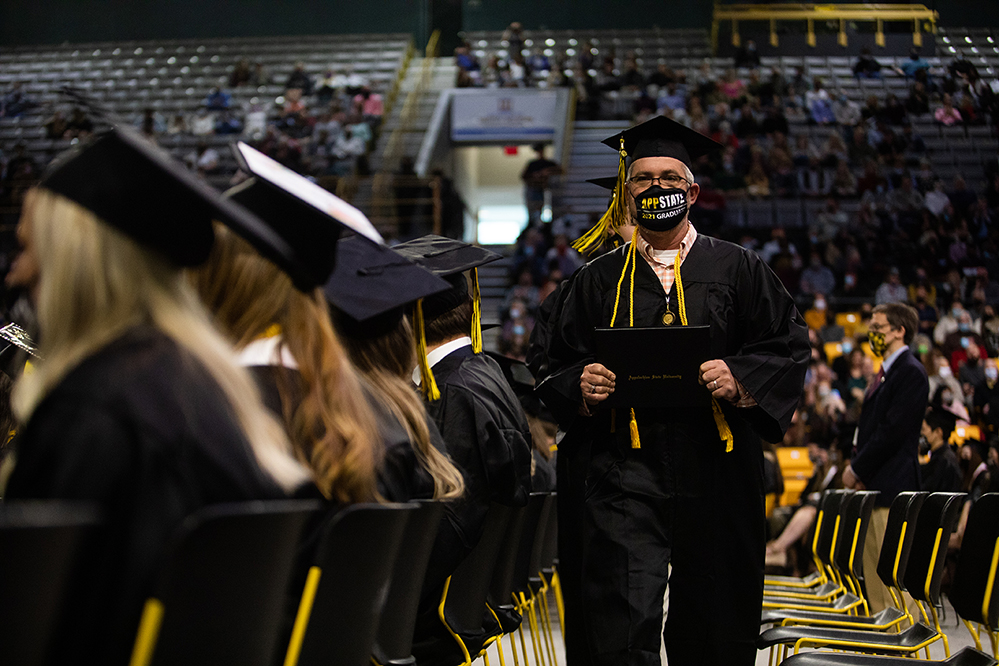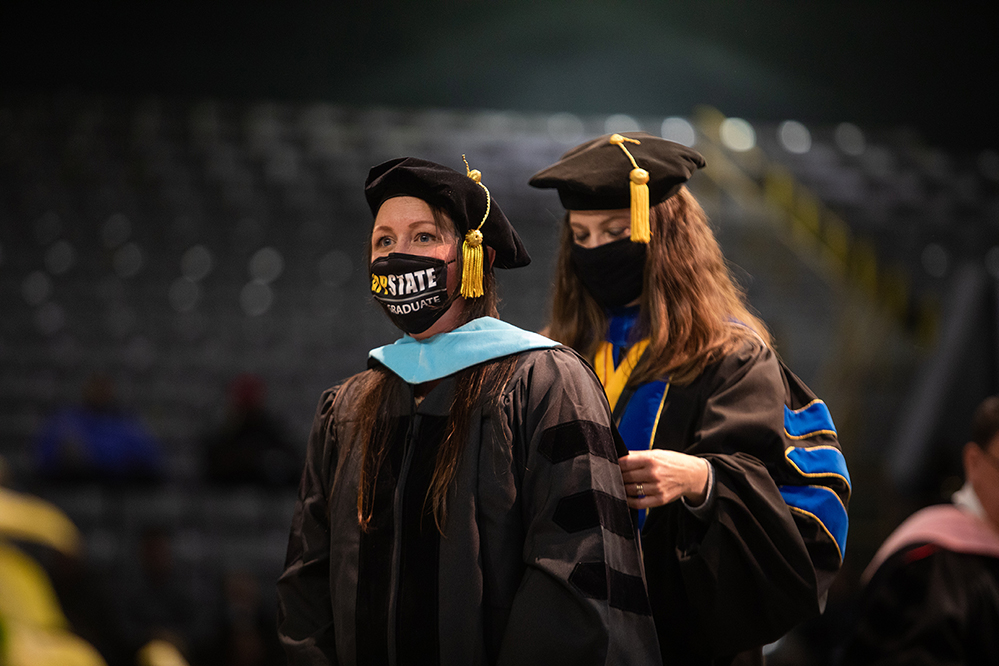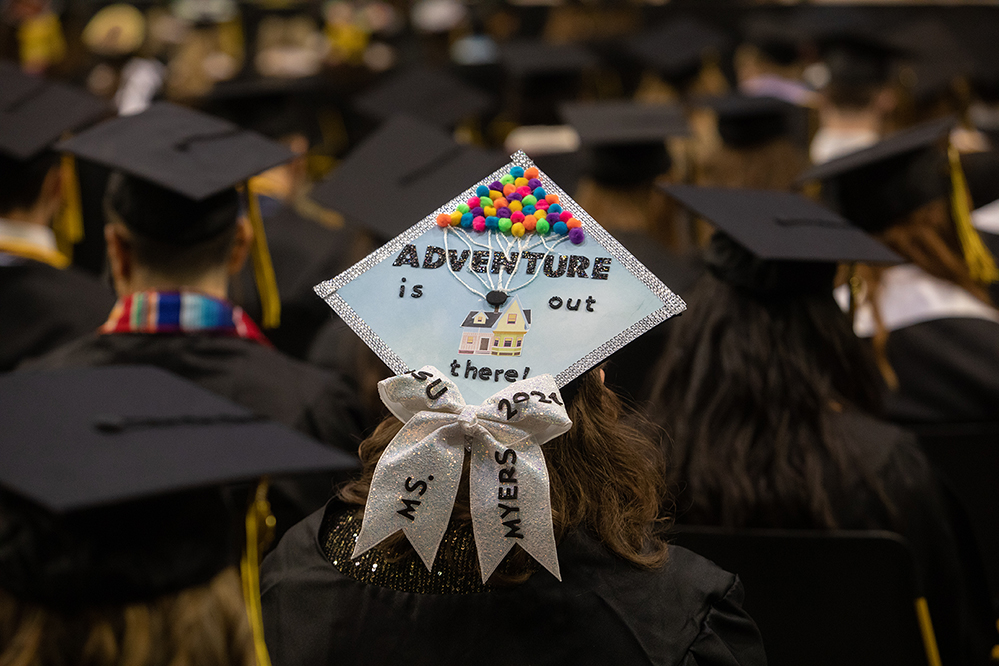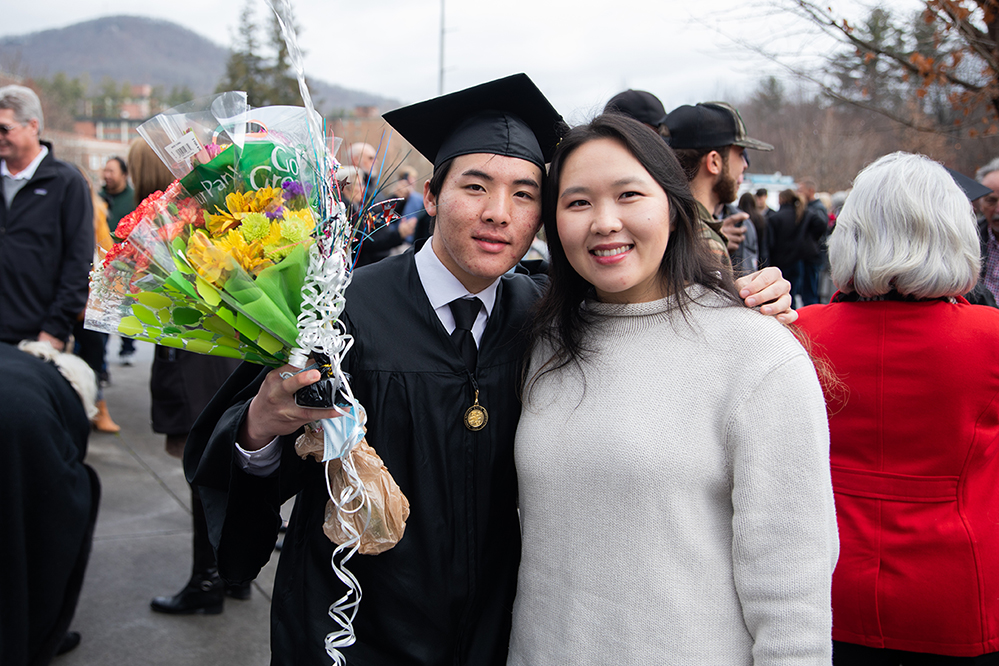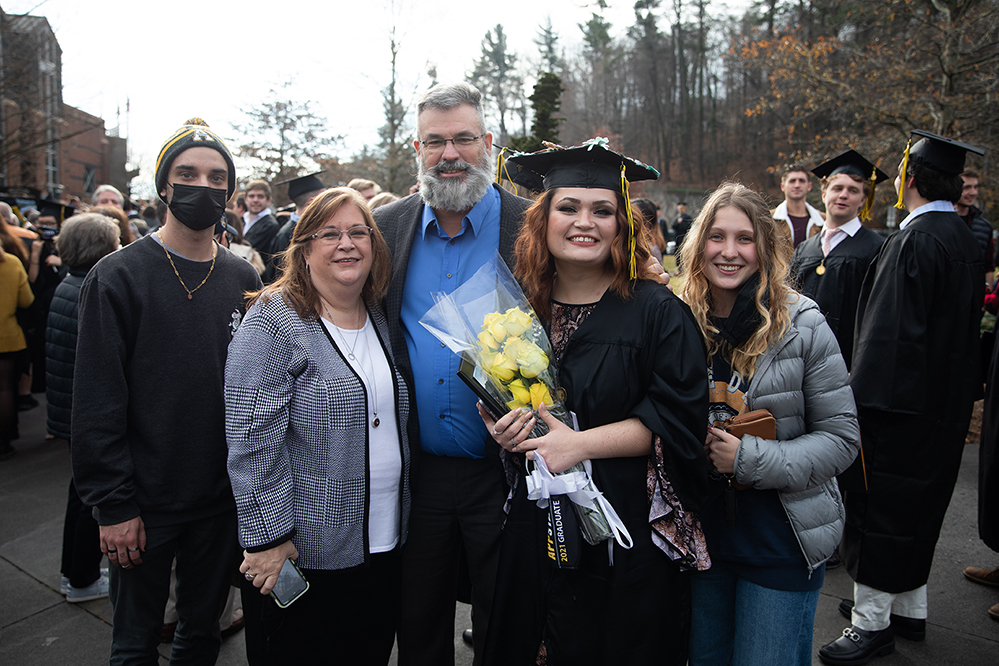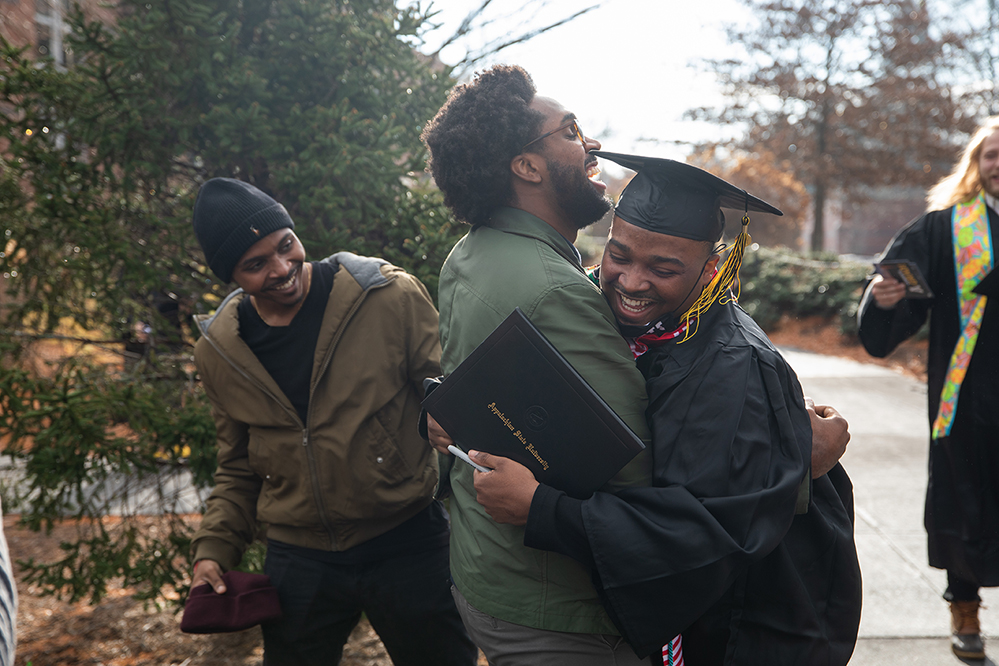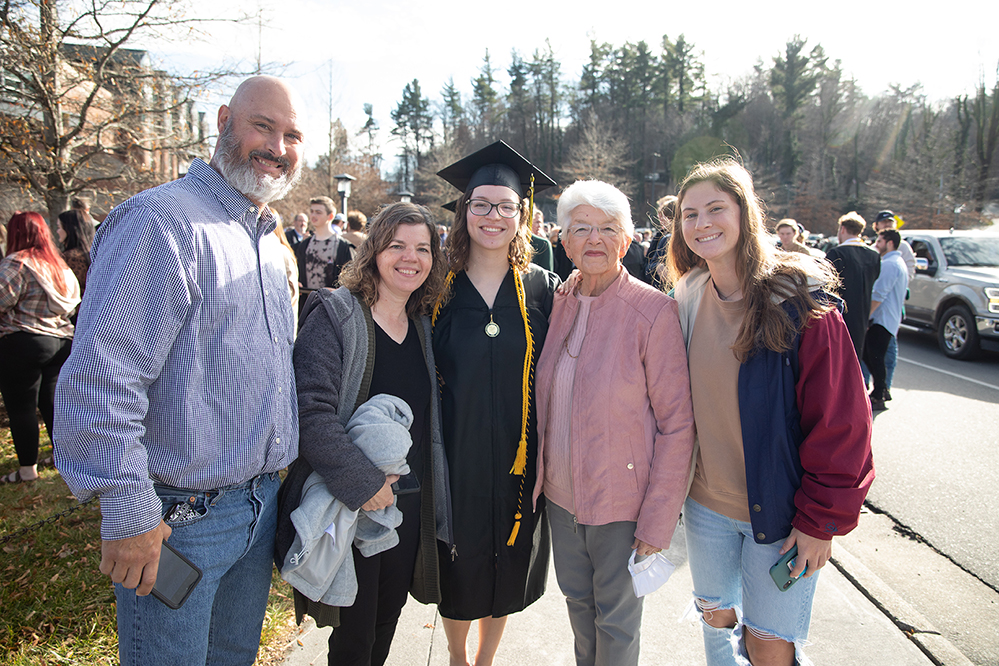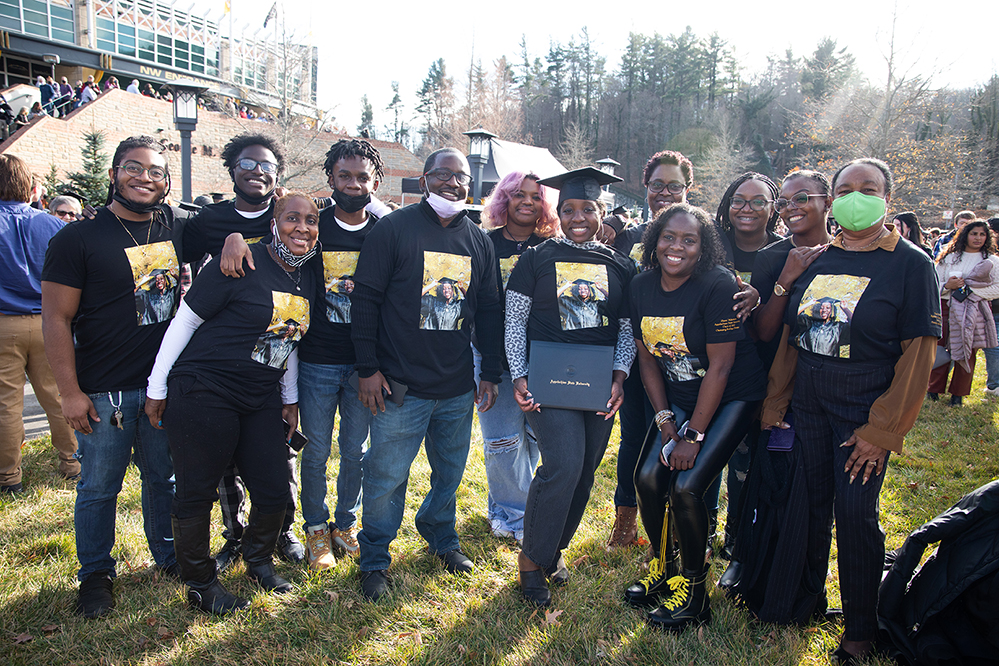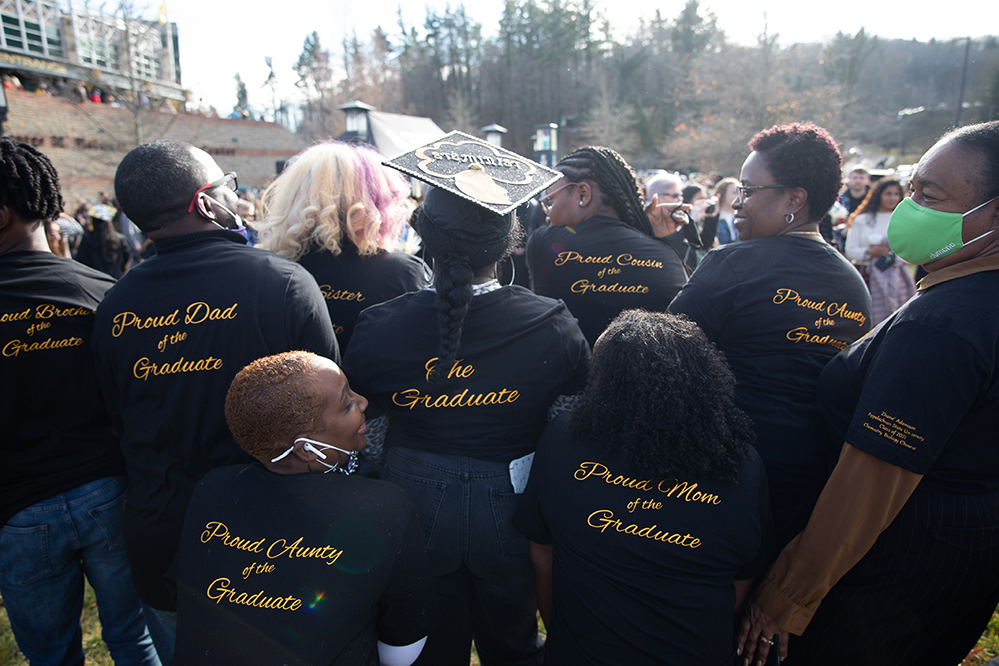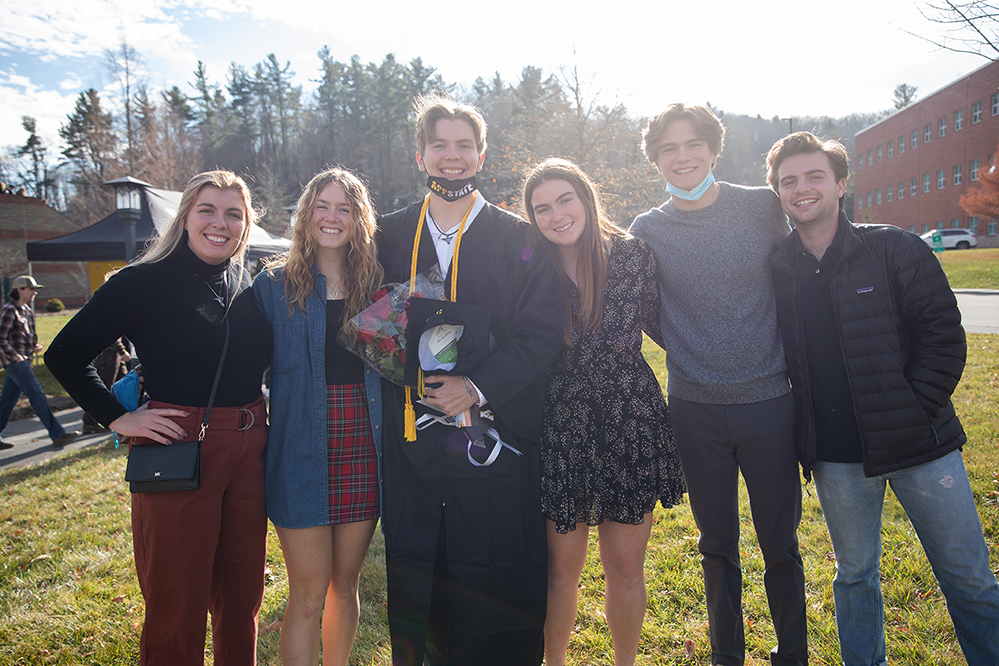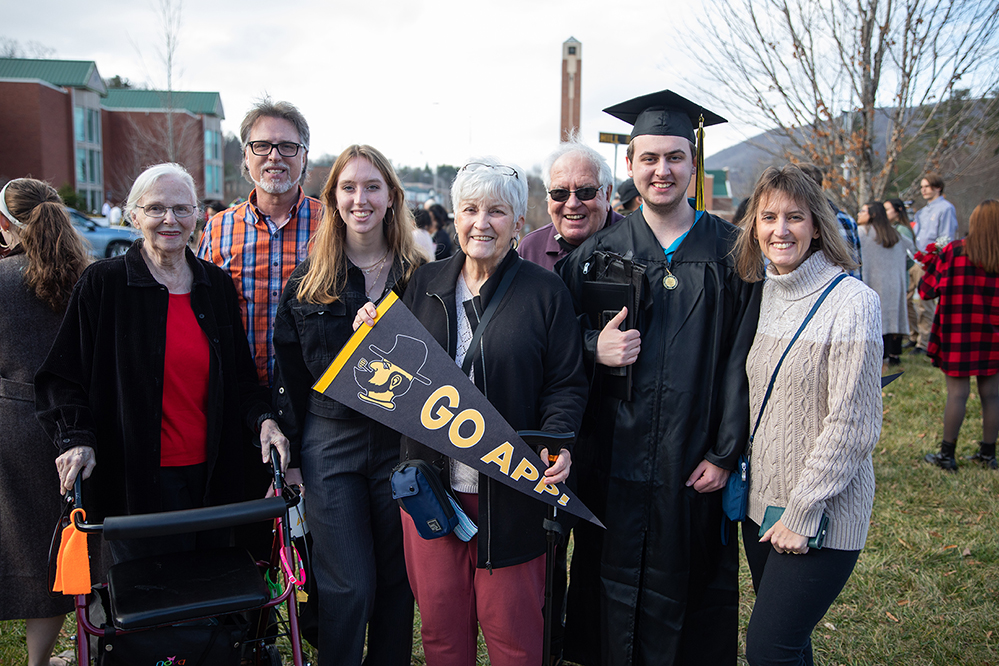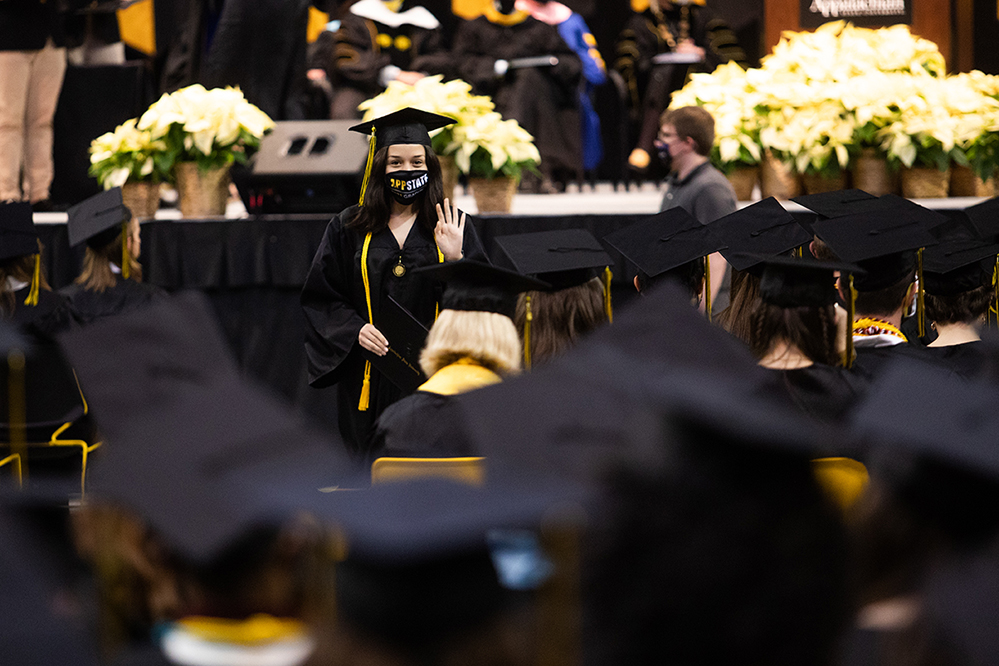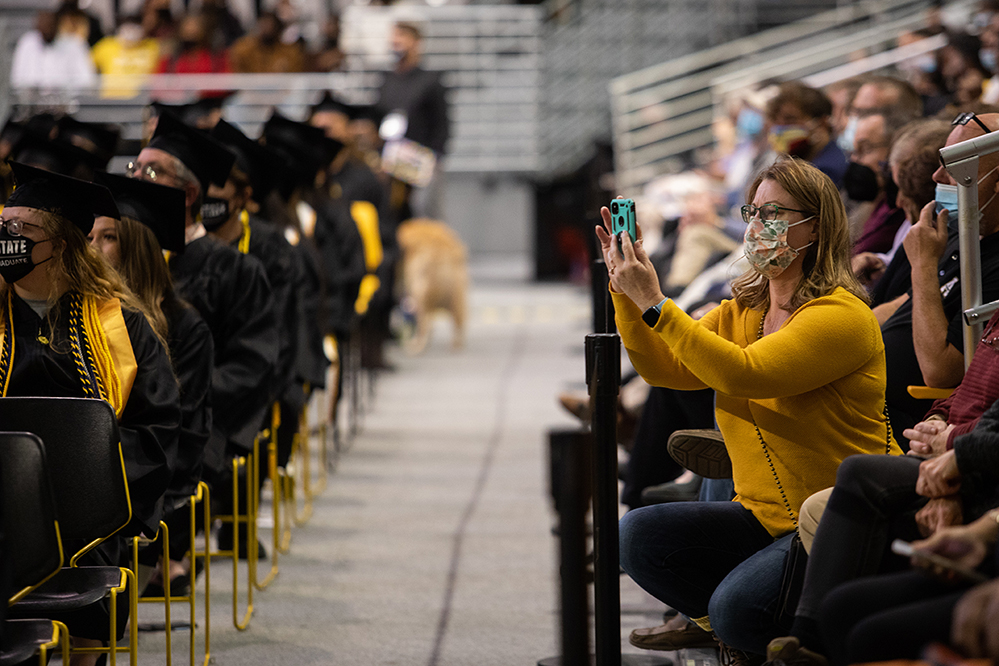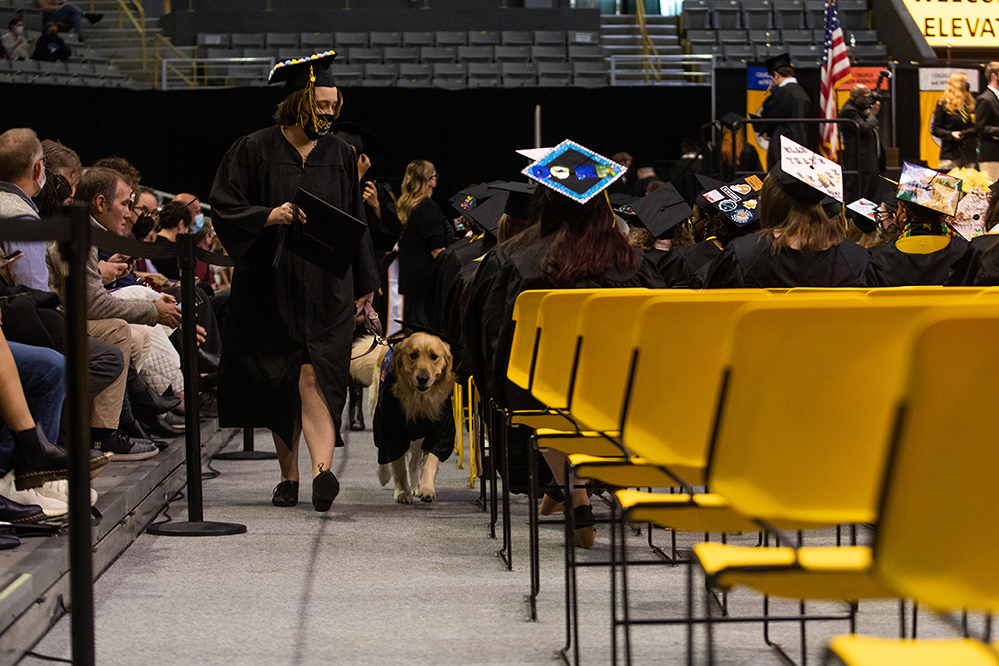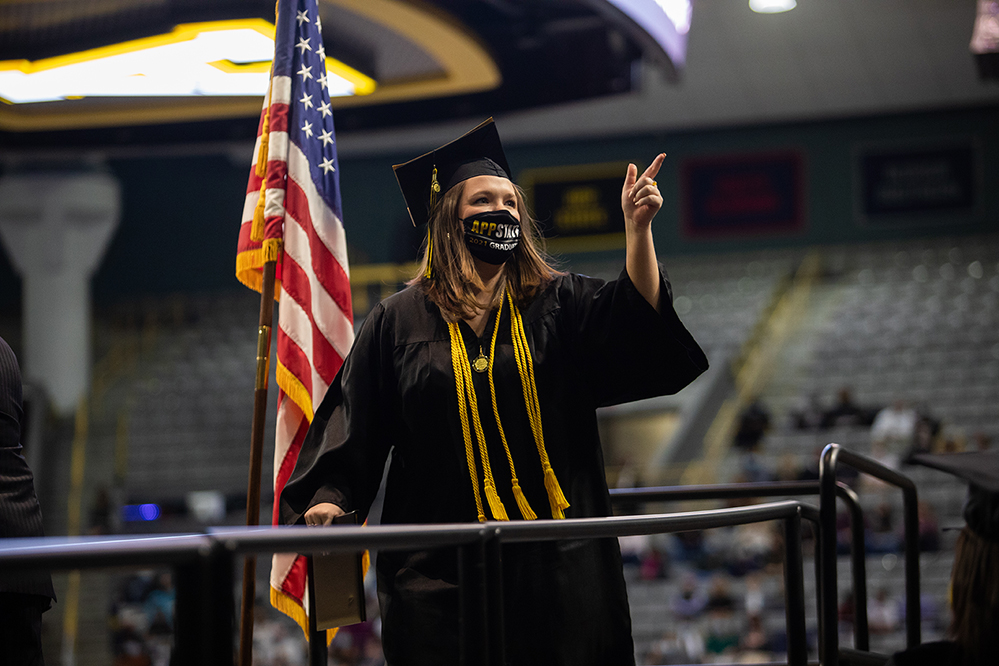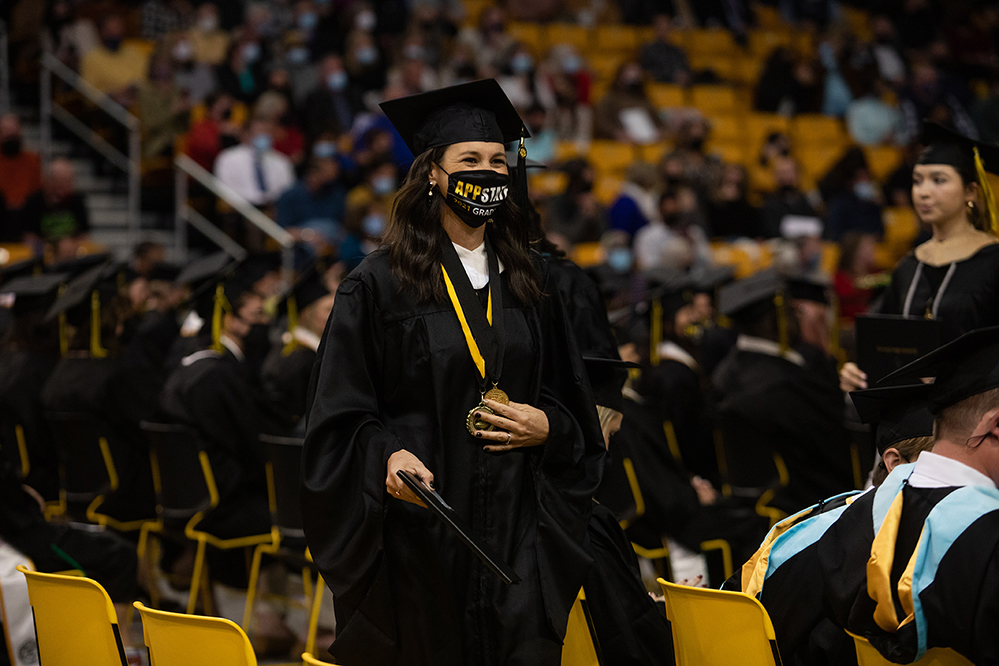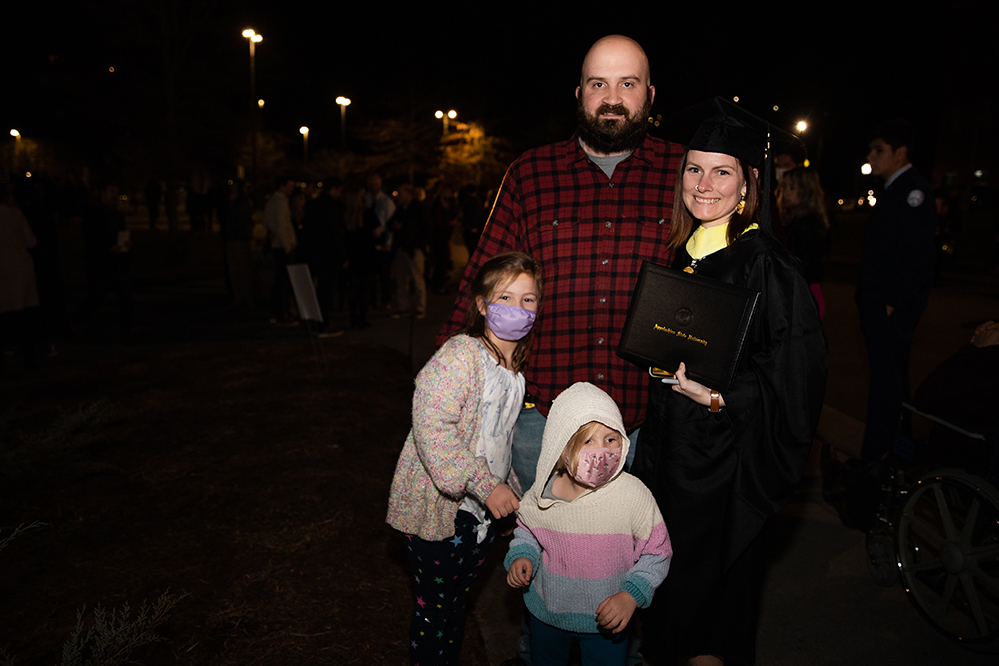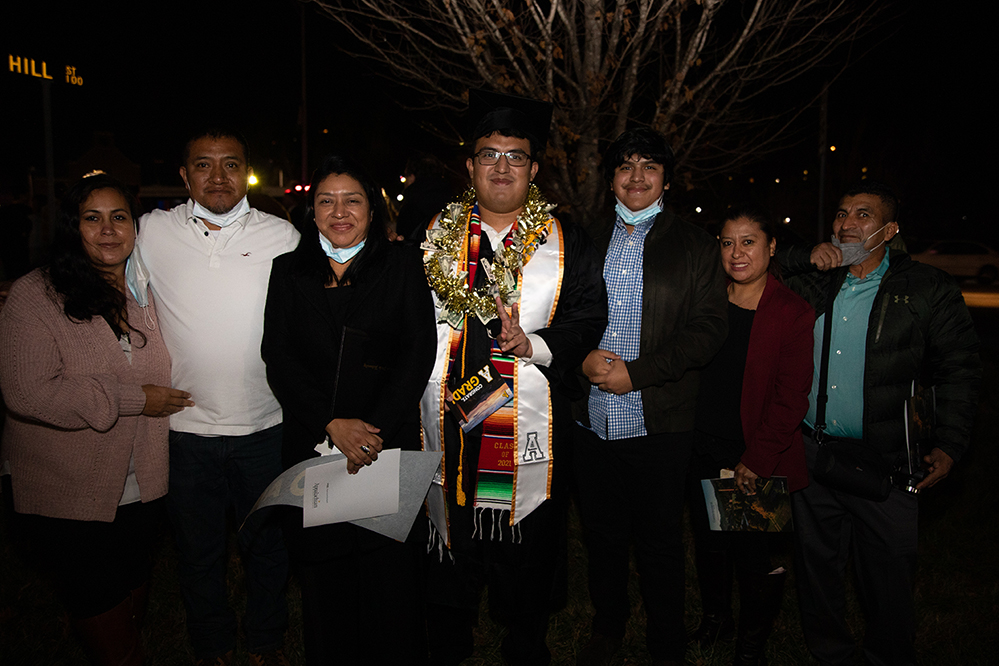 What do you think?
Share your feedback on this story.
College commencement celebrations
University banner bearers
Commencement name readers
About Appalachian State University
As the premier public undergraduate institution in the Southeast, Appalachian State University prepares students to lead purposeful lives as global citizens who understand and engage their responsibilities in creating a sustainable future for all. The Appalachian Experience promotes a spirit of inclusion that brings people together in inspiring ways to acquire and create knowledge, to grow holistically, to act with passion and determination, and to embrace diversity and difference. Located in the Blue Ridge Mountains, Appalachian is one of 17 campuses in the University of North Carolina System. Appalachian enrolls nearly 21,000 students, has a low student-to-faculty ratio and offers more than 150 undergraduate and graduate majors.